Improvements every F1 driver has to make: Part 1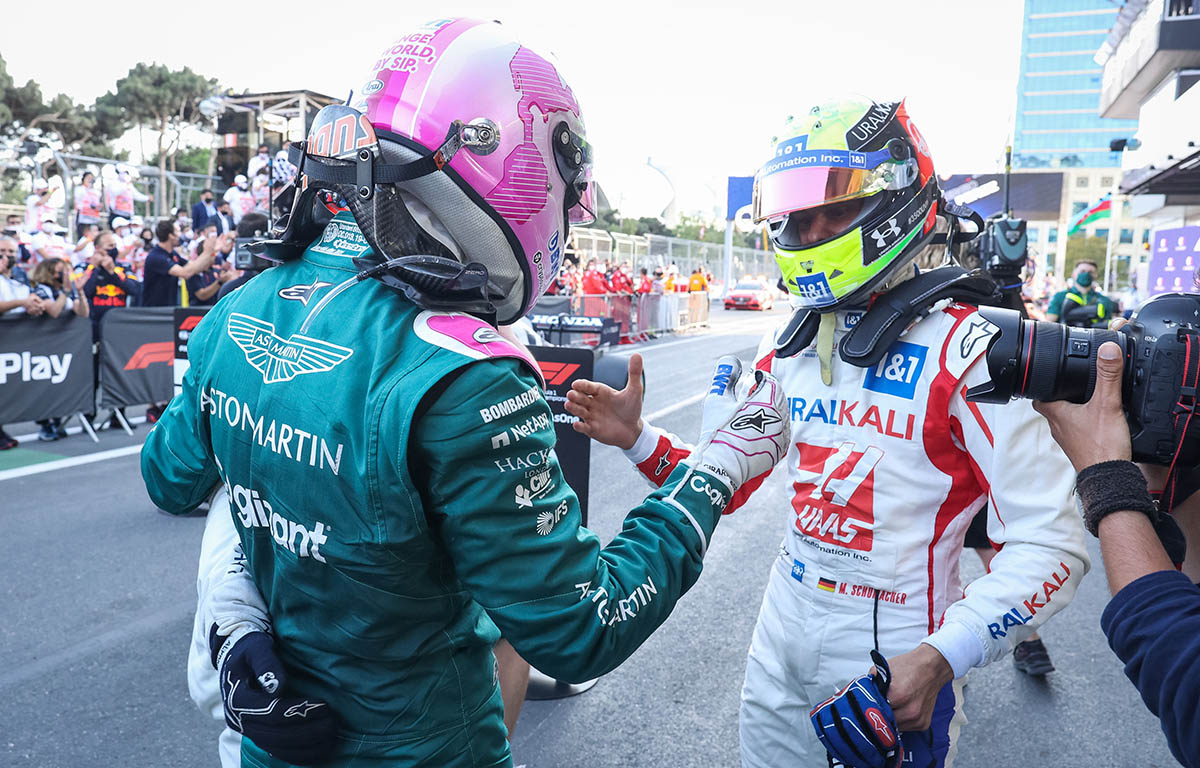 Improvement. That's really all a Formula 1 driver can ask for from year to year. The second they stop getting better is the second they start heading down the road to nowhere.
As the 2022 launch season approaches, here's the first part of our assessment pinpointing one key area for each driver to improve from last year, featuring those from Haas, Alfa Romeo, Williams, Aston Martin and AlphaTauri.
Nikita Mazepin: Check the mirrors
If it's true that spare brain capacity is the difference between a good racing driver and a poor one, a snippet of Nikita Mazepin's team radio from Monaco 2021 was utterly damning.
Asked to make a series of switch changes on the steering wheel, an overwhelmed Mazepin not only couldn't multitask but struggled to even process his race engineer's request.
Might that partly explain why Mazepin often got in the way of quicker cars in 2021, so consumed with trying to keep the car pointing straight that checking the mirrors was very much a secondary consideration?
If he must be on the grid, the least he could do as he lags behind his Haas team-mate is make himself invisible.
Mick Schumacher: Build up to qualifying
If the trend of his junior career is anything to go by, the improvement process will take care of itself for Mick Schumacher, a driver renowned for soaring in his second season in a series.
In a Haas environment hardly geared for a driver's personal growth, Schumacher's debut year was solid without being spectacular and occasionally undermined by typical rookie errors, a couple of which came at the worst possible time.
Crashes in FP3 left Schumacher unable to participate in qualifying in Monaco and Hungary, suggesting a refined approach to Saturdays – whereby he gradually builds up through the practice sessions to the moment he unleashes the lap that matters late in Q1 – is required.
Guanyu Zhou: Performing in the spotlight
At some point a small team was going to find the Chinese market irresistible. Ahead of his FP1 appearance for Alpine at Austria 2021, much was made of the image of a six-year-old Zhou supporting Fernando Alonso – the driver he replaced for the session – in Shanghai in 2005.
A permanent seat is the realisation of a lifelong dream and if Zhou proved to be a capable if not exceptional performer in three full seasons of F2, the beginning of his F1 career represents a blank canvas.
As the sport's first full-time Chinese driver, F1's growth in a key territory resting heavily on his shoulders, the pressure on him to succeed will be intense and how Zhou stands up to that extra scrutiny will be crucial.
Serious business 😉#VB77 #preseason @tiffanycromwell
📷 @ThomasMaheux pic.twitter.com/zbyCieaQV3

— Valtteri Bottas (@ValtteriBottas) January 25, 2022
Valtteri Bottas: Ruthless aggression
What exactly have Alfa Romeo got with the signing of Valtteri Bottas?
A driver finally out of Lewis Hamilton's shadow who will relish a fresh start and the challenge of building a team around him? Or a like-for-like replacement for Kimi Raikkonen, a cast off from a frontrunning team whose best days are behind him?

Bottas at Alfa Romeo may scream of the bland leading the bland but seems a good fit on paper, though one major concern is his readaptation to racing in the midfield.
A lack of aggression became a theme of Bottas' Mercedes career, the Finn fading into the pack on his worst days rather than fighting in the face of adversity in the style of Hamilton.
If he struggled to slice through the midfield in a title-winning car, he risks being lost in the crowd in an Alfa.
Nicholas Latifi: Qualifying
At last Nicholas Latifi's torture as George Russell's team-mate is over. For two years he was the forgotten Williams driver, overshadowed by the Mercedes junior in every way imaginable.
But there were signs of promise from the industrious Canadian who scored points in Hungary and Belgium and finally – after 35 soul-destroying Saturdays – outqualified Russell at two of the final four rounds in Brazil and Abu Dhabi, where he felt there was even more time on the table.
Even so, qualifying remains a clear weakness.
2022 represents another chance to develop and will possibly, with a newcomer in the other car, present more opportunities.
Alex Albon: Leadership
How do Williams even begin to fill the hole left by Russell, the driver who almost single-handedly provided hope in the darkest period of the team's history?
Alex Albon has potential, no doubt – but does he have the personality to finish what his friend started?
At the start of his debut season in 2019, Albon was simply a promising youngster claiming good results in a capable car without ever assuming a leadership role at Toro Rosso and, following his promotion to Red Bull, his adorable bashfulness soon fell away to reveal a flakiness alongside Max Verstappen.
If he was unlucky to be left without a seat for 2021, he is also fortunate to have returned so soon and without needing to prove himself all over again.
He cannot waste the opportunity to make a team his own.
Lance Stroll: Cut out the moments of madness
Lance Stroll is getting help from all the right places – most notably esteemed driver coach Rob Wilson – yet still you are left with the impression that it is a happy accident whenever he does something genuinely impressive in an F1 car.
He proved to be a decent match for Sebastian Vettel last season – something you'd have been laughed out of town for saying a couple of years ago – and that may or may not change if the new Aston Martin is more to Vettel's liking.
Stroll still has the infuriating habit of being his own worst enemy, taking out Charles Leclerc during the damp start in Hungary and, almost unforgivably, crashing out of Q1 in Mexico, where he was already destined to start from the back with an engine penalty.
As he enters season six, those moments of madness must be eliminated.
Sebastian Vettel: Find the mojo
It's quite telling that whenever people speak positively of Vettel these days it's usually in reference to the various causes he champions. A fabulous human being he may be, but increasingly it seems there is little left of the driver he once was.
A muted first season at Aston Martin means the question marks hanging over his final years at Ferrari remain relevant. And while his most vocal supporters will argue the team were crippled by last year's floor changes, did Vettel's inability to extract more from the AMR21 again expose his own limitations?
For some time Vettel has looked a driver diminished, so while it's tempting to suggest his mid-race spins at Silverstone and Zandvoort as a trend to tackle, such party tricks now almost seem ingrained and as much a part of him as the finger-waving celebrations of his glory days.
More than anything – and with some urgency – Vettel needs to find his mojo and display the vibrancy to convince Lawrence Stroll to continue with him beyond 2022.
To put it bluntly, the time has come to either pee or get off the pot.
Yuki Tsunoda: Piece it all together
2021 was, to put it mildly, a character-building rookie year for Yuki Tsunoda as the Honda protégé almost went out of his way to find trouble at times, crashing out of qualifying sessions at Imola, Baku and Paul Ricard.
But as the season reached its conclusion, there were encouraging signs that it all finally started to make sense, Tsunoda reaching Q3 at all but one of the last seven races – culminating in his P4 finish in Abu Dhabi, where he outqualified team-mate Pierre Gasly for the first time.
The challenge now is to piece it all together on a regular basis – only twice in those seven races did he convert his improved pace into points – because the raw ability is there.
Pierre Gasly: Keep it clean at the start
2021 was Gasly's most complete season to date with no fewer than nine top-six finishes, including a third podium appearance in as many years.
But could it have been even better?
Fine qualifying results were wasted as Gasly was sometimes guilty of clumsiness in the chaos of the start, losing his front wing after running into the back of McLarens in Bahrain and the Monza sprint race.
He also suffered a race-ending puncture in Styria after being tagged by Leclerc and was involved in the Turn 1 incident in Turkey that left Alonso in a spin.
There is a school of thought, pushed by respected F1 commentator Peter Windsor, that Gasly's pre-race routine of catching tennis balls dropped without warning by his trainer may have something to do with it, putting Pierre in a heightened, reactive state of mind at a time tranquility is required.
Less time playing catch on the grid, and more time crouching in front of his car in prayer, might be the way forward.