F1 2022 mid-season-driver rankings 11-20: Sebastian Vettel, Daniel Ricciardo and more
Thirteen races down, nine to go. We are technically well past halfway in the 2022 F1 season, but the summer break is the ideal time to take stock.
Who will be lying back on their vacation sunbed quietly content with their performance so far? And which drivers may have to snub that tempting cocktail to spend more time poring over the data to see where they can improve?
Let's start with those needing to up their game from Nos 11 through to 20…
11 Sebastian Vettel
Vettel is well used to operating in the midfield these days and that is exactly where he fits into our ranking, although comfortably ahead of his team-mate.
What is set to be the 35-year-old's final campaign got off to a later-than-expected start as he missed the first two races in Bahrain and Saudi Arabia after contracting Covid, although he had previously taken part in testing.
His seasonal debut in Australia was a disaster – although the German's scooter ride along the track after his car broke down in practice was memorable – and he has suffered as a result of Aston Martin being among the teams that have struggled most to adapt to the new regulations.
Season high: Azerbaijan has been a happy hunting ground for Vettel in the last two years and he followed his 2021 podium with a P6 finish this time, improving from ninth on the grid.
Season low: Crashing out of the Australian Grand Prix on lap 24 at the end of a weekend when the four-time former World Champion looked rusty following his enforced absence.
12 Zhou Guanyu
If this was a race, the Chinese rookie would be starting not too far behind his Alfa Romeo team-mate Valtteri Bottas, and that is a fine testament to the start he has made to his F1 career.
Scoring points on his debut in Bahrain, Zhou has only once added to his tally but a spate of three retirements in four races between Miami and Azerbaijan were all down to problems with the car rather than anything he did.
The 23-year-old has shown that when the C42 works, he is well worth his place on the grid and is there on merit rather than for any potential commercial benefits he brings to the team.
Season high: It doesn't get much better for a debutant in a midfield-standard car than to score points on your F1 bow, and that is exactly what Zhou did by finishing P10 in Bahrain.
Season low: It was not his fault, but the terrifying accident he suffered at the first corner of the British Grand Prix. Thank goodness he was unharmed.
13 Kevin Magnussen
Unlike Vettel and Zhou, Magnussen is lower in our ranking than in the Drivers' standings, but considering he had not even expected to be in F1 in February it is still no mean achievement.
From day one of his comeback from endurance racing, due to the expulsion of Nikita Mazepin, the Dane has looked like he had never been away – okay, it was only a year's absence, but nevertheless a feather in his cap.
Not an error-free first half of 2022 for K-Mag by any means, which has included a few opening-lap skirmishes with Lewis Hamilton in particular, but both he and the Haas team will be pleased with what he has delivered.
Season high: Finishing fifth in his first race back at Bahrain, with Haas' best position in the whole of 2021 having been only 12th.
Season low: Having to start at the back of the grid in France due to an engine penalty and then retiring after a collision with Nicholas Latfi.
14 Alex Albon
Considering getting out of Q1 is generally an accomplishment for Williams, 14th is not a bad result here for Albon.
Certainly Williams are happy with him, for he has just been given a new multi-year contract – hardly surprising given all of their three points with the struggling FW44 have been scored by Albon.
This is not the car in which he can truly demonstrate his full range of talents, but Albon is rebuilding his career nicely after being dropped from a race seat by Red Bull.
Season high: Although he finished P9 in Miami, it was probably a greater feat to nurse a single set of tyres for 57 of the 58 laps in the Australian Grand Prix and still cling on to a point.
Season low: Requiring hospital checks after hitting the wall at the first corner of the British Grand Prix when shunted from behind.
15 Pierre Gasly
When we compiled this feature a year ago, Gasly was ranked fourth. How the mighty have fallen.
Much of that, of course, is down to the car AlphaTauri have produced for the new regulations. But the Frenchman has not done much either to embellish his reputation for being the next driver thought to be in line to join a top team.
Gasly has simply not kicked on. In 2021, he often outperformed the car. There have been precious few signs of that happening this time around.
Season high: Like Vettel, he has become something of a Baku specialist and his fifth-place finish was comfortably his highest of the campaign.
Season low: Silverstone was miserable for AlphaTauri and their cars came together on lap 14, spinning in unison, with the damage eventually ending Gasly's race.
16 Lance Stroll
Usually quite closely matched with team-mate Vettel on track, Stroll gives the impression of being inconsistent but his results suggest the opposite.
He has finished between 10th and 13th in all but three of this year's races and appears best when executing a shrewd strategy from what is often an unpromising grid position – qualifying being Aston Martin's Achilles heel.
Still, the team owner's son appears to get himself involved in contact with other cars more often than necessary, damaging his chances of better results.
Season high: Four P10 placings are as good as it gets for the Canadian, and the one he will probably look back on most fondly was at his home race in Montreal.
Season low: In Australian Grand Prix qualifying, he was unable to set a lap time due to a silly collision with compatriot Latifi which earned him a three-place grid penalty that was effectively meaningless.
17 Mick Schumacher
This ranking probably appears harsh based on Schumacher's excellent performances in Britain and Austria that brought his first F1 points.
But on the whole those results shine like beacons in what has otherwise been a fairly gloomy season, the first quarter of which was interspersed by a series of costly crashes.
The jury remains out about whether the son of the seven-time former World Champion genuinely has what it takes to reach the pinnacle of the sport.
Season high: Even though he finished sixth at the following race, it has to be his last-lap battle with Max Verstappen's damaged Red Bull at Silverstone when Schumacher was trying to turn his maiden two points into four.
Season low: Big questions were being asked about the German's future – not least by Haas team principal Guenther Steiner – when he smashed into the barrier in Monaco, unhurt but splitting the car in two.
18 Daniel Ricciardo
A really sad indictment of Ricciardo's downturn, we thought he was struggling badly when he filled 17th place in this feature last year – and now he is even lower.
It has been like 2021 all over again for the Australian, even with a new McLaren rather than the continuity version that clearly suited Lando Norris better last season.
All is not lost though. Don't forget that after a similarly troubled time, Ricciardo went and won the Italian Grand Prix last September. Can't say we would bet on lightning striking twice, mind.
Season high: Pushing Norris all the way at his home race in Australia as the duo came home fifth and sixth on one of the stronger weekends for an up-and-down McLaren team.
Season low: Taking Carlos Sainz out on the opening lap at Imola was bad, but Ricciardo will be trying to forget during the recess about Hungary where he tumbled from ninth on the grid to finish 15th, hindered by a penalty incurred for a collision with Stroll.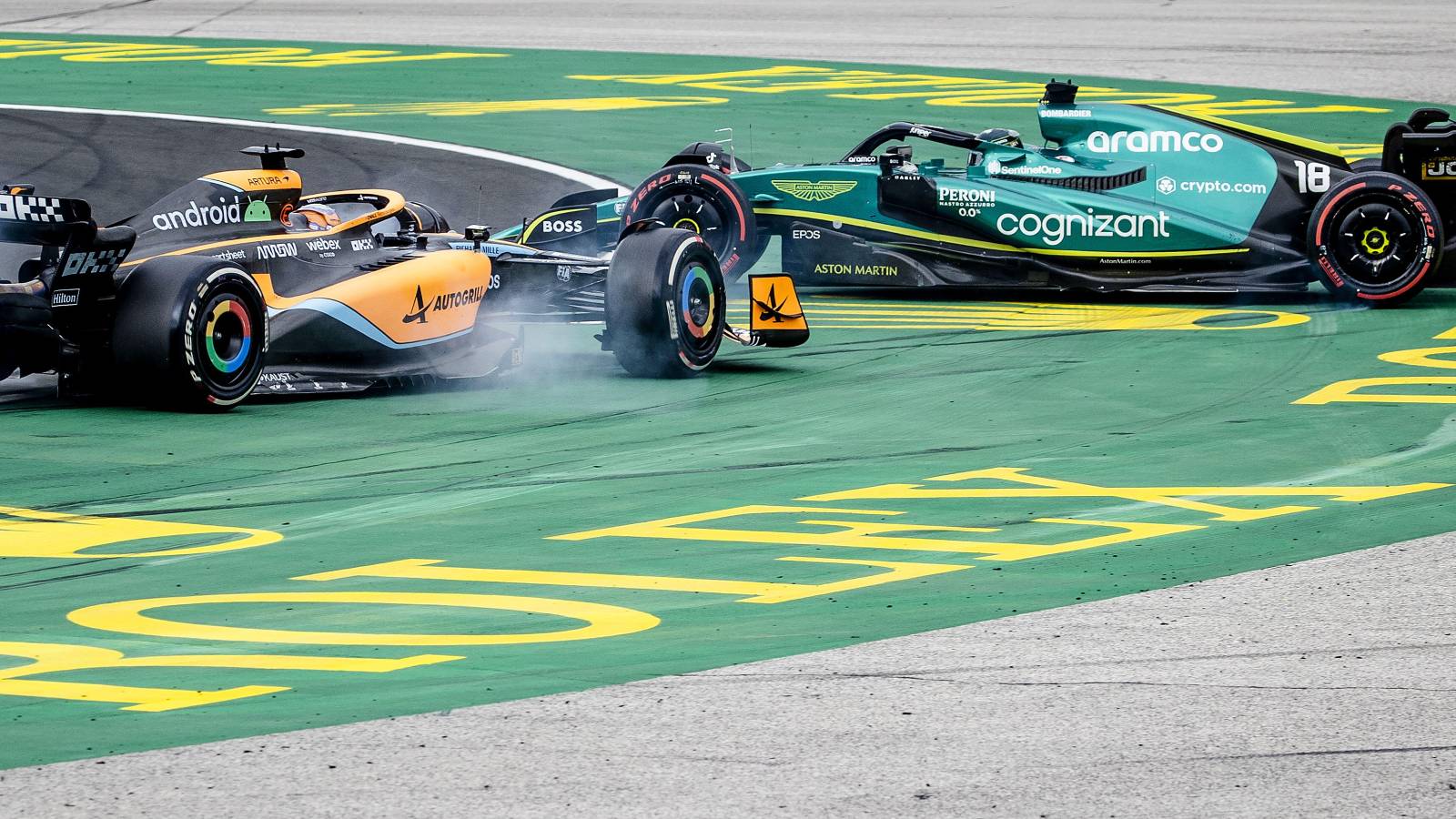 19 Yuki Tsunoda
Year two at AlphaTauri was very much sink or swim for Tsunoda, and sadly he is struggling to keep his head above water.
He is on the back row of our ranking grid for a reason, simply having continued his erratic tendencies and yet to show any real signs of the maturity as a racer he needs to safeguard his future.
Angry outbursts in the cockpit broadcast via the team radio feed do little to suggest the Japanese racer has the required temperament for F1, even with the services of a psychologist brought in to help him.
Season high: Imola is AlphaTauri's home venue and P7 there was a strong result, but that promise has subsequently gone unfulfilled.
Season low: Trailing home a minute behind the second-to-last car in Hungary was embarrassing, especially with no explanation other than a lack of grip.
20 Nicholas Latifi
Unfortunately for Latifi, 20th is a position he has become very used to in Formula 1.
Put in his place from the outset by new team-mate Albon at Williams, the Canadian could barely keep his car out of the wall at the early races of the season.
In fairness, he has eliminated those mistakes over the course of the campaign, but he remains the only one of the 20 regular drivers yet to score a point in 2022 – and his future beyond this year has to be in major doubt.
Season high: Latifi does have a P1 to his name. Unfortunately, it was only in FP3 for the Hungarian Grand Prix when he timed his final lap to perfection on a drying track.
Season low: Tempting to say all of it, but to specify it cannot get worse than Saudi Arabia where he crashed out of both qualifying and the race.
Tsunoda in no man's land with 4/10 Hungary drive
Yuki Tsunoda was last on track and more than a minute behind Nicholas Latifi next up the road in Hungary.