F1 2022 title permutations: How can Max Verstappen win the title in Japan?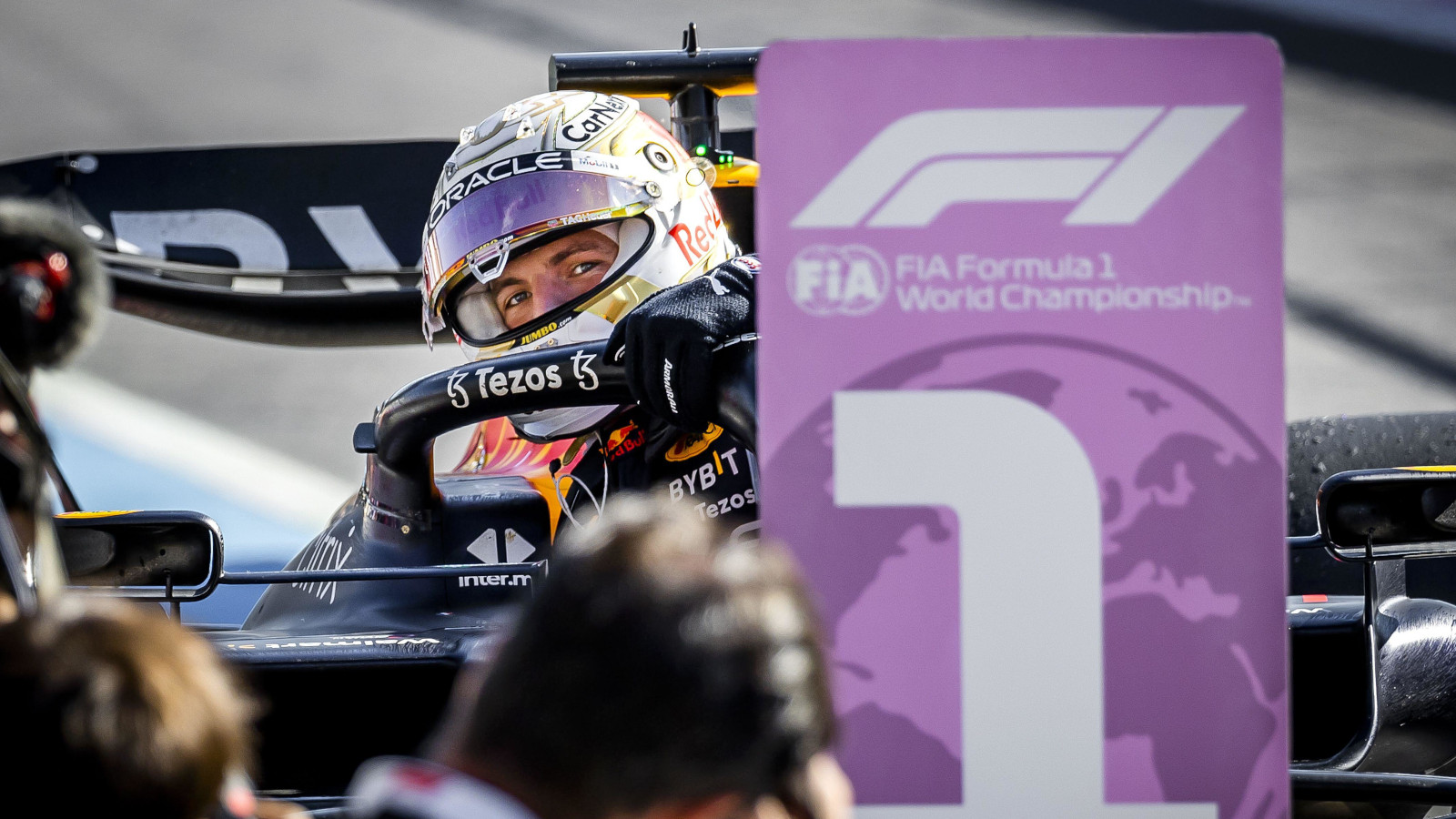 The F1 2022 Drivers' title is Max Verstappen's in all but name but how can he mathematically clinch it in Japan? 
Having started the season with a DNF in two of the opening three races, Verstappen's title defence did not look like it would be as easy as it turned out.
But since then, the Dutchman has been at his dominant best and while his last venture at the Singapore Grand Prix was not what we would have been hoping for, the title is firmly in his hands.
Verstappen, who has won 11 out of the 17 races this season (64.71%), could clinch the title this weekend as Formula 1 returns to Suzuka. Here is how he could do it:
How do the title contenders currently stand?
If the title race was an actual grand prix then Verstappen would be close to lapping his rivals. He is on 341 points, 104 more than Ferrari's Charles Leclerc and 106 more than his team-mate Sergio Perez.
How many points are left to be won by a driver this season?
With five grands prix to go plus a Sprint race in Brazil, there are a total of 138 points on offer to a driver providing they can also scoop up the one extra point for the fastest laps.
Verstappen has earned the most points for fastest laps this season having done so on five occasions. Leclerc and Perez have three while Carlos Sainz and Lewis Hamilton both have two. McLaren's Lando Norris and George Russell have one.
Who can still win the Championship?
Just three drivers can now mathematically win the World title with those being Verstappen, Leclerc and Perez. With a total of 138 points left on offer George Russell could equal the amount Verstappen currently has but would lose out as the Dutchman has more wins this season.
What does Max Verstappen need to happen to win the World Championship in Japan?
Verstappen could be confirmed as the 2022 World Champion after the next race in Japan provided results go his way. For the first time this season, the result is entirely in his hands as if Verstappen wins at Suzuka and takes the bonus point for the fastest lap, he will be crowned champion.
If Verstappen wins but misses out on the fastest lap, he will need Leclerc to finish lower than second. A win for Verstappen would also mean Perez could no longer win the title regardless of where he finishes.
If Leclerc or Perez finish ahead of Verstappen then he will not be crowned champion and that would also be the case should he end the race outside of the top six.
A race victory is not the only way Verstappen can win the title though as he just needs to score a minimum of eight more points than Leclerc and a minimum of six more points than Perez to become a two-time World Champion.
So if Verstappen finishes second, Leclerc would need to finish at least fifth (with the fastest lap bonus point) to keep the race alive.
If Verstappen finishes second, Leclerc would have to finish higher than sixth or to keep the title race alive. Fifth is only good enough if he gets the fastest lap. Perez could stop his-team winning by finishing fourth or higher provided Verstappen misses out on the fastest lap point.
If the Red Bull man does not finish on the podium, Leclerc needs to finish at least seventh while Perez would need to finish sixth or seventh with the bonus point.
P5 for Verstappen would need a P8 or above for Leclerc and a P7 or above for Perez for the title race to extend to the United States Grand Prix.
How can Charles Leclerc win?
Despite trailing by 104 points, all hope is not yet lost but it does make for grim reading for the Monégasque.
Having finally managed to shave some points off the gap in Singapore, Leclerc task was made a little easier even if it still remains in the 'sporting miracles' range.
Leclerc can survive just one more Verstappen win before his title chances are snuffed out. If Verstappen is successful in two or more races, the title is his.
If Verstappen wins in Japan and does not take the bonus point, then the only way Leclerc could win the title is by achieving victory in every race left including the Sprint race and collect every point on offer for the fastest last. This would give the Ferrari man the title by just one point.
Leclerc needs Verstappen to finish no higher than seventh in every race for him to win the title.