F1 2023 predictions: Which driver will win each team-mate battle in 2023?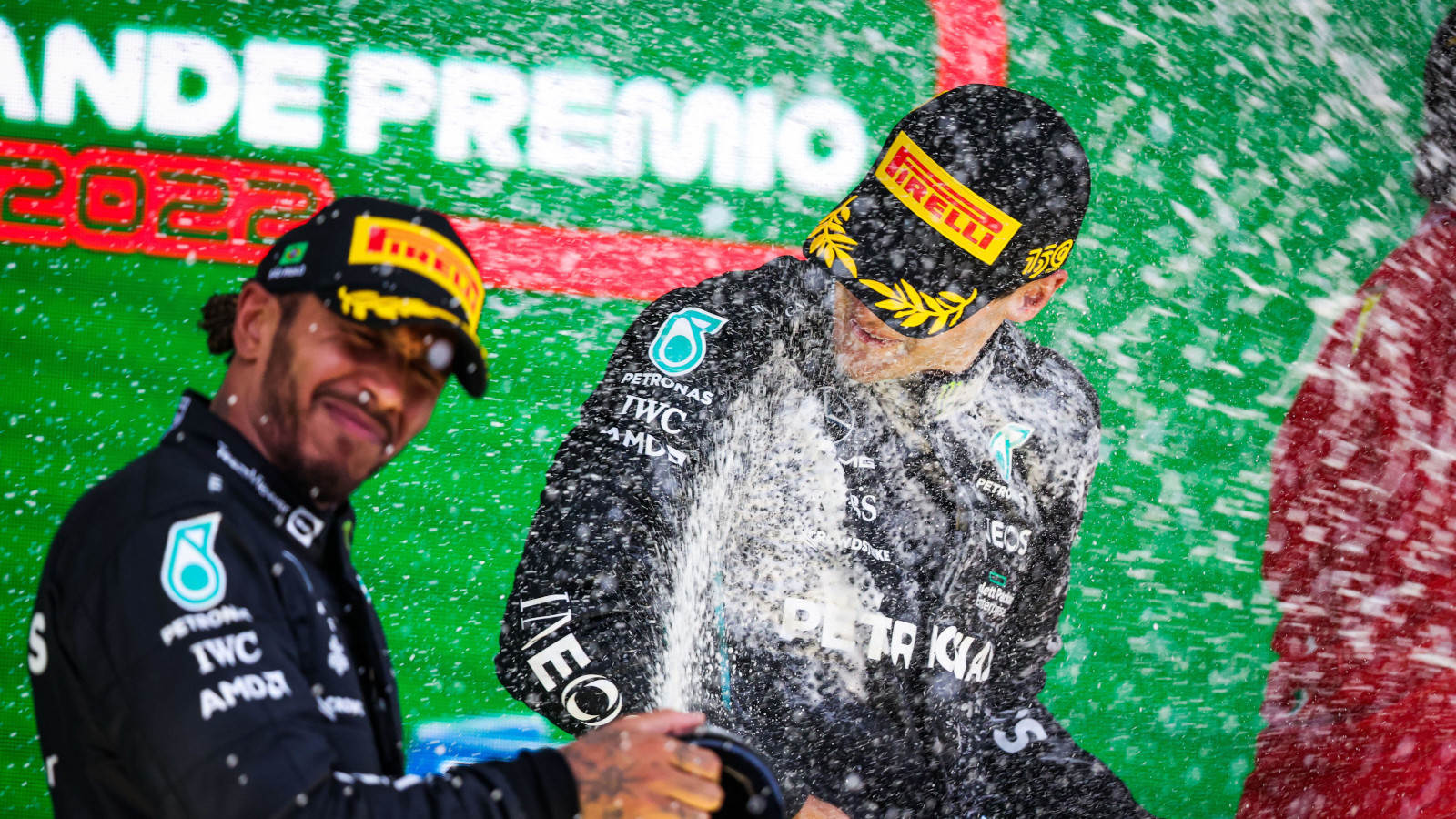 Only four teams on the Formula 1 grid will begin the 2023 season with an unchanged line-up from last year.
The fact that three of those teams were Red Bull, Ferrari and Mercedes – the only ones to win a race in 2022 – is evidence that stability is a key strength in F1.
The changes from last season to this carry no shortage of intrigue, so we've put our neck on the line by predicting the winner of each team-mate battle in 2023…
Albon v Sargeant: Albon
His self-confidence restored after having his face rubbed into the mud by Max Verstappen in 2020, Alex Albon was a driver reborn last season.
With four points on the board, he scored four more points than the wretched FW44 really merited to bring at least a little light to a Williams team still fighting through the darkest period in their history.
The team became as reliant on him as they had previously been on George Russell, which makes Albon a particularly tough proposition for rookie team-mate Logan Sargeant.
Despite a strong debut season in Formula 2 last year, Williams' rush to sign the first American driver of the Liberty age – announcing the 22-year-old in Texas before he even had the required number of superlicence points – hinted at a driver being signed to race in F1 before he is ready.
A series of untidy practice appearances in the closing rounds of 2022 did little to alter that first impression, so Albon for the win.
Tsunoda v De Vries: De Vries
Nyck de Vries looked more poised in his stand-in appearance for Williams at Monza last season than Yuki Tsunoda did in his first two seasons at AlphaTauri.
So it follows that, having used his ninth-placed finish in the Italian Grand Prix as a springboard to a full-time seat, De Vries will build on the strong foundation of his unexpected F1 debut in 2023.
If Tsunoda is ever going to make those occasional flashes of potential become standard, now is the time as he enters the all-important third year at Red Bull's B-team.
But, Champion in Formula 2 and Formula E in recent years, De Vries will, we predict, put an end to the Tsunoda experiment while putting himself forward as a potential future team-mate to fellow Dutchman Verstappen.
Magnussen v Hulkenberg: Hulkenberg
If some teams like a balance to their line-up and pair drivers with contrasting qualities, Haas will effectively have the same driver in each car in 2023.
If there is moisture in the air before qualifying, as in Brazil last year, Kevin Magnussen and Nico Hulkenberg will both raise a finger to the sky and know instantly which set of tyres to fit.
It's not so much a question of experience but instinct, knowing what to do at any given time, for two of the most astonishing natural talents – but the biggest underachievers – of the modern era.
Their similarities makes this the most difficult battle to call and it is likely to hinge on whether Hulkenberg's comeback can be as seamless as that of Magnussen in 2022.
His Covid cameos for Racing Point and Aston Martin revealed a plug-in-and-play quality that should see him get back up to speed very quickly in the Haas.
Victory, by the barest of margins, to the Hulk.
Alonso v Stroll: Alonso
If you had said five years ago that Lance Stroll would be quite evenly matched with Sebastian Vettel in the same car across two full seasons, you would have been laughed out of town.
But that probably revealed more about Vettel – a fading force even in his late Ferrari days and his focus switching to other matters – than it did about Stroll, who continues to frustrate despite signs of genuine promise.
Alongside a driver of Fernando Alonso's evergreen talent and unflinching ruthlessness, however? That is another matter entirely.
Alonso will, as he always does, quickly become the centre of attention at Aston Martin and potentially add Stroll to his list of victims including Nelson Piquet Jr, Felipe Massa and Stoffel Vandoorne.
In signing Alonso, team owner Lawrence Stroll may have inadvertently offered his own son on a plate to F1's big bad wolf.
Bottas v Zhou: Bottas
No team-mates on the 2023 grid have a relationship quite like Valtteri Bottas and Guanyu Zhou.
If others have rivalries, the Alfa Romeo pair have a partnership – a 'master and apprentice' dynamic – with the team coming first.
You could sense it in the way Bottas held Zhou's hand throughout his rookie campaign in 2022, congratulating him when he scored points and even telling him when, where and even how to overtake other drivers as the race was going on around them.
Yet even an individual of Bottas's generosity would not be so open, so supportive if he regarded his team-mate as a serious threat.
Only an unprecedented run of unreliability will prevent another Bottas triumph in 2023.
PlanetF1.com recommends
Fernando Alonso's 'PR' radio messages proof of 'extra brain capacity' of the greats
Is Netflix's Drive to Survive nearing the end of the road?
F1 drivers' height and weight: A full rundown of the 2023 grid
Norris v Piastri: Norris
Daniel Ricciardo's underperformance may have cost McLaren a place in the Constructors' Championship for two years running, but don't underestimate the effect of his struggles on Lando Norris's development.
Norris embraced the role of team leader across 2021 and '22, confident with the burden of being McLaren's main (often only) hope as he grew before our very eyes into one of the quickest, most reliable drivers in F1.
Is there a danger that the arrival of Oscar Piastri – a serial winner in the junior categories – could cramp Lando's style?
Maybe in the long term, but not while the team remain almost entirely built around Norris and Piastri spends his debut season adjusting to the complexities of the McLaren way of working that left compatriot Ricciardo chasing his tail.
Ocon v Gasly: Ocon
Esteban Ocon has been in this position before, as the easily-overlooked support act to a driver with a good story and a touch of star quality.
And he made it work for him, outscoring Alonso across their two seasons at Alpine and even sneaking a victory at Hungary 2021.
As Esteban was all too quick to point out, only Lewis Hamilton and Jenson Button – both World Champions – fared better when locked in a cage with Alonso.
That experience should serve him well ahead of the arrival of his old friend Pierre Gasly, who was long seen as perfect Alpine material but whose last big move – to Red Bull in 2019 – did not end well.
In a battle so evenly matched on paper, Ocon's previous three seasons at Enstone must surely count for something.
Hamilton v Russell: Russell
Evaluate a team's drivers not when the car is uncompetitive and prone to porpoising but when they have something that's truly worth fighting for.
Russell may have claimed the team's only victory of 2022 and finished 35 points ahead of Hamilton, but what did that matter in the midst of Mercedes' worst season in a decade?
Only when regular wins and a World Championship are up for grabs can an accurate judgement be made.
As such, the Mercedes intra-team battle for 2023 hinges more than any other on the quality of the car.
If the team are launched back into title contention – and 2022 is rendered little more than a bad dream – there is every chance that Hamilton will re-emerge as the force who became the most statistically successful driver in F1 history.
But what if the W14 also races in Red Bull's shadow, still only an occasional victory contender at best? Then will come the doubts about Lewis's motivation to keep on doing this after everything he's achieved.
With Red Bull winning all but five races last year at the start of a new rules cycle, it will require a major turnaround over the winter for any team to take the fight to them.
In that eventuality, Russell could signal the end of an era in 2023.
Leclerc v Sainz: Leclerc
To understand the perils of judging drivers when the car isn't capable of winning races, look no further than Ferrari.
After a productive first season with the team in 2021, Carlos Sainz – having scored three more podiums and a handful more points than his team-mate – was considered a serious threat to Charles Leclerc.
Come the end of 2022, however, the natural order had been restored.
As Leclerc soared in the opening rounds of last season, winning two of the opening three races to establish a healthy early lead in the Championship, Sainz was exposed as error-prone and lacking the finesse of Ferrari's golden boy.
He recovered well from his early struggles to claim his maiden win at Silverstone, but the pendulum swung so far in Leclerc's direction last season that it is difficult to envisage Sainz reclaiming even ground.
Especially now Frederic Vasseur, a long-term ally of Leclerc who is unafraid of making big and unpopular decisions, is in charge at Ferrari.
Verstappen v Perez: Verstappen
"You just have to accept that the driver next to you is just a bit better. That's fine, that can happen.
"You can't live in a fairytale world."
Verstappen was referring to Bottas's time as Hamilton's team-mate at Mercedes, but his Guide to Life for Number Two Drivers could so easily been read as a warning to Sergio Perez following their controversy in Brazil at the end of last year.
With their relationship under renewed scrutiny, Verstappen's view is clearly that Perez should know his place having being signed by Red Bull with the specific purpose of being Max's wingman for 2021.
And if Checo has ideas above his station?
The consistent excellence of Verstappen's performances alone will force him to comply.