The other eight F1 cars that have given Lewis Hamilton trouble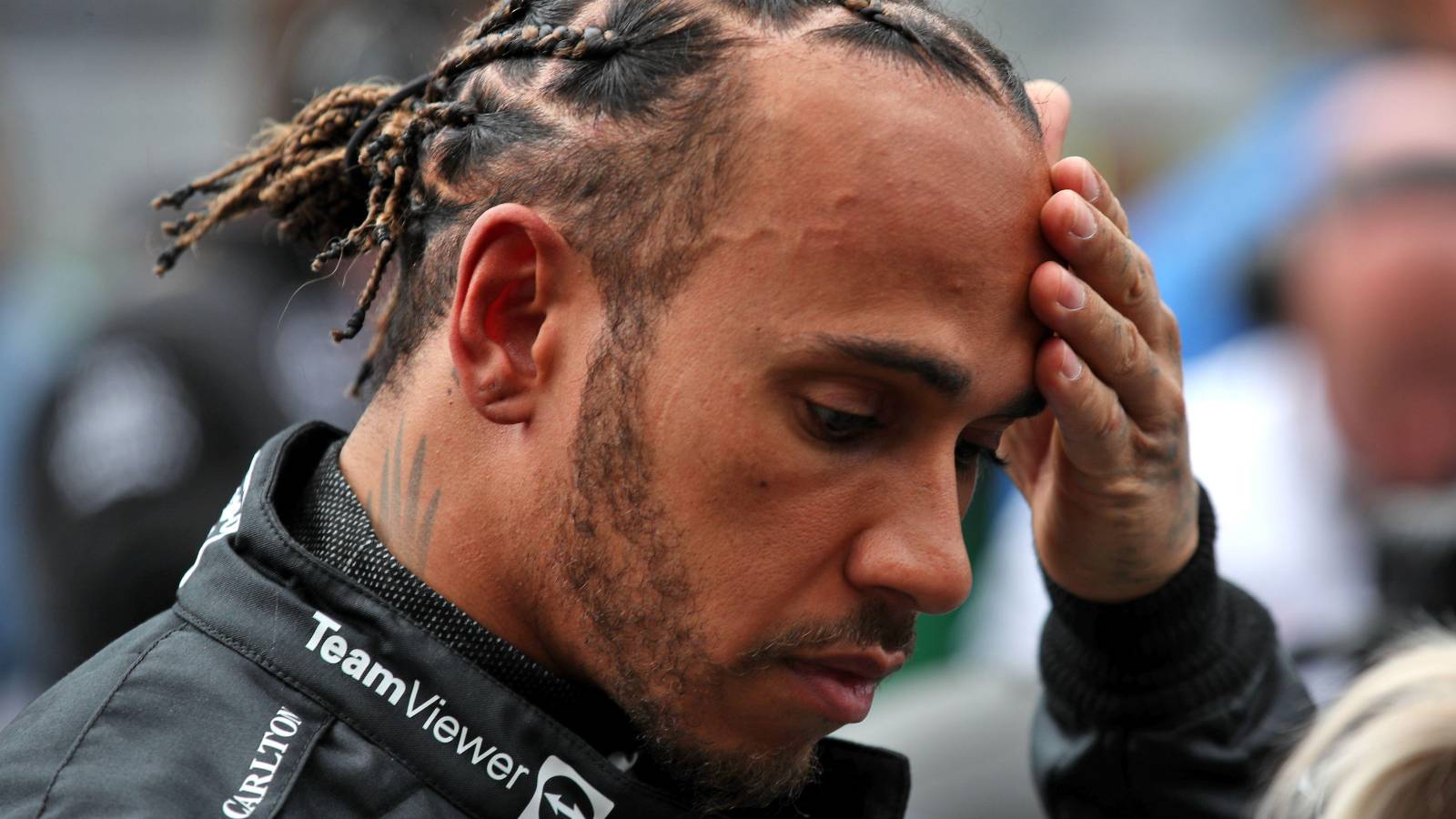 In his 10 years as a Mercedes driver, Lewis Hamilton's bond with his team has never been as strained as it is right now.
After going without a win for the first time in his Formula 1 career last season, this was supposed to be the year Hamilton resumed his quest for a historic eighth World Championship. Instead, with the W14 car no match for the dominant Red Bull of Max Verstappen at the Bahrain Grand Prix, he looks set for more of the same in 2023.
Hamilton has not taken this realisation well, questioning the wisdom behind the car's concept and making public his belief that the team just did not listen to his guidance, but one comment – "I've had many cars like this," which he spoke to the BBC in Bahrain – seemed a stretch from the most successful F1 driver of all time. Let's place that particular claim under the microscope by examining some of the more troublesome cars of his career, shall we?
McLaren MP4-24, 2009
Whenever a prodigiously gifted young athlete wins their first major title, the reaction of the media is invariably the same to the point of being predictable. This one, they promise, is going to dominate the sport for years to come.
Hamilton would eventually prove them right, of course, but on the occasion of his first World Championship the rug had only just been gloriously laid out before it was pulled out from beneath his feet.
The cost for McLaren and Ferrari's commitment to winning the 2008 title was that both left themselves exposed for the major regulation changes of 2009, Hamilton's team as much as three seconds off the pace in pre-season testing.
This was the year of F1's first touch of hybrid technology, the tricky power boost/weight trade-off ensuring the first iteration of the new KERS system was not all it was cracked up to be.
Hamilton was 1.2 seconds off the fastest Q1 time at the first race of his title defence in Australia – the weekend best remembered for the 'lie-gate' controversy making a bad situation at McLaren even worse – and would score just 10 points in the opening nine races, yet the rate of improvement from testing to Melbourne was indicative of the trend of the team's season.
In the pre-cost cap era, McLaren had developed the MP4-24 into a winner come mid-season – albeit one still heavily reliant on Hamilton's virtuosity with team-mate Heikki Kovalainen nowhere to be seen, Hamilton winning in Hungary and Singapore.
That late-season success, however, wasn't enough for the car to salvage a spot in Hamilton's happier memories.
During Mercedes' terrible 2022, his main source of consolation was that it was still a damn sight better than that wretched 2009 McLaren…
McLaren MP4-25, 2010
Controversial? Maybe.
After all, the 2010 McLaren can't have been that bad if Hamilton managed to remain in title contention – albeit as a rank outsider – at the four-way title decider in Abu Dhabi.
Yet with only one pole position all season, this car was the first in a frustrating series of there-but-not-quite McLarens that ultimately drove Hamilton away from the team.
Hamilton and Jenson Button took five wins between them but three came in rain-interrupted races and two of Lewis's came at Istanbul (scene of the infamous clash between Sebastian Vettel and Mark Webber) and Montreal (the race that became the template for the high-deg Pirelli era).
From a McLaren perspective, the abiding memory of that season was a straight duel between the British World Champions in the final stages in the wet in China.
In just his fourth appearance for the team and against a driver of Hamilton's calibre in the rain, Button came out on top.
McLaren MP4-26, 2011
Long before the zero-pod bouncing monster of 2022 came out to play, Hamilton's first experience of a car with funky sidepods came in 2011 with the MP4-26.
The U-shaped pods were the most noticeable feature of a car in which Hamilton experienced a sort of mid-career crisis – his performance on any given weekend hinging on his relationship status – as he was outscored over a full campaign by a team-mate for the first time.
Hamilton's three victories – including two of the most impressive drives of his McLaren career, hunting down Vettel to win in China before emerging victorious in a three-way fight with Webber and Fernando Alonso at the Nurburgring – equalled Button's tally but the latter's greater dependability saw him finish 43 points ahead.
Indeed, as a gravitational pull developed between Hamilton and Felipe Massa, a series of needless collisions seemed to underline how far both had fallen since those days of pushing each other to ever-greater heights in 2008.
McLaren MP4-27, 2012
Had the MP4-27 been presented to Hamilton at a later point in his career and fielded by Mercedes at their title-winning peak, he would have won the lot in 2012.
In reality, this was the right car at the wrong time – its driver still too incomplete to fully exploit it, his McLaren team increasingly muddled in their management of races.
It remains the fastest car to have been produced by McLaren this side of 2008, but basic errors – slow stops in Bahrain and Valencia, plus a fuel misjudgement in Barcelona resulting in Hamilton's exclusion from qualifying after setting pole – saw its potential wasted.
Yet it was the creeping unreliability that pushed Hamilton beyond the point of no return, a gearbox failure while leading in Singapore – and two points ahead of eventual Champion Vettel in the standings – cited as the moment he decided to leave McLaren on a weekend he welcomed Mercedes non-executive chairman Niki Lauda to his hotel room.
Another retirement from the lead six weeks later in Abu Dhabi crystallised the thought of what could have been.
PlanetF1.com recommends
Mercedes backed after key staff losses, succession 'one of Toto's greatest strengths'
'Mercedes are under a lot of pressure from both drivers, but more so from Lewis Hamilton'
Could a move to Aston Martin or Ferrari await Lewis Hamilton if Mercedes 'stay like this?'
Mercedes W04, 2013
Having only ever known the McLaren way, Hamilton's single switch to a new team – new people, new faces, new ways of doing things – went as well as he could have hoped in 2013.
Pole position in just his third appearance for Mercedes in China – preceding a streak of four consecutive poles in the summer months – helped integrate Hamilton into his new home, but the team's pitiful pole-to-win conversion record revealed a fundamental weakness of the W04.
Eight times in the first 11 races a Mercedes driver started on pole, but only three times did they win a race (Nico Rosberg at Monaco and Silverstone, Hamilton with his annual triumph in Budapest).
Even when they locked out the front row in Barcelona, Hamilton finished a lapped 12th as Rosberg hung on to P6 as tyre management struggles became a recurring theme of their race days.
With a major rule change coming quickly over the horizon Mercedes faded in the second half of the season – but that was true of everyone in late 2013 as Vettel and Red Bull touched the sky.
Mercedes W07, 2016
Mercedes' 2016 car was another clear evolution of what came before, the ones with which Hamilton won the Championship in 2014/15.
So what changed? Where did it all go wrong?
It's… complicated.
In some ways, 2016 was not a huge departure as Hamilton ended the season with more poles (12-8) and more wins (10-9) than Rosberg, the faster Mercedes driver by almost every metric (Lewis, for instance, was quicker than Nico by half a second in qualifying at Monza).
The difference this time, however, was that Hamilton lacked the reliability crucial to any sustained title challenge. To finish first…
Hamilton was prevented from setting a time in qualifying in China – and then from participating in Q3 at the following round in Russia – as he suffered a scarcely believable proportion of Mercedes' engine problems.
Yet – in a measure of how formidable a competitor he had become – still he would have won the Championship had he not suffered the infamous big-end bearing failure while leading comfortably in Malaysia.
2016: the one that got away.
Mercedes W08, 2017
Of all his Championship-winning babies, maybe number four – the 2017 Mercedes and the last title winner of F1's open-cockpit era – is the one Hamilton loves the least.
As the dominant force of the early years of the V6 hybrid era, a target was on Mercedes' back as the new extreme-downforce rules were introduced in 2017, given F1's history of major regulation changes bringing entire eras to a shuddering end.
Mercedes staggered and stumbled at first as Ferrari rose again, Hamilton experiencing two especially subdued weekends in Russia and Monaco where he fell in Q2 and team boss Toto Wolff nicknamed the car a "diva", but they held on to regain their poise.
A pattern soon emerged – the short-wheelbase Ferrari flying at compact, slower circuits and the long Mercedes better at faster, more expansive tracks with an emphasis on high-speed downforce – and when it dawned on Ferrari and Vettel that, yes, they actually did have a real shot at the title, that was the moment Mercedes and Hamilton's battle-hardened recent experience made itself felt.
The title was clinched in Mexico, but most were in agreement that Hamilton in that Ferrari would have eased to the Championship.
It was as much as reflection of the W08 and Seb as Lewis himself.
Mercedes W13, 2022
The rule change in 2017 didn't bring down Hamilton and Mercedes, but this one did.
As he disappeared into the darkness for a couple of months after defeat to Verstappen at Abu Dhabi 2021, Hamilton would surely have sustained himself with the thought of striking back in 2022 by – as he put it in the latest series of Drive to Survive – taking "back the Championship that was taken from me".
How galling it was, then, when he stepped back into the light to find the new Mercedes fundamentally flawed.
As Verstappen and Red Bull were elevated to a whole new level of performance, Hamilton found himself at the mercy of the bouncing monster, the car with slim sidepods the worst affected by the porpoising phenomenon that was a side effect of the new ground effect regulations.
Put simply, there was nobody within Mercedes with lived experience of F1's previous ground effect era and while the W13 was made a winner by George Russell at the penultimate round in Brazil, in hindsight that now seems more a function of Red Bull being unable to find a workable setup in the limited practice time available on a sprint weekend than any major Mercedes breakthrough.
And so when Hamilton was wheeled back into the garage with just a few laps remaining in Abu Dhabi last November, the most successful driver in grand prix history put an end to the worst season of his career.
No matter, Mercedes said. Don't worry, we know what to do.
If we can just sort out the porpoising, we'll be right back at the front…