Faced with the prospect of spending months in lockdown with a current F1 driver, who would you most like to spend the time with?
With no regular rush of racing to keep us going, our brain has wondered off into 'what if' territory. Usually we can snap ourselves out of it, but we just kept returning to this particular scenario.
We couldn't imagine staying with George Russell as he would make us feel pretty pathetic whilst he wondered around with his top off. Alex Albon? Nope. He's a nice lad but we would feel we would have too much responsibility given he has only recently moved out of the family home.
Running up absolutely ridiculous food delivery bills at Lance Stroll's house did cross our minds, so too did the chance of going on boat trips with Kevin Magnussen.
But after much contemplation than we care to admit to our Planet Sport overlords, we have settled on a shortlist of five, starting with:
Romain Grosjean
Fifth spot was a close call between Sebastian Vettel and Romain Grosjean. Both would come with the warning that we could get a whinge at any moment but, for the vast majority of the time, they would be pretty good company.
However, selfishness has won over this dilemma…just imagine how good of a cook you would become under Romain's guidance.
And if you didn't get the seasoning right or burned something, you could just blame him. He's had his fair amount of stick over the years so he would be able to cope with it.
We would also want, and expect, daily stories about Guenther Steiner. The Netflix documentary series has only left us wanting more.
Valtteri Bottas
Bottas comes with a reputation of being a slightly boring and dull driver but we beg to differ. He does have his moments and come on, he's Finnish. Any opportunity to spend some time with the Finns is an opportunity that has to be taken.
Porridge in the morning, followed by minimal talking for most of the day before a beer or three in the evening. Sounds like bliss to us.
We could stay here all year, never mind a few weeks.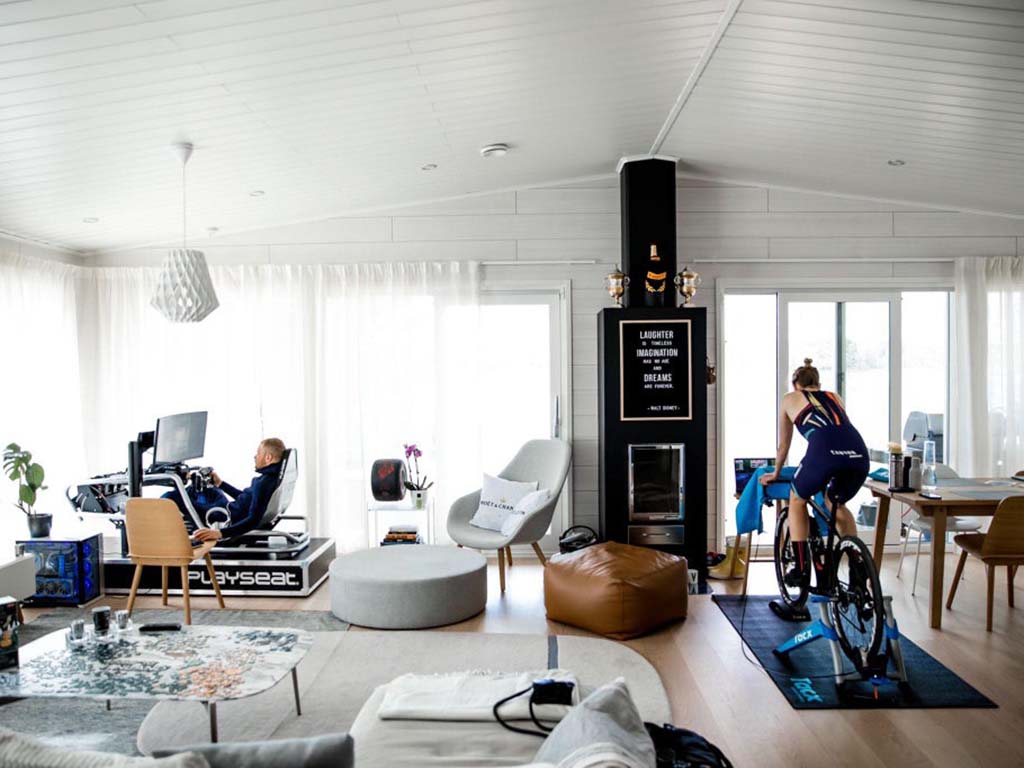 We would be absolutely petrified of creating even the slightest bit of mess and the motivational quote poster would have to come down (we can't do the 'Live. Laugh. Love.' b*llocks) but, for the sake of may be being allowed to go on his sim, we might be able to reach a compromise on that.
Lando Norris
Part of us wants to embrace the calm and tranquil environment that Valtteri would provide…and part us would be intrigued to know just how chaotic it would be living with Lando.
The endless streaming, the always lingering threat of a connection failure mid-race, no two days would likely be the same even with supposedly nothing to do during lockdown.
The prospect of being just a phone call away from possibly winding Max Verstappen puts another big tick in the 'reasons for' column and we are also in desperate of a haircut. We hear he knows a thing or two about head shaves.
We would be willing to handle all the admin that comes with running his Twitch channel and we would have no reservations whatsoever about telling Simon Pagenaud he is a big baby for taking Lando out in the virtual race at Indianapolis.
Daniel Ricciardo
Daniel Ricciardo has got lockdown nailed down to absolute perfection and was a very strong candidate for taking the number one spot himself.
Ricciardo made a great call not to head back to his Monaco apartment and instead go to the family home in Perth, which just so happens to be a farm.
There would be absolutely no chance of us getting cabin fever when we could still embrace the great outdoors. Sign us up for this…
Ricciardo has shown signs of being serious when it comes to training and not getting involved in virtual racing out of fear of getting completely addicted to it, but you just know you would never be too far away from doing some stupid sh*t with him.
We would probably get to find out about some cool music artists that we've never heard of before and come away loaded with Netflix recommendations so, all things considered, it would be a big win-win situation for us as long as there is absolutely no drinking out of shoes. Glasses, cups and mugs only please.
In the number one spot, it can only be one man really.
Kimi Raikkonen
As Kimi's Alfa Romeo team-mate Antonio Giovinazzi once said: "A party with Kimi is just a meeting."
Just imagine how much ice cream and alcohol you would have to get you through these dark times.
There would be even less talking than there would be with Valtteri (until the first bottled is opened) and we would spend that time just observing his coolness in the hope the slightest bit of it would rub off on to us one day.
Mobile phones would be on silent indefinitely, knocks on the door would go completely ignored, stupid questions and conversations would be left for those on the outside of this blissful bubble.
Kimi also loves to sleep and it just so turns out that we do too.
Just the small matter now of finding out whether all this is ok with him for us to move in…sadly, we think have a slight inkling of what the answer would be.
Follow us on Twitter @Planet_F1 and like our Facebook page.