F1 driver nicknames: From Princess George, to Britney, and the Pampas Bull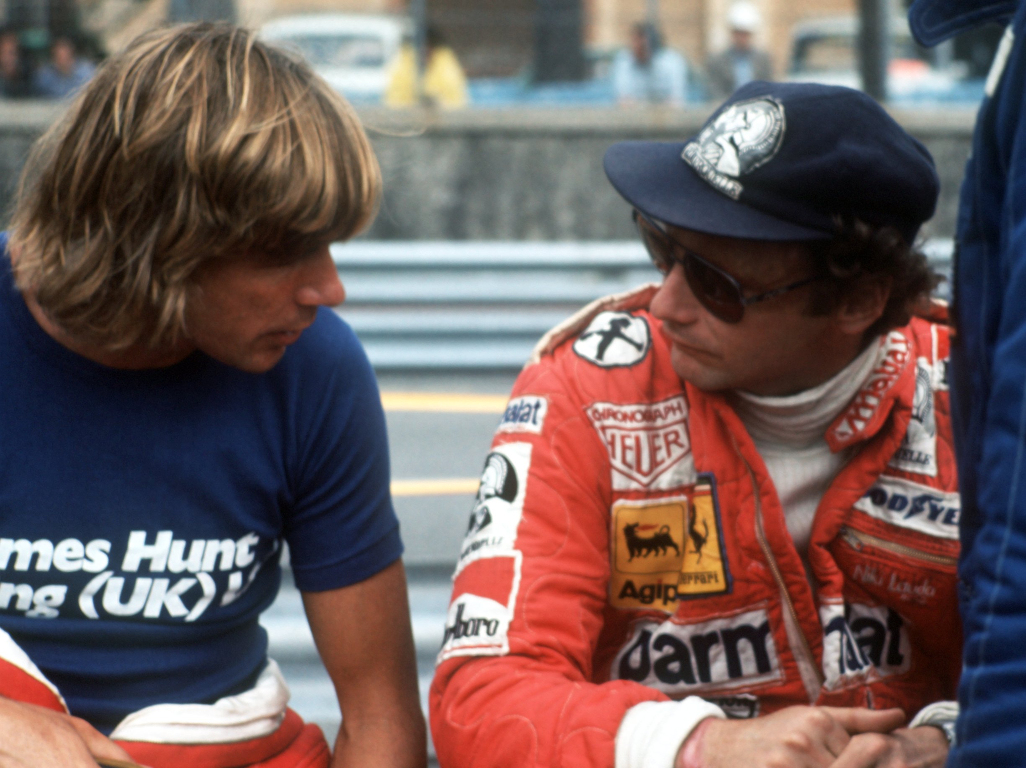 Throughout the decades Formula 1 drivers have been given nicknames by either their rivals or fans, some more flattering then others.
George Russell recently highlighted this when the man known as Mr. Saturday for his qualifying exploits was dubbed 'Princess George' by Max Verstappen, 'Mad Max' as he's known, after their sprint race clash in Azerbaijan.
"It's not allowed because Princess George is there?" raged Verstappen. "That's ultimately his problem!"
He also called the Mercedes driver something else on the day but we'll leave that one out.
Here's a look at some of F1's best driver nicknames and how they came about.
James Hunt: Hunt the Shunt
A daredevil driver who had a habit of either finishing well or hitting something – or someone, James Hunt's, at times, reckless exploits on track earned him the nickname "Hunt the Shunt".
He first earned the moniker in his junior days with his aggressive driving that led to several accidents with 'Hunt the Shunt' following him into Formula 1.
But winner of 10 grands prix and the 1976 World title, even the negative connotations about his nickname endured him to his fans.
Alain Prost: The Professor
Alain Prost, nicknamed 'The Professor' for his cerebral approach to racing, was more on the intellectual than the emotional side when it came to strategising. And he needed that during his battles with Ayrton Senna.
Known for very rarely pushing too hard at the start of the race, Prost was all about judging situations and then adjusting his plan accordingly. That won him 51 grands prix and four World titles.
Though it has been said 'The Professor' was not a name he particularly cared for, in his own words he summed up why it suited him: "I always say that my ideal is to get pole with the minimum effort, and to win the race at the slowest speed possible."
Graham Hill: Mr. Monaco
One of the most popular drivers of his era, Graham Hill was dubbed 'Mr. Monaco' by the press having won the Monte Carlo street race five times, back then the record.
Winning it three years in a row from 1963-5 and again back-to-back in 1968-9, Hill's record of five Monaco wins has since been broken by Ayrton Senna but it is the Briton who'll always be known as 'Mr. Monaco'.
To this day Hill is the only driver to have ever won the Triple Crown; the Monaco Grand Prix, Indianapolis 500 and the 24 Hours of Le Mans.
Niki Lauda: The Rat
Not the kindest of nicknames, triple F1 World Champion Niki Lauda was dubbed 'The Rat' said to be because of his crooked teeth.
Lauda, who won 25 grands prix for Ferrari, Brabham and McLaren, was asked about the nickname in an interview with the Telegraph.
"Marlboro was the sponsor. They put 'The Rat' on my visor," he said. "A marketing guy thought of it because of my teeth."
But as Lauda racked up the F1 wins and World titles, he upgraded his nickname to 'King Rat' which was at times even written his visor strip.
Nico Rosberg: Britney
Nico Rosberg's 'Britney' nickname was courtesy of his former Williams team-mate Mark Webber, the Aussie unimpressed with his antics on first lap of the 2006 Brazilian Grand Prix.
Driving into the back of Webber, Rosberg suffering a broken front wing and Webber losing a piece of his rear wing, Rosberg went onto lose control of his FW28 and crash heavily.
As he passed the scene of the accident, Webber was told by the team to let Rosberg pit before he comes in for his stop, Webber replied: "Britney's in the wall."
The nickname, based on Rosberg's long blonde hair and likeness – if you squint very hard – to Britney Spears, stuck.
Max Verstappen: Mad Max
This is one Max Verstappen personally doesn't agree with but it has stuck, 'Mad Max'.
Such were the Dutchman's antics during his early years on the grid that the FIA implemented what was dubbed the 'Verstappen rule' that banned drivers from moving under braking into a corner to defend their position.
The driver had angered his rivals for what they believed were "potentially dangerous" defensive manoeuvres when he changed lines in the braking zone to block them.
Dubbed 'Mad Max' for that and other red mist moments, Verstappen made it clear back in 2020 that he doesn't appreciate the moniker.
Asked by then Red Bull team-mate Alex Albon "what's the common rumour about you that isn't actually true", he replied: "Mad Max."
So "you're not mad?" asked Albon. "Not mad," said Verstappen, "it's easy to rhyme. I don't agree with it."
Kimi Raikkonen: Iceman
Kimi Raikkonen was Formula 1's 'Iceman', he even has it tattooed on his forearm. It was a nickname that was reportedly given to him by Ron Dennis.
There is a misconception that he earned the moniker during his Ferrari days when, during a downpour at the 2009 Malaysia Grand Prix that resulted in a red flag, he headed off for ice-cream and a cool drink. While many of his rivals remained race-ready, Raikkonen was in shorts and a Ferrari golf shirt digging through the freezer.
That, though, isn't correct as the Finn already had the moniker 'Iceman' during his McLaren days. With his ice-cool attitude both on and off the track, Dennis dubbed his driver the 'Iceman' after the driver didn't wilt at the 2003 Malaysian GP when he raced from seventh to first, taking the chequered flag by 30s while others suffered in the heat.
Said to be given to him because he never showed any signs of stress or pressure, Raikkonen was even known to have a nap before a grand prix.
George Russell: Mr. Saturday
Racing for Williams for three seasons, George Russell's first with the team saw him exit qualifying at the first hurdle time and again. But in his second year, well that's when he became known as 'Mr. Saturday'.
Russell progressed to Q2 on nine occasions, the driver getting more out of the Williams than many believed possible. He, however, wasn't able to follow through on the Sundays and it wasn't until 2021, his third season with Williams, that he scored his first points for the team.
Progressing to Q2 15 times, Russell even featured in the pole position shoot-out on four occasions as he regularly extracted the maximum from Williams' peaky car in qualifying.
He also narrowly missed out on a debut pole position in the rain at the Belgian Grand Prix where he finished runner-up behind Max Verstappen. That weekend 'Mr. Saturday' had his first of Sunday moment as he grabbed his first-ever podium.
Daniel Ricciardo: The Honey Badger
Former, and perhaps soon-to-be-again, Formula 1 race driver Daniel Ricciardo has the nickname 'The Honey Badger' with a picture of the furry animal present on his helmet.
That's because he identifies with the badger, which is known for its ferocity and fearlessness.
It came about while watching a documentary on honey badgers with his then trainer Stuart Smith.
Ricciardo explained: "It was my trainer at the time, Stuart Smith. He'd shown me a documentary on it, and said: 'Dude this animal's great!' I thought it was awesome. Then he added that he thought I had a lot of honey badger qualities. And I thought, 'yeah, I think I do!' So it started from there. I think I've done well to keep it going."
An eight-time grand prix winner who was twice P3 in the Drivers' Championship, Ricciardo will need those honey badger qualities if he wants to return to the grid next season.
Juan Manuel Fangio: Maestro
Juan 'Maestro' Manuel Fangio was an Argentine racer who dominated Formula 1 in its first decade, winning the Drivers' Championship five times – a record that stood for 46 years until beaten by Michael Schumacher.
Nicknamed 'El Chueco', which means the bowlegged or bandy legged one, by his fellow racers, in his youth, his success on the track saw that elevated to 'Maestro'.
With 24 races wins in just 52 starts, to this day 'Maesto' leads the way in percentage of wins with 47.06%. Alberto Ascari is next in line with 40.63%.
Jose Froilan Gonzalez: The Pampas Bull
'The Pampas Bull' has a much better ring to it than 'El Cabezo', in English, Fat Head, doesn't it? But that latter is what Jose Froilan Gonzalez was affectionately called by his fellow racers.
While that's self-explanatory, 'The Pampas Bull' was the nickname given to him by the British press given the Argentine's physique.
Stature aside, González will forever be remembered as Ferrari's first-ever grand prix winner as he beat team-mate Alberto Ascari to the line at the 1951 British Grand Prix.
Daniil Kvyat: Torpedo
Daniil Kvyat earned his nickname 'Torpedo' when he almost crashed into Sebastian Vettel at the 2016 Chinese Grand Prix.
Vettel had to take avoiding action which sent him his Ferrari team-mate and confronted Kyvat after the race: "You came like a torpedo!"
One race later Kvyat would go onto hit Vettel, rear-ending him at the Russian Grand Prix which turned out to be the accident the ended his Red Bull stint with the driver demoted to Toro Rosso with Max Verstappen taking his Red Bull seat.
The nickname stuck, Daniel Ricciardo referring to Kvyat as 'the Torpedo' at a press conference in 2017 with Lewis Hamilton questioning the moniker. Ricciardo replied: "It's what Seb called him in China last year."
As for what Kyvat would call Vettel today, 'Professional Screamer', the Russian driver adding to the on the Track Limits podcast: "He likes to scream a lot on the radio, I think. Of course he is calmer [now] but when things were high stakes, he was screaming a lot!"