F1 must avoid going too far in quest to crack America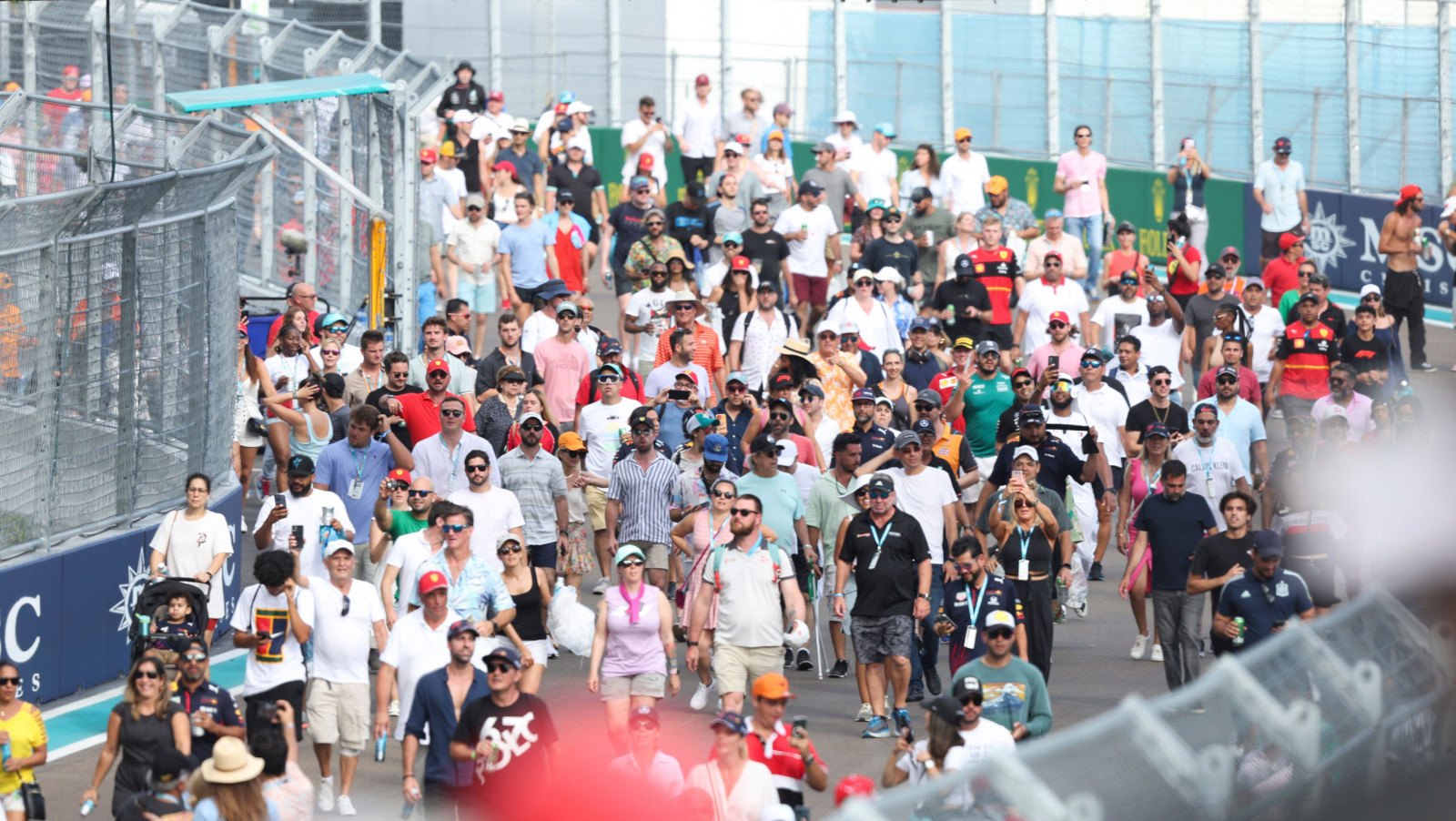 It looks like Formula 1 is finally fulfilling its goal of cracking America, but if the sport isn't careful, it could come at a price.
Stefano Domenicali and co left the inaugural Miami Grand Prix feeling pretty good, to say the least.
"What we have lived over the weekend has been just amazing," the F1 CEO told GPFans.
"If you think we signed the contract less than one year ago, and there was nothing, it's impressive, so congrats, it's great vibes. You can see what Formula 1 is today.
"We were just discussing that this event has been bigger than the Super Bowl in terms of numbers, in terms of the celebrities you saw on the grid.
"Everyone wanted to be there, and it was difficult to say yes or no. Everyone was saying 'This is the place to be. Formula 1! Formula 1!', so I think we should all be happy."
Indeed, there were undoubtedly reasons to be cheerful for the Italian and his colleagues.
One of Liberty's biggest goals when they took over from Bernie Ecclestone was to make a splash across the pond, and the first trip to the Sunshine State showed they've certainly done that.
Not only were the crowds throughout the weekend huge, but they were passionate and enthusiastic too, more so than American F1 fans ever have been before.
However, while those in attendance may have been loving it, the same can't be said for those watching from afar.
While the F1 higher-ups were patting themselves on the back in Miami, many fans outside of America were shaking their heads instead, for multiple reasons.
The most important one was the fact that the on-track action wasn't particularly entertaining, with the race being something of a procession until the Safety Car came out in the closing stages.
Many off-track parts of the weekend weren't particularly well-received either, such as the post-race ceremony which saw the drivers given a police motorcycle escort inspired by old American TV show CHIPs before walking onto the podium wearing NFL helmets.
All of this left quite a large number of F1 fans far from happy, and the sport can't afford to ignore such discontent going forward.
A divide between long-standing F1 fans and newer ones isn't anything new, but has been growing and growing in recent years.
Take Netflix's Drive to Survive series for instance; it has proved immensely popular and has played a huge part in bringing new fans to the sport, particularly in America.
However, many who have been watching F1 for years share the view of Max Verstappen that it is too fake and artificial, with effectively fictional narratives being created through the magic of editing.
Such complaints have been ignored though, with the streaming service doubling down with that approach more and more with each passing season of the show. As a result, it has become more and more popular with those relatively new to F1 and less so with those that were around long before its creation.
F1's challenge is to keep both groups engaged and enthusiastic about the sport, and it failed to do so in Miami.
The cringe-inducing gimmicks, from the podium ceremony to the fake marina, were the sorts of things that can be seen at most American sporting events and are generally popular there but not elsewhere in the world, and that was very much the case with this race weekend.
Me after paying $2,000 for a standing ticket #MiamiGP pic.twitter.com/wGQqhV5bQs

— Matt Amys (@mattamys) May 2, 2022
For proof of that, you need only look at the replies to the tweet the official F1 account posted about said podium ceremony, with the vast majority of them being critical, accusing the sport of becoming too showbiz and selling its soul.
There's one obvious way in which F1 can bring an end to all of the above uproar though, and that's by solving the much bigger problem; the race itself.
There were many reasons why the sport decided to go to Miami for its second American race on the calendar, but very few of them had anything to do with actual racing.
It's a country full of a huge number of excellent purpose-built circuits other than Austin's COTA, all of which could have produced thrilling races.
Rather than heading to one like Indianapolis as Sebastian Vettel wanted to though, F1 instead chose to build an unspectacular track in a car park, purely because that car park was in Miami, prioritising glitz and glamour over entertaining on-track action.
They've done the same with the third race that will take place in the States, the Las Vegas Grand Prix. Sure, seeing the cars in such an iconic location will be quite something, but the racing probably won't be.
Ultimately, making a race weekend more American, for lack of a better word, isn't a problem if it only happens when F1 heads to American soil – it's fair to say a fake marina being installed at Silverstone or Spa would not go down well – and if the race itself is a good one.
Many fans will no doubt roll their eyes at some things off-track like what we saw in Miami, but they'll be able to live with them if they like what they see on-track.
If not though, they'll grow unhappier and unhappier with the direction the sport is going in, and that could create serious problems.