F1's next new champ…is Verstappen really a shoo-in?
Thirty three different drivers have been a Formula 1 World Champion, but who will be the 34th?
Any poll would surely have Max Verstappen as the outstanding candidate. But is it really that straightforward?
On talent alone, yes, it should be an open-and-shut case. Verstappen has been shattering records ever since he made his F1 race debut only 166 days after he would be legally allowed to drive a car on a UK public road.
He is the youngest driver to start an F1 race, lead an F1 race, win an F1 race, finish on the podium, score points and set the fastest lap.
But one record he is extremely unlikely to break is that of the youngest World Champion. Having turned 23 yesterday – a belated happy birthday, Max – he has 133 days to better Sebastian Vettel, which means it would have to be this year. And being 77 points behind Lewis Hamilton in this season's standings, that's not going to happen.
Surely, though, the Dutchman's turn will come. It's simply a matter of when and how, but the history of F1 means it may involve some astute decisions and impeccable timing.
At present, it is very difficult to see F1 World Champion No 34 being crowned before 2022. Hamilton has effectively got this year's title sewn up, and the stable regulations for next year suggest an eighth Championship, breaking Michael Schumacher's record, will come along in 2021. What happens after that is much harder to predict.
Will Hamilton retire at that point? At the time of writing, he does not even have a contract for next season and Mercedes must already be thinking about which driver will spearhead the team in the future – assuming, of course, they choose to stay in the sport medium-term at least.
The astute decisions and impeccable timing mentioned above become relevant at this point. Taking over as team leader at Mercedes once Hamilton steps aside appears an obvious move for Verstappen. But what if Red Bull adjust better than their rivals to the new rules?
F1 is all about being in the right car at the right time. Jenson Button would testify to that. He had completed nine full seasons before he finally became World Champion in 2009, another year in which substantial rule changes were implemented.
The Brawn team got off to a flyer and Button won six of the first seven races. Eventually, Red Bull and McLaren bridged the performance gap, but the British driver had dominated the first half of the season so much that P5 at the penultimate race in Brazil secured the crown.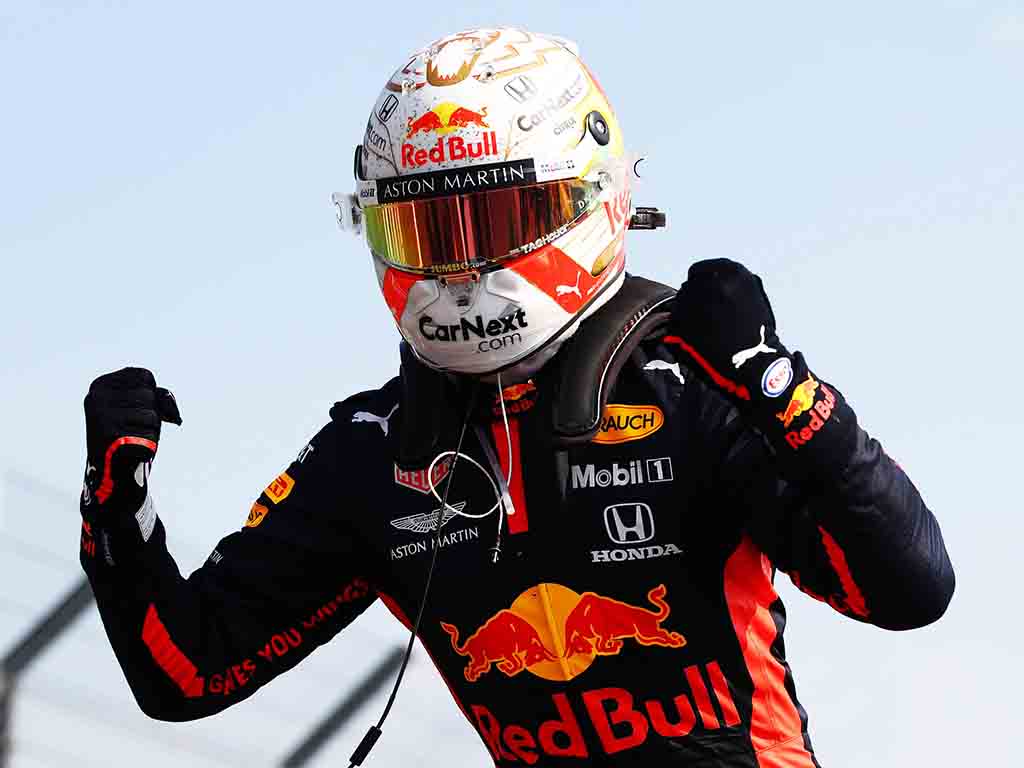 Get your hands on the official Red Bull 2020 collection via the Formula 1 store
That's not to say something similar will happen in 2022. Just that a surprising title contender could emerge while the teams are getting fully adjusted to the new regulations.
However, it's one thing having the best car, but you also need the ability as a driver to put together a Championship-winning campaign.
That's what separates Hamilton from his Mercedes team-mate Valtteri Bottas. Verstappen, it appears, has all the attributes and simply needs the right machinery to deliver. So who else does?
Charles Leclerc is the obvious next name in line. His problem is twofold – he is still sometimes erratic and, more significantly, is completely invested at Ferrari as their big hope, and the Scuderia are showing little sign of competing for titles any time in the next few years.
Daniel Ricciardo is someone we could see having Championship qualities in the right car. Lando Norris? Evidence of a steelier mindset would persuade us more, but there is time for that to develop.
George Russell is a potentially more convincing one, though. A Mercedes junior driver, it is not difficult to see him partnering Verstappen a few years down the line given what he has shown 'on loan' at Williams, in qualifying especially.
Then, of course, it's understandable to think Mick Schumacher will be given every opportunity to go about following his illustrious father into the record books.
Michael had his own F1 era in the first half of the noughties. The first half of the 2010s were all about Sebastian Vettel, the second part belonged to Hamilton. Now we look to see if anyone can dominate the 2020s.
If anyone, it should be Verstappen, but let's not race too far ahead.
Simply becoming Formula 1's 34th different World Champion would do him nicely for starters.
Jon Wilde
Follow us on Twitter @Planet_F1 and like our Facebook page