F1 records: The drivers with the longest points-scoring streaks in history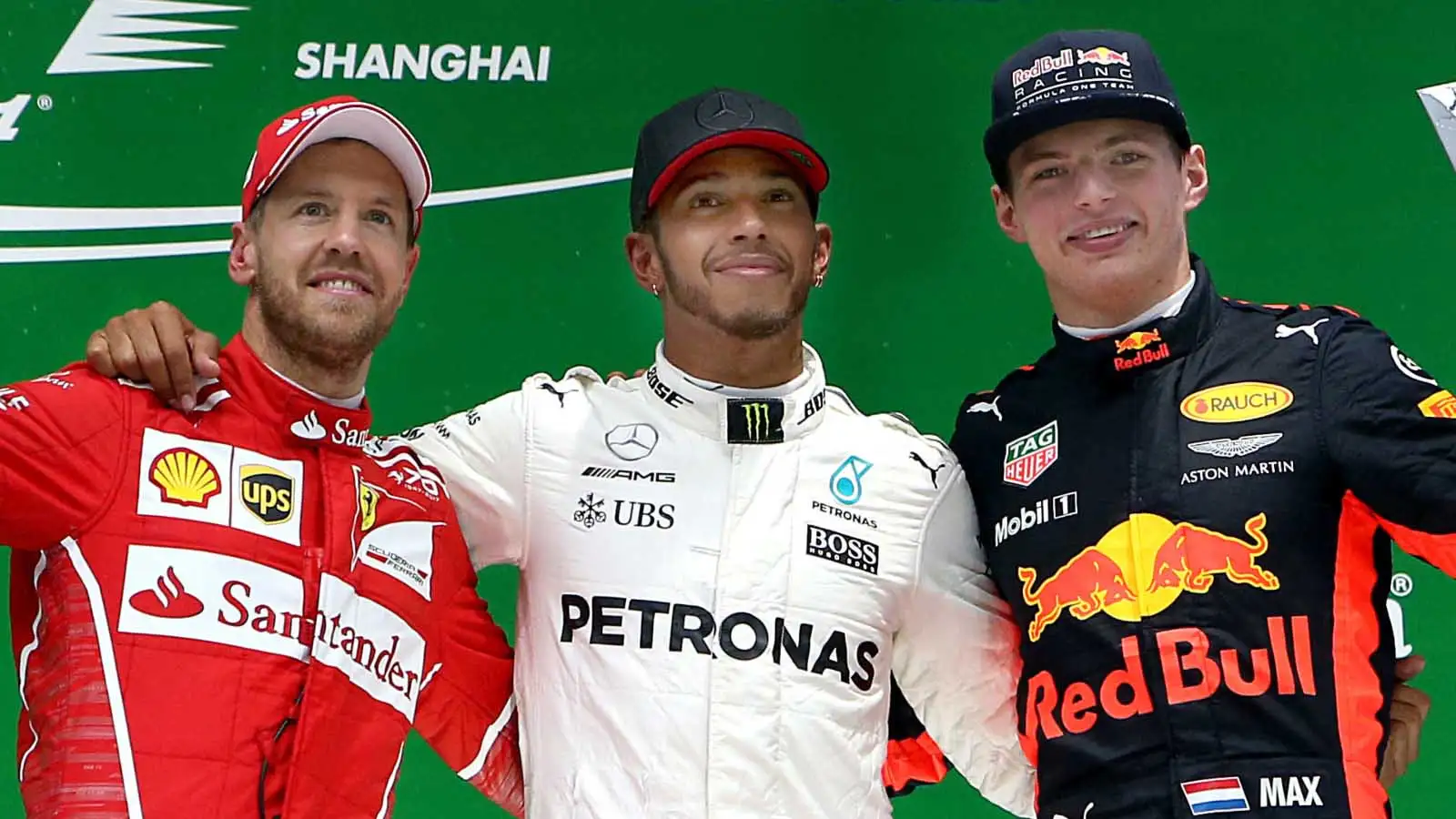 Points very much mean prizes in F1, and while they are given to more places than ever before, they are still the key currency come the end of a season.
Drivers used to fight it out for the top six placings to get a point on the board and, while the scoring system has changed and the top 10 finishers now earn points, it is still those at the top end who are rewarded most.
While cars are more reliable than ever and there are more races every season, the onus is still on the F1 grid to do the job on a Sunday and bring home the points the team need every weekend, some to greater degrees of success than others.
With that in mind, here is a look at the longest points-scoring streaks in the history of F1 to date.
48 – Lewis Hamilton (Britain 2018 – Bahrain 2020)
Coming back after retiring in Austria, ending what would be the second-longest F1 points streak ever (read on for more), a flying Hamilton and Mercedes took second place behind Sebastian Vettel's Ferrari as the 2018 title race really heated up.
He fell eight points behind Vettel in that year's title race, but his whopping 48-race points streak involved 30 race victories (or, to put it into context, two shy of the career total of Fernando Alonso to date).
Hamilton wrapped up the 2018, '19, and '20 World titles in that time as well, as he and Mercedes went about their business in dominant fashion, despite Ferrari's best efforts.
So, how did this streak end for the seven-time World Champion? It was a bout of Covid-19 that kept him out of action for the following weekend's Sakhir Grand Prix. He was straight back on the podium for the following race in Abu Dhabi, so the fact remains that it was illness that was stopping Hamilton from bringing up a half-century of consecutive F1 points finishes.
41* – Max Verstappen (Emilia Romagna 2022 – ongoing)
Shooting up the rankings and closing in on Lewis Hamilton's record in super quick time is the incredibly dominant Max Verstappen.
His first-place finish at the 2022 Emilia Romagna Grand Prix can actually be seen as the starting place for the greatness we have watched unfold from the Dutchman.
That P1 at Imola has sparked a quite frankly ridiculous run of 33 victories from 41 races, a win rate of 80%. Gulp.
33 – Lewis Hamilton (Japan 2016 – France 2018)
The 2016 season had seen Hamilton's rivalry with Nico Rosberg come to a head within Mercedes, as the two team-mates fought for win after win, coming to blows in the process with a huge first-lap crash in Spain.
But Hamilton's retirement in Malaysia left him 23 points behind Rosberg, and while his 33-race points streak started with four wins from the final five races of the year, it was not enough to take another title.
He scored in every race on the way to title glory in 2017 however, and after winning around Paul Ricard in 2018, a fuel pressure issue at the next round halted Hamilton's remarkable run – at that time, already an F1 record.
In fact, that retirement in Austria was the only time in 82 races (yes, eighty-two races, or around four seasons' worth of racing) where Hamilton finished outside the points. A quite remarkable display of reliability, performance and consistency.
27 – Kimi Raikkonen (Bahrain 2012 – Hungary 2013)
Anyone worried about Kimi Raikkonen's form after taking a two-year break from Formula 1 need not have been too concerned, as it seemed none of his pace disappeared in his time away.
This is shown by the fact 29 of his first 30 races back in the sport were finished in the points, with two wins and 11 more podiums to go with it – and 27 of those top-10 finishes came in a row from Bahrain 2012 onwards.
The then-Lotus driver took second in an entertaining race behind Vettel on the day, and while his car was never the standout on the grid, he kept bringing it home in contention – finishing third in the Drivers' Championship in his comeback season.
A brake problem at Spa in 2013 ended the Iceman's longest F1 scoring run at 27 races in a row.
24 – Michael Schumacher (Hungary 2001 – Malaysia 2003)
Given the smaller calendar back in the early 2000s, Michael Schumacher's longest points-scoring streak ended up straddling across three separate F1 seasons – all of which were title-winning.
Driving Ferrari cars which were reliable beyond their years compared to the rest of the field, as well as mightily quick, Schumi was able to notch up 14 victories and six further second-place finishes in this remarkable 24-race span, with the standout 2002 season being his most dominant up to that point in his already legendary career.
In a rare error from the German in wet weather, it was an aquaplaning moment at Interlagos in 2003 that forced him to retire from that race and end his points-scoring streak at 24.
But no matter, he picked straight back up again at the following weekend and scored points at the next 18 races in a row – winning 11 of them.
23 – Fernando Alonso (Europe 2011 – Hungary 2012)
Had it not been for his collision with Jenson Button in Canada in the wet in 2011, Alonso could have finished every race of the year in the points – and was the only time in 36 races he failed to do so.
Alas, just the 23 races in a row will have to do on this occasion, though. But this time of Alonso's career would see him drive seemingly far beyond the capabilities of the Ferrari cars which were underneath him, ending up scoring more than twice the points tally of team-mate Felipe Massa by the end of 2011, and mounting an unlikely title challenge the following year.
He bounced back from retirement in Montreal by finishing each of the final 12 races of 2011 in the top five, and while there were some finishes in the minor placings among his early wins in 2012, they all still counted towards his streak before a flying Romain Grosjean clattered over the top of his Ferrari heading down to the first corner at Spa.
22 – Valtteri Bottas (Britain 2018 – Britain 2019)
Bottas rather forcibly had to settle for the uncomfortable tag of 'wingman' in his time at Mercedes at times, but his consistency and performances alongside Hamilton should never be underestimated in helping the Silver Arrows to Constructors' titles in each of his five seasons with the team.
The Finn had to play second fiddle to his team-mate in 2018 as he fought with Vettel for title glory, with Bottas in fact finishing the year down in fifth in the Drivers' standings.
It took until the 13th race of his streak to register a victory, and the arrival of 'Bottas 2.0' at the beginning of 2019 as he won two of the first four races, and was outside the podium places only once in the final 10 grands prix of his consecutive points finishes up to Silverstone, before his slide into the barrier at Hockenheim brought his 22-race scoring run to an end.
21 – Max Verstappen (Belgium 2018 – Hungary 2019)
Verstappen had already shown himself to be a proven talent in Formula 1 by the time this 21-race points streak started, having become the sport's youngest ever driver and race winner while still a teenager.
But where 2017 had been plagued by retirements and incidents, it was the second half of 2018 where the Dutchman really began to find his stride and consistency, with this particular 21-race run containing finishes all inside the top five, and three victories to boot.
This constant building of points helped Verstappen to fourth in the World Championship in 2018, and his retirement in Belgium in 2019 to end this streak was one of only two DNFs that year, as he finished in the top three in the Drivers' standings for the first time.
21 – Sebastian Vettel (Britain 2014 – Hungary 2015)
More successful times for Vettel appear further down this list and, while 2014 was the year the four-time World Champion had the proverbial applecart upset by an emerging Daniel Ricciardo, he continued to get results for Red Bull, even if they were not as strong as his young team-mate's.
Only two of the first 11 races in this run saw Seb make it onto the podium, which proved to be his final outings in Red Bull colours before his move across to Ferrari in 2015, where he would hit the ground running with five podiums in the first six races – including victory in Malaysia.
Mercedes would prove to be far too strong for him to mount a serious title challenge that year, but Vettel was 'best of the rest' more often than not as he continued to notch F1 points to his name, before a tyre failure two laps from the end in Belgium dropped him out of the top 10 and ended his streak.
19 – Lewis Hamilton (Italy 2014 – Italy 2015)
Hamilton's third appearance on this list sees him pick up another 19-race scoring streak in F1, but given the lofty heights preceding him in this chart, scoring at every race for a calendar year seems like small change for him.
After contact with Rosberg at Spa in 2014 prompted Hamilton to ask to retire from the race, he picked up his title charge at Monza with what would begin a run of six wins in the final seven races of the season on his way to his second World Championship.
This F1 points run was completed entirely on the podium (apart from one lowly P6 finish in Hungary after a drive-through penalty following contact with Daniel Ricciardo), before Hamilton's streak was broken with a power unit problem which forced him to retire in Singapore 2015.
19 – Sebastian Vettel (Brazil 2010 – India 2011)
Vettel was so consistent, he racked up 19-race points streaks twice in his esteemed F1 career.
The closing stages of the fraught 2010 title race was the starting point for his first run. After a smoking engine ended his race from the lead in Korea, the Red Bull driver ended the season with two victories and his first World Championship to boot.
It was the only time he led the standings all year, and it was right at the end – when it counts. And that form carried over into 2011, buoyed by the taste of success and a car capable of almost anything in his hands on a single lap, this 19-race run saw Vettel finish off the podium only once (with a measly P4 finish at the Nurburgring), with 13 wins to boot.
He was already long crowned champion by the time his streak came to an end with retirement in Abu Dhabi, after winning in India.
19 – Sebastian Vettel (Hungary 2018 – Austria 2019)
Seb again? Oh, go on then.
This run of points finishes did not yield the same level of success as his 2010-11 consistency however, with this particular 19-race chunk of his career bringing just the one victory in that time – at Silverstone in 2018.
For the most part, Vettel was scoring consistently inside the top six in Ferrari cars which proved not quite up to the same levels as their Mercedes opponents, even if the 2018 campaign is one which could well have gone begging for him and the Scuderia.
After all, the only blot on his copybook from Japan 2017 through to Britain 2019 – and the only reason this streak is not 34 races – was when he crashed out of the lead at Hockenheim, where his title challenge really started to go downhill…
Read more: Where are they now? The 24 drivers who raced in F1 2003