F1 records: Top 10 longest team podium streaks in Formula 1 history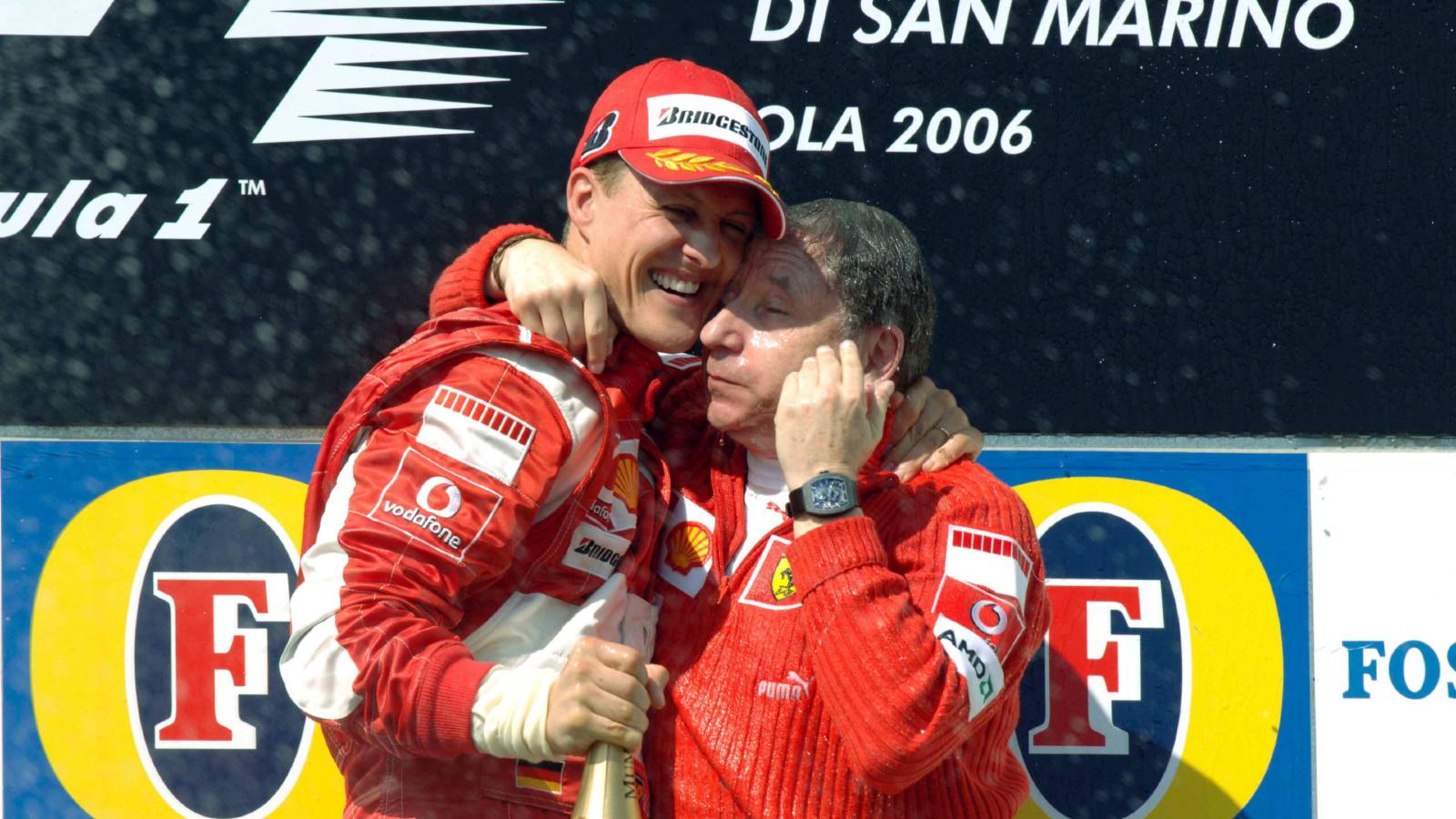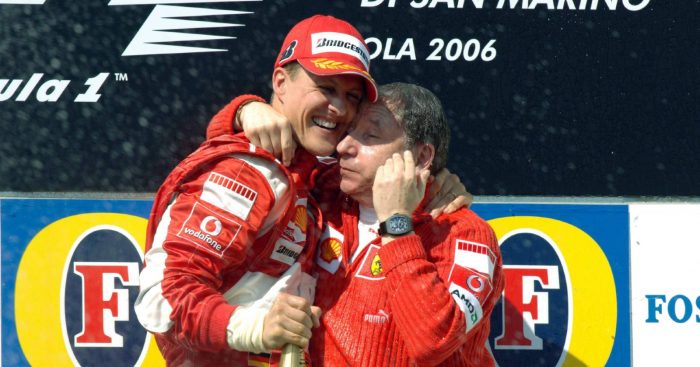 Consistency and success is what puts teams and drivers at the top of lists of F1 records, and those two ingredients are key as we look at the longest podium streaks for teams in the sport's history.
We have seen some dominant machinery come and go in Formula 1 over time, but reliability has not always been the strongest suit of the cars – particularly in decades past.
In fact, it is only really now that we tend to expect cars to finish every race on reliability grounds, with lots of previous race classifications having been littered with retirements.
It's no surprise, then, that the majority of the longest runs of teams getting at least one of their drivers on the podium come since the new millennium, but achieving top-three finishes on such a regular basis is a remarkable achievement nonetheless.
There was a new entry into the list from 2022, so let's take a peek at who makes the cut.
=8: Mercedes, 17 (France 2021 – Bahrain 2022)
Lewis Hamilton: 14
Valtteri Bottas: 8
The throes of the 2021 title fight saw Lewis Hamilton and Max Verstappen go hammer and tongs all season long, but when Hamilton's Mercedes was rather climbed upon by Verstappen's Red Bull at Monza, for example, Valtteri Bottas was able to keep up the Silver Arrows' podium run by taking P3.
Hamilton took the title fight right up to the final lap of Abu Dhabi, before the dramatic conclusion we've all heard plenty about by now.
He admitted his shock at earning a podium come Bahrain in 2022, with Mercedes producing a far less competitive car all round, and neither he nor new team-mate George Russell could make enough headway to get back onto the rostrum again in Saudi Arabia, Russell taking P5 in that race.
=8: Renault, 17 (Turkey 2005 – France 2006)
Fernando Alonso: 16
Giancarlo Fisichella: 4
After a rare misstep in Hungary saw both Fernando Alonso and Giancarlo Fisichella finish outside the points, Alonso got back onto the podium in Istanbul to begin a 16-race consecutive podium streak for himself, and Renault going one further when Fisichella took third in Indianapolis while Alonso finished fifth.
In truth, it was Alonso's mastery that put Renault in among this ranking, with Fisichella unable to fully match his young team-mate as he romped to his first title in 2005, before following that up with nine consecutive finishes inside the top two to begin his title defence a year later.
P5 and P6 at Hockenheim ended a superb 17-race effort of consecutive champagne-spraying for Renault, however.
=8: Williams, 17 (South Africa 1993 – Brazil 1994)
Alain Prost: 12
Damon Hill: 11
The earliest entry on this list in terms of the year, the dominant Williams team of the early 1990s saw at least one of eventual champion Alain Prost or team-mate Damon Hill reach the podium in all of the 16 races of the 1993 season.
When one driver retired or finished out of the points, the other went on to take a top-three placing. Exactly how the team would imagine their season going from an operational standpoint, and no wonder they took the Constructors' title with double McLaren's points tally behind them.
Prost wrapped up his fourth and final title comfortably before retiring, to be replaced by his long-time rival Ayrton Senna. He retired from the opening three rounds of the season, with a double DNF at the Pacific Grand Prix ending this particular streak, before the great Brazilian's life ended in tragic circumstances at Imola a few weeks later.
=6: McLaren, 19 (Australia 2007 – Malaysia 2008)
Fernando Alonso: 12
Lewis Hamilton: 14
Heikki Kovalainen: 1
The 2007 line-up at McLaren goes down in history as one of the most tempestuous – and talented – pairings ever to share a Formula 1 garage together, not that they got along much as the season progressed.
Much was made of two-time reigning World Champion Alonso and rookie Hamilton's dynamic at the team throughout the year, but it made for some thrilling racing as the two traded blows at the front of the field, keeping McLaren on the podium at every race of the season with at least one of them.
Ultimately, neither would go on to take the 2007 World Championship, with Kimi Raikkonen swooping in at the last to take glory by one point, Alonso and Hamilton finishing the season level on points with the young Briton agonisingly missing out, after going into the finale as favourite.
He got back on the podium in Australia, before new team-mate Heikki Kovalainen earned his first top-three finish for the team a race later, though a poor showing in Bahrain left them both out of the top three. Not that it'll matter much to Hamilton, given the way he took the title at Interlagos come the season finale.
PlanetF1.com recommends
US F1 drivers: How successful were the United States' last 10 F1 drivers?
Lewis Hamilton car collection: Take a closer look at his incredible private garage
Revealed: The top 10 highest F1 points-scorers of all-time using unique formula
=6: Red Bull, 19 (Saudi Arabia 2022 – Mexico City 2022)
Max Verstappen: 16
Sergio Perez: 10
The newest entry on this list marks a 19-race span of consecutive podium finishes in a single season – not bad, given the reliability worries Red Bull had at the start of 2022.
Max Verstappen was utterly dominant in his second title-winning year, taking a record 15 race victories in 22 races, while Sergio Perez ably put Red Bull on the path to comfortable Constructors' Championship glory, and picked up top-three finishes when Verstappen suffered damage at Silverstone and Singapore, even taking victory in the latter.
The run came to an end in Brazil when the two swapped places for sixth and seventh, though Verstappen, already champion at this point, drew the ire of his team-mate when he did not give the place back at the finish line.
It might have only been for the lower reaches of the points, but that incident caused quite the stir inside the Red Bull garage.
5: Mercedes, 21 (Monaco 2016 – Spain 2017)
Lewis Hamilton: 18
Nico Rosberg: 12
Valtteri Bottas: 3
After a hefty collision between Hamilton and Nico Rosberg in Spain, Mercedes were keen to put both their drivers back on the straight and narrow in Spain, as their rivalry began to spiral out of control.
They did that by continuing to produce the goods on Sundays, with at least one of them getting into the top three for every remaining race from Monaco onwards – Rosberg weathering a late burst of wins from Hamilton to take his sole World Championship before promptly retiring at the end of the year.
Valtteri Bottas came in to replace him and Mercedes picked up where they left off in 2017, even though they faced a much sterner test from Ferrari behind as the cars were overhauled from a technical perspective.
A tough weekend in Monaco (P4 for Bottas, P7 for Hamilton) meant they could not quite go a full calendar year with at least one car on the podium, but still a remarkable run nonetheless.
=3: Mercedes, 22 (Canada 2017 – France 2018)
Lewis Hamilton: 14
Valtteri Bottas: 14
That Monaco blip was the only thing preventing Mercedes from having a 44-race streak on the podium, so instead they will have to settle for a 21 and 22-race block separately instead.
Hamilton and Bottas responded by taking a one-two finish in Montreal and the Briton eventually sailed to glory come season's end, beating Ferrari's Sebastian Vettel to the 2017 title by 56 points.
Ferrari and Vettel would continue to be Mercedes' main threat in 2018, but given they were well used to winning by this point, it took until both cars retired in Austria for this particular run to come to an end as well – though the Mercedes pair were sharing out podium finishes more evenly at this stage.
It would not matter though, as they still wrapped up both titles comfortably…
=3: Ferrari, 22 (Italy 2003 – Australia 2005)
Michael Schumacher: 18
Rubens Barrichello: 17
Right in Ferrari's pomp, a lowly P8/DNF result in Hungary was followed up in swift response by the dominant Scuderia, as Michael Schumacher and Rubens Barrichello got to work in racking up the trophies for Maranello.
The two earned almost exactly the same number of podiums in this time, though it was the German who dominated the top step in this time – taking victory 15 of the 18 times he ventured into the top three in this cycle, wrapping up his sixth and seventh World titles in the process, with three wins for his team-mate by comparison.
Much like Mercedes at the end of their dominant cycle at the start of 2022, a P2 finish in Australia is what Barrichello earned while Schumacher retired, with Ferrari struggling to get anywhere near the pace of Renault and McLaren for much of the season after that.
2: Mercedes, 28 (Australia 2014 – Britain 2015)
Lewis Hamilton: 25
Nico Rosberg: 24
The arrival of Formula 1's turbo hybrid era saw a new world order established at the top of the sport, and the Hamilton/Rosberg rivalry was born along with it.
The Mercedes drivers had a near stranglehold on race victories throughout 2014, with young rising star Daniel Ricciardo the only driver to take wins away from the Silver Arrows that year.
Hamilton and Rosberg traded one-two finishes like they were going out of fashion (taking 17 of them in this 28-race run), with the Briton eventually coming out on top in 2014 to win his second title in Abu Dhabi.
Their form continued into the following season too. Despite the increasingly fractious relationship and on-track dicing between the pair, both of them stayed on the podium for each of the first nine races of 2015 before an almost unthinkable P6 and P8 return in Hungary ended their streak.
1: Ferrari, 53 (Malaysia 1999 – Japan 2002)
Michael Schumacher: 45
Rubens Barrichello: 29
Eddie Irvine: 2
As Formula 1's most dominant driver-team combination began to do its work, the podiums kept flying in for Ferrari as Michael Schumacher led the charge as the Scuderia had at least one of their drivers finish on the podium in a 53-race span, going across four different seasons.
The streak began in Malaysia when Schumacher, who had missed several races with a broken leg, returned to his cockpit in 1999 in an unsuccessful attempt to help then-colleague Eddie Irvine beat Mika Hakkinen to the title, before Barrichello joined the Ferrari stable a year later.
The 2000, '01 and '02 seasons saw Schumacher win three consecutive World Championships, the last of which with almost double the points tally of anyone else and finishing every single race on the podium, while Barrichello bore the brunt of the team's reliability issues – and team orders – that year.
The Schumacher/Ferrari combination truly was a relentless juggernaut in the early 2000s, with Barrichello also pitching in by helping secure the Constructors' title for the team and taking race victories along the way himself, before the 2003 season began with a lowly P4 finish for Schumi and a retirement for the Brazilian, ending comfortably the longest consecutive podium streak for any team in Formula 1 history – and one that will take literal years for any team to beat.