Is it time to adjust our expectations of F1 sprint races?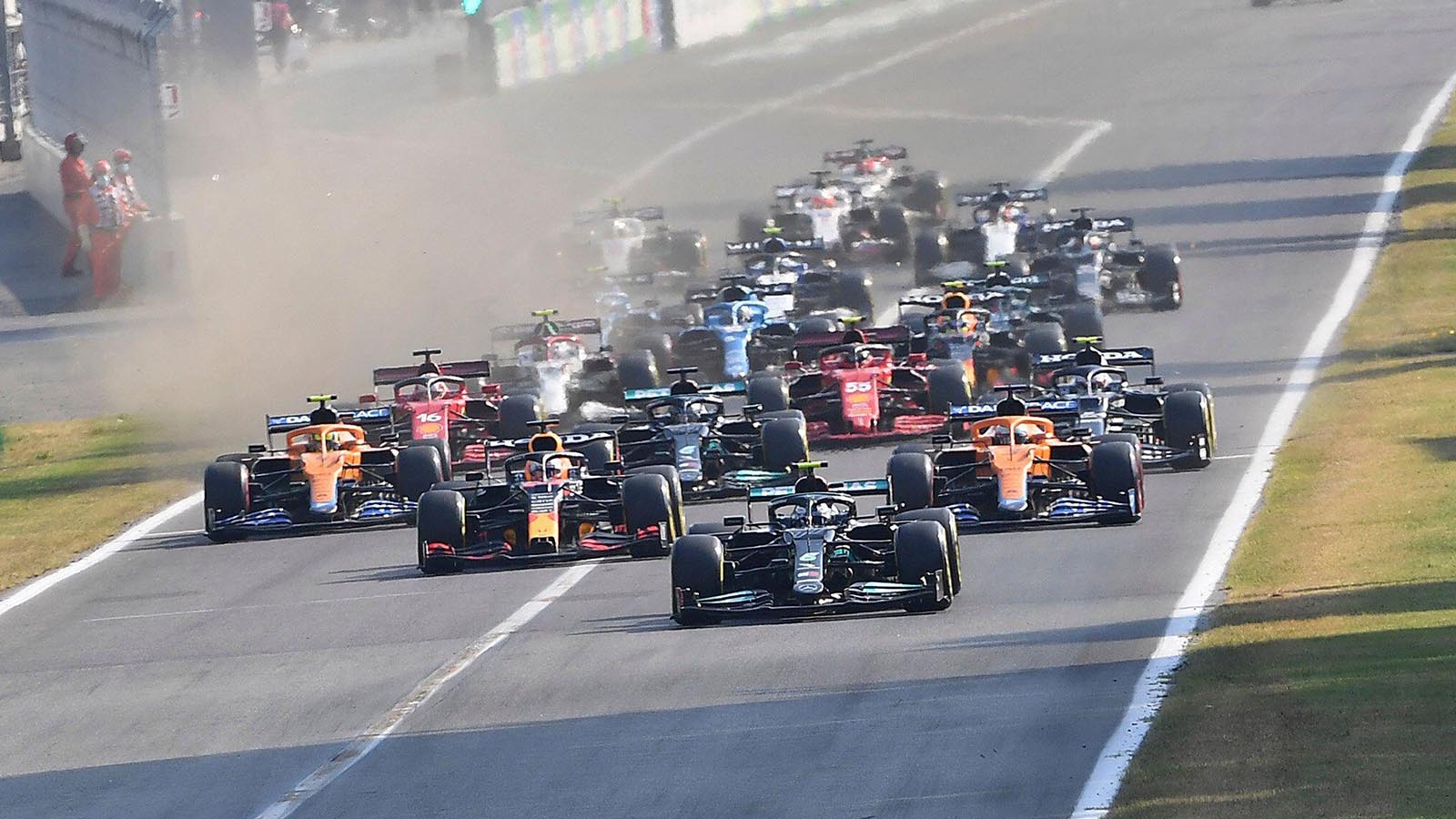 For a gauge of the level of enthusiasm for the return of Formula 1's sprint race format at this weekend's Emilia Romagna Grand Prix, you only needed to glance at the replies to F1's tweet marking the beginning of the first 'sprint week' of 2022 on Monday.
"Nobody asked for this," wrote one follower.
"I love watching cars drive around for 25 laps without taking any risks at all," said another.
"It's still a pointless gimmick that has no real functional purpose," began another popular response, among several disappointed F1 had chosen entertainment over sport and amused that it couldn't even execute that effectively.
The people have spoken, but F1 isn't listening. When it comes to sprint racing, it never has. It doesn't seem to want to, preferring instead to march on with its fingers firmly in its ears.
Perhaps the most grating aspect of F1's three-race experiment with sprints last season was the sycophantic rush by those invested in its success – Liberty, F1 and television presenters and pundits alike declaring it an emphatic triumph.
At best, those with a vested interest ignored the evidence of their own eyes and allowed themselves to get a little too carried away by the novelty value; at worst it was highly disingenuous as dispassionate analysis gave way to a form of propaganda.
"Every [race] promoter wants to have a sprint," F1 sporting director Ross Brawn claimed late last year as he revealed plans to double the amount of sprint events to six for 2022 before eventually having to settle for three once again.
Most fans' minds were made up about the sprint the moment it became clear it was not, as promised, a flat-out, thrill-a-minute bonanza but the first stint of the grand prix brought forward by 24 hours, with the cars rapidly settling into a rhythm after the roar of a race start.
And yet, despite everything, on all three occasions it was implemented in 2021 – at the British, Italian and Brazilian grands prix – the sprint format had an undeniable effect on shaping the events of the race itself.
Studying the GPS data in the aftermath of Max Verstappen and Lewis Hamilton's battle at the start of the Silverstone sprint, Mercedes had reportedly noticed the ERS deployment of Verstappen's Red Bull was cutting onto the old pit straight – said to be a function of a Honda engine setting designed to protect the rear tyres.
As such, Hamilton entered the race with a clear plan of attack armed with the knowledge Verstappen, starting from pole position, would be at his most vulnerable at that section of the circuit on the opening lap.
Then what happened happened, the collision at Copse corner fully and violently igniting one of F1's greatest rivalries midway through one of its greatest seasons.
At Monza, meanwhile, Daniel Ricciardo's victory to end McLaren's nine-year winless streak would likely not have been possible were it not for the sprint format creating the opportunity for two race starts in the space of 24 hours.
After qualifying fifth on Friday, Ricciardo used the sprint start to leap to the front row for the race itself before beating Verstappen to the first corner on Sunday, the combination of Mercedes power and McLaren's low-drag setup ensuring there would be no catching him from there.
Ricciardo's gain was Hamilton's loss as the seven-time World Champion fell from second on the sprint grid to fourth, setting him on another collision course with Verstappen after Red Bull's slow stop saw them meet entering the Rettifilo chicane. Then what happened happened again.
We saw some incredible #F1Sprint racing in 2021 👌

This season should be even more intense! 💪

First stop 👉 #ImolaGP 🇮🇹 pic.twitter.com/gVNsBTdtQw

— Formula 1 (@F1) April 18, 2022
Then came Interlagos, where Hamilton took advantage of the sprint to recover considerable ground from the back of the grid following his disqualification from qualifying before dropping from fifth to 10th as he served an engine penalty.
His victory in those circumstances was celebrated as one of the finest accomplishments in F1 history – and Hamilton did have to overtake every driver on the grid, some of them twice, in order to win – but the sprint gave him a leg up and allowed him to split his recovery into two distinct parts.
Without it, Verstappen – who arrived in Brazil with a 19-point lead after winning the previous two races in Austin and Mexico and inherited pole for the Sao Paulo sprint after Hamilton's DSQ – may not have required a miracle (or a rogue race director) in the closing laps in Abu Dhabi to win the World Championship a month later.
For all its faults – from the skewing of pole position records in 2021 to the pointless practice session on Saturday when the cars have already entered parc ferme – the sprint was at the root of as many as four of the most memorable moments of last season.
And if it is to become an increasingly regular feature of race weekends, perhaps there will be an emphasis on the fans to adjust their expectations of the sprint and simply see it for what it is – an extra tool to mix things up and establish themes for the race – rather than how F1 wants it to be viewed.
If the traditional Q1/Q2/Q3 format is akin to putting together a jigsaw puzzle, the sprint is the equivalent of giving the completed puzzle a wobble with the aim of dislodging a couple of pieces.
Viewed through that particular prism, the sprint becomes not so much an event in its own right but a tricky tightrope between qualifying and the race, where the grand prix cannot be won but most certainly can be lost.
Ask Sergio Perez, who started last year's British GP from the pit lane after spinning just five laps into the Silverstone sprint. Ask Pierre Gasly, whose Italian GP weekend never recovered from the moment he lost his front wing after tagging Ricciardo at the first corner of the Monza sprint.
That same sense of jeopardy will be present in the spring air at Imola this weekend, and it is possible the spectacle offered by the sprint will be enhanced by the new 2022 cars, which the early evidence suggests are far more raceable than their predecessors.
There are those, with motor racing in their bones, who will continue to reject the sprint and all it represents.
But maybe looking at it from a different perspective will make it slightly more palatable going forward.
Sprint Qualifying returns at Imola
The first sprint qualifying session of 2022 will take place at Imola this weekend.