Last chance! Get 50% off F1 TV Pro for two months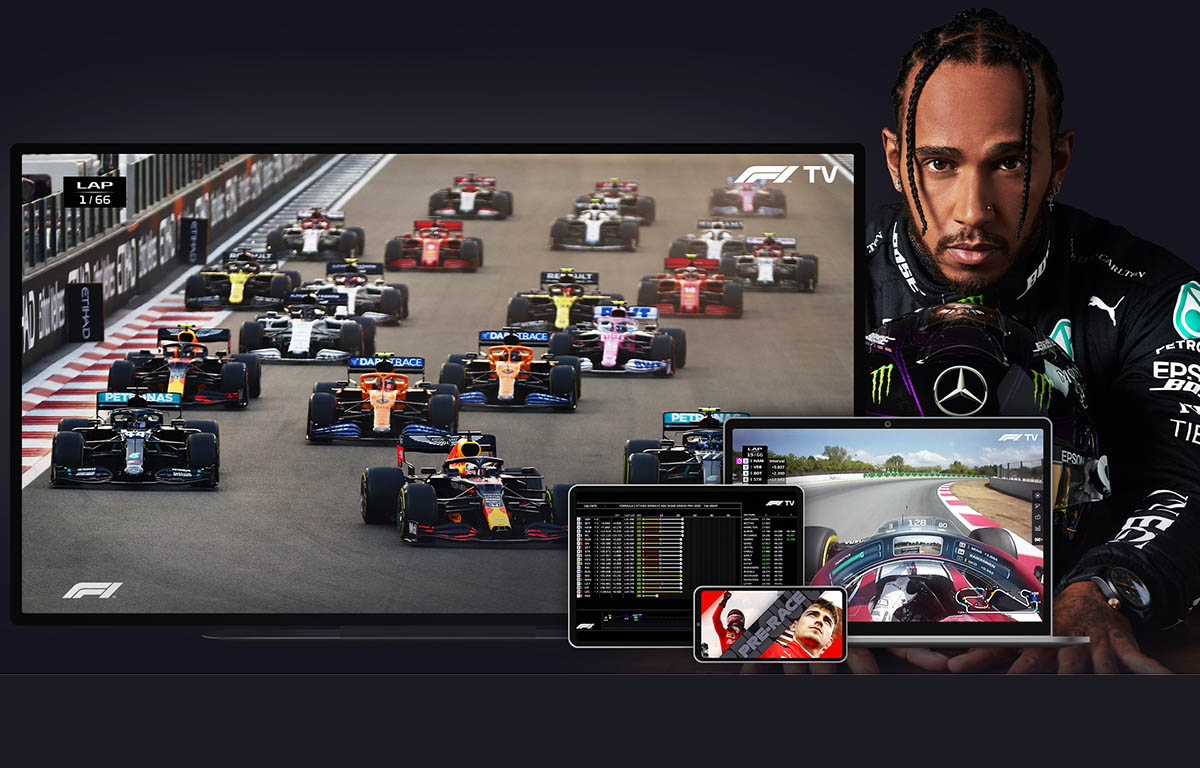 To mark the return of a thrilling Formula 1 season back to our screens, F1 TV Pro is half price for two months!
In order to claim this fantastic discount, click the following link and use the promo code SPA50 at checkout!*
*Offer expires at 23:59 on Sunday, August 29. Offer only available on Pro. Customers will need to take out a monthly subscription and this offer can only be redeemed on web. Offer not available in NL, FR or NZ.
Comprehensive coverage and exclusive features enable fans to get up close to the action and under the skin of the sport.
If you're looking for somewhere to see the next stage of this sensational season, here's why F1 TV is the place to be.
Why the 2021 F1 season is special – and how the second half could be even better
We knew Max Verstappen would be battling for the world championship one day, and that day – that year – has arrived. To win he must beat the most successful driver of all time, Lewis Hamilton, and deliver some of the most jaw-dropping racing we'll see this century.
To ensure you don't miss a moment, F1 is offering two months' half-price F1 TV Pro subscription with its live stream and on-demand replays of every session.
The offer starts ahead of this weekend's Belgian Grand Prix, where the grudge match between the British knight and the flying Dutchman will reignite.
There have been stunning drives and brutal luck in both cases. After 11 rounds, Lewis has sensationally retaken the lead despite not having the out-and-out best car.
The pair's clash at Silverstone, followed by Valtteri Bottas' first corner antics in Hungary, have knocked Max eight points behind. The chances are that more points and paintwork are going to be traded before the season is done.
We've also seen some great midfield battles. Lando Norris has finished third three times and is many people's pick for driver of the season so far, while Charles Leclerc took eye-popping pole positions in Monaco and Azerbaijan. There have also been surprise podiums for Pierre Gasly and Lance Stroll in Baku.
The resurgent Ferrari and McLaren teams are neck and neck right now, tied for third in the constructors' championship. So there is as much action in midfield as at the front.
With F1 TV you watch every session of the Grand Prix weekend live or on-demand and, if you're looking to dig a little deeper, our Pit Lane channel means you can immersive yourself in the action with an insider's view.
The Pit Lane Channel offer multiple views, not just focusing on the front runners, plus it offers alternative commentary and multi-camera views alongside the main broadcast feed.
This means you can follow your favourite teams as if you're embedded with them, seeing their strategies explained in real time, with expert alternative commentaries. Many fans use the Pit Lane channel for their second screen set up.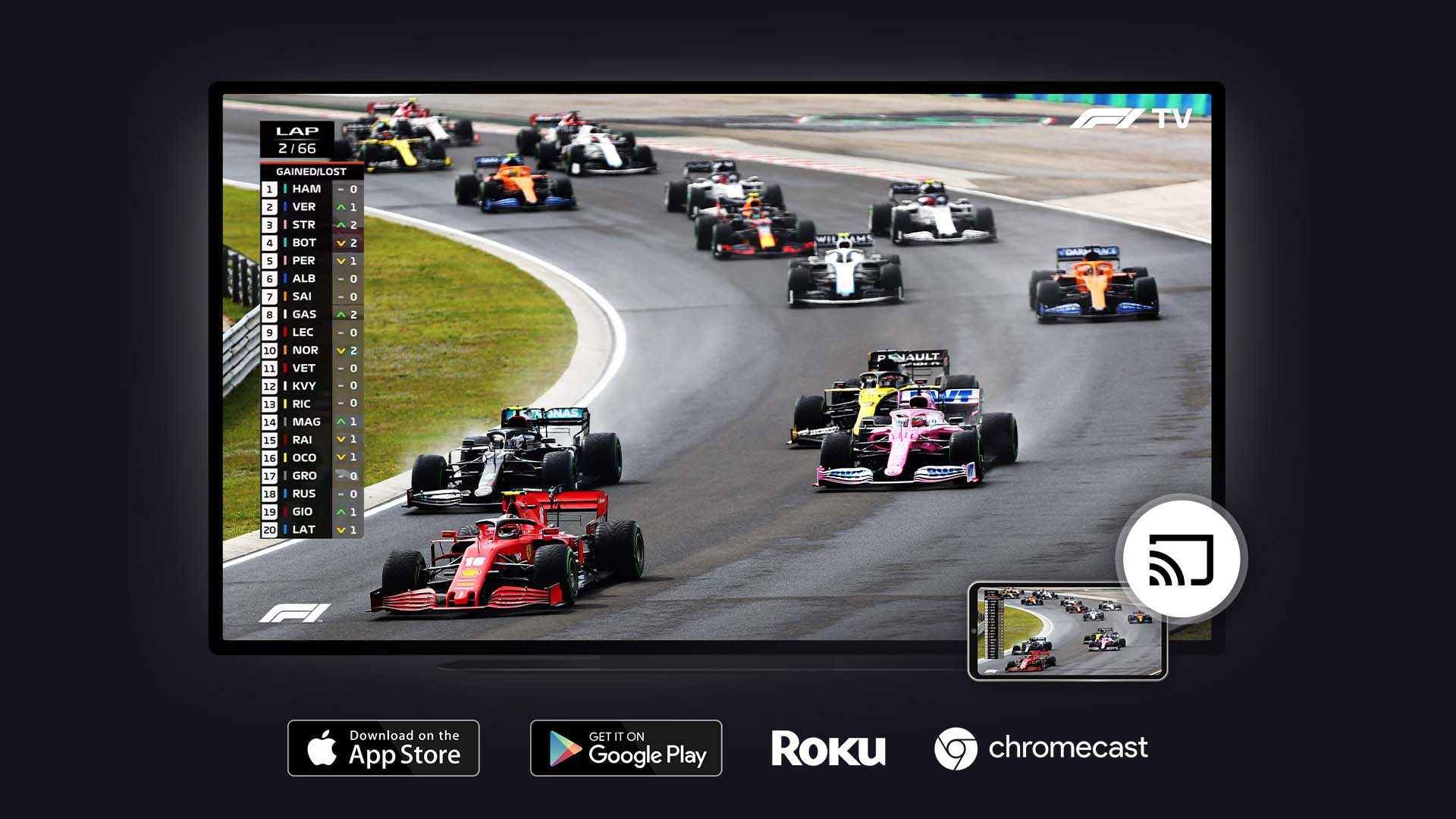 There are sure to be more shocks around the corner this season.
When will Verstappen get his payback for Silverstone? Can the atmosphere between Christian Horner and Toto Wolff get any frostier? And how many times will the Haas drivers bash into each other?
F1 TV is great way to see from the driver's point of view
Whether you're using it as your primary feed or as a second screen, F1 TV's dynamic and in-depth features give even more life to this gripping season.
Make use of all 20 driver on-boards and unedited team radio to get insight into every overtake, tyre change and wing-slamming moment. Can't believe what you just saw? Have an instant replay from the driver's point of view.
F1 Sprint joins your F1 TV race weekend
Silverstone saw the sport's first Sprint Weekend and there are two more races like this to come, including Monza.
The great thing about the Sprint format, which sees shortened practice sessions, qualifying on Friday evening and a 30-minute race on Saturday to determine Sunday's starting grid, is it gives the drivers greater jeopardy and a heightened level of risk and reward.
Race hard and you could get a midfield car on the front row; race too hard and that pole position you'd promised yourself turns into P20.
The standout moments from the Silverstone Sprint were Lewis and Max's first lap battle, Sergio Perez flying off the track (making his Sunday much harder), and driver camera of Fernando Alonso romping his way through the field in the opening corners.
With so much happening so quickly during Sprint, F1 TV means you won't miss a moment. From on demand replays to the onboards and Pit Lane's multiple views, you can check out just how Alonso did it.
Of course, all sessions of the three-day weekend including Sprint are shown live, on-demand and ad-free with F1 TV.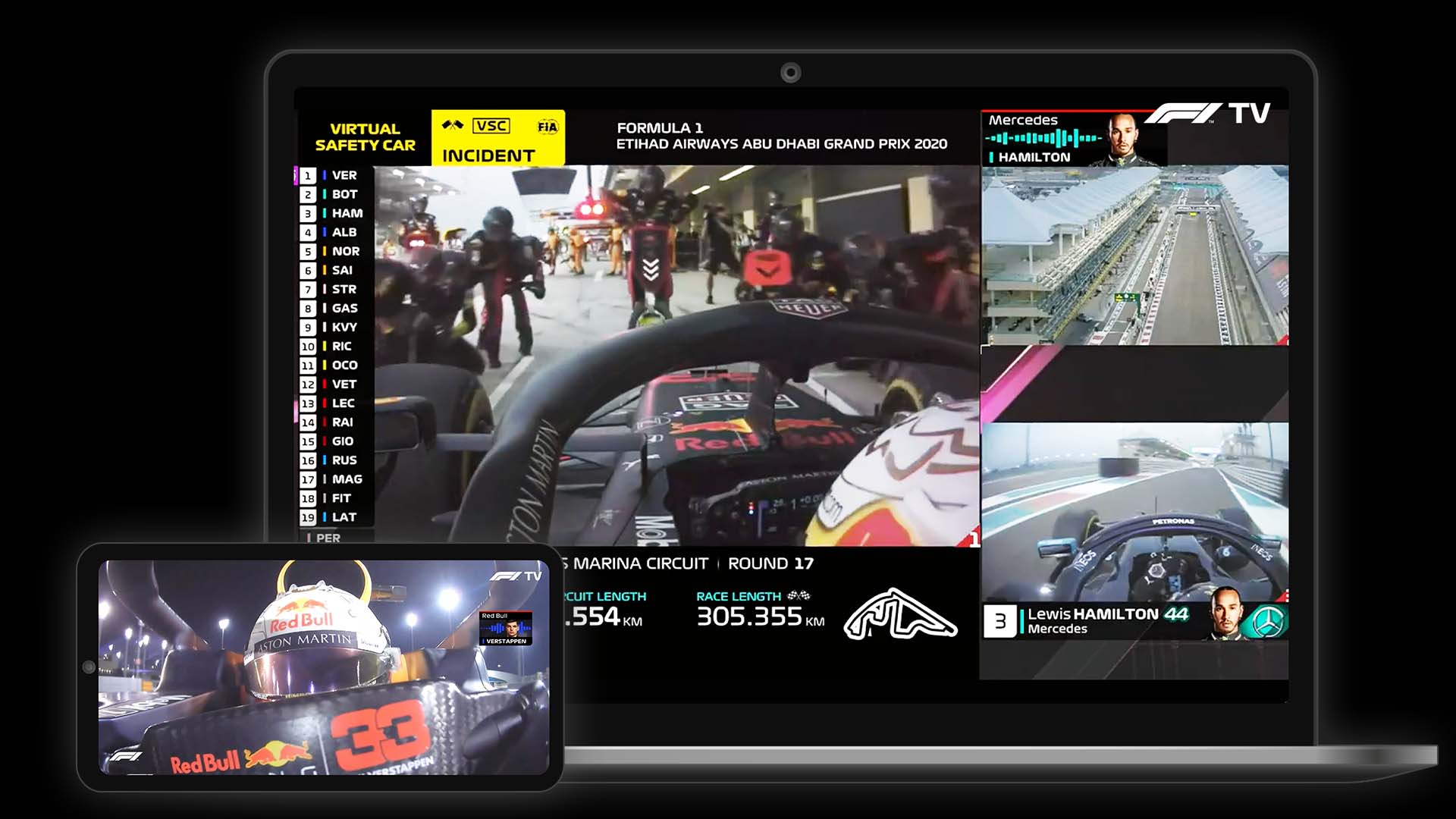 Quali has never been so gripping
Leclerc's Ferrari poles in Monaco and Azerbaijan took the paddock by surprise. If we're dishing out prizes for near misses, though, surely Norris deserves a gong for P2 in Austria, 0.048 secs off Verstappen.
As for the fight between the two title contenders, Hamilton has out-qualified Verstappen six times to five – so it's incredibly tight, and that looks set to continue in the second half.
F1 TV provides amazing coverage with live timing screens of these flying laps, so you can see who's up, who's down and who's purple the split-second it's happening. F1 TV is like sitting alongside Toto and Christian on the pit perch.
Expert analysis from F1 insiders
Get the sharpest insights in motorsport courtesy of F1 TV's Pit Lane Channel and exclusive live shows with the sport's experts and insiders.
Lawrence Barretto and Will Buxton host The Pre-Race and Post-race shows, Weekend Debrief analysis and hold interviews on Paddock Pass, while Sam Collins explains the science and keeps viewers abreast of upgrades on Tech Talk.
Plus, the Inside Stories series reconstructs recent races, offering different views with the help of unseen footage and new team radio. Want to know how Ocon won in Hungary? F1 TV has the intel.
Horner promises an "epic" second half of the season
It's hard to pick a favourite race from the first half of the season, and hopefully the second half will make the choice even more difficult.
From Thursday 26th until Sunday 29th August, F1 is offering new subscribers two months of F1 TV Pro at half-price, covering the triple-headers of Spa, Zandvoort and Monza, as well as Sochi, Istanbul and Austin.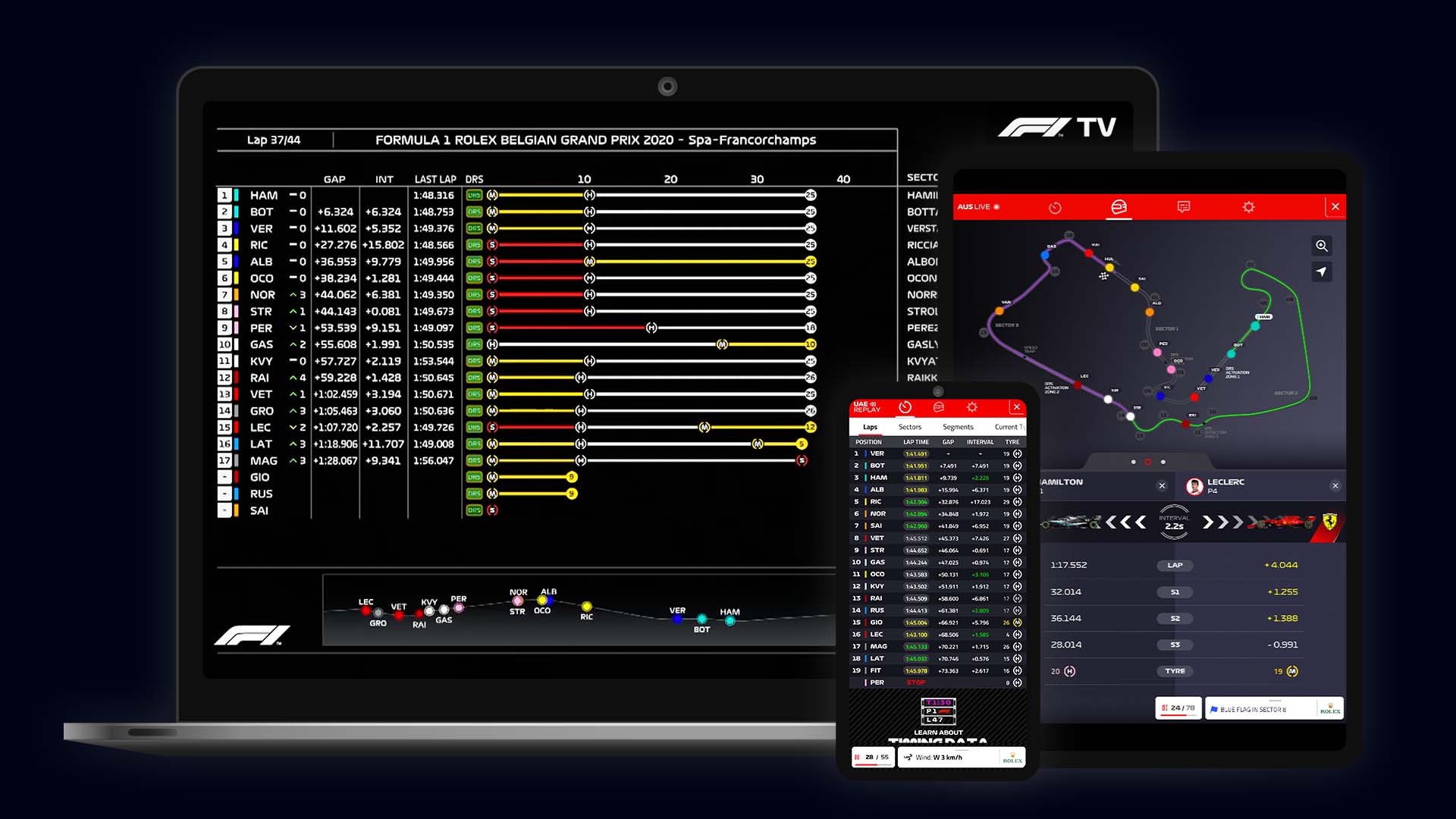 F1 TV is not only your source for F1 live, but your virtual Pit Wall, letting you access live timing data, weather and tyre strategy, watch highlights, binge on exclusive documentaries, and re-live 650+ races from the archive.
F1 TV Pro subscribers can stream every track session uninterrupted, live and on-demand, watch pre and post-race shows and access all driver onboard cameras and radio chatter, allowing you to hear the drivers and their teams as they address strategy and tactics. It's the ultimate way for a true fan to watch Formula 1, with a host of angles at your fingertips.
Available on web and mobile, the drama can go big screen as you cast your F1 TV live stream on to your TV with Chromecast and Apple Airplay.
Whether F1 TV is your go-to for on-demand F1 coverage, your mobile friendly racing source on the go or serves as an additional screen packed with data, it puts you – the F1 fans – in control.
As Christian Horner said before the summer break: "The points difference between the top two in both championships is still very small. I am sure the second half is going to be just as fruity as the first half. It will be an epic second half to this year and we are ready for it."
Make sure you are too, with F1 TV Pro!
Here is the full list of countries eligible for the F1 TV Pro offer:
ARGENTINA, ANGOLA, ANGUILLA, ANTIGUA AND BARBUDA, ARUBA, AUSTRIA, AZERBAIJAN, BAHAMAS, BARBADOS, BELGIUM, BOSNIA, BOTSWANA, BRAZIL, BRITISH VIRGIN ISLANDS, BULGARIA, CARIBBEAN NETHERLANDS, CANADA, CAYMAN ISLANDS, CHILE, COLOMBIA, COSTA RICA, CROATIA, CURAÇAO, CYPRUS, CZECH REPUBLIC, DENMARK, DOMINICA, DOMINICAN REPUBLIC, ECUADOR, ESTONIA, GHANA, GREECE, GRENADA, GUADELOUPE, GUATEMALA, HAITI, HONDURAS, HUNGARY, ICELAND, JAMAICA, KENYA, LATVIA, LITHUANIA, LUXEMBOURG, MALTA, MARTINIQUE, MEXICO, MONACO, MONTSERRAT, MOZAMBIQUE, NAMIBIA, NICARAGUA, NIGERIA, NORWAY, PARAGUAY, PERU, POLAND, PORTUGAL, ROMANIA, RUSSIA, SAINT BARTHÉLEMY, SAINT KITTS AND NEVIS, SAINT LUCIA, SAINT MARTIN, SAINT VINCENT AND THE GRENADINES, SERBIA, SINT MAARTEN, SLOVAKIA, SLOVENIA, SOUTH AFRICA, SWEDEN, SWITZERLAND, TRINIDAD AND TOBAGO, TURKEY, TURKS AND CAICOS ISLANDS, UGANDA, UKRAINE, UNITED STATES VIRGIN ISLANDS, URUGUAY, USA, VENEZUELA, ZAMBIA, ZIMBABWE.