Exclusive offer! 10% off all F1 TV Pro subscriptions
F1 TV are offering PlanetF1 readers an exclusive discount with 10% off all of Pro subscription products.
You can make this fantastic saving by clicking this link and using the promo code PLANETF10 at the checkout!*
*The offer ends at midnight on September 26 and excludes Netherlands
F1 TV Pro features
Watch every Grand Prix track session, both live and on demand
Live stream all Formula 1 track sessions from the Grand Prix weekend
Get expert commentary on the Pit Lane channel
Exclusive Pre-race and Tech Talk shows
Broadcast available in five languages
Stream the F2, F3 and Porsche Supercup series
Watch full race replays and highlights on demand
Catch-up with drivers' press conferences and strategy review shows
With F1 TV you can watch every session of the Grand Prix weekend live or on-demand and, if you're looking to dig a little deeper, our Pit Lane channel means you can immersive yourself in the action with an insider's view.
The Pit Lane Channel offer multiple views, not just focusing on the front runners, plus it offers alternative commentary and multi-camera views alongside the main broadcast feed.
This means you can follow your favourite teams as if you're embedded with them, seeing their strategies explained in real time, with expert alternative commentaries. Many fans use the Pit Lane channel for their second screen set up.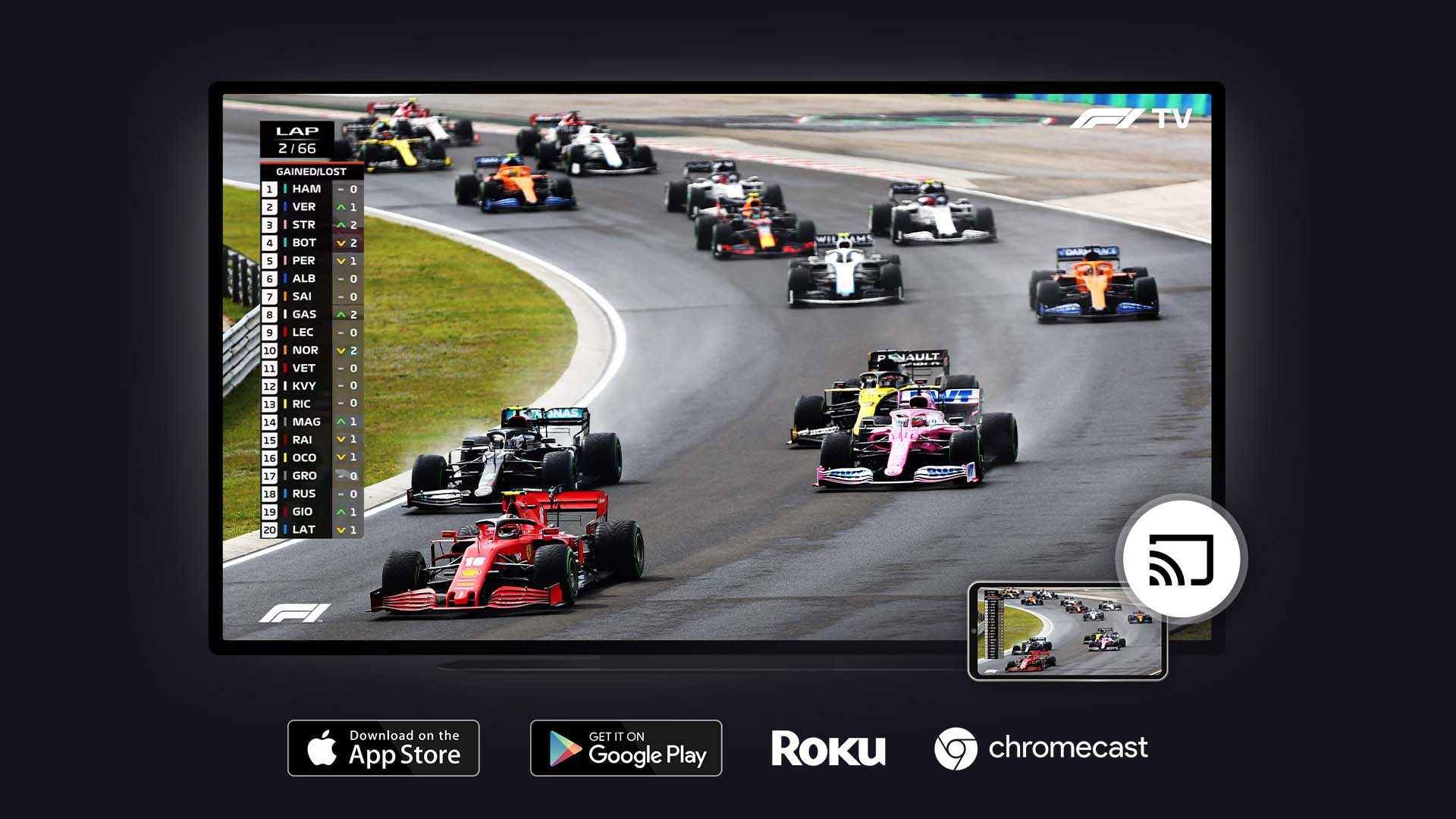 F1 TV is great way to see from the driver's point of view
Whether you're using it as your primary feed or as a second screen, F1 TV's dynamic and in-depth features give even more life to this gripping season.
Make use of all 20 driver on-boards and unedited team radio to get insight into every overtake, tyre change and wing-slamming moment. Can't believe what you just saw? Have an instant replay from the driver's point of view.
Expert analysis from F1 insiders
Get the sharpest insights in motorsport courtesy of F1 TV's Pit Lane Channel and exclusive live shows with the sport's experts and insiders.
Lawrence Barretto and Will Buxton host The Pre-Race and Post-race shows, Weekend Debrief analysis and hold interviews on Paddock Pass, while Sam Collins explains the science and keeps viewers abreast of upgrades on Tech Talk.
Plus, the Inside Stories series reconstructs recent races, offering different views with the help of unseen footage and new team radio.
Sign up now!
F1 TV is not only your source for F1 live, but your virtual Pit Wall, letting you access live timing data, weather and tyre strategy, watch highlights, binge on exclusive documentaries, and re-live 650+ races from the archive.
F1 TV Pro subscribers can stream every track session uninterrupted, live and on-demand, watch pre and post-race shows and access all driver onboard cameras and radio chatter, allowing you to hear the drivers and their teams as they address strategy and tactics. It's the ultimate way for a true fan to watch Formula 1, with a host of angles at your fingertips.
Available on web and mobile, the drama can go big screen as you cast your F1 TV live stream on to your TV with Chromecast and Apple Airplay.
Whether F1 TV is your go-to for on-demand F1 coverage, your mobile friendly racing source on the go or serves as an additional screen packed with data, it puts you – the F1 fans – in control.
Here is the full list of countries eligible for the exclusive F1 TV Pro offer:
ARGENTINA, ANGOLA, ANGUILLA, ANTIGUA AND BARBUDA, ARUBA, AUSTRIA, AZERBAIJAN, BAHAMAS, BARBADOS, BELGIUM, BOSNIA, BOTSWANA, BRAZIL, BRITISH VIRGIN ISLANDS, BULGARIA, CARIBBEAN NETHERLANDS, CANADA, CAYMAN ISLANDS, CHILE, COLOMBIA, COSTA RICA, CROATIA, CURAÇAO, CYPRUS, CZECH REPUBLIC, DENMARK, DOMINICA, DOMINICAN REPUBLIC, ECUADOR, ESTONIA, FRANCE, GHANA, GREECE, GRENADA, GUADELOUPE, GUATEMALA, HAITI, HONDURAS, HUNGARY, ICELAND, JAMAICA, KENYA, LATVIA, LITHUANIA, LUXEMBOURG, MALTA, MARTINIQUE, MEXICO, MONACO, MONTSERRAT, MOZAMBIQUE, NAMIBIA, NICARAGUA, NIGERIA, NORWAY, PARAGUAY, PERU, POLAND, PORTUGAL, ROMANIA, RUSSIA, SAINT BARTHÉLEMY, SAINT KITTS AND NEVIS, SAINT LUCIA, SAINT MARTIN, SAINT VINCENT AND THE GRENADINES, SERBIA, SINT MAARTEN, SLOVAKIA, SLOVENIA, SOUTH AFRICA, SWEDEN, SWITZERLAND, TRINIDAD AND TOBAGO, TURKEY, TURKS AND CAICOS ISLANDS, UGANDA, UKRAINE, UNITED STATES VIRGIN ISLANDS, URUGUAY, USA, VENEZUELA, ZAMBIA, ZIMBABWE.
Click this link and simply enter the code PLANETF10 at checkout to save 10% on both monthly and annual Pro subscriptions. Happy viewing!