Formula 1 villains: Ayrton Senna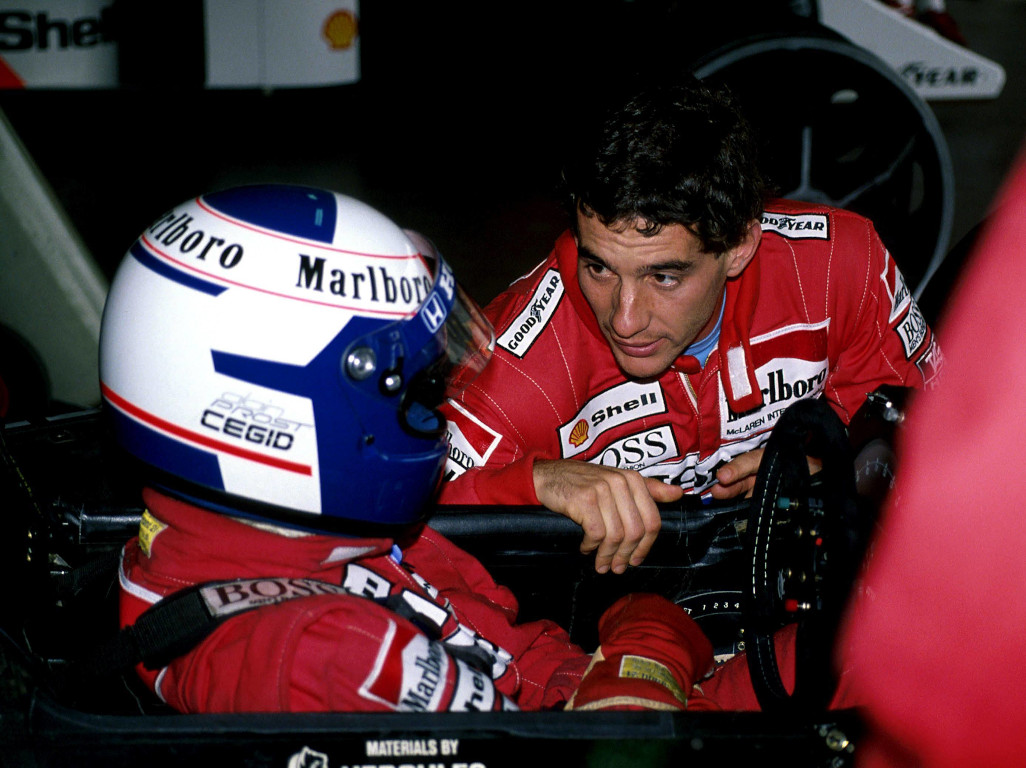 Bursting onto the F1 scene in 1984, Ayrton Senna captured the heart of the public and was romanticised during his career, which was tragically cut short in 1994.
The Brazilian, a three-time World Champion, was a hero of the people for his on-track prowess and his off-track charity.
While the 1990 Japanese GP goes down in history as his worst transgression, Senna at times got away with driving that would not have been accepted from others.
He was unbelievably brilliant, and undeniably flawed.
1985 Monaco Grand Prix
Senna was a master at qualifying, bagging 65 pole positions during his decade racing in Formula 1.
He still holds the record for the most consecutive poles, qualifying P1 in eight successive grands prix from the 1988 Spanish race to the 1989 United States GP.
Some were achieved through suspect driving.
In qualifying for the 1985 Monaco GP, Senna set the fastest lap early in the session but Michele Alboreto in the Ferrari was looking to challenge.
Senna placed his car in the middle of the track and, seemingly on purpose, held up Alboreto.
Blue flags waved but Senna stayed put.
The Ferrari driver eventually drew alongside the Brazilian but his lap was ruined.
He responded by preventing Senna from turning in at the Virage Antony Noghes, Turn 18.
Senna took pole position with Alboreto lining up in third place.
An engine issue would put the Lotus driver out of the grand prix while Alboreto finished runner up to Alain Prost.
1987 Belgian Grand Prix
Senna, still with Lotus, lined up on the Spa grid in third place behind the Williams team-mates of Nigel Mansell and Nelson Piquet.
A massive crash at the start involving Philippe Streiff and Jonathan Palmer meant the race had to be restarted.
Senna made a flying start to lead into the first corner ahead of Mansell with Piquet lapping in third place.
Mansell hunted down the Brazilian and made his move around the outside of Fagnes. They made contact.
Mansell felt Senna had put him a position where he could have been "killed" and confronted him.
"You can't control [yourself] really when you see the red mist," he recalled the incident to Sky Sports decades later.
"Everyone has a chip inside them called self preservation and [it's activated] when you're on the edge and you know you could have just lost your life because someone's been completely brainless, which is a polite way of [putting] it, and basically putting someone in a situation where you either back out or you're going to get killed.
"We had a situation like that."
1989 San Marino Grand Prix
Senna left Lotus for McLaren in 1988 and so began one of the fiercest rivalries Formula 1 has ever borne witness to: Senna v Alain Prost.
The team-mates were fighting at the sharp end of the grid and chasing World titles with Senna winning the 1988 crown.
His title defence didn't start as he had wanted in 1989 with a disappointing P11 at the season-opening Brazilian GP, the result of an early crash that cost him a nose cone. Prost was second.
Heading into round two the team-mates, qualifying first and second with Senna ahead of Prost, made a deal.
In order to avoid unnecessary chaos they would not race each other until after the third corner.
Senna led the race, Prost lined up second and stayed second, not attacking in anyway.
But a fiery crash for Gerhard Berger at Tamburello meant the race was restarted.
This time Prost made the better getaway only for Senna to dive-bomb him into Turn Three.
Prost was said to be furious. The civil war was on.
1990 Japanese Grand Prix
The 1989 title went to Prost in questionable circumstances as he collided with Senna at that year's Japanese GP, putting into play the events that unfolded at the Suzuka track one year later.
Nine points ahead of Prost, who had moved to Ferrari at the start of the season, Senna stuck his McLaren-Honda on pole for the penultimate race of the campaign. Prost was P2.
After qualifying Senna approached the race stewards to ask for pole position to move to the cleaner side of the track, feeling he was at a disadvantage.
The stewards agreed only for FISA president Jean Marie Balestre to overrule them.
Senna was furious, especially as he felt Balestre had already played favourites with his countryman Prost a year earlier.
The Brazilian vowed to hell with the consequences, if Prost got the lead into the first corner, he would attack no matter what.
Prost did. Senna did. Both retired.
Senna won the World title with Prost labelling him "a man without value".
Senna felt vindicated.
"In '89 I was robbed badly by the system – and that I will never forget," he said a year later. "But in 1990 it went the other way.
"It was a sad championship in 1990, but that was a result of the politics that we had in 1989 and 1990."
1993 Japanese Grand Prix
It seems Senna couldn't avoid bust ups while in Japan, either on the track or off it.
Having lost the championship battle to Prost with a DNF in Portugal, Senna was determined to end the campaign strong.
He qualified second at the Suzuka circuit but took the lead off Prost early in the grand prix.
As the weather caused chaos with strategy, Senna pulled out a healthy lead midway through the race only to find himself stuck behind Damon Hill, who was almost a lap down.
Unable to pass Hill, Senna had a young Eddie Irvine – who he had lapped early – come flying past him. Irvine then battled Hill to pass the Englishman with Senna stuck behind the two and Prost gaining.
It didn't, however, play a role in the race's outcome as Senna stormed to the victory some 11 seconds ahead of Prost.
The Brazilian, though, was incensed.
He confronted Irvine asking him "what the **** do you think you were doing?"
Irvine replied: "I was racing."
The argument ended with a "you're not a racing driver, you're a ****ing idiot" from Senna before he threw a punch. Irvine hit the deck.
Unfortunately no one caught the punch on camera.
Michelle Foster
Follow us on Twitter @Planet_F1 and like our Facebook page.