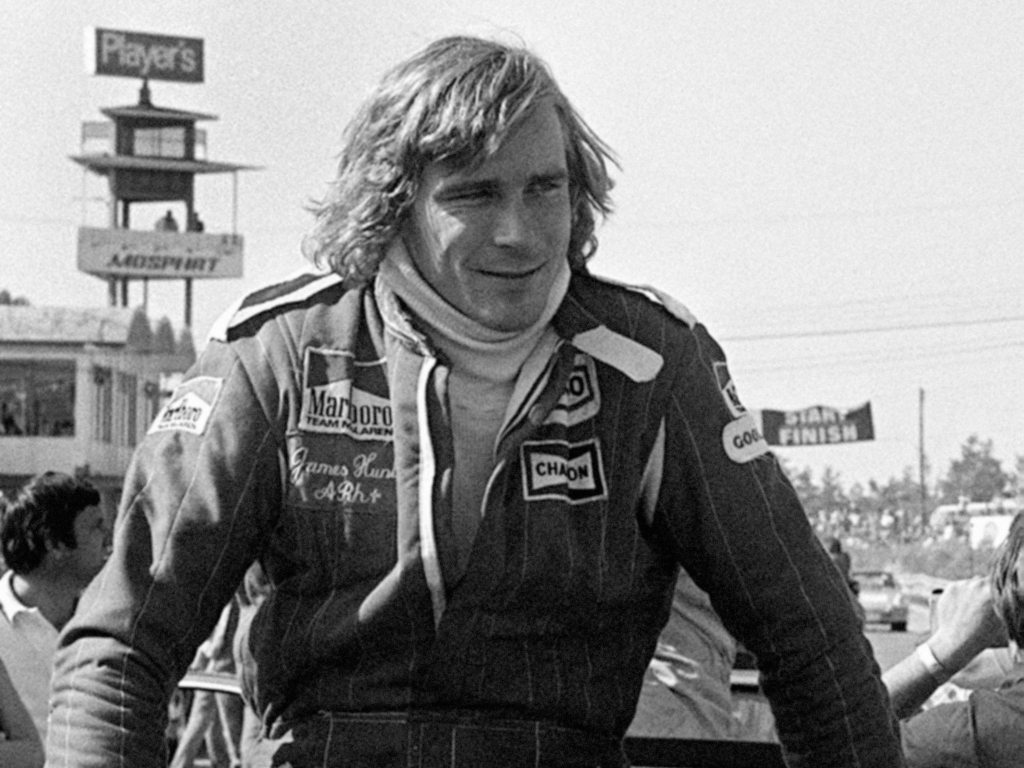 Due to his playboy lifestyle, James Hunt was often dubbed F1's "bad boy", but it was his on-track antics that cast him as one of its villains.
Away from the paddock, and sometimes even in it, Hunt led an extravagant lifestyle of booze, sex, drugs and rock and roll. And then some more sex.
The stories are endless. He slept with 35 British Airways hostesses in the nights leading up to the Japanese Grand Prix. At the same track, he was caught having sex with a girl just before the race start. Having been asked to pull over for speeding, he once out-drove three police cars, not wanting them to find the bag of weed in his possession.
You may deem this behaviour irresponsible, you may find it admirable, you may find it amusing, or you may just think it's really damn cool. Regardless, the things he did while clad in race overalls make him a shoo-in on our list of the sport's biggest baddies.
1975 Monaco Grand Prix
Punching a fellow driver, as Hunt had done in Formula 3, is pretty bad, but do you know what's even worse? Punching a marshal who's just trying to help you out.
After being taken out during the Monaco Grand Prix, the Brit got out of his McLaren bursting with rage and seemed intent on sticking around on the track to hurl abuse at the driver who had done so, Patrick Depailler. Obviously, this wasn't particularly safe, so the marshals, while attaching his car to a crane, attempted to shepherd him to safety. How dare they.
Acting like they were trying to mug him, Hunt pushed a few away before swinging his arm and hitting one square in the face. After briefly squaring up for another go, he then thought better of it and waved his hand at Depailler as he passed by before finally heading back to the pits. Yup, really seems worth all the hassle, doesn't it?
Admittedly, it's not clear whether Hunt meant to hit the marshal as he did or was just trying to get him away from him. Either way, retaliating at them for simply doing their job isn't ok. And to think these days drivers are criticised for complaining about race officials on the team radio…
1977 Dutch Grand Prix
The nickname 'Hunt the Shunt' followed Hunt around for his entire racing career. Many claimed that it just stuck because it rhymed and that he was no more guilty of causing accidents than any driver. At Zandvoort in 1977 however, that wasn't the case.
Hunt started the race in P3 and immediately took the lead thanks to an excellent getaway. Mario Andretti was the man in pursuit and lost a place when he was forced to lift after some *seriously* aggressive defending from the leader.
The American quickly took back P2 and continued his battle with Hunt. By Lap 6, he was all over the Brit and tried to pass him around the outside. Hunt was having none of it and moved over aggressively once again, leaving Andretti with no space and causing the two to crash. Hunt retired, while Andretti recovered to finish in P4.
Hunt was furious after the race and told Andretti "We don't pass on the outside in F1", to which Andretti replied, "I've got news for you. Where I come from, we pass whichever side we like". Replays of the incident show that the American did little wrong, and if anything, Hunt was more to blame. Hate to say it James, but overtaking around the outside is allowed, trying to force a driver off the track isn't.
1977 Canadian Grand Prix
What's even worse than hitting a marshal? Well, doing it again two years later. To make matters worse, this time around there was no question as to whether Hunt meant to do so or not.
Once again, he had been taken out of the race, this time by his team-mate Jochen Mass, and once again he had no intention of leaving the track quietly. Having helped Hunt out of the car, a marshal then grabbed him to lead him to safety. The racer shook him off, looked him in the face and hit him with a right hook, sending him to the ground.
Despite Hunt's history of similar deeds, the marshal couldn't believe what had just happened, as he later said:
"How did I feel? Wronged, blindsided—did that really happen? If I said anything to him, I can't remember. Hunt gave me a, 'Sorry, old man,' and headed back to the pits…"
Well, at least Hunt apologised afterwards. Still, keeping his hands to himself in the first place would have been even better.
Commentary remarks
Following his retirement, Hunt joined Murray Walker in the commentary box. There, he made quite a few enemies with his rather strong opinions of many of the drivers.
One man often on the wrong end of Hunt's insults was Jean-Pierre Jarier. The Frenchman angered Hunt during the 1983 Austrian Grand Prix when, running as a backmarker, he didn't move aside for those lapping him. Hunt called him a disgrace, saying he had "the mental age of 10" and called for him to be permanently suspended from racing for "being himself". Brutal.
Rene Arnoux was another driver Hunt wasn't particularly fond of. When he took Gerhard Berger out of the 1988 Australian Grand Prix, Hunt said he "had no business to be in Grand Prix racing under the standards of his driving". A year later the Brit was at it again, calling Arnoux's excuses for poor form "bullsh*t".
We'll be honest; while such remarks are certainly harsh, they're also absolutely hilarious, much like most controversial things he did and said.
Sure, he may be a bit of a villain because of them, but we wouldn't have changed him for the world and we don't think anybody  else would either.
Well, except maybe the marshals…
Finley Crebolder
Follow us on Twitter @Planet_F1 and like our Facebook page.