Formula 1 villains: Sebastian Vettel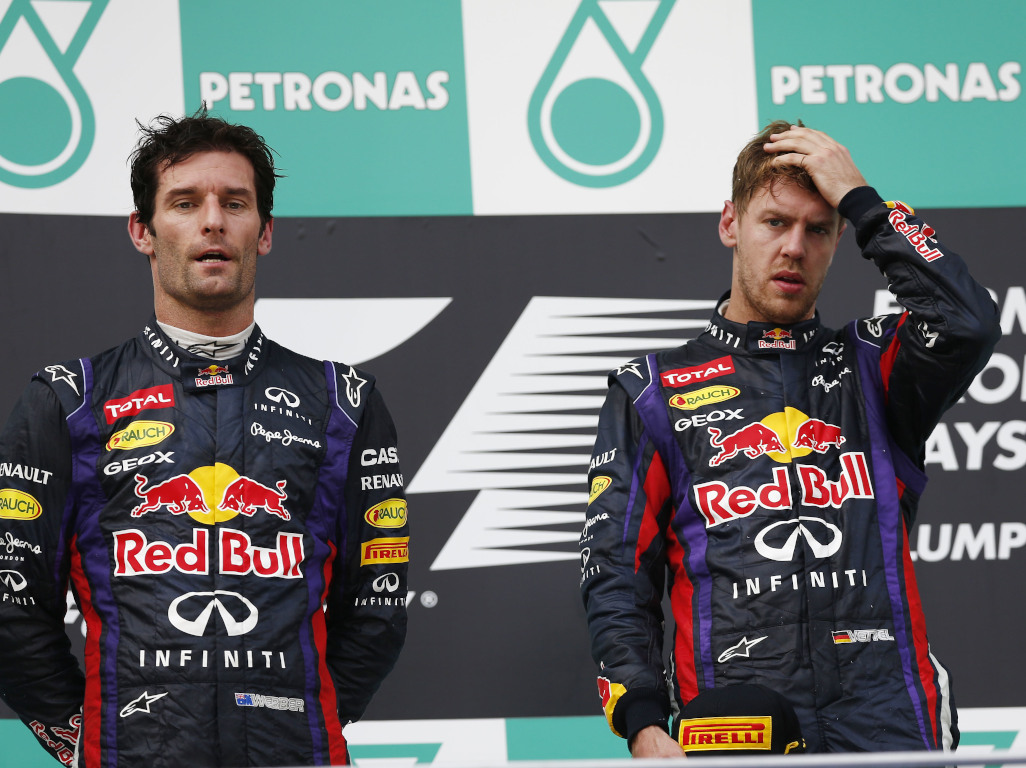 A four-time World Champion who was expected to challenge the record of seven, instead Sebastian Vettel became the pantomime villain in one too many story.
The only driver to ever win a grand prix in a Toro Rosso, Formula 1's youngest World Champion, winner of 53 grands prix and one of only five drivers to win four or more World titles, there is no denying Vettel has talent.
But what he also has is a temper and a belief that the rules do not apply to him, especially when winning is at stake.
Thrown in a not-so-healthy dash of petulance, a finger that has been stuck in the air all too often for his detractors, and it is no wonder that Vettel has been as divisive for fans as Formula 1's last German World Champ.
2013 Malaysian Grand Prix
A moment that defined Vettel's career, and one that put paid to any semblance that he was Mr Nice Guy.
Once again defending his World title, Vettel's 2013 season did not get off to the best start with a P3 at the Australian GP, a race won by Lotus driver Kimi Raikkonen.
The German looked to bounce back at the Sepang circuit, qualifying on pole position while his Red Bull team-mate Mark Webber was fifth.
It was, however, Webber who had the better Sunday and was leading the race after the Red Bull team-mates made their final stops of the afternoon.
Red Bull ordered both drivers to turn down their engines and hold stations: "Multi-Map 21."
Vettel was having none of it.
On lap 46, using his DRS and KERS, he challenged Webber for the lead with the two almost coming together.
Webber tried to defend, even pushing Vettel towards the pit wall, but Vettel had the better speed out of Turn Three and used that to take the lead out of Turn Four.
Team boss Christian Horner told the German: "This is silly, Seb. Come on."
Vettel didn't back down and pushed his team-mate towards the edge of the track when Webber tried to pass him on the next lap.
Vettel held on for the win. Webber was second. And any good will between the two, at the time, was over.
"Multi-21, Seb. Multi-21!" a furious Webber shouted at Vettel in the cooldown room.
Vettel apologised to Red Bull but, whether it was heartfelt is up for debate as, at the same time, he had his lawyer threaten the team with legal action should they punish him in any way.
2016 Mexican Grand Prix
Not only out of the race for the World title but also losing to his former Red Bull team-mate Daniel Ricciardo, Vettel was not a happy guy by the time the Formula 1 circus arrived in Mexico.
That Sunday afternoon the now-Ferrari driver found himself in the middle of a Red Bull sandwich, chasing Max Verstappen and trying to fend of Ricciardo.
Throughout the final handful of laps, Vettel felt Verstappen was illegally blocking him and trying to back him into Ricciardo's clutches.
He yelled over the team radio: "Move, move. For f*** sake. He's a d*ckhead. that's what he is."
Vettel added: "I mean am I the only one or are you not seeing what I am seeing? He is just backing me up into Ricciardo? For f**ks sake."
Ferrari told Vettel something inaudible, at least for us, about FIA race director Charlie Whiting.
Vettel hit back: "Here is a message for Charlie: F*** off! F*** off! Honestly!"
Verstappen crossed the line in third place only to be penalised for cutting a corner on lap 68 and unfairly maintaining his advantage over Vettel.
Vettel was promoted to third but his joy was short-lived as he too was penalised, slapped with a 10-second penalty for driving dangerously and moving under braking to block Ricciardo.
The Ferrari driver was investigated by the FIA for his language but was spared punishment as he had sought out Whiting after the race to apologise. He also wrote to the FIA to say sorry.
2017 Azerbaijan Grand Prix
It is one thing to lash out verbally, it is quite another to deliberately crash into a rival – but that's what Vettel did in Baku in 2017.
Arriving in Azerbaijan 12 points ahead of Lewis Hamilton in the race for the World title, Vettel found himself behind the Mercedes driver when the Safety Car came out on lap 17 for debris from Kimi Raikkonen's car.
It was the second of the day and, as he had come up short at the first restart, he stuck to Hamilton's rear wing to avoid being left in the Brit's dust.
But driving that close he made contact with the rear of the Mercedes, causing a small amount of damage to both cars.
He raged that Hamilton had "brake tested" him.
What happened next was bizarre.
Vettel drew alongside Hamilton and turned to the right, deliberately driving into him.
The stewards slapped him a 10-second stop/go penalty for dangerous driving while he was later also handed a reprimanded.
Hamilton labelled the German a "disgrace".
"For him to pretty much get away with driving into another driver is a disgrace," he said.
"I think he disgraced himself today. If he wants to prove that he is a man we should do it out of the car, face-to-face.
"It is a misjudgment from him and some people don't like to own up to their own mistakes."
Hamilton's telemetry showed that he did not brake-test Vettel.
2018 Italian Grand Prix
Having won the Belgian GP, Vettel sat 17 points behind Hamilton in the race for the World title. His Ferrari team-mate, Raikkonen, although P3 was a further 68 points off the pace.
As such Vettel felt he should be given priority by Ferrari. That didn't happen at the Italian GP.
Raikkonen was on top form in qualifying at the Monza circuit and set the fastest lap ever recorded in Formula 1, a whopping average speed of 163.793 mph.
He took pole position by 0.161s ahead of Vettel with Hamilton third on the grid.
It should have been a dream result for Ferrari but Vettel was not impressed.
"Clearly I wasn't happy," he said, "but I don't tell you why."
He went onto reveal that Ferrari had given Raikkonen the preferred qualifying strategy.
"We have an order which changes every weekend, and this weekend it was Kimi's turn to go second [and get the tow]. Simple."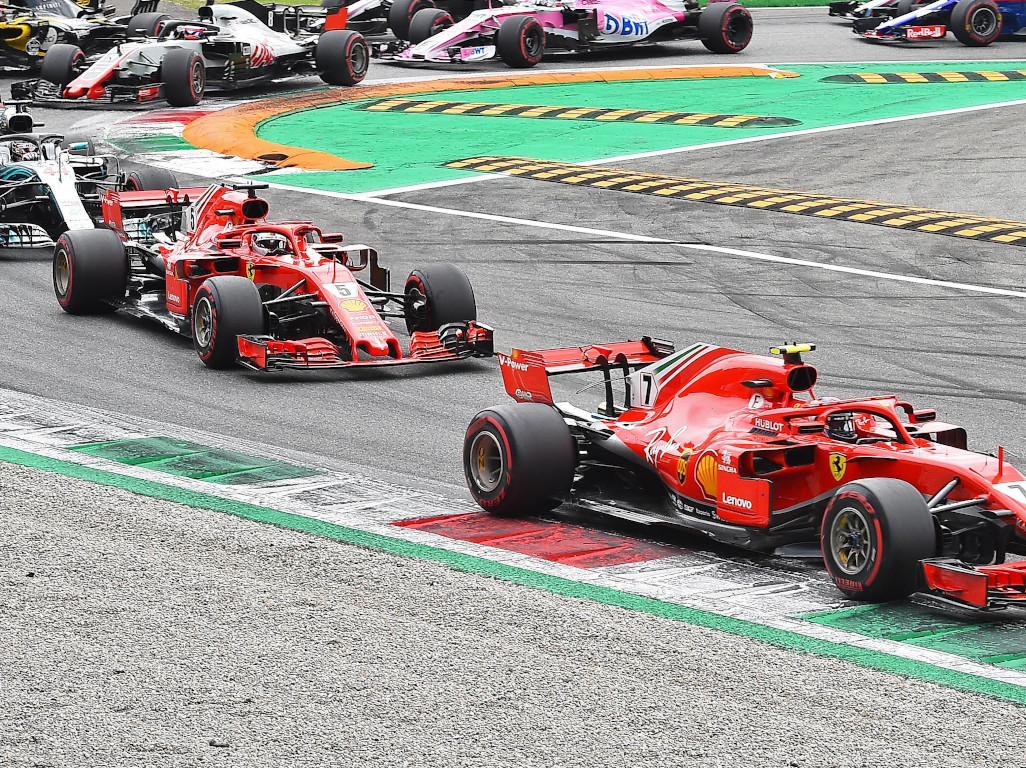 Just over 24 hours later Vettel compounded the situation when he tangled with Hamilton on the opening lap.
He spun, Hamilton won.
2019 Russian Grand Prix
2019 was Vettel's worst season with Ferrari and at the Russian GP we got a glimpse of the old Vettel going into business for himself.
Teaming up with Charles Leclerc at the start of the championship, Vettel was told many times that he was Ferrari's priority driver.
The Scuderia proved that in the opening few races, issuing team orders in Vettel's favour even when Leclerc was the faster driver.
That changed as the campaign progressed with Ferrari wanting wins irrespective of which driver claimed them. They just needed P1s.
Leclerc won at Spa and Monza with Vettel following up with his first victory of the season in Singapore. Russia would make it four in a row if the Scuderia could pull it off.
Leclerc claimed pole position for the race ahead of Hamilton and Vettel.
The team-mates agreed prior to the start that Leclerc would give Vettel the tow into the first corner to give him the best opportunity to take second off Hamilton. However, if he also passed Leclerc, he would hand the position back.
Simple? Not when Vettel is involved.
The German stormed past not only Hamilton but also Leclerc to lead the grand prix.
A crash further back brought out the Safety Car with Vettel sitting P1 to Leclerc's P2.
Instead of handing the lead back to his team-mate when the race restarted, Vettel began to put space between the two Ferraris.
Leclerc was told by Ferrari that it is "are looking to do the swap further into the race."
He replied: "Yes, no problem, at least I understand."
But as the race continued and Vettel was told to "let Charles by, let Charles by", he instead told Ferrari: "Let's break away for another two laps."
Leclerc's frustrations mounted: "You put me behind. I respected everything. We will speak later. But now it's difficult to close the gap, obviously."
He added: "The only thing is that I respected, I gave him the slipstream, no problems. Then I tried to push at the beginning of the race but I overheated the tyre. But anyway, it's no problems. Manage the situation."
Vettel continued to pull away from his team-mate before Ferrari first called in Leclerc for his stop and then Vettel.
The undercut put the Monégasque driver out on track ahead of Vettel, as he believed he should have been all along.
A few laps later Vettel retired with a MGU-K failure.
He parked his SF90 to the side of the track at Turn 16, bringing out the Virtual Safety Car and handing both Mercedes drivers a free pit stop and the 1-2.
An act of revenge? The jury is out on that.
Michelle Foster