The Year After The Year: When F1 World Champions hit new heights for a second title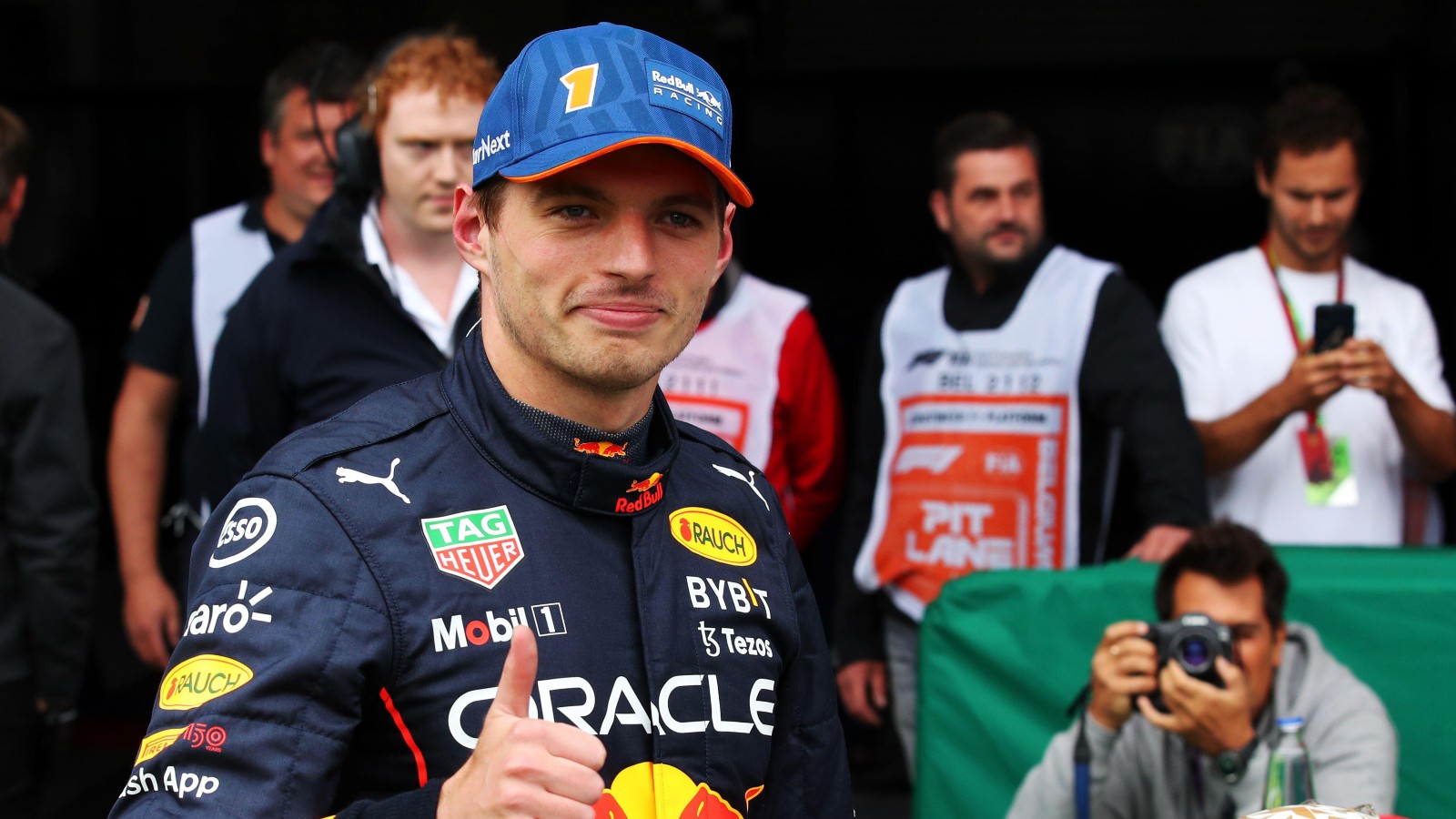 What is it that separates the great from the good in F1 and wider sport? Almost without exception, it is the attitude towards achievement.
The truly special ones are those who attain a certain level of success and see it not as the pinnacle but a springboard to even greater things.
At the Japanese Grand Prix, Max Verstappen became the latest in a select number of Formula 1 drivers to win back-to-back World Championships.
After winning his maiden title last season, 2022 will be remembered as The Year After The Year as Verstappen and his Red Bull team were elevated to an even higher level of performance.
Here, we celebrate those who won it once, then went out and won it again…
Alberto Ascari, 1952/53
With the season run to Formula 2 regulations in 1952, the balance of power in grand prix racing swung firmly in the direction of Alberto Ascari and Ferrari.
Defending Champion Juan Manuel Fangio did not make a World Championship appearance all year – a victim of Alfa Romeo's withdrawal at the end of '51 before suffering a broken neck when thrown from his Maserati in a non-Championship race at Monza – as Ascari overcame inaugural title winner Giuseppe Farina to become Ferrari's first World Champion.
And he did it in some style, for after missing the opening round in Switzerland to qualify for the Indianapolis 500, then classed as a World Championship event, Ascari won each of the last six races.
With only a driver's four best results counting towards the Championship, that ensured he scored 100 per cent of the available points in a season, with Ascari leading a record 304 consecutive laps between the Belgian and Dutch Grands Prix – a span of five consecutive races.
He had to settle for only 95.8 per cent of the available points in 1953 as Ascari extended his winning run to nine – a record that would remain untouched for six decades.
Two more victories followed in Britain and Switzerland either side of a German Grand Prix at the Nürburgring where his nearest rivals Fangio and Mike Hawthorn failed to win and Ascari was declared the first driver to successfully defend the title.
Juan Manuel Fangio, 1954/55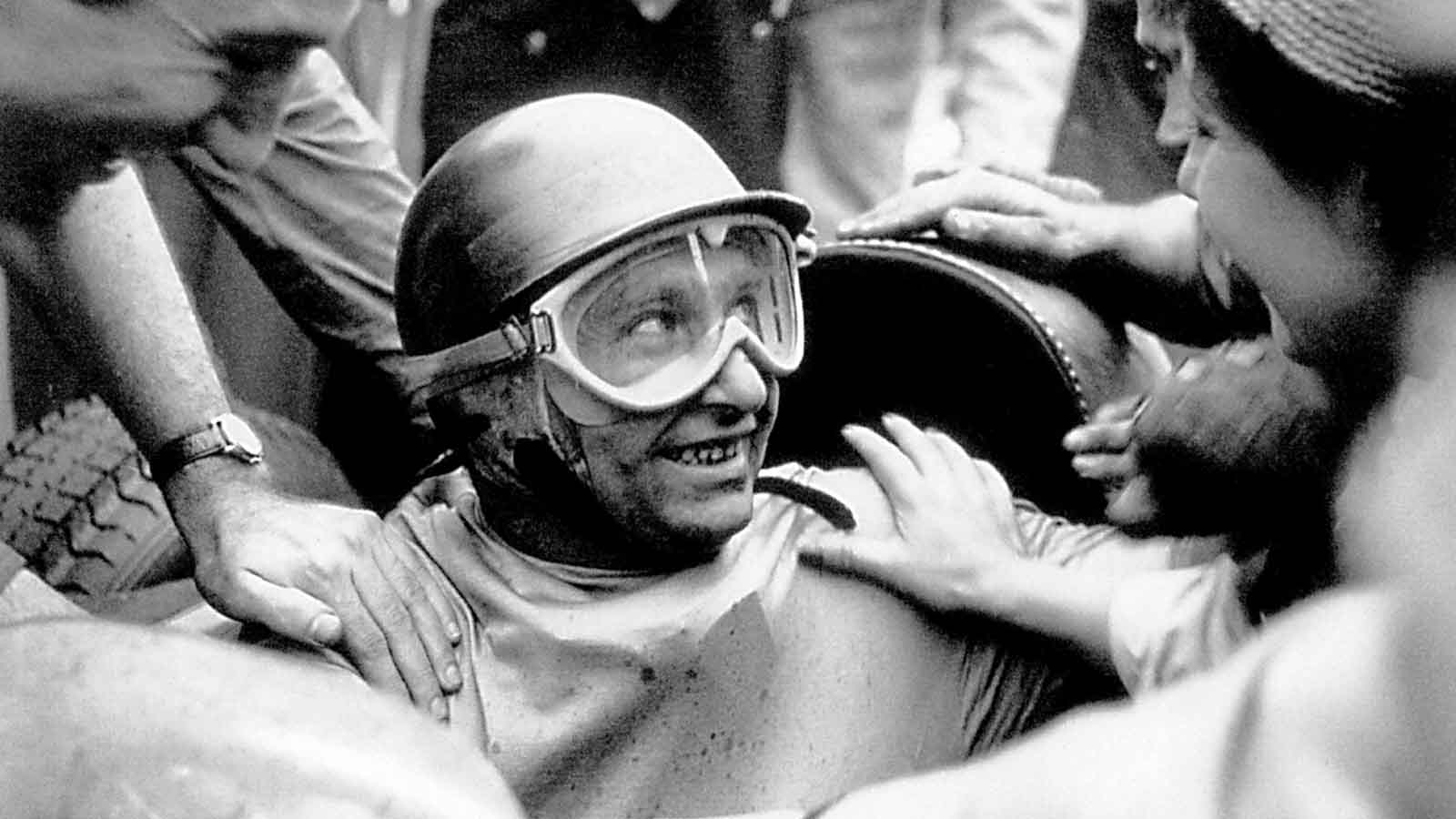 World Champion for the first time in 1951 and runner-up in '50 and '53, Fangio was already an icon of F1's burgeoning years even before he embarked upon a streak of four successive titles between 1954 and 1957.
It is that period of dominance – his ability to maintain a standard of excellence in a range of different cars over several years in an unthinkably perilous era – that ensures he remains a key figure in any debate over the greatest drivers in the sport's history.
For the purposes of this list, however, it is the first two of that sequence that will receive the most attention here.
Fangio began 1954 driving a Maserati 250F, winning the first two races in Argentina and Belgium, before leaving to be involved in Mercedes' entry into grand prix racing with the W196.
The car won on its debut at Reims but the team introduced a more nimble open-wheeled configuration after struggling in the high-speed sweeps of Silverstone, Fangio winning consecutively at the Nürburgring and Bremgarten to secure his second title.
In Fangio's case, The Year After The Year took place against the backdrop of the 1955 Le Mans disaster in which Mercedes sportscar driver Pierre Levegh was killed along with 83 spectators, triggering the manufacturer's withdrawal from motor racing at the end of the year.
Fangio was fortunate to avoid being caught up in the accident and ensured Mercedes at least went out on a high, winning four of the six races he started (Buenos Aires, Spa, Zandvoort and Monza) to take his third Championship.
It would be sealed with second place at the penultimate round at Aintree before Fangio completed his victory tour behind the wheel of a Ferrari in '56 and Maserati in '57.
Jack Brabham, 1959/60
Jack Brabham would famously become the only driver to win the World Championship with his name above the door in 1966, but his first two titles were achieved with Cooper.
He also has the distinction of being the only driver on this list to have never won a grand prix prior to the start of his first title-winning season, though he did not have to wait long after Cooper upgraded to a 2.5-litre Climax engine in time for 1959.
With victories at Monaco and Aintree, Brabham triumphed in a tense battle with team-mate Stirling Moss and Ferrari's Tony Brooks, pushing the Cooper over the line in the final race at Sebring just to make sure after running out of fuel at the end.
Never content with merely driving the car, Brabham was influential in the design of the T53 car, which appeared for the first time in Monte Carlo in 1960.
In an era when only a driver's best six results counted towards the Championship, Brabham did his chances the world of good by winning five in a row at Zandvoort, Spa, Reims, Silverstone and Porto.
It was an astonishing run of speed and reliability and meant that when the British teams boycotted the following round at Monza, it merely provided confirmation of what everyone already knew.
Nobody would be catching Black Jack.
Alain Prost, 1985/86
Niki Lauda defeated Alain Prost by half a point – the smallest winning margin in grand prix history – in 1984, but even he was aware that trying to contain his team-mate any longer would be the F1 equivalent of holding back the tide.
In a driving career defined by acts of defiance Niki returned to the well one last time that year, but now? Now was Alain's time.
The changing of the guard was quick and clinical (typical Prost, you might say) as the younger man achieved a level of performance he had often threatened to reach in fast-but-fragile Renaults.
Prost took five wins in 1985 to Lauda's one – the reigning Champion's victory at Zandvoort was one of only three races he finished in what proved to be his final season – to become France's first (and still only) World Champion, but greater tests were to come.
Every point mattered in one of the most competitive seasons F1 has ever produced in 1986, resulting in the remarkable scenes of Prost weaving to the chequered flag as he ran out of fuel to win at Imola before attempting to push his car across the line after the same occurred at Hockenheim (he was classified sixth).
In what developed into a three-way fight between Prost and the Williams drivers, the title had seemed destined to go to Nigel Mansell, leader of the standings since round nine of 16.
Mansell, in third, was in position to seal it with fewer than 20 laps remaining of the decider in Adelaide when his left-rear tyre burst at 180mph. Concerned the same might happen to the sister car, Williams pitted Nelson Piquet from the lead and thus opened the door for Prost.
Piquet sliced seconds out of Prost's advantage but it was too late, the McLaren stopping just metres after the finish line having, yes, ran out of fuel.
Fine margins…
Ayrton Senna, 1990/91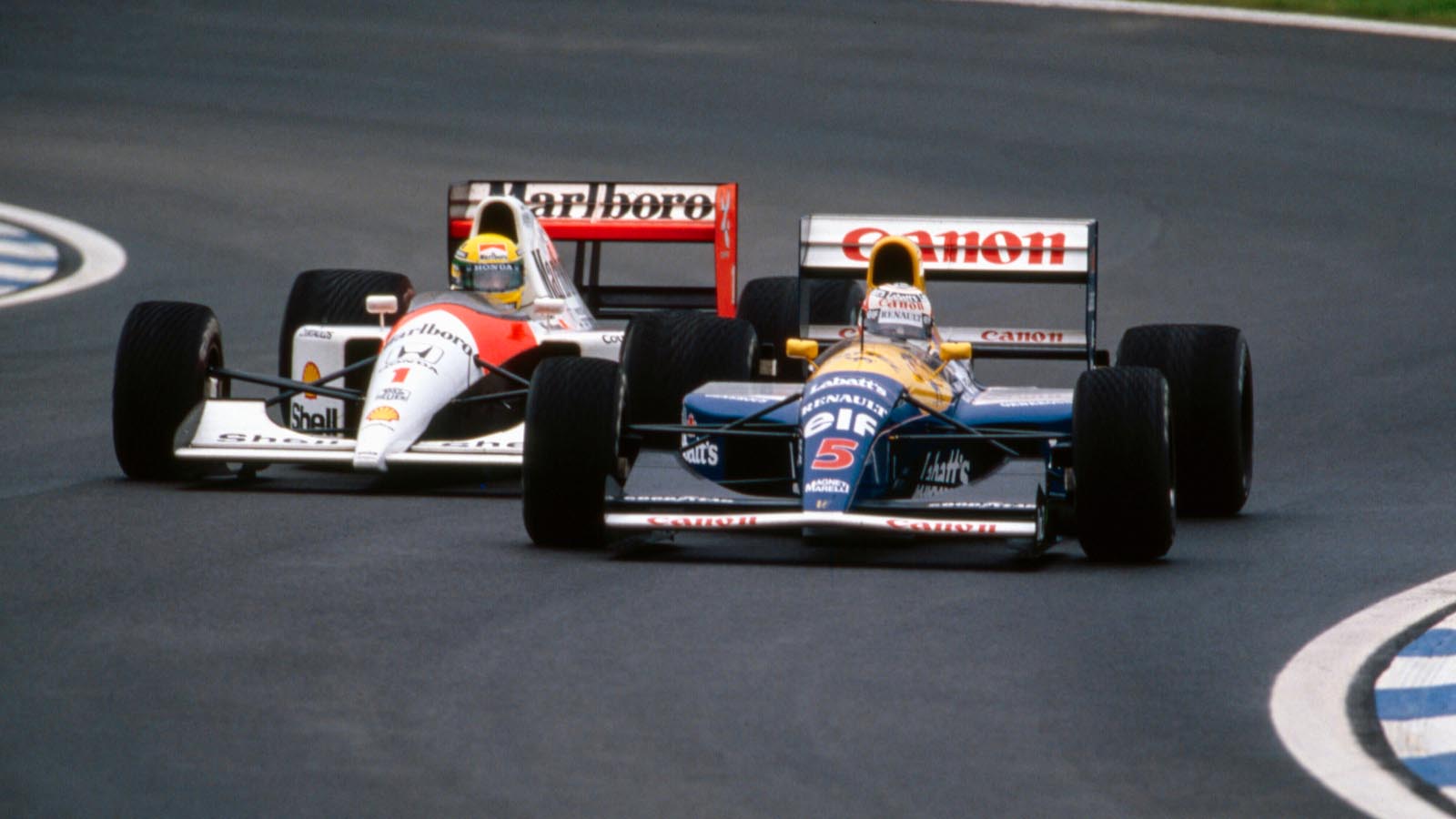 As fondly as Prost's rivalry with Ayrton Senna at McLaren is remembered, in truth it did not bring out the best in either man at the time.
The history of F1 has shown that if a team has at their disposal a truly exceptional talent, it is preferable to pair them with a team-mate who will support them rather than one they may perceive as a threat.
In that sense, from Senna's perspective there was one good thing to come out of the mess of Suzuka '89 as Prost's relationship with the team was pushed beyond the point of no return.
To Ferrari he fled for 1990, swapping seats with Gerhard Berger. At long last and without question, McLaren were Senna's team.
That change altered Ayrton's view of the world – Berger credits himself for teaching Senna how to laugh – but Prost continued to challenge him from a distance.
Senna's taking out of Prost at Suzuka – payback for the previous year but driven by the FIA's refusal to move the pole position slot to the clean side of the grid – sealed the title in 1990 and, for the following year, he and McLaren found themselves in a state of stability as F1 slowly started to change around him.
Prost was fired before the end of Ferrari's first winless season since 1986 for criticising the car, while Williams were experiencing teething troubles as they continued to explore the enormous potential of active suspension.
That left Senna free to win each of the opening four races – including an emotional first victory at home in Brazil, where he struggled on while stuck in sixth gear – to establish an early lead of 29 points.
When Williams began to get things right, an ominous sign ahead of 1992, Senna – who let Berger win on the day he clinched his last title at Suzuka – was already on his way to the highest points tally of his three Championship-winning campaigns.
Michael Schumacher, 1994/95
Like Verstappen, Michael Schumacher's first World Championship was won in highly controversial and regrettable circumstances.
For Max being the beneficiary of a rogue race director making up the rules as he went along in 2021, see Michael swiping at Damon Hill at Adelaide in 1994 – an altogether more calculated and malicious act.
The best response when people question the validity of your achievement and place an imaginary asterisk beside your title? Win another one.
And win it in a manner that leaves no margin for debate: just cold, hard, uncompromising, indisputable dominance. How d'ya like me now?
That – the F1 equivalent of Diego Maradona's second goal against England at the 1986 World Cup shortly after the Hand of God moment, a redemptive and restorative act – was the beauty of Michael's 1995.
If raw emotion carried Hill and Williams to the brink of the '94 title following the death of Senna, that momentum could not be sustained in 1995, leaving Schumacher and Benetton – having switched from Ford to Renault engines over the winter – to ultimately win with ease.
Williams may have had the faster car as Hill claimed seven poles to Schumacher's three but Benetton, with Michael's relationship with Ross Brawn blossoming, were the better team.
Of the 17 races in '95, Schumacher won nine – equalling a record set by Mansell in 1992 – including from 16th on the grid at a wet Spa and clinched the Championship at Aida with one race remaining.
He was not perfect, no, but who wants perfect?
That would come later when, at Ferrari, Schumacher dominated for five straight seasons to become the first driver to reach seven World Championships.
Mika Hakkinen, 1998/99
Hill has often remarked that if he came so close to winning the title in 1994, it is safe to assume Senna would have breezed it.
The same applies to 1999, for if Eddie Irvine came within two points of denying Mika Hakkinen a second title, Schumacher would have surely found a way to finish in front.
But that, of course, is not what happened.
Schumacher's broken leg at Silverstone, forcing him to miss six races, took him out of contention and denied F1 a repeat of his enthralling battle with Hakkinen the previous season.
Until that moment, 1999 began in much the same fashion as '98 and Schumacher – having led Hakkinen by 12 points after Monaco – was only eight points behind entering the British GP.
It was in the aftermath of Silverstone that Irvine came to the fore, winning consecutively in Austria and Germany as Hakkinen retired at Hockenheim and Monza, where – as at Imola earlier in the season – he made a quite unbelievable unforced error while leading comfortably.
Schumacher returned to support Irvine in a Ferrari one-two in Malaysia, the red cars reinstated on appeal after initially being disqualified for a bargeboard infringement and ensuring Irvine travelled to the final race in Japan with a lead of four points.
With greatness close enough to touch, at that point it slipped through his fingers as Irvine inexplicably crashed in qualifying at the one corner at Suzuka – that nondescript right kink just before the hairpin – that can be treated with contempt.
In an instant all the impetus transferred to McLaren and Mika, who duly won to once again secure the Championship at Suzuka.
As for Irvine? After qualifying 1.5 seconds off pole, he was close to being lapped in the most distant third place imaginable.
There, for all to see, was the difference between good and great.
Fernando Alonso, 2005/06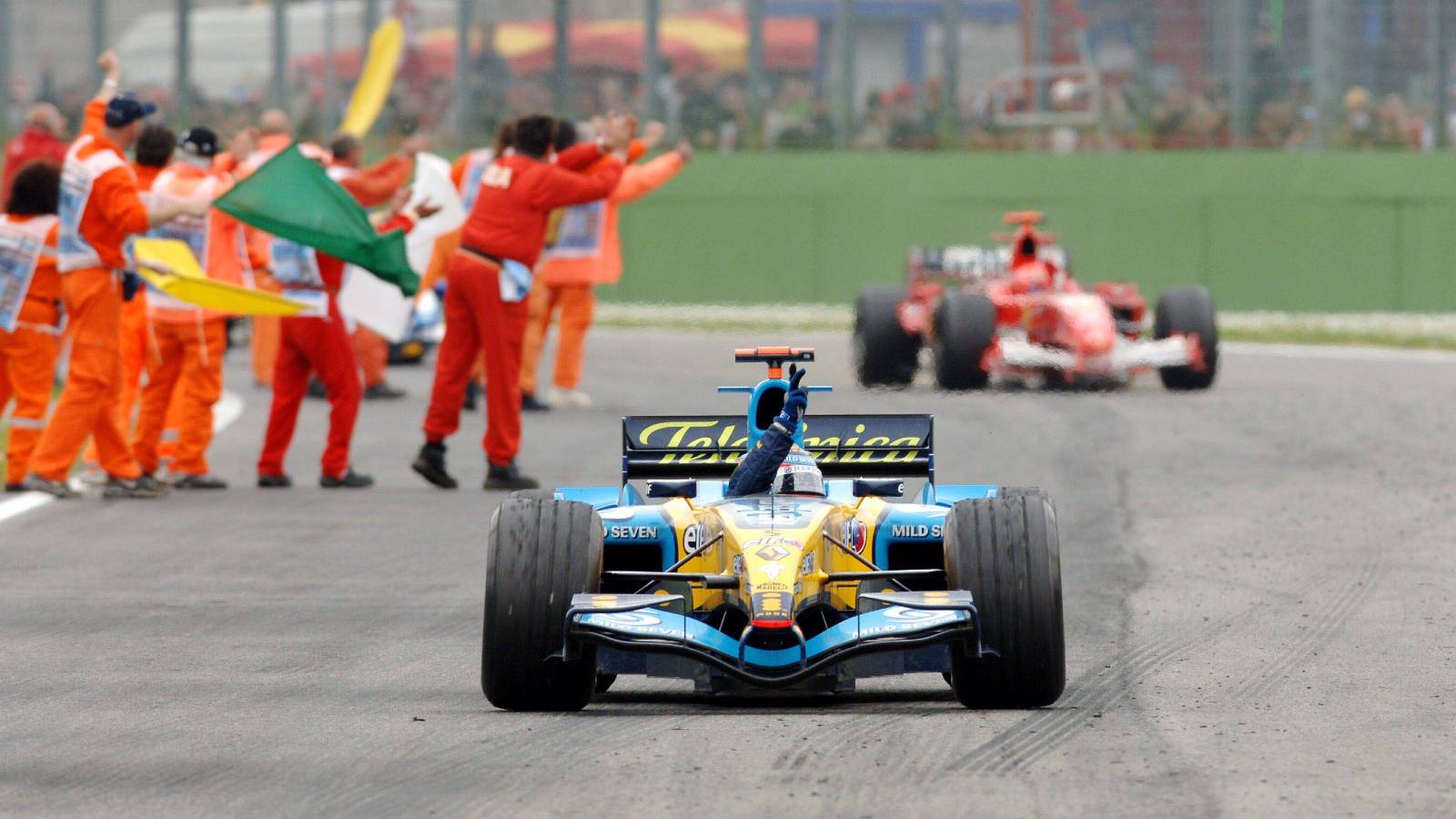 Fernando Alonso was the one to finally bring Schumacher's dominance to an end in 2005, but did so without needing to take the head of the snake.
Despite some hugely symbolic moments – Fernando holding off Michael to win at Imola, passing him around the outside of 130R at Suzuka – Ferrari's worst season in years, the result of rule changes specifically targeted at their Bridgestone tyres, left Schumacher largely defenceless.
But Ferrari were Ferrari, Bridgestone were Bridgestone and Michael was most definitely Michael.
Alonso began 2006 with the vivacity of a newly crowned Champion, finishing on the podium in the first nine races and winning six of them, but the tide was already turning before the banning of Renault's mass damper system at Hockenheim was followed by DNFs at Budapest and Monza.
When Schumacher claimed what proved to be the last of his 91 victories in China, the pair were level on points with Michael ahead on seven wins to six and favourite to secure an eighth title.
With the pressure intensifying, at that point came the first sight of the tempestuousness that would compromise Alonso in later years as he complained of feeling alone while struggling in Shanghai and indicated that, with his move to McLaren imminent, some within Renault did not want him to win.
Yet the night is darkest just before the dawn and it was in the land of the rising sun that 2006 swung back in Alonso's direction, Schumacher's engine failure while leading the penultimate race in Japan gifting Fernando his first win in three months.
Michael tried – Lord knows he tried – to overcome the odds in Brazil, but was undone by a gearbox glitch in qualifying and a puncture early in the race.
As he headed into retirement Schumacher had at last been slayed by a driver surely set to dominate for years to come…
Sebastian Vettel, 2010/11
Sebastian Vettel led the World Championship only once in 2010 but made sure it was the one that mattered, at the end of a three-way title decider with Alonso and Red Bull team-mate Mark Webber in Abu Dhabi.
For much of that season, both team and driver had the look of people who had never done this before – evident in Vettel's mistakes, his collision with Jenson Button at Spa and costly penalty for driving too slowly behind the Safety Car in Hungary, and Red Bull's handling of their drivers' clashes on track in Turkey and off track at Silverstone.
The inexperience of both parties made 2010 more anxious than it really ought to have been, but Vettel and Red Bull attacked 2011 with noticeably greater confidence and maturity.
Rarely had the psychological and emotional impact of victory – the notion of success breeding success – been so striking.
The opposition knew they were in trouble at the opening race in Australia where after Seb dominated from pole he admitted, with that mischievous grin of his, that he had done so without the use of the KERS boost system worth as much as four tenths per lap.
Despite Adrian Newey's reservations over its weight and packaging, KERS would soon come and more success would follow, Vettel mastering the counterintuitive demands of the blown diffuser to clinch his second title at Suzuka with four rounds to spare.
The only time Vettel was off the podium all season in a race he finished was at his home event at the Nurburgring as he won 11 of the 19 rounds.
The dominant nature of their second title triumph would steel Vettel and Red Bull for greater tests to come in 2012 before Seb reached his personal peak with a fourth straight Championship in 2013, when he finished with a flourish by winning the last nine races.
Lewis Hamilton, 2014/15
Where there is a winner, there must also be a loser.
In his autobiography, Webber admitted it took him most of the following year to recover from his 2010 defeat to Vettel. Was the same true of Nico Rosberg in 2015?
In his first title shot, Rosberg successfully destabilised Lewis Hamilton at points during 2014, his mistake (nudge nudge, wink wink) in Monaco qualifying and contact with his team-mate at Spa darkening the mood at Mercedes.
With more than twice the number of wins of Rosberg, however, Hamilton's natural talent, combined with his experience of winning his maiden title in 2008, ultimately made the difference.
And with Nico wounded by losing at the final round – "one of the toughest things about climbing mountains is that you have to come down again, whether or not you made it to the summit," wrote Webber – Lewis, his move from McLaren fully vindicated, had the world at his feet.
Unlike the first time, Hamilton had a car with which he could defend his Championship and 2014 bled into '15 as he claimed pole at all but one of the opening 12 rounds, winning seven, as Rosberg remained winless until race five.
The depth of Rosberg's psychological scars could be found in his desperate attempts to linger around the outside of the first turns in Japan and Texas, inviting his team-mate – a more confident, assertive and intelligent racer – to simply run him out of road.
Hamilton clinched his third title with his 10th win of the season in Austin but then released his grip, allowing Rosberg to win the final three races and regain his confidence ahead of one last stab at the Championship in 2016.
That was the one that got away from Hamilton, who responded to win four more consecutive titles between 2017 and '20 and cement his status as the most statistically successful driver in F1 history.
Max Verstappen, 2021/22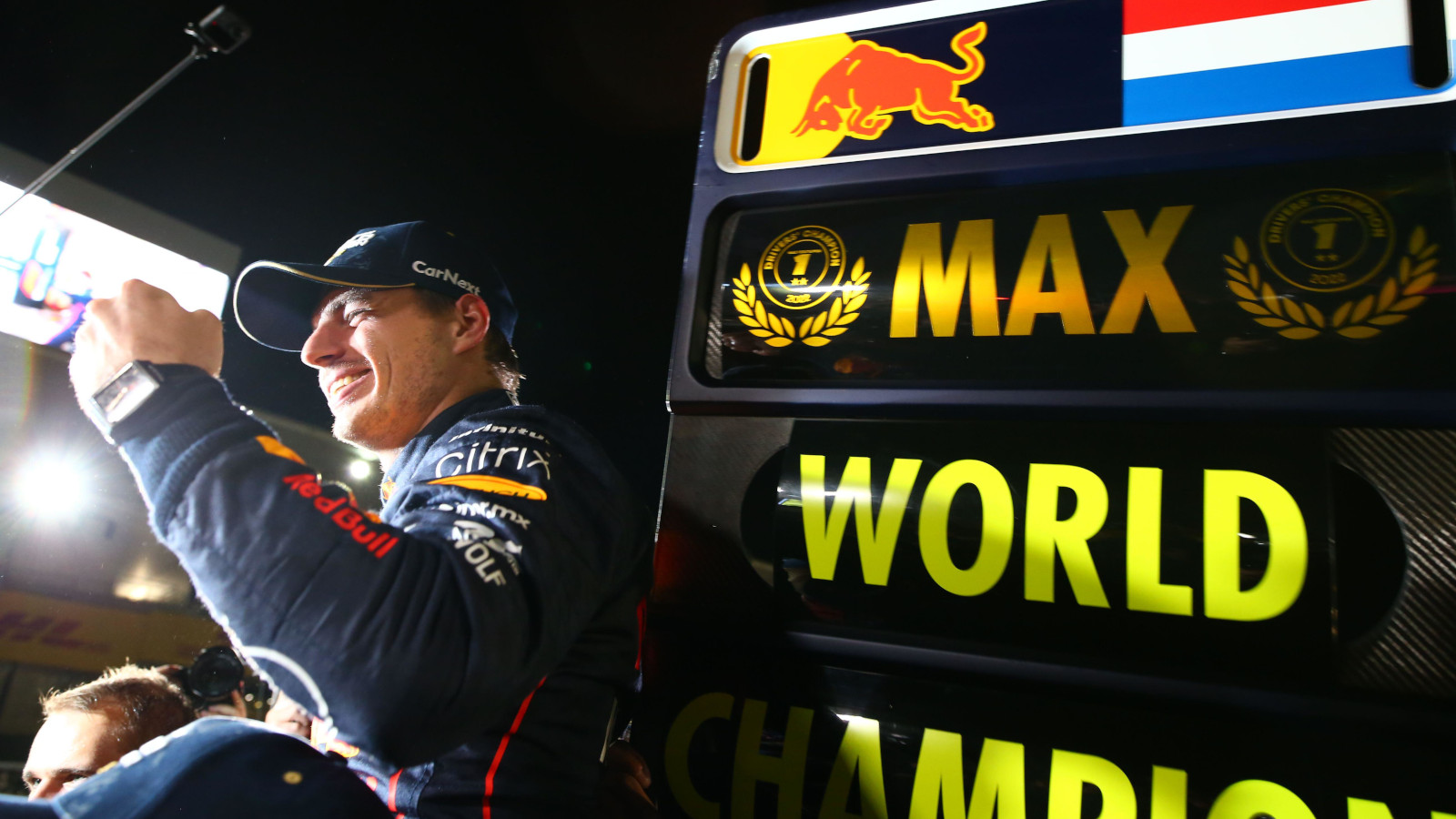 Abu Dhabi left a bitter taste and cast an unfortunate shadow over his first title triumph, but Verstappen and Red Bull made for a more agile and potent partnership – making fewer major mistakes – than Hamilton and Mercedes across the 2021 season.
That said, Hamilton had his record-breaking eighth crown effectively won with just a handful of laps remaining of the season finale before what happened, happened.
As Lewis experienced the worst of both worlds in 2022, robbed of the 2021 Championship and denied a car with which he could strike back, Red Bull successfully negotiated the rule changes to give Max what he required to keep on winning.
The RB18 was overweight and unreliable at the start of the season, however, leaving Verstappen 46 points behind Charles Leclerc, behind the wheel of a resurgent Ferrari, after two DNFs in the opening three races.
At that stage, Verstappen could not bring himself to even think about winning the title.
But without a World Championship since 2008, meanwhile, it was at the moment they seemed strong favourites to win that Ferrari suddenly had something to lose.
And how they lost it, with a comedy of strategic errors (Monaco, Silverstone), engine failures (Barcelona, Baku) and driver mistakes (Imola, France).
Leclerc's crash while leading at Paul Ricard sparked a run of five straight victories for Verstappen from a multitude of grid positions, from pole at Zandvoort to 14th at Spa.
For a few weeks such fine details as circuit configuration and tyre choices were inconsequential as any time, any place and from anywhere on the starting grid, Verstappen would win.
So when he secured his second title with his 12th victory in 18 races at Suzuka, there was a palpable sense of inevitability in the air.
If the 2021 title had only been won after one of the notorious decisions in F1 history, 2022 ultimately had the feel of a natural next step for Verstappen.
And the frightening thing linking pretty much every driver featured previously on this list? They continued to get even better and ever more complete.
What heights, we wonder, might Max scale in the years to come?
Read more: The F1 records currently held by Max Verstappen…and ones on the horizon