F1's missed opportunities: Prost and Renault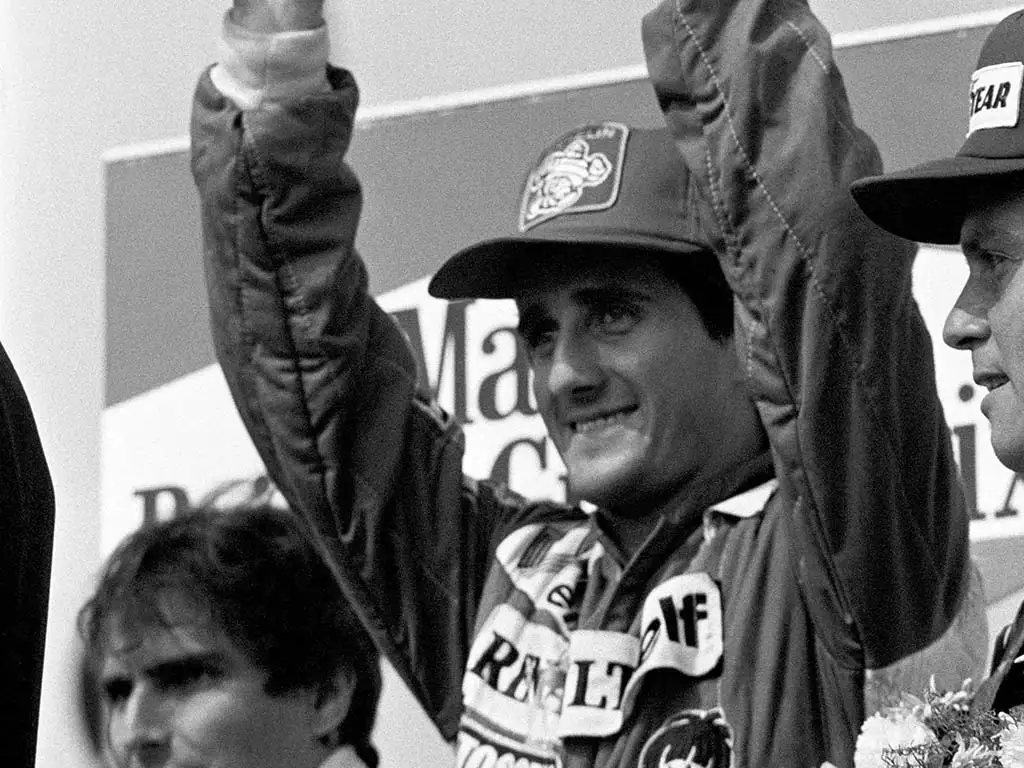 Considering France's esteemed heritage as a Formula 1 nation, home of the world's oldest Grand Prix, it seems absurd that the country had to wait until 2005 before the team won its first Constructors' Championship and for one of its drivers could call themselves world champion.
2005 might well have been that breakout year but it's not as if the team were without their chances prior to this. The early 80s presented multiple opportunities to claim glory.
The team worked their way into the top three of the Constructors' Championship in 1981, 1982 and 1983, and in all three of those years, lead driver Alain Prost was ten points or fewer away from winning a first Drivers' Championship.
Here's a look at why Alain Prost and Renault couldn't get over the line.
Relatively speaking, Renault were a new team in Formula 1, having only debuted at the British Grand Prix in 1977. Running just one driver in Jean-Pierre Jabouille, it's fair to say that early proceedings had a lot left to be desired.
Debuting the first turbocharged car in F1 history, early intrigue in the car was soon replaced by open mockery, garnering the nickname 'The Yellow Teapot'. The car was slow and horribly unreliable.
It wasn't until the Monaco Grand Prix of 1978 that Renault secured their first finish and a further wait until the 1978 United States Grand Prix before the team recorded a points finish. That being Jabouille's 17th start.
In terms of the Renault being slow and unreliable, 1979 was a turnaround year, at least for the former as Jabouille and new driver Rene Arnoux combined for six pole positions and then followed this up with five more in 1980.
Renault were learning how to harness the supreme power of their turbocharged car but reliability still remained a massive issue. Jabouille had claimed Renault's first win in 1979, at their home Grand Prix no less, but that was his only points scoring finish of the season. Unbelievably, he then repeated this in 1980 with a win at Austria being the only 9 points he claimed all year.
Jabouille would move on from Renault at the end of the season to be replaced by 25-year-old Alain Prost. Making his F1 debut for McLaren in 1980, the team had suffered a poor season and Prost wanted out, even with two more years on his contract. Renault took a chance on the young driver, partnering him with Arnoux.
It became clear from the off that Prost was a special driver and was immediately quicker than his more experienced team-mate, something that undoubtedly contributed to the pair's difficult relationship.
Arnoux endured a difficult season, finishing the year with just 11 points, meaning a Constructors' Championship was out of the question, but Prost, in just his second year, was in the hunt for the Drivers' Championship.
Things didn't start particularly well as Prost retired from both of the first two races of the season, the start of what will become an increasingly frustrating pattern, before securing his first career podium at the Argentine Grand Prix.
This would be followed by four more retirements, meaning that after seven of the 15 races that season, Prost's tally amounted to just four points, 33 behind championship leader Carlos Reutemann.
Prost needed a strong finish, and it started in the best possible way when he secured his first win in F1. Despite starting behind current team-mate Arnoux on pole and ex-team-mate Watson in 2nd, Prost made his way to the front and won his, and the team's, home Grand Prix in France.
Between the French Grand Prix at Dijon and the Italian Grand Prix at Monza, Prost and Arnoux combined for six consecutive pole positions and whilst retirements were still a heavy issue, Prost was at least supporting them with big points finishes.
A retirement at the British Grand Prix was followed by a strong 2nd place at the German Grand Prix, a race where Prost led before losing the lead when lapping Arnoux, another reason for the pair to be at odds with another.
A further retirement occurred at the Austrian Grand Prix, where Prost had held the lead, but finally the Renault team were able to string two results together as Prost won the Dutch and Italian Grands Prix. Both of which with relative ease.
The large number of retirements certainly hadn't helped his cause but the last two races had shot Prost back into contention. With two rounds to go, Prost found himself 12 points behind Reutemann and 9 behind Nelson Piquet.
With a maximum of 18 points to play for, Prost still required some good fortune to be in contention for the final Grand Prix of the season but Prost was unable to finish the race in horrific weather. With incidents involving Reutemann, Jones and Piquet, Prost temporarily found himself in the lead before dropping back and retiring on lap 48.
A second place at the final Grand Prix of the year meant that Prost finished the season 5th, albeit just seven points away from champion Piquet.
Of the 15 races in the season, Prost had the strange distinction of landing a podium in every race he finished, the issue being that only happened on six occasions. 1981 was a disappointing miss but a step in the right direction, giving promise for 1982.
As it happened, 1982 was one of the most open seasons of all-time as well as one of the most tragic with Gilles Villeneuve tragically losing his life and Didier Pironi suffering a career-ending injury.
The season might well have become one of the most open in F1 history but that wasn't evident from the start as Prost won both of the first two races, again giving hope that Renault could be heading towards a championship.
The opening race win in South Africa happened despite Prost suffering a puncture and his second win in Brazil gave him a maximum 18 out of 18 points. Not that Prost knew at this time, but after securing 18 points in the first two races, he would need just 27 more in the final 14 races to win the title.
If you've been paying any attention, you are likely to hazard a guess that this seemingly simple task for Renault didn't quite go to plan and if you think the root cause of that is not being able to finish races, you can give yourself two out of two.
Whilst the blame in 1981 can be put on Renault's doorstep, it was at least a combination in 1982 as Prost made significant errors in races following those two early wins. Scoring zero points in the ensuing seven races.
This barren run should have meant a championship was completely out of question but due to the aforementioned openness, Prost was still only 12 points behind the championship leader John Watson.
Whilst no wins came in the next five races, Prost at least scored points in three of them, including two second place finishes. It once again left Prost with a chance of championship victory with two rounds to go although once again he would be an underdog, being 11 points behind Keke Rosberg.
Once again, it was to be disappointment for Prost. Renault's reliability issues had the last laugh as a retirement at the Italian Grand Prix ended any hopes of a title, this time it would be just 10 points between the championship winner and Prost.
Renault again finished third in the Constructors' despite claiming pole position in 10 of the 16 races that season. 1982 saw no fewer than 11 drivers winning a Grand Prix and 18 making it on to the podium, if only Renault had matched their qualifying pace, those numbers might well have been lower.
The final season in this stretch to look at is 1983 and quite possibly the biggest missed opportunity of the lot.
To start, Prost had a new team-mate as Arnoux moved to reigning Constructors' Champions Ferrari, American Eddie Cheever became the first non-French driver for the team as he moved from Ligier.
Despite 1983 following a similar pattern of close but no cigar, the dynamics of the season differed a lot from 1982. Firstly, the qualifying advantage Renault possessed was at least somewhat neutralized, with more teams running turbocharged cars, Prost managed just 3 poles in the year.
In its place though, the Renault became much more reliable for Prost, and for the first time finished more races than it didn't, giving the Frenchman his best chance yet.
It wasn't exactly the ideal start though, again going against the 1982 formula. Prost's opening two wins were replaced by two finishes outside the points. He would soon be leading the championship again though as he finished on the podium in the next four races with two of those being wins.
A slight hiccup came as no points followed at the Detroit Grand Prix but again Prost bounced back and won two of the next four races. With just four races left, Prost undoubtedly had his best chance yet, rather than being forced to play catchup, Prost was dictating from the front and held a commanding 14 point lead over Piquet with the Ferraris of Tambay and Arnoux just behind.
Prost's healthy lead took its first blow at the first of these races at Zandvoort. With Prost pressurising Piquet for the lead of the race, Prost had a touch of oversteer as he attempted to make his way past. The result was a collision with Piquet and both drivers retiring from the race. The silver lining for Prost being that his main rival had made no ground up on him, having said that, the Ferraris took the opportunity to finish 1-2 and bolster their chances. Arnoux now being just eight behind.
The third to last race took place at Monza and this is where Prost was dealt a second heavy blow as he retired from the race due to a turbo failure. Much to Prost's displeasure, all three of his rivals took advantage. Piquet winning, Arnoux 2nd and Tambay 4th. Prost still held the lead despite no points in two races but it was just a two points advantage over Arnoux and a further two back to Piquet in 3rd.
The second place finish at the penultimate race of the season would have been one a welcome one for Prost, even if Piquet managed one better as he claimed a second consecutive win. Retirements for both Ferrari drivers put Tambay out of the question and meant that Arnoux needed a win at the final race with other results going his way. Up front, Prost again kept hold of the lead but it was a slender one at just two points.
The final race took place at Kyalami with Piquet getting the early advantage in qualifying, a second place start compared to Prost in 5th. Arnoux, who had qualified 4th, was soon out of contention as he retired on lap 9.
With Piquet gaining the lead at the start, Prost knew that no other result was now good enough, after working his way up to 3rd, the challenge of the Frenchman was thwarted as Renault's reliability had one last laugh. The turbo gave up the ghost on lap 35, allowing Piquet to carefully drive home to an eventual 3rd and a second Drivers' Title. For Prost it was a third consecutive near-miss and the one that must have hurt the most.
Renault too were denied a title with Cheever suffering more retirements in the year than Prost. 79 points for the duo put them 10 behind the consistency of the Ferrari pair.
There's no doubt Renault made significant progress from 'The Yellow Teapot' that debuted in 1977, their ascendency up the grid was quick but it never quite stretched far enough to win a title, at least not in this era.
The poor reliability most certainty cost the team. No fewer than 42 retirements across three years, including 17 alone in 1982 but it can't be denied that whilst Alain Prost was maturing into the legendary driver that we know today, he wasn't the finished product at this point in his career.
The three years contained errors by Prost that are unbecoming of the 'Professor' moniker he would later inherit and it's hard not to speculate as to how a more experienced Prost would have fared and whether he would have mopped up all three championships.
Prost wouldn't have to wait too much longer for that elusive first championship victory. Moving from Renault back to McLaren, another near miss followed in 1984 when Niki Lauda beat him by just half a point before getting over the line in 1985.
For Renault, the following years didn't follow the same success pattern. Winless seasons in 1984 and 1985 were compounded by major financial problems at the company. 1985 proved to be their last season as a constructor until their return in 2002.
Ben Hocking
This article is brought to you by the good folks at Late Braking. You can check them out in the following places:
Subscribe to Late Braking on YouTube