Jack Aitken came to life at his home race to claim Silverstone F2 Sprint Race victory, while Nicholas Latifi got his season back on track.
The British Grand Prix for Formula 2 was full of revivals, declines and terrific racing – but we have put all that into our power five, the drivers who we think are most deserving of a Formula 1 call up.
Nyck De Vries
Only one podium at the weekend for the Dutchman, what's going on?
P6 in the feature race wasn't really what De Vries had in mind, but eight valuable points came his way nonetheless.
Mesmerizing battle between @JaitkenRacer and @nyckdevries! Glued to the screen. #F2 pic.twitter.com/Z4qqfpLqN7

— F1 Feeder Series (@F1FeederSeries1) July 14, 2019
De Vries enjoyed a thrilling battle with eventual winner Jack Aitken in the sprint race, including a moment where the pair went side-by-side into Brooklands before Aitken made his move around the outside – not long before De Vries had done the same to Aitken.
The Championship leader would be forced to settle for P3 – hardly a bad result.
"The approach is the same for every race weekend. We're here to win," he asserted after the sprint race.
"Unfortunately, this weekend we were not competitive enough to [win]. In that case you need to try and bring home as many points as possible. We do that through fighting."
23 points on a weekend where you were out of sorts – that's why De Vries remains in pole position for a Formula 1 seat.
Nicholas Latifi
The student became the master for Luca Ghiotto 🤣🎓

But will @gyzhou_33 receive any advice? @NicholasLatifi doesn't think so!#BritishGP 🇬🇧 #F2 pic.twitter.com/6DgRJvqSUe

— Formula 2 (@FIA_F2) July 14, 2019
After a few difficult outings, Williams' reserve driver Latifi reminded us exactly why he was the early leader in Drivers' Championship.
A fantastic early pass on team-mate Sergio Sette Camara at Becketts set him up for a strong showing in the feature race – this time there were no collisions between the two.
Latifi would get ahead of Guanyu Zhou in the pits for P2, and he moved into P1 when Luca Ghiotto locked up at Becketts on cold tyres.
Despite some spirited defence, Latifi would ultimately lose the win to a rapid Ghiotto, but with P2 Latifi sent a clear message that he was back.
The Canadian showed off his precision car placement again in the sprint, holding off Mick Schumacher and Zhou to finish P5.
Latifi trails De Vries by 31 points in the Drivers' Championship with Hungary next up – the title and a Formula 1 drive both remain real ambitions for the Canadian.
Luca Ghiotto
Feels good, right @luca_ghiotto?! 😄#BritishGP 🇬🇧 #F2 pic.twitter.com/gZhbuqkrBT

— Formula 2 (@FIA_F2) July 13, 2019
Strong race weekends back-to-back from Ghiotto, this is the sort of consistency he had been missing.
He thoroughly deserved the win on Saturday, making up for his error by getting back in the zone and getting the job done.
Sadly a left-rear puncture cost the UNI-Virtuosi driver a strong points haul in the sprint, but officials in the Formula 1 paddock will be more impressed with his improving ability to combine lightning pace with consistent points scoring.
Guanyu Zhou
A little bit of history on the #RoadToF1…

Guanyu Zhou becomes the first Chinese driver to take pole in @FIA_F2 🇨🇳#BritishGP pic.twitter.com/e5vUOVFvjz

— Formula 1 (@F1) July 12, 2019
If Ghiotto truly has found the secret to consistency, then this means Zhou's life is about to get a lot harder.
There was little expectation placed on the Renault junior coming into this season, but he has proven his ability to compete with his team-mate and on several occasions outperform Ghiotto.
Ghiotto jumped Zhou off the line in race one after a Uni-Virtuosi front-row lockout, and their was little he could do to avoid being passed by Latifi in the pits.
P3 it was for the man hoping to become China's first ever representative in Formula 1, and he's going the right way about it.
Jack Aitken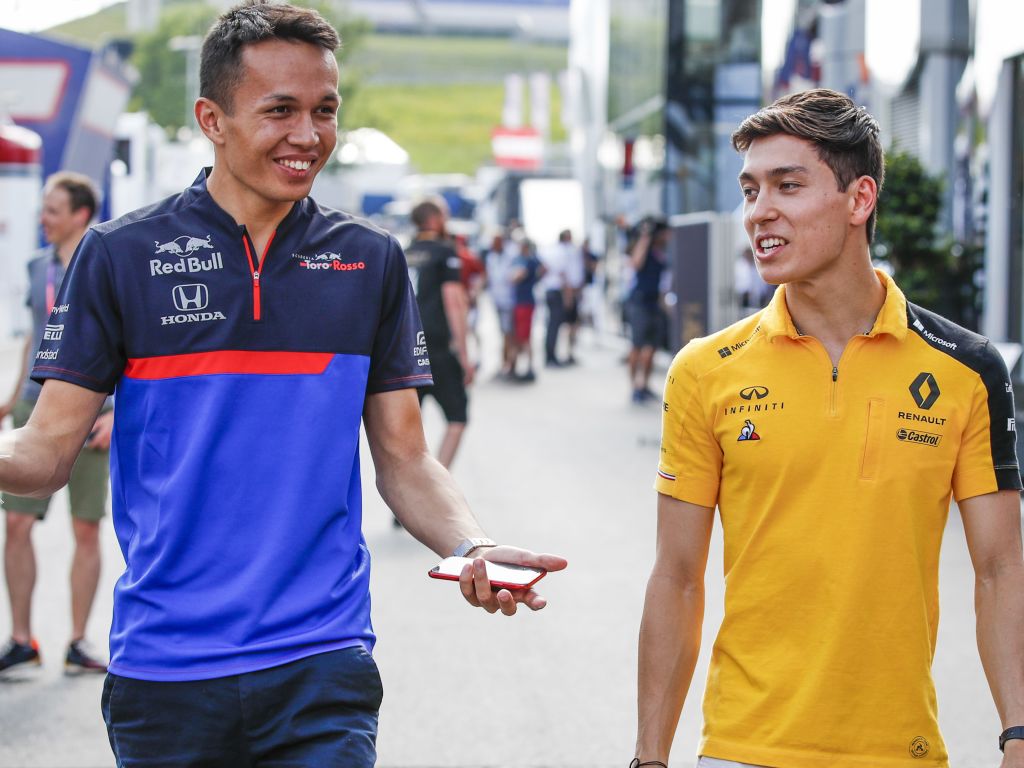 Another Renault prospect, Aitken kept himself in the title race with victory in the sprint race at Silverstone.
Roared on by the home crowd, Aitken showed just what he was capable of in his battle against De Vries, with the Brit also grabbing two extra points for fastest lap.
The 23-year-old has been in and out of our power 5 in-line for a Formula 1 call up, and that has been reflected in his rather erratic form.
One would suspect that Aitken and Zhou have moved ahead of Anthoine Hubert in the Renault pecking order, but who they would pick out of the two for a potential promotion would be difficult to call.
Zhou has pace but time is very much on his side – at 20 years of age do Renault need to rush him? Aitken has been around the block a few more times, but can he score enough points?
Decisions decisions…
The drop-out
Sergio Sette Camara
The Brazilian ended his 41-race streak without a win in Formula 2 at the Austrian Grand Prix, but he failed to follow up on that at Silverstone.
Despite being knocked off the podium by team-mate Latifi in the feature race, P4 was a more than respectable result for the McLaren protegee.
However, his second drive in Northamptonshire was ruined when he made contact with Juan Manuel Correa.
Camara is a consistent points-getter, hence why he is P4 in the Drivers' Championship, but he lacks the ability to find that extra gear – evidenced by his 41-race winless streak.
Whilst someone who can keep the standings ticking over is important for a team like McLaren, they have arguably made the wrong call to drop De Vries who is showing he can dominate on the good days, and consolidate in the points on the bad ones.
Follow us on Twitter @Planet_F1 and like our Facebook page.