F2 Watch: Latifi is back and coming for De Vries
F2 in Hungary was great for the sentimental ones among us – for the first time since 2006 we heard the words 'Schumacher wins'.
It was a great moment for Mick Schumacher who earned his first victory in Formula 2, but at the business end of the Drivers' Championship there was also major business to handle.
Here is how our power five in line for a Formula 1 call-up looks after Hungary.
Nicholas Latifi
In memory of Jean-Paul Driot, the DAMS team owner who passed away today, 24 hrs after his car, driven by Nicholas Latifi, conclusively won the #F2feature race in Hungary. @damsracing pic.twitter.com/syaoo1fyIK

— Peter Windsor (@PeterDWindsor) August 4, 2019
After the Hungarian Grand Prix it's safe to say that Nicholas Latifi is back on form.
The Williams reserve driver went from P3 to the lead off the line in race one, a lead which he retained after the pit stops and stretched as he cut through the alternative strategy runners.
Nyck De Vries should have finished a distant second, but a late Safety Car after Ralf Boschung's engine failure left oil on the track and meant the field crossed the line in order with Latifi taking the win.
The sprint race was fairly quiet for most, a sprint that promised to break into life after the tyre-saving phase but one that never really delivered, Latifi ended the morning P7 behind De Vries.
Sadly Latifi's team DAMS later that day learnt of the passing of their founder and owner Jean-Paul Driot – they dedicated Latifi's win and Sergio Sette Camara's podium in Hungary to Jean-Paul's memory.
In the bright lights of Formula 1 Robert Kubica had his worst showing to date against team-mate George Russell – 1.3s slower in qualifying and still distant at the back in the race while Russell battled the midfield.
Therefore, Latifi moves up to number one, pole position for a Formula 1 call-up, there is surely a very real chance that Williams will make the swap during the summer break.
Nyck De Vries
Solid weekend, P6 today! A couple more days of work before holidays. Looking forward to spend time with my friends and family ❤ pic.twitter.com/ngwcW1fBYh

— Nyck de Vries (@nyckdevries) August 4, 2019
The other half of Formula 2's power duo – De Vries lost a battle in Hungary, but at present he is winning the war with a 30-point lead in the Drivers' Championship.
The Dutchman did a good job of keeping his rival under control – Latifi was dominant in the feature so De Vries did the next best thing and secured P2, while he made sure to finish ahead of Latifi in the damp squid that was the sprint race.
It looks set to be a two-horse race to the title and we can't wait to see it all play out, and hopefully we get a chance to then see further battles between these two in Formula 1 very soon.
Jack Aitken
When you realise overtaking after lap 1 isn't a thing anymore 🤷🏻‍♂️ P5 and decent points. pic.twitter.com/A27M1ET0GX

— Jack Aitken – 한세용 (@JaitkenRacer) August 4, 2019
The Renault junior formed the final part of the podium in race one, going about his business nicely to claim P3.
21 points from the Hungaroring after P5 in the second race means Aitken has built a 27-point buffer over fellow Renault hopeful Guanyu Zhou in the Drivers' Championship.
Now, he will look to reel in Camara and Luca Ghiotto ahead with P3 a real possibility come the end of the season.
Looking further forward to Formula 1, it's safe to say that Daniel Ricciardo and Nico Hulkenberg are feeling underwhelmed by Renault's performances, so maybe an opportunity will come up soon for Aitken.
Luca Ghiotto
.@luca_ghiotto trying to fight his way back past @JaitkenRacer, but he defends well. #F2 pic.twitter.com/zkyqJJt1iG

— F1 Feeder Series (@F1FeederSeries1) August 3, 2019
Ghiotto was unfortunate in the feature race to fall victim to the undercut thanks to Aitken.
That forced the Uni-Virtuosi racer to settle for P4, a position which he held on to after some fantastic defence against Nobuharu Matsushita and Camara. He had been hit with a five-second time penalty by the stewards for a SC infringement, but after further review they cancelled that punishment.
In the sprint a poor start saw him drop from P5 to P9, but he ultimately crossed the line P8 after passing Nikita Mazepin to stop the rot – a trait which had been lacking from Ghiotto in the early stages of the season where if something went wrong, it usually snowballed into apocalyptic chaos.
A more dependable yet still dangerous Ghiotto is likely to appeal to the Formula 1 paddock.
Sergio Sette Camara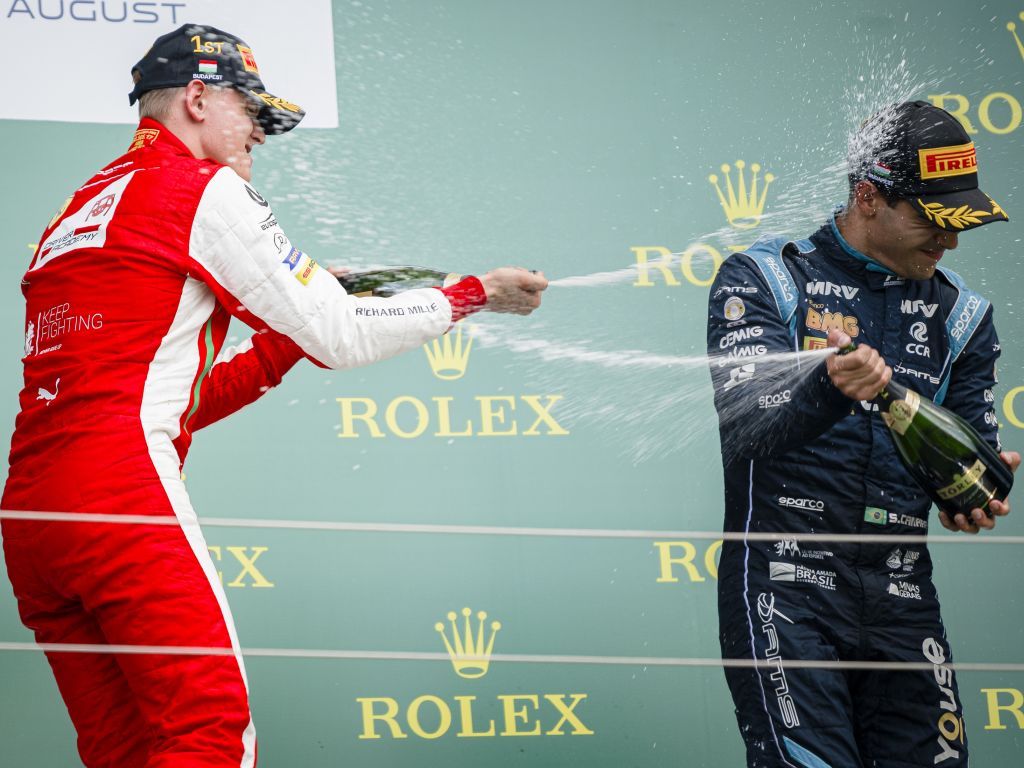 It was the usual quiet but productive weekend for Camara.
A move on Schumacher who was struggling with his tyres helped Camara on his way to P6 in the feature race, while he followed that up with P3 and a podium on Sunday.
Camara is only 25 points behind Latifi in the Drivers' Championship such is his impressive points scoring – he just needs to find that standout quality.
Either way, he has earned his way back into the power five, we are sure McLaren will be thrilled for their youngster.
The drop-out
Guanyu Zhou
It was a pair of P9's for the Renault junior at the Hungaroring.
He enjoyed a good battle with Callum Ilott in race one, while in race two he crossed the line not far behind team-mate Ghiotto.
He hasn't done anything wrong, but at this stage of the season it's a competitive top five and he just slips out – but he's a talented lad, expect him to make a return before 2019 is up.
Follow us on Twitter @Planet_F1 and like our Facebook page.