Alonso's podium the result his comeback deserves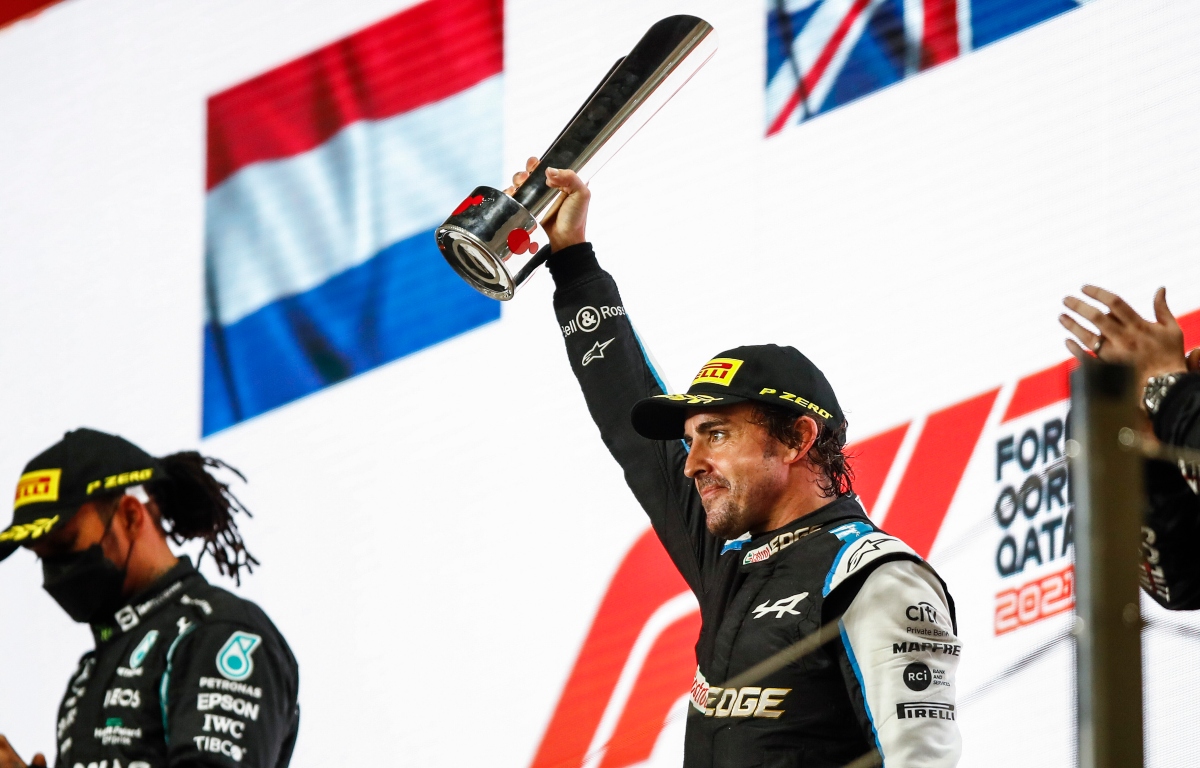 To understand how much the landscape of Formula 1 has changed since Fernando Alonso's last podium finish before Qatar, you only needed to look at the two drivers who finished in front of him in Sunday's race.
Back in Hungary in July 2014, Lewis Hamilton was still only a one-hit-wonder when it came to World Championships, still allowing his style to be cramped by Nico Rosberg in his second season as a Mercedes driver and still fighting against the suspicion that his vast talent may ultimately prove to be wasted.
Now, having converted his 102nd pole position into his 102nd grand prix victory with yet another peerless performance in Qatar, he stands self-assured as statistically the greatest driver in F1 history with an increasingly realistic hope of securing a scarcely believable eighth title in the coming weeks.
A little further to Alonso's right on the Losail podium stood second-placed Max Verstappen, who hardly even registered on F1's radar seven years ago in Budapest, was yet to even drive an F1 car and was still three weeks from being signed by Toro Rosso as the sport's youngest-ever debutant from 2015.
The boy wonder has since become a man, leading Red Bull-Honda to within touching distance of the title and at 24 – the same age as Alonso when he became the then youngest-ever World Champion in 2005 – Verstappen already sits just 13 wins behind the Spaniard's personal tally of 32.
Feeling old yet?
One for the #F1 scrapbook:

A Hamilton-Verstappen-Alonso podium 🤩#QatarGP 🇶🇦 #F1 pic.twitter.com/mm8DJcZw4J

— PlanetF1 (@Planet_F1) November 21, 2021
For all the turbulence he has encountered since Hungary 2014 – leaving Ferrari for the cruelty of the McLaren-Honda years before taking a two-year sabbatical when he grew tired of F1 – there is an argument to be made that of the 20 drivers who started in Qatar on Sunday, Alonso has changed the least in the intervening years.
And that, in truth, is actually no bad thing.
When the Spaniard's return with the rebranded Alpine team was announced in the summer of 2020, many – with memories of the great Michael Schumacher's miserable Mercedes comeback still fresh in the mind – expressed doubts over the signing of a driver approaching his 40th birthday who had spent two seasons out of the sport.
Yet almost from the start of 2021, he demonstrated he had lost none of his old skill, commitment and judgement, his brilliant start to the sprint race at Silverstone and his tough defence against Hamilton in Hungary – which effectively won the race for team-mate Esteban Ocon – sure signs of a driver operating at or close to his peak by midsummer.
As some of his rivals from the mid-to-late 2000s and early 2010s stagger and stumble towards retirement and lose their lustre with each passing race, Alonso has never shown the slightest hint of decline and never allowed his standards to drop.
In many ways that, more than the wins and the title challenges against all odds, stands as his greatest achievement.
With his first season back at Enstone nearing completion, all his comeback campaign seemed to be missing, as ever with Alonso, was a signature result – until now.
Clearly embracing the challenge of Losail, where the flowing collection of medium and high-speed corners rewarded the three staples of his driving style, Alonso's lap for P5 in qualifying was within two tenths of Valtteri Bottas' Mercedes, with grid penalties for Bottas and Verstappen for yellow flag infringements promoting him to P3.
The sense of opportunity was evident on the grid in those intense eyes of his, slightly sunken by time and only augmented by the use of facemasks and the clear visors of night racing.
Alonso later admitted he was disappointed not to take the lead into the first corner, having started on soft tyres on the clean side of the track directly behind Hamilton's medium-shod Mercedes, yet his forceful move past Pierre Gasly for P2 on the opening lap revealed a refusal to let this chance go to waste.
And after succumbing to the greater, almost other-worldly pace of Verstappen as soon as Lap 5 his attention soon turned to the recoveries of Bottas and the second Red Bull of Sergio Perez, the main threats to his podium spot.
"Tell Esteban to defend like a lion," Alonso – set on nursing the hard tyres he fitted on Lap 23 of 57 to the end – said over team radio on the 45th lap, pleading with his team-mate to repay his favour from Hungary against the two-stopping Perez in what has become an unexpectedly productive partnership between two of the more historically abrasive personalities on the grid.
That Pirelli's three suggested strategies for the race were all two-stoppers was perhaps an indication that a one-stop strategy in Qatar was to be discouraged and the flurry of front-left punctures for Bottas and, more pertinently, fellow soft-hard runners Lando Norris, George Russell and Nicholas Latifi caused concern on the Alpine pit-wall.
Instructed over the radio to avoid the high-speed kerbs on a circuit where, much like Austria's Red Bull Ring kerb usage is critical to lap time, Alonso faced the very real possibility of all his hard work once again amounting to nothing as Perez closed the gap.
But the activation of the Virtual Safety Car to clear Latifi's abandoned Williams three laps from the finish took the tension out of both the race situation and Alonso's 34-lap-old tyres.
Podio 98 ya está en casa . Perdón por el retraso 😁

Podium 98th is already at home. Sorry for the delay 😁#qatar #f1 #alpine #podio pic.twitter.com/3sVsPt2dOH

— Fernando Alonso (@alo_oficial) November 21, 2021
After all he's achieved over the years you half expected Alonso to be slightly dismissive about the significance of the result, perhaps suggesting one more podium finish wouldn't exactly change his life after the 97 he had previously enjoyed.
Yet his reflective post-race comments were those of a driver who had finally found the confirmation he was looking for, someone who has returned to F1 a more mature, humble and enthusiastic figure with a great willingness to build something meaningful and make his mark once more.
Alpine's ability to take advantage of the moment they have been waiting for – next year's rules reset – will go some way to deciding what sort of impact Alonso can make, but for now, it feels appropriate to leave the last word to him.
"Honestly after seven years waiting for a podium, it was tough sometimes," Alonso told the official F1 website.
"You go up and down in your career and you need to keep up, never give up and show some determination, some dedication to the sport because you dedicate your life to Formula One, to train and to prepare for the next race.
"It doesn't matter if you're 11th, if you're 15th or eventually when you can fight for a podium like today. I love racing and this podium means a lot.
"This podium is exactly what I was trying to find out in this comeback, the feeling again of being competitive, the champagne – and also the preparation for 2022."
Alonso shows form is temporary, class is permanent
Fernando Alonso was finally back on the podium after a long seven years.