Where would Fernando Alonso rank on the list of F1's oldest race winners?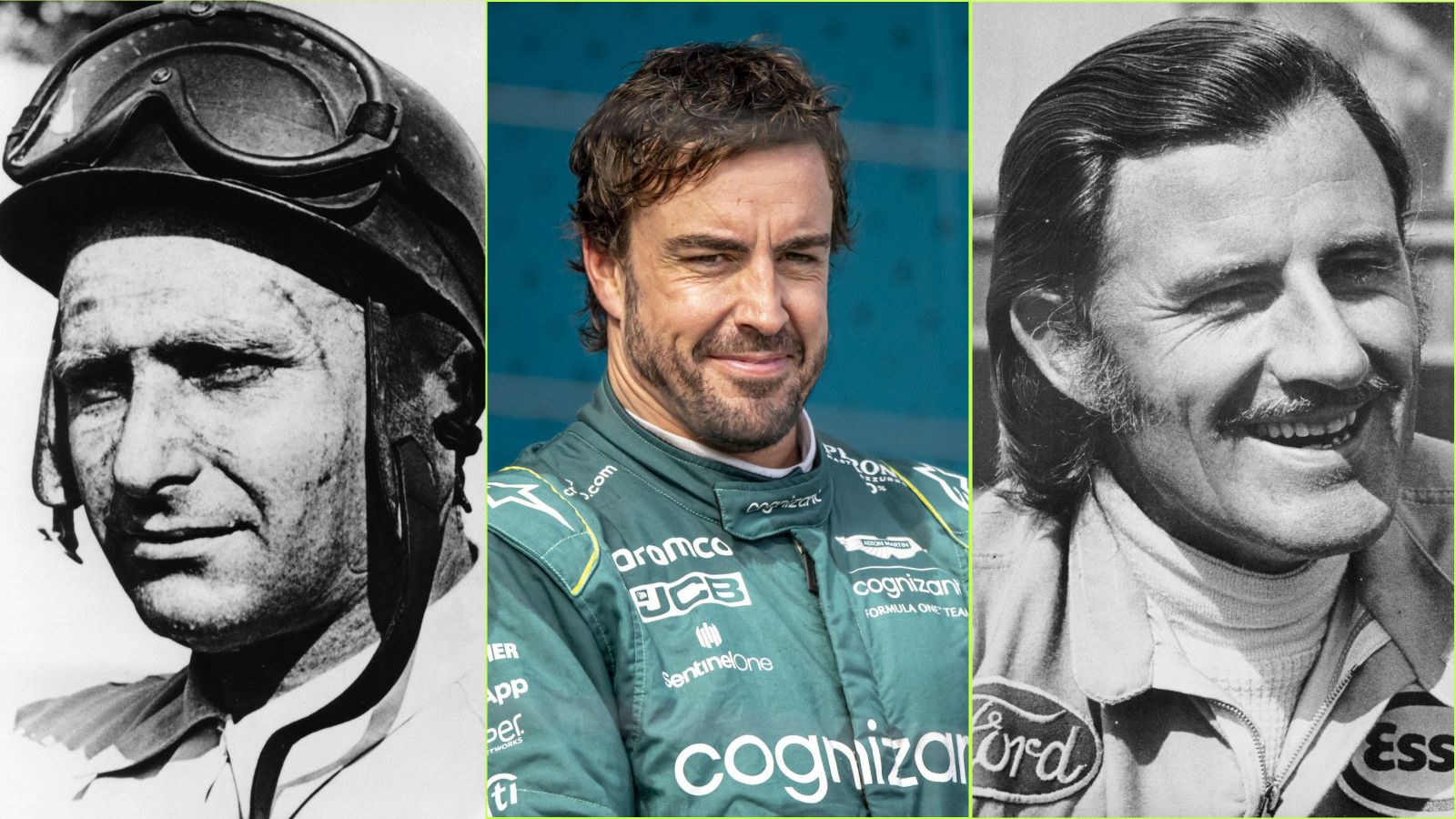 Fernando Alonso has highlighted this weekend's Monaco GP as his best chance of a win this season but where would that rank him in F1's oldest victors?
While Alonso will no doubt have enjoyed the four podiums that have so far come his way in 2023, there is no doubt that it is the race win he is really after.
Alonso's last victory came in 2013 meaning that should he complete 'Mission 33' then he will not only be the driver with the longest gap between wins but also one of the oldest F1 winners.
That win could very well come this weekend with Alonso predicting that the Monte Carlo circuit could be one of two upcoming races that Aston Martin may be able to get the better of Red Bull.
"I think at the beginning of the year a podium was amazing. Now after four podiums we want obviously more, and at least a second place," Alonso said after the Miami Grand Prix.
"But the two Red Bulls are always unbreakable, and they are always super fast. But maybe Monaco, maybe Barcelona we have a possibility."
With that in mind, let's have a look at where Alonso would rank in terms of age should he win in Monaco.
10.) Clay Regazzoni – 1979 British Grand Prix – 39y 10m 09d
Currently 10th on the list is Clay Regazzoni who took the last of his five F1 wins at the 1979 British Grand Prix. The Swiss was born 11 years before F1's first race but he would be 31 before he would step into an F1 car, doing so with Ferrari for the 1970 season.
He won his first race with the team at Monza, one of two victories of his in the Italian heartland, and he spent almost his entire career in Maranello. He briefly left the team in 1973 for Marlboro BRM but was back at Ferrari a year later before departing for the last time in 1977.
In the latter stages of his career, Regazzoni raced for Ensign Racing, Shadow Racing Cars and then Williams where he won his final race at Silverstone and what would become the first of 114 victories for Williams as a constructor.
9.) Graham Hill – 1969 Monaco Grand Prix – 40y 03m 03d
Next on this list is a man who needs no introduction, the legendary figure of Graham Hill. The only man to complete the Triple Crown was known as Mr. Monaco owing to his immense success at the circuit.
Before Ayrton Senna, Hill had won the most races in Monte Carlo with a record five and he also made his first ever F1 appearance around the famous city streets.
It seems rather fitting than that his final victory would come at a circuit that had treated him so well. Racing for Lotus, Hill beat a grid that included the likes of Sir Jackie Stewart, Bruce McLaren and Jack Brabham to secure his 14th career win.
Hill would race for another six seasons before his tragic death in 1975.
8.) Maurice Trintignant – 1958 Monaco Grand Prix – 40y 06m 18d
Another racer to experience his last F1 win at Monaco was Maurice Trintignant. The Frenchman had quite the relationship with the circuit as his debut and both of his two wins came there.
But if there was one word to sum up Trintignant's career, it would be 'longevity', for the Frenchman actually took part in the very first season of F1 and by the time he left, the likes of Hill, Brabham and McLaren were defining the sport.
His first ever race was with Gordini but he would have to wait three years before his first ever finish, coming during the 1952 French Grand Prix.
He moved to Ferrari in 1954, securing the Prancing Horse's first F1 win in Monaco, before racing for a total of 11 different constructors.
His final victory came for the Rob Walker Racing Team in 1958.
7.) Nigel Mansell – 1994 Australian Grand Prix – 41y 03m 05d
The Lion himself. Mansell won his first and only World Championship driving for Williams in 1992 but the well-known story saw him dumped out of the sport a year later.
Mansell sulked in the perfect manner by winning the CART IndyCar World Championship on his first attempt before being persuaded to return to Williams after the death of Senna.
David Coulthard initially took over Senna's seat but Williams persuaded Newman/Haas Racing to let them bring back Mansell for the French Grand Prix and the final three races of the 1994 season.
It was in the last race that Mansell would secure his last ever F1 win with victory at the Australian Grand Prix.
Fernando Alonso – 2023 Monaco Grand Prix – 41y 09m 29d?
Should Fernando Alonso win in Monaco this weekend, it would make him the 7th oldest driver to ever win an F1 race and the oldest in the 21st century.
Perhaps proof that F1 is a young man's game these days, just one entry in the current top 20 achieved a race win since 2000 with that being Kimi Räikkönen's victory at the 2018 United States Grand Prix, just four days after his 39th birthday.
But if Alonso were to win this season, it would put him in an exclusive club of just nine drivers to have won a race once they past the 40 mark and the first to do so in 29 years.
With another year to go on Alonso's Aston Martin deal, there is every chance that he could move further up this list as he could be 43 years and three months old by the final race of 2024.
6.) Sam Hanks – 1957 Indianapolis 500 – 42y 10m 17d
Hanks is a bit of an oddity in this list for, like many American drivers in the 1950s, he only ever competed in the Indy 500 which back then formed part of the F1 World Championship.
The American made his name racing in events across the country and first competed in Indy in 1946, just a year after the end of World War II.
In 1956, he achieved second and appeared to be ready to call it a day but was persuaded to stay on for an extra year and it proved a wise call with Hanks, who was reportedly a distant relative of Abraham Lincoln, winning the 1957 edition. The Indianapolis race was Hanks' sole participation in the F1 calendar and he never raced in any of the European grands prix.
5.) Jack Brabham – 1970 South African Grand Prix – 43y 11m 05d
Australia's finest export Brabham began his F1 racing career in 1955 and until his death in 2014 at the age of 88, he was the last surviving driver from that decade.
He won the first of three World Championships in 1959, defeating Tony Brooks and Stirling Moss, before following that up with another title in 1960.
But it would be six years before he won his third, making second behind only Niki Lauda in terms of time between titles, and did so with his own race team, making him the only man in history to win the championship in a car bearing his own name.
Brabham would take his final victory in his last season in 1970 at Kyalami before Brabham sold his share to one Bernie Ecclestone.
PlanetF1.com recommends
Ferrari poised to make Lewis Hamilton mega offer for F1 2024 drive – report
'No way in the world peak Michael Schumacher quicker over one lap than Lewis Hamilton'
4.) Piero Taruffi – 1952 Swiss Grand Prix – 45y 07m 06d
Alfa Romeo, Ferrari, Mercedes, Maserati. Italian Piero Taruffi drove for some of the sport's most iconic brands but did so for only six seasons.
His first taste of life in F1 came at Monza in the inaugural 1950 season but his race would be over in lap 25 when his Alfa team-mate Jan Manuel Fangio's car broke down and, as was custom back in those days, the teams swapped drivers.
He moved to Ferrari in 1951, securing P2 on debut and followed that up with his one and only win at the 1952 Swiss Grand Prix at Bremgarten.
Taruffi would leave Ferrari midway through the 1955 season to join Daimler ahead of the British Grand Prix and competed just twice in 1956 both times of which ended in retirement.
3.) Juan Manuel Fangio – 1957 German Grand Prix – 46y 01m 11d
The most famous man on this list comes in at third with Juan Manuel Fangio, the first superstar of F1. Nicknamed El Maestro, Fangio dominated F1 in the 1950s, winning five World Championships, a figure which was only surpassed by Michael Schumacher in 2003 and Lewis Hamilton in 2019.
Fangio came second in the inaugural season but won his first title in 1951. Having lost out on the championship in 1953, he then won four in a row which is the second-highest number of consecutive titles behind only Schumacher's five.
It was not just Fangio's success that impressed but also his ability to do it at multiple teams. He holds the record for most teams to win a World Championship with having done so at Alfa Romeo, Ferrari, Mercedes and Maserati.
He also has the highest percentage of wins having won 24 out of his 52 entries and in 1957 became the oldest champion at the age of 46 years and 41 days, a tally that is likely to never be broken.
In terms of his final race win, that came in the 1957 German Grand Prix in a season that saw him finish no lower than second in any race he crossed the line.
Fangio was 46 years old at the time of the race at the Nürburgring and would compete only sporadically in the 1958 season before retiring.
2.) Giuseppe Farina – 1953 German Grand Prix – 46y 09m 03d
Giuseppe Antonio "Nino" Farina may not be as well known as Fangio but he will forever be etched into Formula 1 history as not only the first race winner but also the first World Champion.
Farina was 43 by the time F1 officially started in 1950 and drove for Alfa Romeo following a long racing career before that.
The victory at Silverstone was one of three for Farina on his way to the world title and he left Alfa to join rivals Ferrari following his P4 finish in the 1951 standings.
At Ferrari, he started the 1952 season with a retirement in Switzerland but secured P2s in four of the next five races.
He remained at Ferrari for the 1953 season which would see him secure his final victory at the German Grand Prix on his way to a third-place finish in the Championship.
1.) Luigi Fagioli – 1951 French Grand Prix – 53y 00m 22d
But top of this list and by some distance is Luigi Fagioli who won his one and only race just 22 days after his 53rd birthday.
To put that into context, that would be like David Coulthard winning a race in 2024 or Jenson Button winning one in a decade's time.
Fagioli, who was born in the 1800s spent his early years in Grand Prix Racing but was struck by a number of health problems that required him to walk with a cane.
But by 1950, his health had improved to such an extent that he was able to participate in the first ever season of Formula 1 for the powerhouse Alfa Romeo team at the age of 52. He finished second in the first ever race at Silverstone, behind only team-mate Nino Farina and finished third in the overall Drivers' standings.
He would race just once more in the 1951 French Grand Prix which he won but was left disillusioned with the sport when his team had ordered him to swap cars with Fangio who was having issues. Fagioli opted to retire from racing there and then but his legacy still remains.