Ferrari presented with another chance to favour Leclerc
The time was nigh for team orders as Formula 1 left Imola at the end of April, but only Ferrari could fail to spot the scale of the opportunity opening up before them.
Two victories in the first three races had made Charles Leclerc the overwhelming favourite for the 2022 World Championship – remember those days? – with his emergence as a title contender only emphasised by the troubles experienced by team-mate Carlos Sainz.
As Leclerc won gloriously in Bahrain and in Australia to confirm Ferrari were indeed back, Sainz, after starting the season with two podiums despite openly admitting to finding it difficult to get to grips with the new F1-75, was suddenly struggling to keep his car on the track.
Two disastrous weekends in Melbourne and Emilia Romagna had seen Sainz fall 48 points behind his team-mate in the Drivers' standings, and as reigning World Champion Max Verstappen was beginning to strike back from his early-season unreliability it was time, surely, for Ferrari to throw their full support behind Leclerc.
But for the team who committed arguably the most brazen team orders sin in F1 history – this year marks two decades since Rubens Barrichello was told, and told again, to move over for Michael Schumacher in Austria – Ferrari were reticent and almost fatally fair.
Sainz had become a popular and valued member of the team since arriving at the beginning of last year, and when drivers are formally cast in the support position there is normally no way back. As Valtteri Bottas soon discovered alongside Lewis Hamilton at Mercedes, the wingman role is for life, not just for one afternoon in Hungary.
Ferrari's reluctance to break Sainz's spirit was honourable but, in a title battle against Verstappen with the full force of Red Bull behind him, not particularly wise, and perhaps there was a hope that the situation would simply resolve itself through the irresistibility of Leclerc's performance level.
It likely would have too were it not for his engine failures while leading in Barcelona and Baku, and Ferrari's strategic mistake in Monaco, ensuring that Leclerc's lead of 46 points over Verstappen after three races had become a deficit of 49 after nine.
And when Leclerc was again the victim of a Ferrari strategy mis-step at Silverstone, left exposed on old tyres behind the Safety Car as Sainz pitted before passing the sister car to claim his maiden F1 win and close the gap between them to 11 points – he would have been forgiven for wondering which side his team were really on.
The contrasting emotions in the garage at the British GP added an extra element of intrigue as the Ferraris went wheel to wheel on the opening lap of the sprint race in Austria last Saturday.
As Sainz attacked, it felt as if Leclerc was fighting not only to preserve second place but his status within the team.
Sainz, for his part, was typically mature in combat, leaving plenty of space on the inside of Turn 4 – a corner where George Russell and Sergio Perez and, later, Pierre Gasly and Sebastian Vettel would collide the following day – for Leclerc to reclaim the position.
Yet the battle only served to illustrate the lack of organisation at Ferrari, for when the squabbling stopped Verstappen had already checked out, leading by more than a second at the end of the first lap before taking his second sprint win of 2022.
Still, Leclerc was adamant the Ferrari was easier on its tyres at the Red Bull Ring, that the crucial ground he lost containing Sainz had partly prevented him from really showing it.
His hunch was proven correct in the cooler conditions of Sunday as Leclerc was almost transported back to the start of the season when everything seemed so wonderfully effortless, passing Verstappen on three separate occasions.
A sticky throttle pedal in the closing stages was the only real threat to Leclerc, who took his first victory in exactly three months and would almost certainly have led Ferrari's second one-two finish of 2022 had Sainz not suffered a spectacular engine failure while lining up a move of his own on Verstappen.
Once again the Ferrari garage was home to both joy and despair after the race, but might Sainz's fourth DNF of the season finally encourage the team to favour Leclerc in all conceivable scenarios until the end of the year?
If Sainz had been building momentum in recent weeks, much of it was lost in the clouds of smoke emanating from his car in Styria, reopening the gap to Leclerc to 37 points as the season reached its halfway point.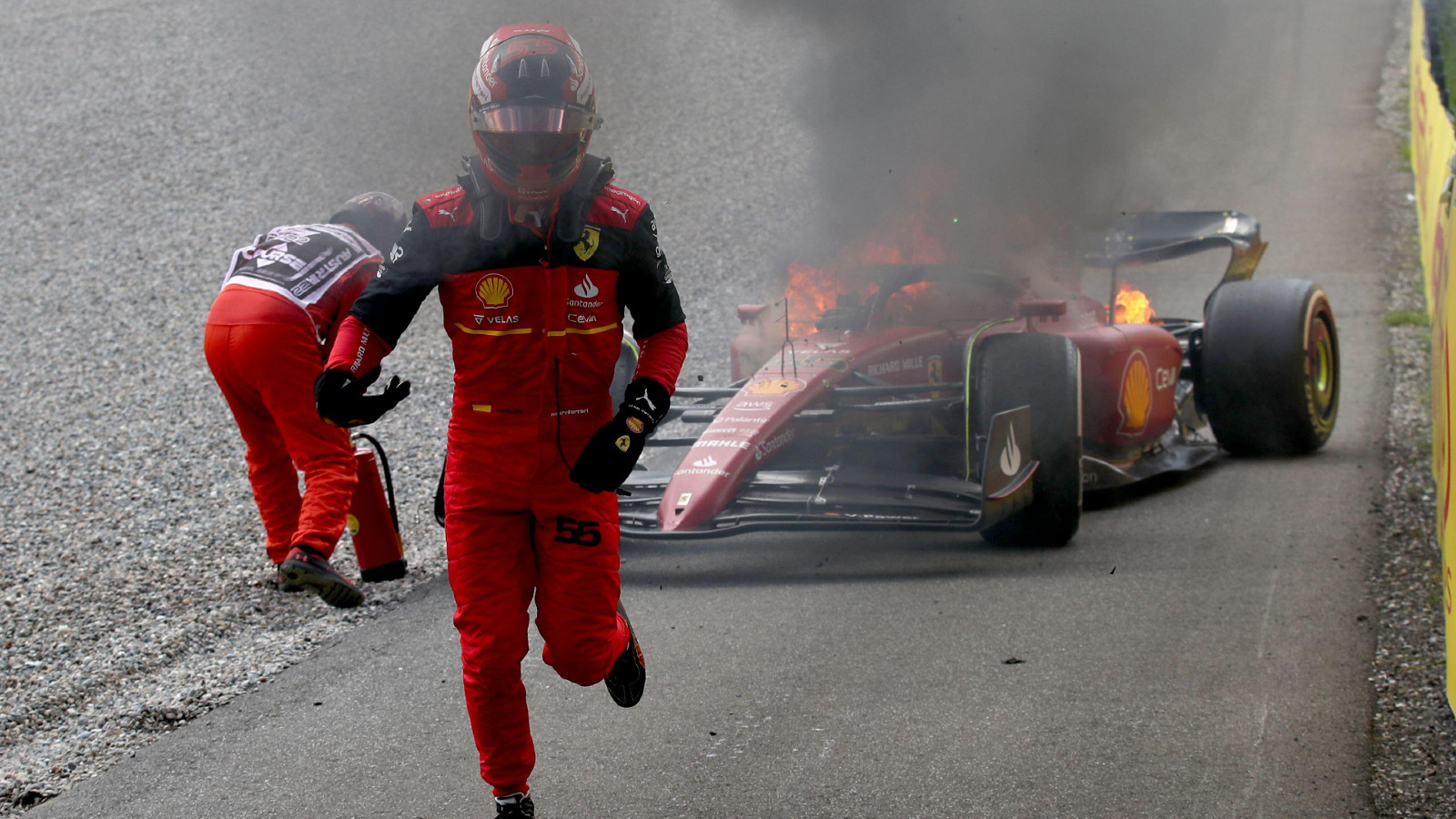 With Leclerc himself still 38 points adrift of Verstappen, the likelihood of Ferrari ending their 15-year wait for a Drivers' title remains rather remote, yet there is now an opportunity to recalibrate Sainz as an asset to Leclerc rather than a threat.
Following what appeared to be a breakthrough performance in Canada last month, Sainz declared he now felt comfortable enough with the F1-75 to push flat-out "without any fear of losing the car."
His growth in confidence was not only evident at Silverstone as he secured his first pole position, but in Friday qualifying in Austria where he came within a tenth of Verstappen's pole time.
If his improved pace can be sustained across the remaining 11 races, Sainz may yet have an important role to play in terms of taking valuable points away from Verstappen in much the same way Perez frustrated Leclerc into a spin at Imola and, indeed, Bottas often assisted Hamilton.
Leclerc, for all his talent, cannot do it alone and Sainz, who before the Safety Car at Silverstone was only too happy to swap positions when he failed to meet a target lap time set by the pit wall, is realistic enough to know the lay of the land.
Ferrari's refusal to exert control earlier in the season could so easily have resulted in civil war on Saturday as Leclerc, wounded by his recent run of misfortune, fought to hold back his rejuvenated team-mate.
So often in such situations the irresistible force meets the immovable object and, had they collided, it risked developing into the most avoidable of rivalries and one of the team's own making.
But Sainz's retirement on Sunday, combined with Leclerc's long-overdue return to winning ways, has reset the situation and handed the Scuderia a second chance to get it right with team orders.
For the sake of their title hopes, it is not one they can afford to waste.
A much-needed Ferrari victory
Ferrari, and Charles Leclerc, really needed that win - even if the path was not a smooth one.