Ferrari Driver Academy: What has happened to every former Scuderia prospect?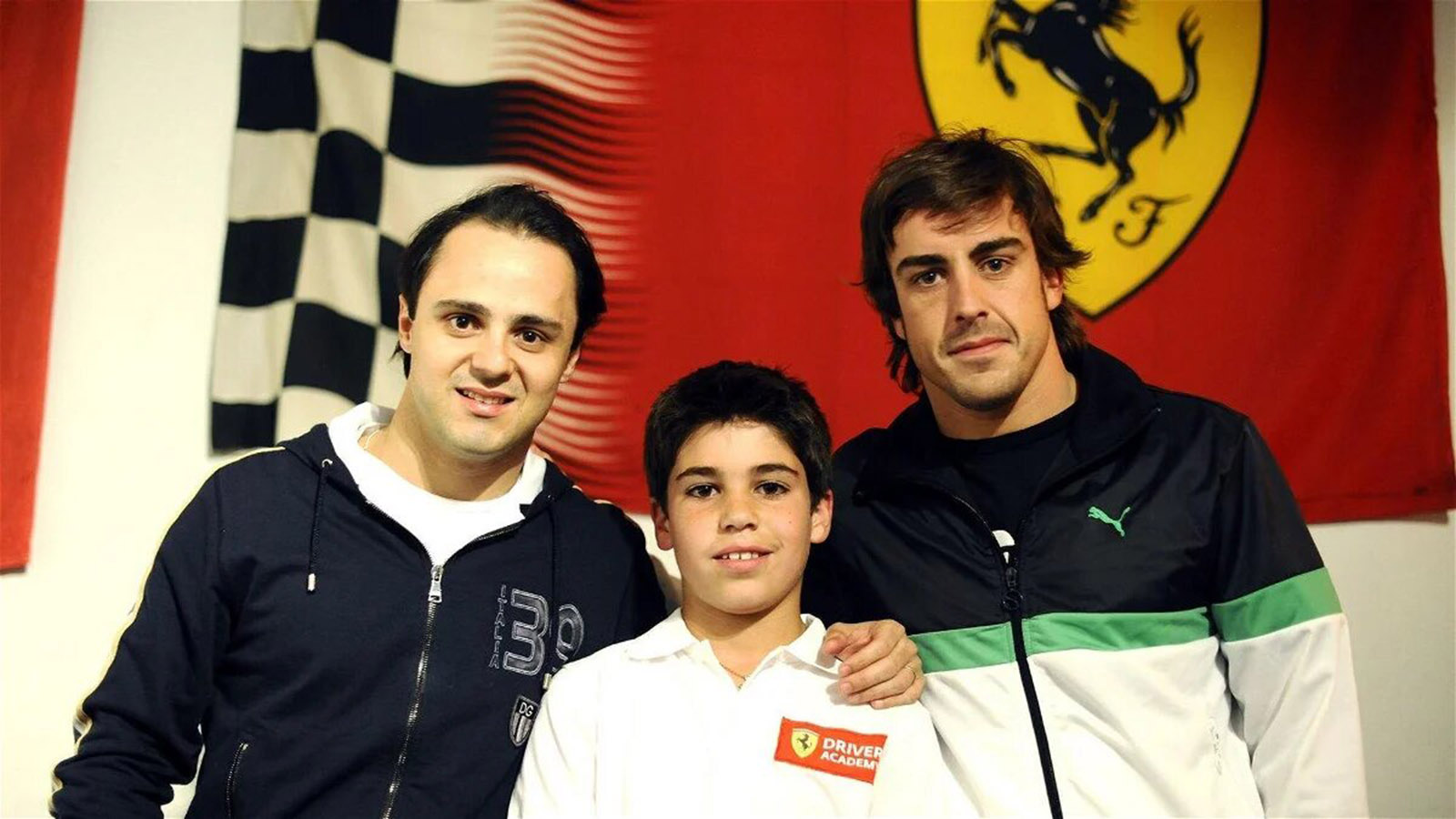 Ferrari Driver Academy is well-stocked with a wealth of talent across different formulae, but where have their previous prospects wound up?
Scuderia Ferrari operate one of F1's most well-regarded driver academies, with racing drivers from grassroots level at karting all the way up to Formula 2 making up their roster.
The drivers currently longest with the Driver Academy (since 2017) are Callum Ilott, a former F2 runner-up, as well as Robert Shwartzman – the driver Ferrari used for the young driver F1 obligations in 2022. However, neither have any F1 opportunities for 2023.
Arthur Leclerc, brother of Charles, was signed in 2020 alongside Dino Beganovic – Leclerc will race with DAMS in Formula 2 in 2023, while Beganovic steps up to Formula 3 with Prema, as well as Oliver Bearman.
The other current members of the squad are James Wharton, Maya Weug, Rafael Camara, Laura Camps Torras, Tuukka Taponen, and Aurelia Nobels – all of whom are continuing to race in junior categories or karting for 2023.
Charles Leclerc is the obvious success story of Ferrari's junior programme, having been signed by the Scuderia back in 2016 as the Monegasque climbed the ladder of motorsport. He became the first Ferrari-groomed driver to race for the team when he was promoted up from a seat with Alfa Romeo-Sauber at the end of 2018, and continues to race in red on a long-term contract.
But Leclerc is very much the outlier of Ferrari's programme, with far more drivers ousted from the programme than making it all the way to Formula 1.
Let's look back over some of the names that have come and gone from Ferrari's Driver Academy…
Mick Schumacher
Son of seven-time F1 World Champion Michael (who won five of those titles dressed in red), Mick was signed up by Ferrari in early 2019 as he stepped up to Formula 2.
A disappointing initial campaign saw him take his first win en route to 12th overall, but a much stronger second campaign saw him take the title after a spirited battle with fellow FDA member Callum Ilott. Promotion to F1 followed, with a move to Haas. However, his first season was one of toil at the back of the grid with a less-than-competitive car.
2022 was an improvement, although it was experienced team-mate Kevin Magnussen who exploited the car when it was at its most competitive. It took until mid-season for Schumacher to find his feet and score his maiden F1 points, by which time rumours about his future with the team had already emerged.
While Schumacher had a solid second half of the season, he was replaced by Nico Hulkenberg for the 2023 season at Haas. Not long after, Ferrari confirmed they had parted ways with Schumacher as the German driver switched to Mercedes in a reserve driver role.
Sergio Perez
The current Red Bull driver was signed up by Ferrari in 2010, as Perez raced in GP2 on his way to the runner-up spot to Pastor Maldonado in that season's championship.
Securing a step up to Formula 1 with Ferrari customer team Sauber, Perez had an underwhelming first season but did enough to continue on into 2012 – a much stronger season as he claimed his maiden podium in Malaysia after putting Ferrari driver Fernando Alonso under serious pressure late on.
With his star in the ascendancy that season, Perez would later reveal he had plenty of options for 2013. He was second choice for Mercedes if Lewis Hamilton didn't sign, a Ferrari move was also a possibility, but it was McLaren who presented Perez with a concrete offer. Having had a very competitive 2012, Perez signed with McLaren – a move that resulted in his ties being severed with Ferrari.
Lance Stroll
Now racing for his father's Aston Martin team, Stroll was once a long-term part of Ferrari's Driver Academy. Signed in 2010 as an 11-year-old karter, Stroll would step up into Italian F4 with the Scuderia's backing at Prema and would win the 2014 title.
Racing in the Toyota Racing Series in 2015, Stroll also won that title and made the step up to the Formula 3 European Championship with Prema.
It was at this time that Williams came knocking on Stroll's door with interest in signing him to their own junior programme. Their offer was tempting enough for the Canadian to opt to switch away from Ferrari's programme in order to join the Grove-based team with whom he'd make his F1 debut in 2017.
Stroll would go on to reveal he felt the Williams programme was far more immersive and beneficial for a younger driver.
"I was in the Ferrari junior programme, which was more basic – a training programme, a lot of gym work and mental work," he said after switching to Williams.
"Williams does that as well but, at the same time, I get a lot more time to be closer to the Formula 1 team: more simulator time, more involved at the Grands Prix themselves with the engineers.
"I feel like we can be closer right now with Williams, and I'm working with them rather than just being part of a training camp like at Ferrari. For the future, it's the right move."
Zhou Guanyu
The Chinese racer was signed by Ferrari in 2014, while still heavily in his karting career. Stepping up to Italian F4, Zhou finished as runner-up at the first time of asking and was rewarded with a step up to the Formula 3 European Championship with Motopark.
But success proved hard to come by for Zhou, despite a switch to Prema for 2017.
Struggling to break free of the midfield, Zhou finished eighth overall in 2017 and 2018, and was presented with the opportunity to join Renault's development programme during 2018. Making the switch, Zhou's upward trajectory resumed as he moved to Formula 2 with UNI-Virtuosi.
Seventh overall in 2019 was followed by sixth in 2020, before a third place finish in 2021 alongside his Alpine development duties was enough to convince Alfa Romeo-Sauber to sign him as a race driver for 2022.
Enzo Fittipaldi
Brazilian racing driver Enzo Fittipaldi, brother of long-time test and reserve driver for Haas Pietro Fittipaldi, was also part of Ferrari's Academy between 2017 and 2020.
Racing to the title win with Prema in Italian F4 in 2018, Fittipaldi finished runner-up in Formula Regional European Championship in 2019.
An underwhelming F3 campaign followed in 2020 as he moved to HWA Racelab, with his Ferrari association coming to an end at the conclusion of that season as he moved to the United States to join the Indy Pro 2000 series.
However, this move proved to be a short-lived career change as Fittipaldi left the championship after a single round. He returned to Formula 2 in 2021, racing with Charouz until the end of '22. He will join Carlin for a full campaign in 2023 as part of the Red Bull Junior Team.
Jules Bianchi
The French driver had been lined up to be Ferrari's first success story, being the very first signing to the newly-formed Academy in 2009 after being initially mooted as a replacement for the injured Felipe Massa during that season.
Racing with ART in GP2 in 2010, Bianchi finished third overall – repeating the feat in 2011, as well as second in GP2's Asia series.
Bianchi was given plenty of testing opportunities with Ferrari throughout these seasons, including the Young Driver Tests, as well as serving as the Scuderia's reserve driver in 2011.
Bianchi was loaned out to Force India in 2012 as a reserve driver, allowing him to take part in several first practice sessions during the season.
He made his F1 debut in 2013, joining backmarker team Marussia, continuing with the squad as they switched to Ferrari power in 2014.
Bianchi was in line to possibly replace Kimi Raikkonen at Ferrari at the end of 2015 when the Finn reached the end of his contract. But, tragically, Bianchi's story would end at Suzuka in 2014 at the Japanese Grand Prix.
Involved in a severe collision with a recovery vehicle when Bianchi lost control in the wet conditions, the French driver would never regain consciousness and passed away from his injuries in mid-2015.
Bianchi's legacy would be the hastening of the FIA's efforts to improve cockpit safety, which culminated in the introduction of the Halo, while Bianchi's godson Charles Leclerc would be signed by Ferrari in 2016.
Marcus Armstong
The Kiwi driver was signed to Ferrari's Driver Academy at the start of 2017.
Winning the Italian F4 Championship with Prema, he moved to the Formula 3 European Championship for 2018 and finished fifth overall. But third place in the Toyota Racing Series was the highlight of that season, improving to second place overall in the championship in 2019.
That season also saw him move to Formula 3 with Prema, finishing second overall. But Armstrong's progress came to a sudden stop as he moved to Formula 2 with ART in 2020.
13th place overall in his first season was followed by the same result with DAMS in '21, only to do it yet again in '22 – albeit with three wins to his name in that season.
However, it wasn't enough to keep the Ferrari backing alive, with Armstrong and Maranello parting ways at the conclusion of 2022 as he announced a switch to IndyCar for 2023.
"It wasn't sudden, it was one of those things that where it was quite evident that there was no real Formula 1 future there," Armstrong told FeederSeries.net.
Raffaele Marciello
Now a veteran GT racer with Mercedes, Marciello was part of Ferrari's Driver Academy from 2010 until 2015.
Racing in multiple Formula 3 championships during his first three years of Ferrari backing, Marciello was consistently at the sharp end of the field and placing in the top three.
Winning the 2013 Formula 3 European Championship, Marciello stepped up to GP2 with Racing Time in 2014. He finished eighth overall and moved to Trident for 2015.
But it was at this point that Marciello and Ferrari parted ways, with the Italian revealing "personal reasons" were behind the split – later explained as being Ferrari team boss Maurizio Arrivabene simply not wanting Marciello as part of the team.
Gianluca Petecof
Brazilian racing driver Gianluca Petecof was signed ahead of the 2018 season, enjoying their backing for his maiden campaign with Prema in Italian F4. Finishing in fourth overall, Petecof continued for 2019 and finished second during his second campaign.
Racing alongside Arthur Leclerc, Jamie Chadwick, and Oliver Rasmussen for Prema in the 2020 Formula Regional European Championship, Petecof won the title and made the move to Formula 2 for 2021.
However, Petecof wasn't selected for a Prema seat in F2 and, in January 2021, announced his departure from the Ferrari Driver Academy. Struggling for sponsorship money, Petecof competed in a small handful of races in '21 as well as eight races as reigning Champion in FREC. However, he made little impact in either championship.
He returned home to Brazil for 2022, racing in the Stock Car Brasil championship en route to 29th overall after an incomplete campaign.
Antonio Fuoco
While not formally still part of the Ferrari Driver Academy, Fuoco still works with Ferrari as a development and simulator driver.
Signed up in 2013 as Fuoco raced to the Formula Renault 2.0 Alps title, he finished fifth overall in the 2014 Formula 3 European Championship.
Stepping up to GP3 with Carlin in 2015, Fuoco also served as Ferrari's development driver that season and took part in the two-day mid-season test at the Red Bull Ring.
Fuoco moved to Formula 2 in 2017, driving for Prema as he claimed eighth overall, improving to seventh in 2018 as he drove for Charouz.
Fuoco was kept on as a test and development driver by Ferrari in 2019, although the team confirmed he was no longer part of the FDA. Embarking on a racing career in sportscars in 2020, Fuoco continues to drive Ferraris across various categories, as well as continuing his role as a Ferrari F1 development driver – he also drove at the Young Driver Test in Abu Dhabi at the end of 2021.
Giuliano Alesi
Son of 1990s Ferrari F1 driver Jean Alesi, Giuliano was signed up to the Ferrari Driver Academy in early 2016.
But success eluded Alesi, taking 22nd with Trident in Formula 3 that season, followed by fifth overall in 2017 – taking three race wins along the way.
Finishing seventh with a solitary win in 2018, Alesi moved to Formula 2 with the same team for 2019. A disappointing campaign resulted in a 15th place finish, slipping to 17th in 2020 after a split campaign with HWA and MP Motorsport.
Alesi would get the chance to drive Ferrari's SF71H at Fiorano in early 2021, which served as a farewell to the Scuderia as he announced his departure and move to Japan – he now races in Super GT and Super Formula. He finished 20th overall in 2022 in Super Formula.
Other former members
Various other drivers had short-lived stints with the Ferrari Driver Academy, such as Mirko Bortolotti, Daniel Zampieri, Brandon Maisano, and Sebastien Montoya.
Bortolotto went on to enjoy success in Blancpain and GT Racing, and competed in DTM in 2022. Zampiere is also a GT racer, while Brandon Maisano left his racing career behind after finishing 15th in the 2015 Formula 3 European Championship.
Sebastien Montoya, son of Juan Pablo, raced with Prema in FREC in 2022 en route to 13th overall, while making his Formula 3 debut with Campos. He's expected to continue racing in the series in 2023, potentially with Hitech.
Read next – FIA Super Licence explained: How drivers can reach the magic 40-point mark to race in F1