Ferrari dynamic won't improve until Vettel leaves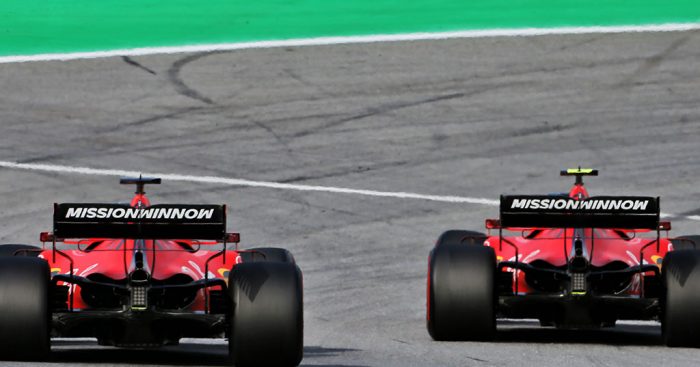 Ferrari are left to clean up another mess after Sebastian Vettel and Charles Leclerc collided in Brazil, and Vettel's departure is the only thing that will stop a repeat.
Throughout their illustrious F1 history, the Scuderia have regularly gone with a clear No.1 and No.2 driver approach. Think Michael Schumacher and Eddie Irvine, Schumacher and Rubens Barrichello, or even Vettel and Kimi Raikkonen.
While the strategy hasn't passed without controversy, it has at least allowed the team to make it clear which driver would be favoured in the title pursuit, and who would be doing their utmost to get their team-mate to the top.
When Leclerc arrived at Ferrari in 2019 it marked a change a plan – the most iconic team in F1 were for once promoting a driver through their Academy, giving Leclerc the call-up after one season at Sauber.
But that's where the deviation was meant to end. Four-time World Champion Vettel would still be the centerpiece, while his young team-mate learned the ropes in a supporting role.
From the get go though it became clear that strategy wasn't going to work. Leclerc was all over Vettel at the season opener in Australia, while at the next race in Bahrain it would have been Leclerc taking a comfortable win if it wasn't for his engine failure, while Vettel was left in a spin before even getting the chance to pull a move on Lewis Hamilton.
Leclerc had arrived to be the understudy, but he planted his flag and identified himself as at least Vettel's equal. More poles, more wins, more Championship points – Leclerc has turned out to be Ferrari's nightmare and now they have no clear driver to favour.
Both sides of the Ferrari story…#BrazilGP 🇧🇷 #F1 pic.twitter.com/2zUkmeGfRY

— Formula 1 (@F1) November 18, 2019
And it's just this competition alone which has led to a catalogue of high-profile incidents for the team throughout 2019. Singapore, Russia and now Brazil. The dynamic between the pair is perfectly normal for two world class drivers fighting for the top prizes in F1, but for Ferrari it's all wrong.
Sadly, the only way that the driver dynamic can improve for Ferrari is when Vettel leaves the team. As a four-time World Champion he isn't about to play second fiddle to a rookie, nor should he, and that rookie turns out to be pretty quick so he won't be put under anybody's thumb.
Vettel's contract is up after 2020 and right now it's difficult to see him driving a Ferrari into the new era of F1. Should he leave then the team will almost certainly look to nail Leclerc down as their No.1, but the question is who would they pick to complete the harmonious relationship like which Mercedes enjoy with Hamilton and Valtteri Bottas?
Looking at their junior links the obvious answer would be Antonio Giovinazzi. The Ferrari prospect has just been handed a contract extension at Alfa Romeo, and now that he's through that rocky start to the season the Italian is pushing Raikkonen hard.
Does Giovinazzi have the pace to challenge Leclerc? Possibly, but on the evidence of his first season you would argue he's more a Bottas – reliable for podiums and a few wins but not a title push.
This of course would be perfect for Ferrari to re-establish that No.1 and No.2 dynamic, but before that they have another race and a whole season where they need their current line-up working in harmony.
But the bitter truth is that any efforts to settle Leclerc and Vettel into a crash-free, No.1 and 2 set-up will fail, and it's Ferrari's job to come up with a plan before the relationship implodes.
Jamie Woodhouse
Follow us on Twitter @Planet_F1 and like our Facebook page.