Ferrari: From delight to distress in their F1 title pursuit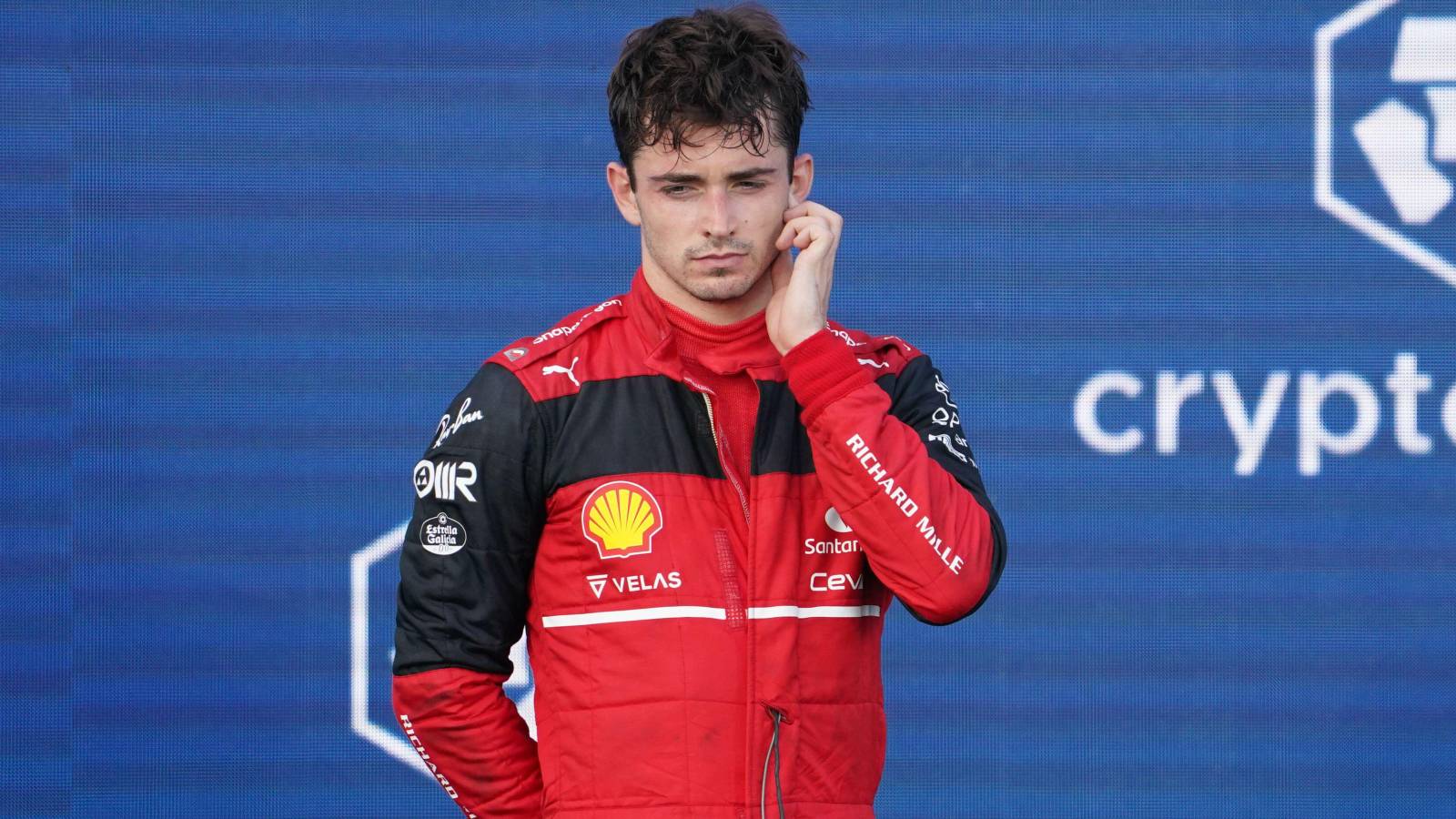 Even by the standards of Ferrari, those specialists in the business of grabbing defeat from the jaws of victory, their failure to capitalise on their stunning start to the 2022 Formula 1 season has been quite some achievement.
It is only little more than a month ago that Charles Leclerc was widely regarded as the overwhelming favourite for the World Championship, his second victory in three races in Australia extending his lead over Red Bull's Max Verstappen to 46 points.
If it was still way too soon to hand the title to Leclerc after Melbourne, the narrative of the season had at least appeared to be set in stone – 2022, surely, would hinge on whether Verstappen, already with two DNFs, could utilise his fast but fragile machinery often enough to overcome Leclerc in a wonderfully versatile and consistently fast Ferrari.
Not since 2012, when Fernando Alonso held an advantage of 40 points at the halfway stage of his season of seasons, had the Scuderia been in a stronger position to land a first Drivers' Championship since 2007.
And the Tifosi? They were daring to dream and, as a wise man once said, had gone from doubters to believers.
Now? With that 46-point lead transformed into a six-point deficit in the space of just three races, they have retreated to their standard stance of hoping for the best while fully expecting the worst.
It is, alas, really the only way to be when it comes to Ferrari.
There remains a long way to go, of course, but if Leclerc does indeed fail in his mission to become Ferrari's next World Champion in 2022, he and his team will look back on the run of three races between the Emilia Romagna and Spanish grands prix and weep.
Everything was perfect until the loss of power. Disappointed but it happens over the course of a season and pace was really good before.
Next stop : Home ❤️
Forza @scuderiaferrari pic.twitter.com/YzcKyhSb8h

— Charles Leclerc (@Charles_Leclerc) May 22, 2022
Ferrari and Leclerc had looked serene until the moment they suddenly had something to lose, starting on the opening day at Imola where Verstappen set a fine pole position in the wet conditions of traditional qualifying.
The first tiny hint of a lack of composure arguably came in the following day's sprint race as Leclerc, after jumping Verstappen off the line, pushed his soft tyres too hard too soon in his desperation to stay out of the Red Bull's DRS reach.
Straining his right-front left Leclerc vulnerable to attack from Verstappen, who having earlier been resigned to P2 took the lead around the outside of the Tamburello chicane with two laps remaining.
It was a double whammy for Leclerc, not only costing him pole for the grand prix itself but condemning him to starting on the wetter, slippery side of the grid.
His slow start from second dropped him behind both Red Bulls (and briefly Lando Norris's McLaren) and led to his error with 11 laps remaining at Variante Alta, where he took too much kerb and spun as he sought to remain within DRS range of Sergio Perez in the fight for P2.
Stopping for a replacement front wing lowered him to ninth, but Leclerc recovered vital ground across the remaining laps to limit the damage with P6.
Leclerc returned to pole position in Miami, yet his pace was slightly flattered by the issues experienced by Verstappen, whose practice running was compromised by gearbox and hydraulic glitches.
With Verstappen lacking the confidence to push his car to the limit on F1's newest circuit in Q3, the difference in pace between the two front-running cars only truly revealed itself in the race as Verstappen overtook both Ferraris within the first 10 laps to build a handsome lead.
That lead came under significant threat after the Safety Car as Leclerc hassled Verstappen on cold tyres, but Red Bull were convinced Ferrari had missed a trick in terms of strategy having missed the chance to stop Leclerc and team-mate Carlos Sainz when Verstappen had already passed the pit lane under SC conditions.
"We got lucky," Red Bull team principal Christian Horner told Sky Sports, admitting his team were "let off the hook" by Ferrari.
Red Bull were let off the hook once again last weekend in Barcelona, where Leclerc retired with a mid-race technical issue for the first time in almost two years while leading by 13 seconds.
It was a disappointing end to Ferrari's most convincing weekend since Australia as they introduced their first major upgrade package of the season, including revisions to the rear wing, floor and diffuser.
It hadn't looked that way after Friday practice when Ferrari were half a second adrift of Red Bull across the medium-tyred long runs – and slower too than the rejuvenated Mercedes – but productive work on the softs on Saturday morning altered the shape of their weekend.
Leclerc produced arguably the lap of the season to claim his latest pole, under massive pressure after a mistake at the chicane ruined his first lap and left him without a time on the board after the first runs of Q3.
And when ill-timed gusts of wind on the entry to Turn 4 seemed to take Sainz and Verstappen out of the equation in quick succession, he was on course for a timely return to the top step of the podium until a sudden loss of power on Lap 27.
Leclerc's demise changed the complexion of Verstappen's race in an instant, Red Bull immediately switching the reigning World Champion to a three-stop strategy after he had spent the first half of the race stuck behind George Russell, frustrated by a faulty DRS.
As Verstappen took his third consecutive win, Leclerc preferred to focus on the positives of Ferrari's weekend – but that was before Ferrari discovered the extent of the damage to his power unit, with the MGU-H and turbo both of no use going forward, meaning he is almost certain to serve an engine penalty later this season.
The way his campaign has unravelled so quickly has created a fascinating emotional challenge as Leclerc returns to his home race in Monaco, where he has failed to finish in each of his previous three F1 appearances, this weekend.
Memories of the 2021 event, which he failed to start from pole position after crashing at the end of qualifying, remain fresh in the mind.
Eerily, his crash at the exit of the swimming pool section last year came at the precise spot – and at the same stage of his career (three-and-a-bit seasons) – where Verstappen hit his lowest point with an almost identical incident in 2018.
That came to be seen as a turning point for Verstappen, who only then began to marry his blazing speed with more maturity and better judgement, blossoming into the bulletproof performer who claimed his first World Championship at the end of last season.
Although his own self-destructive side remains just below the surface, Leclerc has shown glimpses of following a similar trajectory and after his victory in the season opener in Bahrain spoke of being a more complete driver after two years of occasionally overachieving – and, yes, making mistakes – in midfield machinery.
Monaco 2021 was a missed opportunity, sure, but the opportunity only existed in the first place because Leclerc's genius manufactured it.
Finally winning his home race – where Ferrari, on the evidence of their pace-setting Sector 3 times in Barcelona qualifying, should begin the weekend as favourites – would be a reflection of how much he has grown and act as an important breakthrough in his faltering title challenge.
His season is not yet in make-or-break territory, but to Leclerc it would make no discernible difference.
Make or break, after all, is the only way he knows and ending Ferrari's 15 years of hurt was never going to be easy.
Torquing Point: Ferrari have wasted their strong start to the season - Spanish GP Conclusions
After starting off the season so brightly, Ferrari have looked rather sluggish in the last three races and consequently have blown their leads in both championships, with Red Bull overtaking them in the Constructors' Championship and Max Verstappen leaping Charles Leclerc in the Drivers'.