Ferrari provide ironic twist in Mercedes engine battle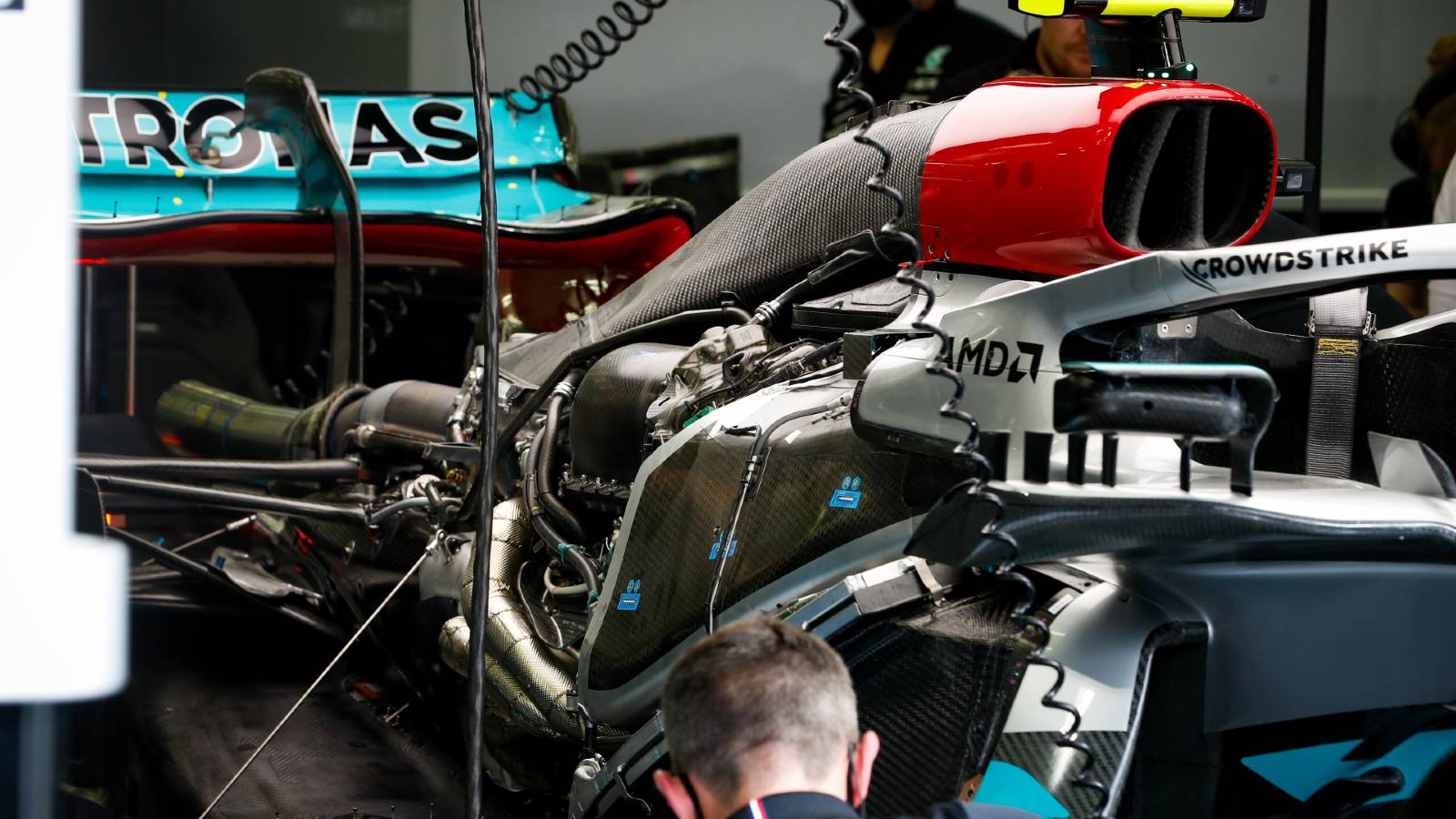 As the final practice session concluded at the Saudi Arabian Grand Prix, Lewis Hamilton hauled himself out of his Mercedes and began to trudge away step after heavy step.
Head bowed, his left hand seemed to extend to touch the rear tyre of his W13 – as if making one last hopeful search for inspiration – as he finished a passing inspection.
With his trainer Angela Cullen, as ever, shadowing his every move, Hamilton weighed himself at the back of the garage before he turned and stood to survey the scene for a couple of seconds, arms by his side and eyes concealed by the half-shut visor of his helmet.
Where did it all go wrong, he must have asked himself. How had it come to this?
As he swung to shuffle away, his shoulders and head collapsing once more, Hamilton's deflated body language captured the desolation of his impending defeat and made for the defining image of the worst weekend of his nine-year Mercedes career.
A little over two hours later, Hamilton would be sentenced to 16th on the grid – falling at the first stage of qualifying on pure pace for the first time since Silverstone 2009 – and would recover to only 10th in the race, denied a higher finish by the confused communication between team and driver during the Virtual Safety Car.
Having escaped the season-opening Bahrain GP with a podium, last weekend revealed the true extent of Mercedes' difficulties in 2022 as Hamilton's team-mate George Russell qualified almost a second adrift of pole position and finished more than half a minute behind race winner Max Verstappen despite a clean run to fifth in Jeddah.
Mercedes' current problems with 'porpoising' – quickly apparent whenever the W13 takes to the track – have been well documented and there are some, including Russell, who remain convinced there is enormous potential within the car if the team can just find the key to unlock it.
Yet with Hamilton calling for both more grip and power, and team principal Toto Wolff admitting the team currently have "weaknesses everywhere," it is increasingly clear Mercedes' issues go beyond the bouncing.
Most damning, perhaps, is it appears what for so long was Mercedes' greatest strength – their power unit – is now among their biggest weaknesses.
Mercedes and their allies – McLaren, Aston Martin and Williams – are all fighting issues of their own at the start of this season, yet a slowness on the straights has united them across the first two rounds.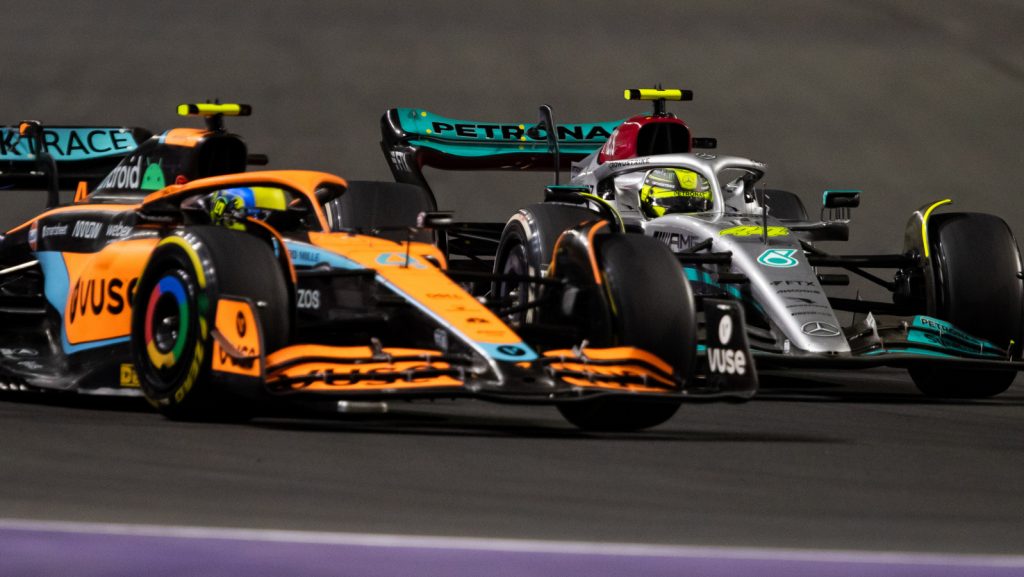 Much was made of the fact Mercedes' customers occupied the bottom six finishing positions in the Bahrain GP – the only cars to have fallen a lap behind before the late Safety Car – but the FIA's maximum speed data paints an even more troubling picture.
Six of the slowest eight cars through the speed trap in qualifying in Bahrain had a Mercedes engine, with only the Williams cars – potentially lacking the downforce and drag of their stablemates – not featuring at the foot of the chart.
With the speed trap in Sakhir located just before the braking zone for Turn 1, that the Mercedes, Aston Martins and Daniel Ricciardo's McLaren were also slowest across the start-finish line suggests that, as well as their terminal velocity not being up to standard, they do not gain much along the straights either.
Compare and contrast, for instance, the gains made by Hamilton (29.1kmh) and Russell (27.9kmh) in Bahrain with Sergio Perez, fastest through both the finish line and the speed trap, whose Red Bull made up 31.8kmh between the two checkpoints.
As Jeddah's speed trap is situated on the flat-out blast before the final corner, it is not possible to make the same comparison for Saudi Arabia.
The raw figures, though, are again unflattering for Mercedes, who powered six of the seven slowest cars (excluding Yuki Tsunoda's AlphaTauri, which did not set a time) through the speed trap in qualifying.
With engines among the few parts not directly affected by the rules revolution in 2022, Mercedes' shortfall has led some to jump to the conclusion the new E10 fuel must have something to do with their slide in the engine department.
Yet the lack of performance this season comes against the backdrop of a wider decline following the departure of Andy Cowell, the heartbeat behind the team's astronomical success in the V6 hybrid era, as managing director of Mercedes High Performance Powertrains in June 2020.
Already in 2021, the team's first full year without him, there were signs Mercedes' engines were not quite the yardstick they once were as Valtteri Bottas served three engine-related grid penalties in four race weekends between Monza and Austin.
Hamilton also dropped 10 places from pole position in Turkey and five in Brazil, whereas Verstappen's Honda-powered Red Bull only incurred a single engine penalty in Russia in a tightly-contested title fight in which every point mattered.
Could it be Mercedes are sorely missing the expertise and effective leadership of Cowell, and that after suffering with reliability in 2021 the loss of such a key figure is now manifesting itself in performance?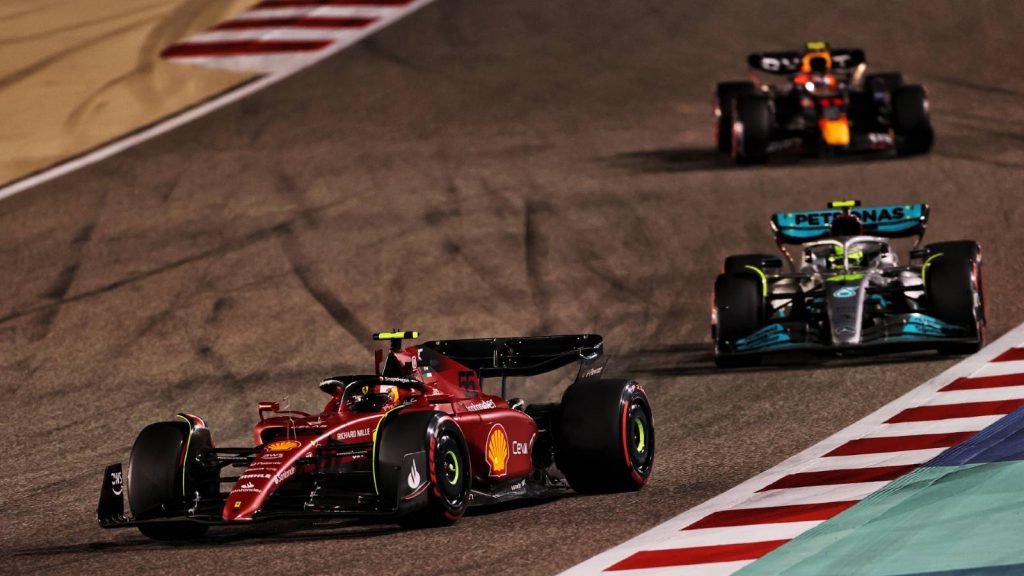 Asked to explain why they were struggling so much for reliability last season, Wolff claimed it was a consequence of Mercedes' fight with Ferrari across 2018 and 2019, which he felt had "stretched us too much".
In other words, in their determination to match Ferrari's power output, Mercedes had exerted themselves to such an extent that some elements of the organisation, namely Cowell, had simply snapped.
It was particularly galling for Mercedes to later learn Ferrari had set something of a false target, their engine the subject of a shady agreement with the FIA in February 2020 (by which time Cowell had already signalled his intention to leave Mercedes), condemning the Scuderia to two winless seasons stuck in F1's midfield.
Ferrari's engine tricks had pushed Mercedes to even greater heights in 2020 as the team won all but four of 17 races with arguably the most complete car they had ever produced, but the human cost of their commitment to staying on top is only now being felt.
It is deeply ironic then that as the Mercedes machine malfunctions for the first time and at the worst possible moment – F1 engines were homologated at the beginning of March and will remain frozen for the next four years – it is Ferrari who have inherited their place at the front.
In being found out in 2020, after several years of suspicion over how exactly they had overpowered Mercedes, Ferrari arguably ran into trouble at a good time, giving them just enough latitude to flip their fortunes around in time for the engine freeze.
And with Charles Leclerc making a strong start to this season, and customer teams Haas and Alfa Romeo improving considerably, it seems Ferrari have recovered a sizeable chunk of the engine performance they lost back then, with the innovative F1-75 chassis doing the rest.
The Prancing Horse never fully capitalised on their previous power advantage, Sebastian Vettel beaten to the title by Hamilton in 2018 and Leclerc and Vettel restricted to only three grand prix wins between them in 2019.
But if they ultimately fell short on the track, maybe Ferrari did succeed in bringing down the king of High Performance Powertrains, sparking the chain of events that has taken Mercedes out of contention and left Hamilton looking utterly lost in Jeddah.
With Leclerc stepping forward to fight Verstappen for the World Championship and Ferrari already 40 points clear in the Constructors' standings, they may now look back on their two years of pain and feel it was worth it.
All empires fall eventually. In the case of Mercedes, it has come with the help of a little nudge from Ferrari.
PlanetF1 verdict
Ferrari provide ironic twist in Mercedes engine battle
Toto Wolff has admitted that Mercedes' engine issues is directly attributed to their battles with Ferrari in 2018 and 2019.