Ferrari tension rising after latest Leclerc setback?
Mattia Binotto tends not to be associated with grand and public gestures of leadership in his role as Ferrari Formula 1 team principal.
Not for him the table-thumping mid-race tantrums of Toto Wolff, nor the mischief of professional wind-up merchant Christian Horner.
Instead, Binotto leads from the shadows and, still a humble engineer at heart, is the type who will gladly miss races later in the season in order to work on the following year's car.
It was a little uncharacteristic, then, that when Charles Leclerc climbed out of his Ferrari at the end of Sunday's British Grand Prix, Binotto was there to greet him in full view of the cameras.
Having failed to win any of the last seven races following his victory in Australia, only finishing on the podium once despite starting four of them from pole position, Leclerc has become familiar with disappointment almost to the point of numbness over recent months.
When he has not retired from the lead with engine problems, as in Barcelona and Baku, he has been let down by Ferrari's haphazard strategy decisions.
Losing at his home circuit in Monaco after controlling the opening phase of the race in the most challenging conditions imaginable was tough enough to take, before Leclerc was again dealt a bad hand by the pit wall at Silverstone.
On course for a much-needed victory on a day when Max Verstappen, the World Championship leader, was out of contention with a damaged floor, Leclerc's race fell apart when he was one of only two drivers not to make a pit-stop when the Safety Car was deployed on lap 39 of 52.
While his team-mate Carlos Sainz used his new soft tyres to escape to his first F1 victory, Leclerc – who despite carrying damage to his front wing had spent much of the afternoon as the quicker of the Ferraris – was almost defenceless (though that did not stop him trying) on old hards against Sergio Perez and Lewis Hamilton, ultimately finishing fourth.
Leclerc had been fiercely and publicly critical of the team for the management of his race in Monaco in particular and on the evidence of his exasperated team radio message after the chequered flag at Silverstone, dared to give them both barrels again.
"The amount of race time we have lost in this race is…oh my god," he complained on the cool-down lap. "The only good thing about today is Carlos won but frickin' hell, guys! Anyway, enjoy the victory."
Before he had the chance to take his raw frustration into the TV pen on this occasion, however, Binotto was there in parc ferme with some stern words and a wag of the finger.
"Obviously, he wanted to cheer me up," Leclerc told Sky Sports when asked to relay what his superior had said to him. As Jenson Button, the 2009 World Champion, later observed, pointing one's index finger in someone's face is a strange way to cheer them up.
And what of Ferrari's handling of his race? "We'll have to look at the global picture," said Leclerc. "On my side, I only have my picture of my race and obviously in the car sometimes you don't have the full picture."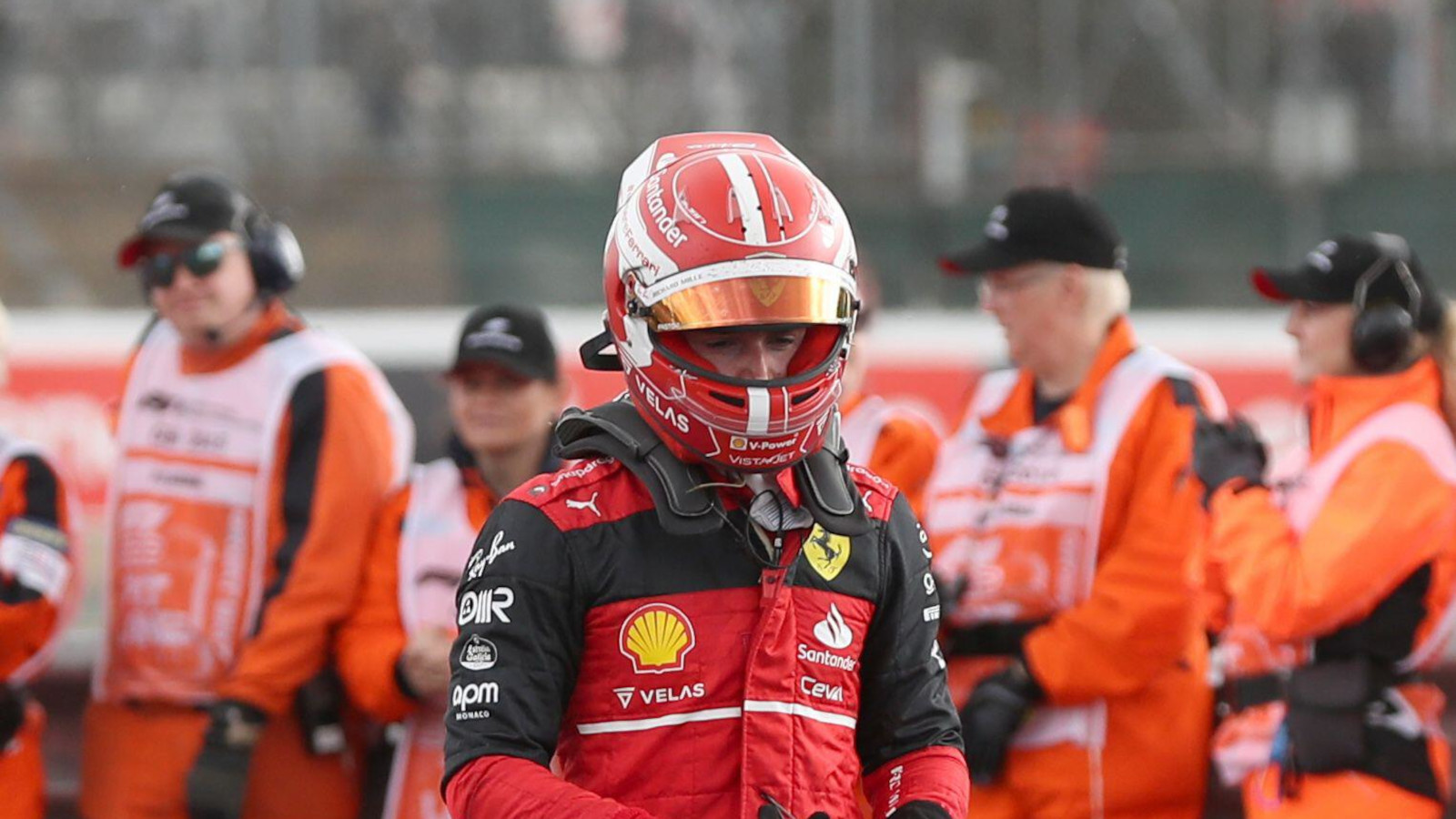 Compared to Monaco, Leclerc was remarkably restrained to the media and Binotto's muzzling act had clearly done the trick.
The post-race exchange not only illustrated the growing tension between team and driver, for Leclerc's faith in Ferrari has surely been compromised in recent months, but captured the pressure of representing the Prancing Horse.
Binotto first joined Ferrari in 1995 and rose to the position of chief technical officer in mid-2016. Then his early years in charge, as the team rebuilt from the sanctions imposed as a result of their engine trickery, were a relatively gentle introduction to life in F1's so-called Piranha Club.
His decision to run Sebastian Vettel out of town early in 2020, killing Vettel's rivalry with Leclerc before it could grow into something destructive, was almost disrespectful in its decisiveness and appeared to extinguish any lingering doubts over Binotto lacking the strength and savvy to lead.
Maybe only now though, as he oversees a rapidly faltering title challenge for the first time, is he beginning to truly realise what life is really like as team principal of Ferrari.
The great risk of appointing Binotto to replace Maurizio Arrivabene three years ago was that he would no longer be played to his strengths, that his experience and expertise – particularly in the engine department – would be taken for granted and lost in the day-to-day requirements of running a race team.
There would be no going back from there, no opportunity – not without an unprecedented suspension of ego, that is – to quietly revert to his previous role and carry on as if nothing happened in the event it did not work out.
With great power comes great responsibility but also, rightly or wrongly, a large proportion of the blame when things (double-stacked pit-stops, strategy calls, reliability) go wrong.
And in a team where political careers normally end in failure, with an unforgiving Italian media permanently prepared to pounce, the day Binotto was given the impossible job was the day his head was placed nicely on the block.
There is no sign yet that Binotto is in danger – how can he be when one of his cars won at the weekend? But with each blow to Leclerc's title challenge he becomes, like some of his predecessors, just a little bit more dispensable.
If Ferrari were to follow a familiar path, and Binotto were to ultimately pay for the Scuderia's potential 2022 failure with his job, they would lose a fine servant, one of the most influential figures of the V6 hybrid era and one of the greatest technical minds in modern F1.
For what?
Where does Leclerc go from here?
Things haven't gone for Charles Leclerc in the past few races, so how can he get back into the battle at the front?