Ferrari's rap sheet, as many sins as races
The charges continue to mount against Ferrari, seemingly race on race, with Sebastian Vettel not the only one responsible for the Scuderia entering the summer break without a single win.
Ferrari's spotlight is firmly on the four-time World Champion, who recently admitted that he has not done the "best job" possible in the first half of 2019.
But while there is no arguing against that, the Scuderia's pit wall, the team back at the factory and his new team-mate Charles Leclerc also share a chunk of the responsibility.
In fact breaking down the charge sheet, Vettel solely carries the blame for only three crimes – one of which is his controversial Canadian GP penalty.
Blame game aside, worryingly for Ferrari, just once in the past decade has the team managed to break a win-less streak after arriving at the summer break without a P1 on the board.
Leclerc, engine issue in Bahrain – reliability
Ferrari's new lad, Leclerc, was cruelly denied his first F1 victory when he encountered an engine issue late in the Bahrain Grand Prix.
The Monégasque driver was comfortably leading the race ahead of the Mercedes pairing of Lewis Hamilton and Valtteri Bottas only to report what initially felt like an MGU-K problem 10 laps from the end.
With his engine down on power, both Mercedes drivers were able to overtake him with Leclerc only holding onto third because a late Safety Car meant no one else could attack him.
Ferrari later revealed that Leclerc's engine had dropped a cylinder.
Vettel, spin in Bahrain – driver error
Vettel amassed his fourth spin in 10 races at the Bahrain Grand Prix as he spun under the lights.
Fighting with Lewis Hamilton for second place, the German lost it. There was no contact, no bump, no excuse. He just lost it.
Given that last season he single-handedly took himself out of the title race, making a mistake in round two did not go down well with his critics.
The more I look at Vettel's spin, the weirder it seems. Reminds me of when Kimi was dealing with engine drivability issues? https://t.co/yNvIOSx3L0

— Axis Of Oversteer (@AxisOfOversteer) March 31, 2019
Ferrari, indecisive team orders in China – pitwall
Lining up third and fourth on the Shanghai grid with Vettel ahead of Leclerc, it was the latter who made the better start, snatching P3 at the first turn on lap 1.
However, 10 laps later Ferrari instructed Leclerc to let Vettel through after the German complained for several laps that he was faster.
Ferrari initially urged Leclerc to "go faster" before eventually issuing the team orders but by then it was too late. The battle with Mercedes was over.
Up into P3, Vettel found that he too was unable to close the gap to the Mercedes, snatching his brakes several times as he pushed too hard.
But now it was Leclerc losing time and complaining to the pitwall. This time Ferrari refused to issue team orders and Leclerc was dropped into the clutches of Max Verstappen.
Red Bull used the undercut to get Verstappen between the squabbling Ferraris and instead of crossing the line third and fourth, the Scuderia were third and fifth.
Leclerc, qualifying crash in Azerbaijan – driver error
Quickest in final practice and the favourite to take pole position, Leclerc binned his SF90 in Q2.
He locked up under braking at the tightest section of the circuit, Turn 8, and crashed into the barriers.
Leclerc said of himself "stupid, I am stupid"… We have nothing to add.
Leclerc crash turn 8 – Baku GP quali pic.twitter.com/kXeeIbRflx

— ToniR (@ToniRycer) April 27, 2019
Leclerc, out in Q1 in Monaco – pitwall
A Ferrari blunder meant Leclerc was sitting in the team's garage as Q1 at his home race, Monaco, came to end and he fell out of the top 15.
Having set the pace in final practice on the streets of Monte Carlo, Leclerc was hoping for a good showing in front of his home fans.
However, Ferrari's brain trust ruined that.
A "misjudgement", as Mattia Binotto called it, regarding the cut-off time in Q1 meant Leclerc was in the garage as he began to fall further and further down the timesheet.
Ironically the driver who ultimately pushed him out of the top 15 and out of qualifying was Vettel.
"It's a very difficult one to take," Leclerc summed it up to Sky F1.
Vettel, penalised for unsafe move in Canada – driver error
Vettel started the Canadian Grand Prix from pole position having pipped Hamilton in qualifying.
It was more of the same in Sunday's race as the German stayed just ahead of Hamilton.
The Mercedes driver applied almost constant pressure, upping it in the final stint, which forced Vettel into a mistake.
The four-time World Champion ran off the track at Turn 3 of lap 48 and forced Hamilton wide upon his return.
The stewards deemed the return to have been unsafe and slapped Vettel with a five-second time penalty.
He took the chequered flag in first place but, once the penalty was applied, fell to second – 3.658s behind Hamilton.
Vettel, engine issue in qualifying for Austria – reliability
Vettel lined up ninth on the Red Bull Ring grid after an engine-related problem stopped him from setting a lap time in Q3.
While Leclerc stuck his Ferrari on pole position, Vettel was left sitting in the garage as his mechanics worked frantically on the left side of his car.
Vettel was unable to put in a lap, Ferrari later revealing a "problem with the air pressure line to the engine" had brought the German's efforts to an early end.
Vettel, hits Verstappen at Silverstone – driver error
After Leclerc battled Max Verstappen in the first half of the British Grand Prix, it was Vettel's turn as the race entered the final 15 laps.
Verstappen overtook Vettel through Stowe corner, taking third place before the German tried to fight back.
Vettel made a "mistake" and drove into the back of the RB15 as they braked for Vale.
Verstappen was pitched into a spin while Vettel's SF90 required a new front wing, dropping him down the order.
The stewards ruled that Vettel was wholly to blame, hitting him with a 10-second time penalty as well as two penalty points.
Video Sebastian Vettel colliding with Max Verstappen at British Grand Prix! #BritishGP #Formula1 #F1 pic.twitter.com/QhGOLHeMF8

— Sophia (@sophia_wrc) July 14, 2019
Vettel and Leclerc, engine issues in qualy for Germany – reliability
Vettel covered a single lap in qualifying for his home grand prix, admitting he was "very bitter" after a turbo problem brought his Saturday to an early conclusion.
His team-mate Leclerc went onto make it all the way to Q3 only to also have his day cut short by a failure of the fuel pump driver module.
He qualified P10 to Vettel's P20 on a weekend where Ferrari had topped all three practice sessions as well as Q1.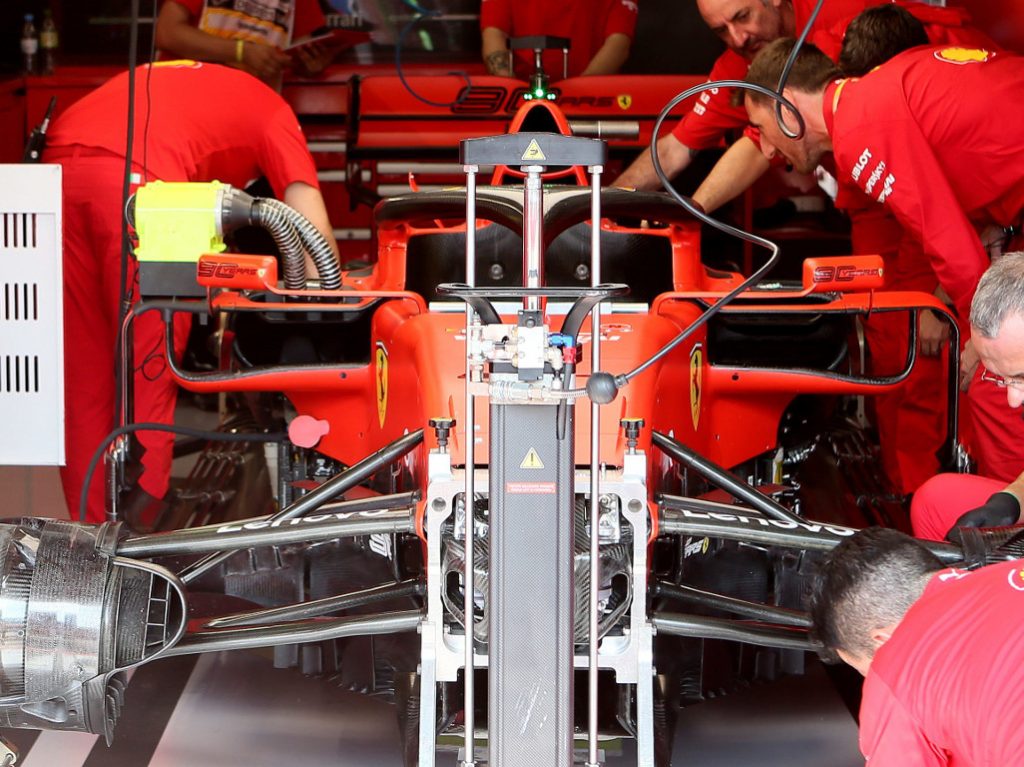 Up side to this, fans got to witness one of Vettel's best drives in years as he raced from 20th on the grid to second at the chequered flag.
Leclerc, unsafe release in Germany – pitwall
Ferrari's least painful mistake came at the Hockenheimring when, bringing Leclerc in for a pitstop, the Scuderia mechanics released him into the path of Romain Grosjean.
It was a textbook case of an unsafe release.
#F1 #GermanGP This might be an unsafe release for Leclerc. #MsportXtra pic.twitter.com/gt2ChkdgUi

— #MsportXtra (@MsportXtra) July 28, 2019
Despite that, the stewards opted to penalise the team but not the driver, which is not the norm.
Ferrari were handed a paltry €5,000 fine.
Leclerc, crashed out of race in Germany – driver error
It was a chaotic afternoon in the wet at the Hockenheimring, made even crazier by the dragster tarmac around the outside of some of the corners.
Leclerc had worked his way up to second place but, having just swapped to slicks on a still damp track, lost control at the final corner.
That was one of those that had the low-grip asphalt.
He hit the barrier and his Sunday afternoon was over.
Leclerc's crash – one of five drivers to retire as a result of an off – was made worse by his team-mate Vettel mastering the conditions and racing from 20th to second.
Leclerc, hit the barrier in Q1 Hungary – driver error
Although he made it all the way through to Q3 at the Hungaroring, Leclerc acknowledged his Q1 crash – completely a driver error – could have proved costly.
Leclerc spun out of the final corner during qualifying for the Hungarian GP and damaged his rear wing when he rear-ended the barrier.
He called the crash "unnecessary" and "not forgivable", and admitted he was lucky that all his SF90 suffered was a broken wing.
Amazingly, @Charles_Leclerc was back out in Q2 – and faster than his @ScuderiaFerrari teammate!#F1 #HungarianGP pic.twitter.com/Q3pQV597KN

— Formula 1 (@F1) August 3, 2019
By Michelle Foster
Follow us on Twitter @Planet_F1 and like our Facebook page.