Five best season openers of the last decade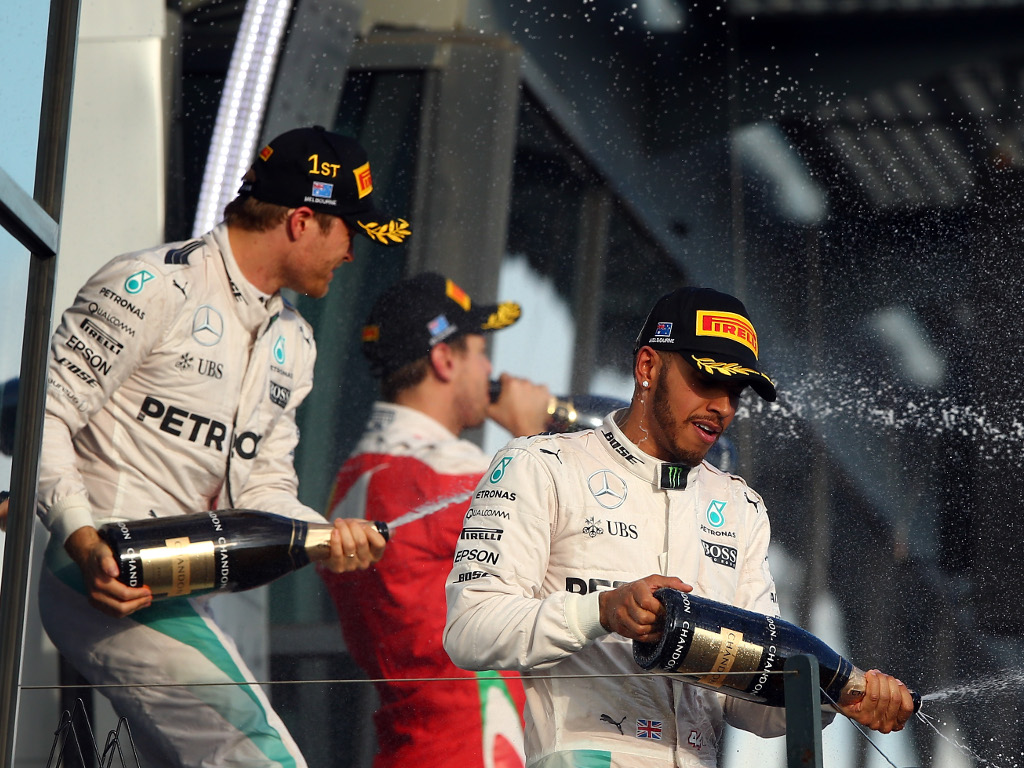 With the first race of the 2020 season getting ever closer, we've decided to rank the sport's the last 10 openers. 
We've already picked our bottom five – here's how we rank the best season starters since 2010.
5. 2010
The 2010 Bahrain Grand Prix was one of the most highly anticipated opening races ever. There were a host of new rules, Michael Schumacher was back, Fernando Alonso was at Ferrari and Jenson Button was going head to head with Lewis Hamilton at McLaren. While it didn't quite live up to expectations, it was still a good show.
This didn't look to be the case when, after getting pole position, Sebastian Vettel built up a comfortable lead early in in the race. Alonso and Felipe Massa were in pursuit, but couldn't catch the Red Bull.
However, things changed when the German experienced a spark plug issue. The problem slowed him down enough for the Ferraris and Hamilton to cruise past. Those three would finish the race in the podium places, with a sizeable gap separating each of them.
There were more exciting battles behind them. Just eight seconds split Vettel in P4 to Mark Webber in P8 by the end. Schumacher held the Aussie and Button off to take P6, just behind team-mate Nico Rosberg who spent the last few laps all over the back of Vettel, but couldn't quite pass.
It's perhaps best remembered for its wider significance, however. Being the first race with the modern-day scoring system and without refuelling in some time, it truly was the beginning of a new era of the sport.
4. 2014
Formula 1 cars lined up on the grid in Melbourne in 2014 with V6 engines rumbling away inside them. With Red Bull and Sebastian Vettel previously dominating the sport for four seasons, this immediately provided a much-needed shake-up to the pecking order.
Lewis Hamilton looked set to be the one to reap the rewards of such a shake-up. However, starting from pole position, he immediately encountered an engine issue, dropping down the order and retiring by Lap 2. His loss was Rosberg's gain, and the German immediately pulled away upfront.
Behind him, the young guns were making waves. After outperforming Vettel all weekend, Daniel Ricciardo was running in P2. Just behind him was debutant Kevin Magnussen, who was more than holding his own against team-mate Button. 23-year old Valtteri Bottas meanwhile made a thrilling charge through the field after picking up a puncture.
With Rosberg, Ricciardo (who was later disqualified) and Magnussen celebrating on the podium at the end, the race promised a changing of the guard fans had been hoping for. Obviously Hamilton had other ideas, but it was good fun at the time.
3. 2012
It's fair to say the 2012 Australian Grand Prix didn't feature a remotely exciting fight for the win. However, the battles behind the top three were thrilling, and are why it's so high up on the list. Oh, and Pastor Maldonado.
It was a fairly tame race in the opening stages. Button comfortably lead, Hamilton struggled to keep up and the Red Bulls did battle with Alonso. However, everything livened up when Vitaly Petrov's retirement brought out a Safety Car on Lap 37.
Not only did it allow Vettel to pit and take P2 from Hamilton, but it also bunched the field up. While Button got away easily at the front, the battles for P3 and P5, in particular, were excellent until the chequered flag.
After initially trying and failing to retake P2, Hamilton came under pressure from Webber. The Aussie was desperate to get his first podium at his home race and hounded the Brit until the end, but just couldn't get past.
Maldonado meanwhile was flying and rapidly catching Alonso. By the final lap he was breathing down the Spaniard's neck and looked set to try a move. However, he lost control coming out of Turn 3 and slammed into the barriers, retiring. Oh, Pastor.
2. 2013
Remarkably, and somewhat depressingly, the first race of 2013 was the last time a driver outside of Red Bull, Ferrari and Mercedes won a race. As far as season starters go, it was a good one, and not just because of that.
Few would have expected Kimi Raikkonen to end up on the top step of the podium when he qualified in P7. However, a strong start and an excellent move on Hamilton saw him move up to P4, just behind the top three of Vettel, Alonso and Massa. He kept up with the top three and managed his tyres excellently to try a two-stop strategy rather than do three stops like his rivals.
Hamilton opted to do the same. Therefore, after around 30 laps, the Lotus and Mercedes drivers were P1 and P2 respectively, behind the long-running Adrian Sutil. Alonso was on fresh tyres and on the charge, however. He quickly caught Hamilton and, after an excellent brief battle between the two, passed him and set off in pursuit of Raikkonen. The Finn, therefore, made his second stop immediately.
Once those doing three-stoppers had come in again, Raikkonen was P2 and Alonso P3, with long-running Sutil leading. As the Force India had extremely old tyres, Kimi made easy work of him to move into P1. Alonso was held up by the German and, despite having fresher tyres, never came close to catching the Lotus, who even set the fastest lap of the race late on.
It had been a truly intriguing strategic battle for the win, and it ended with a shock victor. What we'd do for the same to happen in 2020…
1.2016
The 2016 season featured one of the tightest, most explosive team-mate battles for the title the sport has ever seen. It all kicked off with what we think is the best Australian Grand Prix in quite some time.
Hamilton had beaten Rosberg three years in a row and he looked set to continue his dominance when he took pole position. However, this became far more difficult when he made a poor start and dropped down to P6. Rosberg's wasn't too much better, but he managed to hold P3 behind the Ferraris.
Both struggled to improve on their positions before and after the first round of pit stops. The race was turned on its head shortly afterwards though when Alonso and Gutierrez's huge crash caused a red flag. Mercedes opted to put their drivers on mediums to the end, while Ferrari kept their boys on the quicker but less durable supersoft.
Raikkonen's retirement put him out of the picture, but Vettel pulled away at the restart. However, his tyres soon ran out and he had to pit, giving Rosberg the lead. Hamilton meanwhile passed Ricciardo to move up to P2.
On fresh tyres, Vettel began hunting down the Brit. He chased and chased and put him under huge pressure, but made a mistake with two laps left to lose his chance. Hamilton held on for P2 and Rosberg cruised to victory eight seconds up the road. A sign of things to come.
Finley Crebolder
Follow us on Twitter @Planet_F1 and like our Facebook page