Five memorable moments from Sochi
The Russian Grand Prix first appeared on the Formula 1 calendar in 2014, and ever since Sochi has had a habit of producing drama.
Mercedes have dominated around the Sochi Autodrom, winning all six races to date. Four of them have gone Lewis Hamilton's way, though 2018 ranks very low in his collection of 90 race wins.
And in 2019 that Mercedes dominance could and should have been over – that was until Ferrari shot themselves in the foot.
So it's time to take a look back at the always entertaining Russian Grand Prix and select the five most memorable moments.
Sergio Perez's podium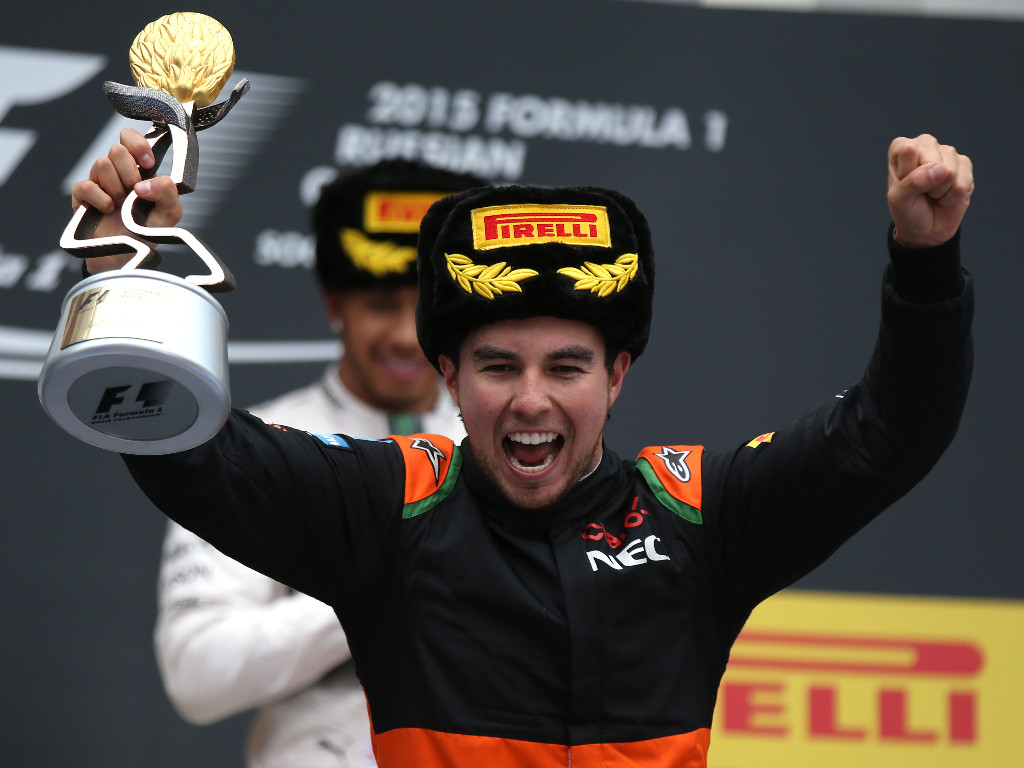 The Mexican driver is well known for being one of the best in race conditions that Formula 1 has to offer, and back in 2015 an early pit stop under the Safety Car had worked a treat for Force India's Perez, putting him into P3 ahead of Red Bull's Daniel Ricciardo, Valtteri Bottas in the Williams and Ferrari's Kimi Raikkonen.
Quickly the trio closed in on Perez who was trying to extract every bit of life remaining out of his old tyres, one of Perez's signature attributes.
After plenty of squabbling behind Perez, Ricciardo would be forced to retire with a suspension failure before Bottas and Raikkonen were able to find a way past the Force India man.
But lady luck was very much smiling on Perez as Raikkonen and Bottas collided on the final lap of the race. Bottas was forced to retire and Raikkonen was left with a heavily-damaged Ferrari, clearing the way for Perez to score the fifth podium of his career.
Valtteri Bottas' first win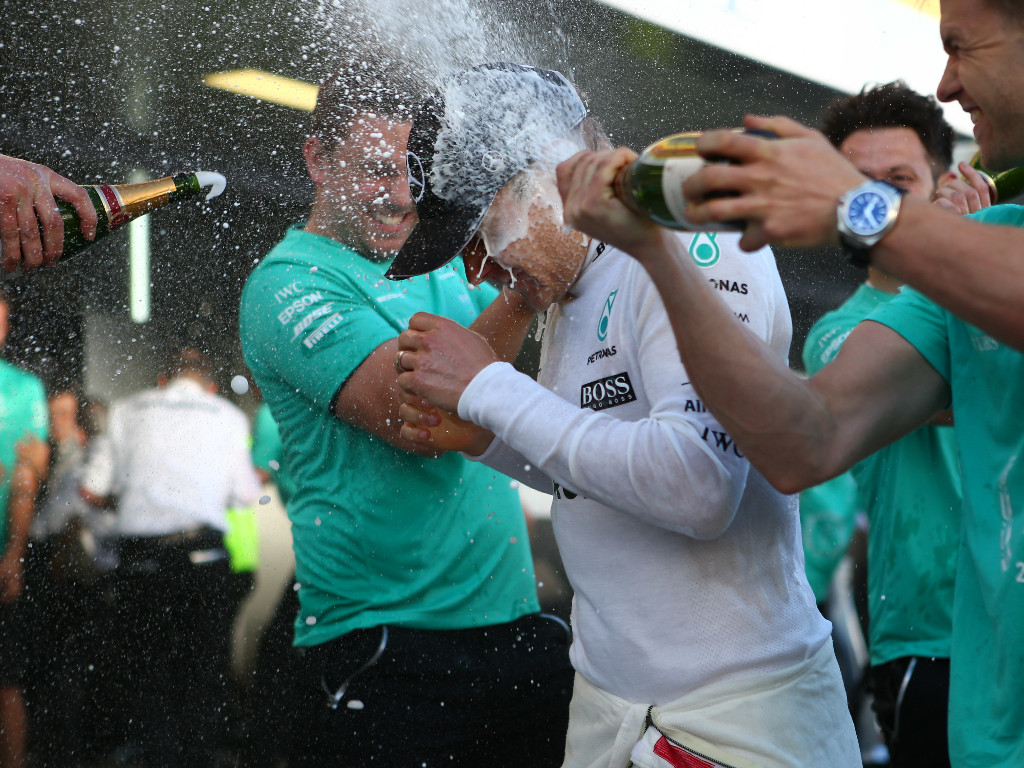 Sochi has always been a track that Bottas enjoys, and back in 2017 it was the scene of his first win in Formula 1.
The Finn was drafted in by Mercedes for 2017 after the shock retirement of Nico Rosberg just days after winning the 2016 Drivers' Championship, and Bottas was able to make himself a race winner in his first season with the Silver Arrows.
Despite qualifying P3, Bottas was able to take both Ferraris at the start, driven by Raikkonen and Sebastian Vettel, and it wasn't until the closing stages of the race that Vettel began to close back in on Bottas.
The Ferrari star got within a second of the Finn, but traffic would give Bottas a helping hand to take his first Formula 1 win by 0.617s at the chequered flag.
Charles Leclerc and Sebastian Vettel's bickering
After the summer break of 2019, Ferrari suddenly emerged with a car capable of not only matching Mercedes, but beating them.
Sadly it was their strategy and at times the egos of Charles Leclerc and Vettel which let them down, with the 2019 Russian Grand Prix serving as a prime example.
Leclerc claimed pole ahead of Hamilton, while Vettel started from P3.
That 900-metre run down to Turn 1 is known for being brutal on the pole-sitter, and Vettel took full advantage of that to slipstream his way into P1 at the start.
Apparently that was all part of the pre-race plan, and the next stage was for Vettel to allow Leclerc back into the lead so the Scuderia could pull away and score a nice one-two finish.
But Vettel is after all a four-time World Champion and known for having a ruthless streak on the track, so is it really any surprise that this plan failed miserably?
Vettel repeatedly refused to let Leclerc into the lead, saying his team-mate was too far behind, so Ferrari responded by pitting Leclerc four laps earlier than Vettel so that he could get the jump on his team-mate with fresher tyres.
However, on his out-lap from the pits, Vettel suffered an MGU-K failure, prompting his famous 'bring back the f*****g V12s line'. Vettel tried to make it back to the pits, but Ferrari then ordered him to pull over at Turn 16 to avoid further damage to the car.
As it turned out, that was a poor choice of spots at which to retire as the Virtual Safety Car was deployed, allowing Hamilton to make his pit stop and take the race lead from Leclerc.
The full Safety Car was deployed not long afterwards when George Russell crashed under the VSC, prompting Ferrari to pit Leclerc for the soft tyres. As a result, he dropped to P3 behind Bottas in the other Mercedes.
Leclerc would try to close in on the Mercs with all three drivers running the soft tyres, but he was unsuccessful and had to settle for a disappointing P3.
Talk about snatching defeat from the jaws of victory.
Valtteri Bottas moved aside
One year on from his first Formula 1 victory, Bottas was looking well on course for back-to-back wins at the Sochi Autodrom.
He had taken pole position and kept his lead at the start while Hamilton and Vettel squabbled behind.
However, on Lap 26, Mercedes ordered Bottas to let Hamilton through into P2 and the de facto race lead.
Bottas obliged and Hamilton went on to win the race after Max Verstappen pitted from the lead on Lap 42, stretching his lead over Vettel in the Drivers' Championship to 50 points.
There was general outrage after the race with some calling for team orders to be banned again in Formula 1. Hamilton, though, said it was what Mercedes needed to do in their fight for the Drivers' and Constructors' Championships.
The Torpedo strikes
Already heading into Round 4 of the 2016 season, the Russian Grand Prix, Red Bull's Daniil Kvyat was driving for his future.
Perhaps his home race could be the place where he turned his Red Bull career around? Well, it was actually the end of it.
At the race start, Kvyat hit Vettel at Turn 2 and then again at Turn 3 as 'The Torpedo' struck again, sending the four-time World Champion into the barriers with the second impact.
Kvyat's 'Torpedo' nickname was given to him by Vettel at the Chinese Grand Prix earlier that season, and after the incident in Russia both Vettel and Kvyat's team-mate Daniel Ricciardo, who felt the Russian had ruined his race too by pushing Vettel into him, were demanding apologies.
Before the following race in Spain, Kvyat would be demoted back to Toro Rosso with Max Verstappen taking his seat at Red Bull.
Jamie Woodhouse
Follow us on Twitter @Planet_F1 and like our Facebook page.