Five most meaningful passes of 2019
From Lando Norris announcing his arrival by showing up Pierre Gasly to Charles Leclerc ignoring team orders to overtake his team leader, PlanetF1 looks at the five most meaningful overtakes of 2019.
5: Lando Norris around the outside of Pierre Gasly – Bahrain

There's a new kid in town and what better way for him to show he deserves his place in F1 than by showing up his Red Bull counterpart.
Lando Norris stepped up from F2 to F1 this season, signing with McLaren, while Pierre Gasly made the move from Toro Rosso to Red Bull (but now back to STR).
One of them is much happier than the other.
Having failed to turn his P8 on the Melbourne grid into points, Norris was determined to score at the Bahrain Grand Prix.
He qualified P10 and raced his way to sixth place with an incredible around-the-outside pass on Gasly.
At a stage of the season when Mercedes were laying down 1-2s, F1's midfield delivered the excitement.
4: Valtteri Bottas won't yield to Lewis Hamilton – Baku

Valtteri Bottas started on pole position with Lewis Hamilton P2. The Brit made an incredible start and strongly challenged for the lead.
The two ran side-by-side through Turn 1 forcing Bottas oh so very, very close to the Armco barrier on the exit.
They continued to run wheel-to-wheel with Bottas nipping ahead at Turn 2.
Hamilton slotted into line behind his team-mate on the run down to Turn 3 and that was it, game over, with Bottas racing to the win, his second of this season.
The Finn left Baku a point ahead of Hamilton with many hoping that it meant F1 was at least in for a title battle, even if it was between two team-mates. Alas that was where it ended.
3 The German Grand Prix – start to finish

If Formula 1 wanted to put out an advert based on rivalry, it would be Verstappen v Hamilton at the Hungarian GP. If they wanted an ad on F1's bright future, that would be Verstappen v Leclerc in Austria or Britain.
But if they wanted to highlight Formula 1 and the show that it can be, well that would be the German Grand Prix, a race won by Verstappen.
The race took place in three conditions – wet, damp and 98% dry – resulting in five drivers crashing out and many more spins and slides, 70-plus pit stops, and a whole bunch of overtakes.
In fact Sebastian Vettel did six alone on the first lap…
The perfect first lap? 🤩

Sebastian Vettel started as he meant to go on in Hockenheim 👏#GermanGP 🇩🇪 #F1 pic.twitter.com/J6870pmn09

— Formula 1 (@F1) July 31, 2019
And on the final lap he added a further three to his tally, overtaking Carlos Sainz, Lance Stroll, and Daniil Kvyat to finish second. He started P20.
Start: P20

Finish: P2

An incredible drive by Sebastian Vettel in front of his home fans

And that final push to the second step of the podium was unforgettable#F1 #GermanGP 🇩🇪 @ScuderiaFerrari pic.twitter.com/mzh2nkPfu1

— Formula 1 (@F1) July 28, 2019
2: Charles Leclerc ignores Ferrari to pass Sebastian Vettel – Bahrain

Bahrain should have been Charles Leclerc's first grand prix win but that's another tale (coming later this week in 'Ferrari's 2019 rap sheet'), but it was at least a sign that this youngster was willing to fight – even against his own team-mate.
Arriving at Ferrari at the start of the year the Scuderia's bosses made it crystal clear that Sebastian Vettel was the "priority" driver and Leclerc was there to pick up the pieces.
Ferrari used team orders in Vettel's favour in Australia, ordering Leclerc not to attack. "Back off to have some margin" was how it was put with the Monégasque driver leaving his team-mate alone.
Two weeks later in Bahrain, team orders were again in play with Leclerc once again told not to attack his team-mate.
This time he ignored the pit wall.
That set Leclerc up for the victory, or at least it would have if his SF90 hadn't lost a cylinder.
. @Charles_Leclerc talking to the media about his overtake on Vettel in Bahrain 🙂#F1 #ChineseGP #Charles16 pic.twitter.com/GPju168k5i

— Charles Leclerc Fan Page (@LeclercNews) April 11, 2019
1: Max Verstappen bangs wheels with Charles Leclerc – Austria
Arriving at the Red Bull Ring, 2019 had been all about Mercedes and their run of race wins – seven on the trot.
However, a heatwave in Austria meant Mercedes with the compact bodywork and cooling were off the pace with Ferrari and Red Bull gifted a golden opportunity to take a first win.
Leclerc qualified on pole position and led from the start only for Verstappen to fight back in the closing laps.
With 10 to go he was 3.8s behind but five laps later was right on Leclerc's rear wing. Verstappen attacked, Leclerc defended. Verstappen attacked again, Leclerc defended…
Verstappen learned a lesson and on the penultimate lap attacked for a third time at Turn 3, this time pushing Leclerc wide as the two banged wheels.
He took the lead, and the win; Leclerc had to settle for second.
Leclerc, though, also learned lessons from the Austrian GP battle and put those to good use a week later as he raced elbows out against Verstappen.
This time the Dutchman needed Red Bull's help in the pits to get the jump on the Ferrari man.
Til the next battle then…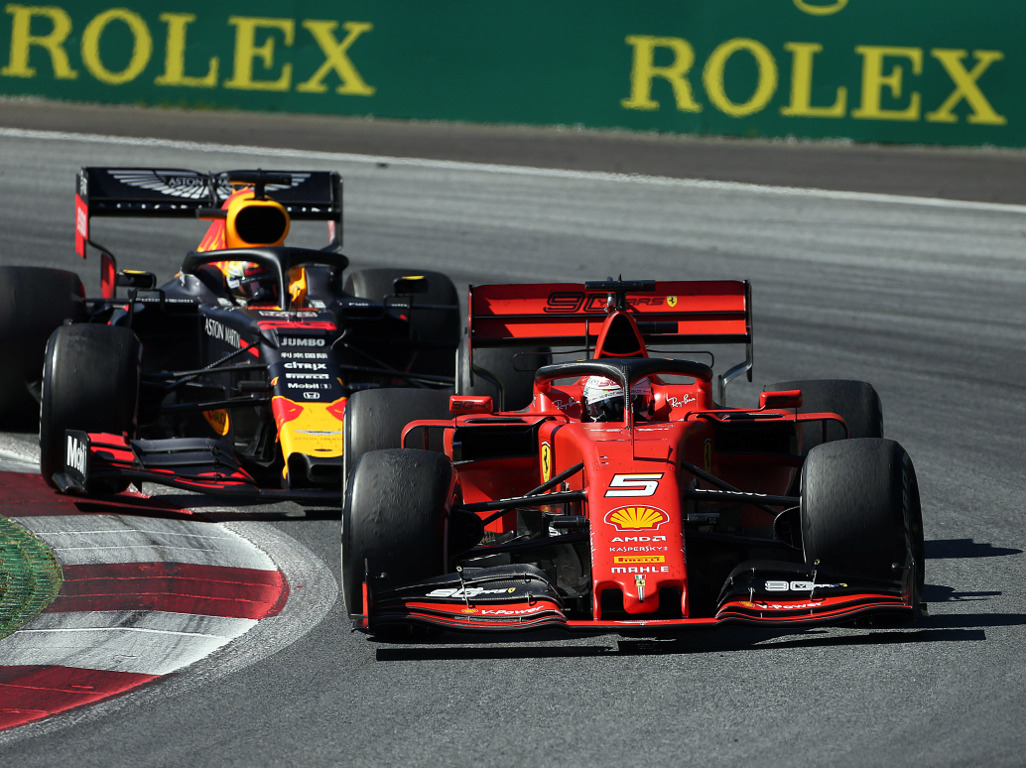 Honourable mention: Lewis Hamilton on Max Verstappen in Hungary.
Max was a sitting duck on his old tyres so it was too easy for Hamilton but still, Mercedes and the British driver once again showed why they are top of the F1 pile.
Michelle Foster
Follow us on Twitter @Planet_F1 and like our Facebook page.