For and against: Lewis Hamilton's 2021 team-mate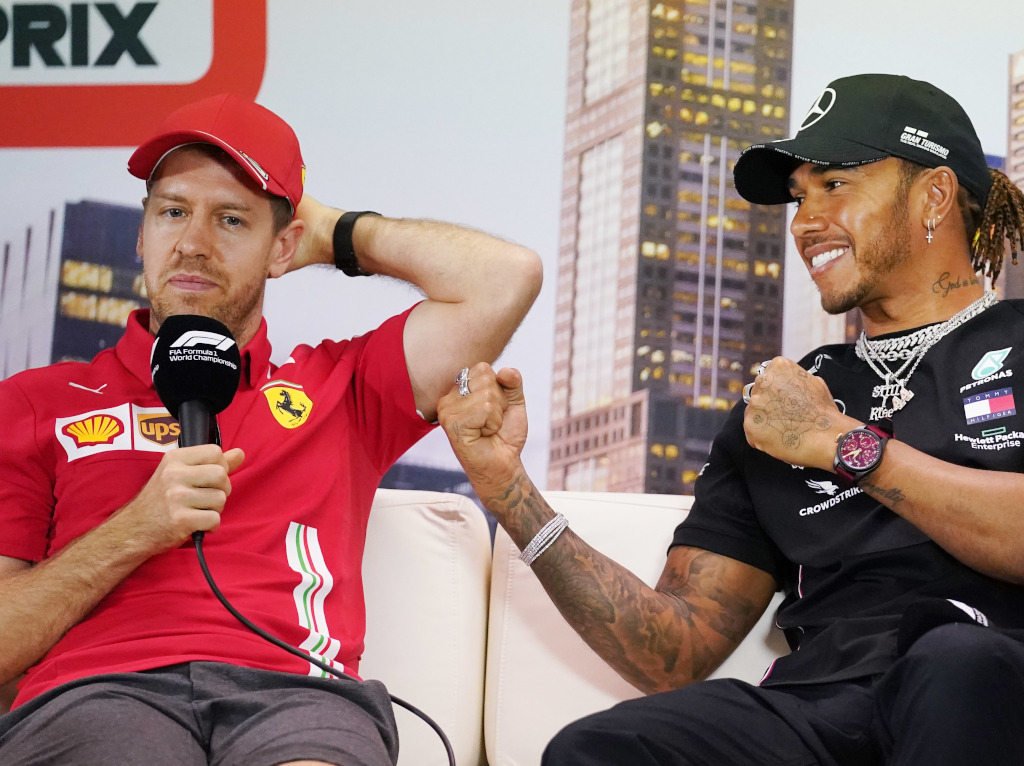 Whilst one Mercedes seat for 2021 is ready and waiting for Lewis Hamilton, who partners him on the other side of the garage is a little less clear cut.
We assess the leading candidates to be Hamilton's team-mate next season and consider the arguments for and against each of them…starting with the man who finds himself in a very familiar situation.
For
Valtteri Bottas has shown with each one-year contract extension handed to him that, if nothing else, he is a solid, dependable driver who brought some much needed harmony to a team left broken by the Hamilton/Rosberg rivalry and he has kept it intact ever since.
After joining the Silver Arrows in 2017, Bottas has a podium finish percentage of 58% with 36 podiums in 62 races and has a respectable average of 14 points per race.
That has helped ensure Mercedes' dominant World Championship double run has extended to a record sixth season and, although the likes of Toto Wolff don't particularly care to admit it on a regular basis, Bottas has proven to be the perfect rear gunner whilst Hamilton fires ahead with more and more personal silverware.
If it ain't broke, which it certainly isn't, then there is no need for Mercedes to fix it. Bottas still represents the safest option Mercedes can choose from again and another one-year deal for the Finn would give them another opportunity to look at the driver market for the following season.
Against
But how many times do you let Bottas keep bumping his head on the glass ceiling before you say 'you know what? It's time for a change.'
2021 would be his fifth campaign with the Silver Arrows and, even after his strongest year to date yet in 2019 with a runner-up finish in the drivers' standings, you still cannot say with any real conviction that he is World Championship winning material. Maybe 2020 will suddenly tell us different but we doubt it.
In those 62 races which have resulted in 36 podiums, Bottas has been on the top step on just nine occasions. That is a win percentage of 14.5% compared to Hamilton's 50 per cent win rate in the same period.
Is that gap too large to justify keeping Bottas around for another year? Perhaps it is time to roll the dice with someone new now?
Mercedes do need to think of what a post-Lewis era will look like and that could lead them to finally putting some faith into their junior driver programme.
For
If Bottas was to leave, you would have to think that George Russell is in the best position to replace him. Becoming the third driver after Esteban Ocon and Pascal Wehrlein to join Mercedes' junior driver programme in January 2017, Russell has added GP3 and F2 titles to his trophy cabinet and came through a very difficult first year in Formula 1 at Williams with flying colours.
No, he didn't score any points, but a whitewash of team-mate Robert Kubica in qualifying and a very mature, professional handling of a tough situation with by far the slowest team on the grid has ensured that Russell's profile and stock has continued to rise.
At 22 years old and preparing himself for a second season at Williams, how much more development time does he need? If Mercedes do feel he needs more, there would be no better continued learning process than a master/apprentice combination with Hamilton from next season onward.
Russell would no doubt be happy to play the team game like Bottas has and, based on current evidence, does not strike us as the type of character to start disrupting the harmony within the team if he was presented with the opportunity to get a huge boost up the grid.
Against
The biggest sticking point for Mercedes with regards to Russell is whether he could come into the team straightaway and immediately start matching Bottas' level with regular podiums and a handful of race wins on the rare occasions when Hamilton isn't completely on it.
Mercedes' two main rivals, Ferrari and Red Bull, showed both sides of the coin in 2019 after bringing fresh faces into the team.
While Charles Leclerc showed very quickly that he was more than capable of winning races, Pierre Gasly was struggling to meet the minimum requirements set out by Red Bull and was promptly demoted.
It is unlikely that Mercedes would be as brutal as Red Bull can be with some of their drivers, but they can ill-afford giving someone like Russell potentially a full season to properly bed in as they continue to fight for both World titles.
Ferrari's reluctance to bring in someone who would have definitely played the team game and kept the peace in Antonio Giovinazzi next year shows that a certain standard still needs to be met rather than just picking the most convenient, least troublesome alternative option.
Russell is contracted to Williams until the end of 2021, so perhaps the plan all along was for him to honour that deal before Mercedes then put him in one of the works team seats.
For
Ahh, the option that so many want to see chosen: Sebastian Vettel. He is definitely the most exciting choice available, but most exciting does not necessarily also mean the most sensible.
Mercedes boss Toto Wolff knows exactly what he is doing by not categorically ruling out Vettel at this stage as the Silver Arrows finalise their 2021 plans – even if continues to say it isn't just 'lip service'.
If it is true that German parent company Daimler do want a German driver in their car to further capitalise on marketing opportunities then Wolff is keeping them happy by keeping (or creating the illusion) that that option is on the table.
Vettel can also act as some form of leverage whilst negotiations take place with Hamilton and/or Bottas, and, of course, it maintains a high level of excitement and buzz around the Mercedes for as long as the dream of the Hamilton/Vettel line-up is kept alive.
It would be absolutely brilliant to see two multiple World Champions duke it out and it would be fascinating to see how long their now very respectful relationship would last with the pressure dial turned all the way up.
Against
But why would Mercedes risk destroying everything they have built for the sake of giving the people what they really want? You don't have to stretch your imagination too far to see Mercedes potentially put in another Hamilton/Rosberg situation and needing another driver to effectively come in and sweep up the broken pieces.
Choosing Vettel over Bottas or Russell would be a clear heart over head move and Mercedes just don't make those type of decisions and are incredibly unlikely to start doing that now.
And, put yourself in Hamilton's racing boots for a moment…if you did have influence and a say in who your team-mate is, would you entertain anyone who could make your life an awful lot harder than it currently is?
He knows he has Bottas' number and you would suspect he would have Vettel's as well based on recent form, he just doesn't need any of the drama that would go with it as he continues in his pursuit of a record eight World titles.
Who will Mercedes pick?
Fernando Alonso. No, only joking.
However long this process goes on for and however many more twists and turns we take around the rumour mill, it is very difficult to imagine Mercedes breaking up the Hamilton/Bottas partnership that has brought so much more success just yet.
Bottas bounced back very well from his 2018 dip and he will no doubt show once the 2020 campaign finally gets underway again he can be relied upon to get his part of the job done. That is not always a guarantee when changing drivers and, although you can consider it a boring option, a safe option, it still gets results.
When you still have Hamilton at the very top of his game, there is no need whatsoever to jeopardise any of it – especially with the arrival of Vettel.
Follow us on Twitter @Planet_F1 and like our Facebook page.