The class of F1 2002: Where are they now?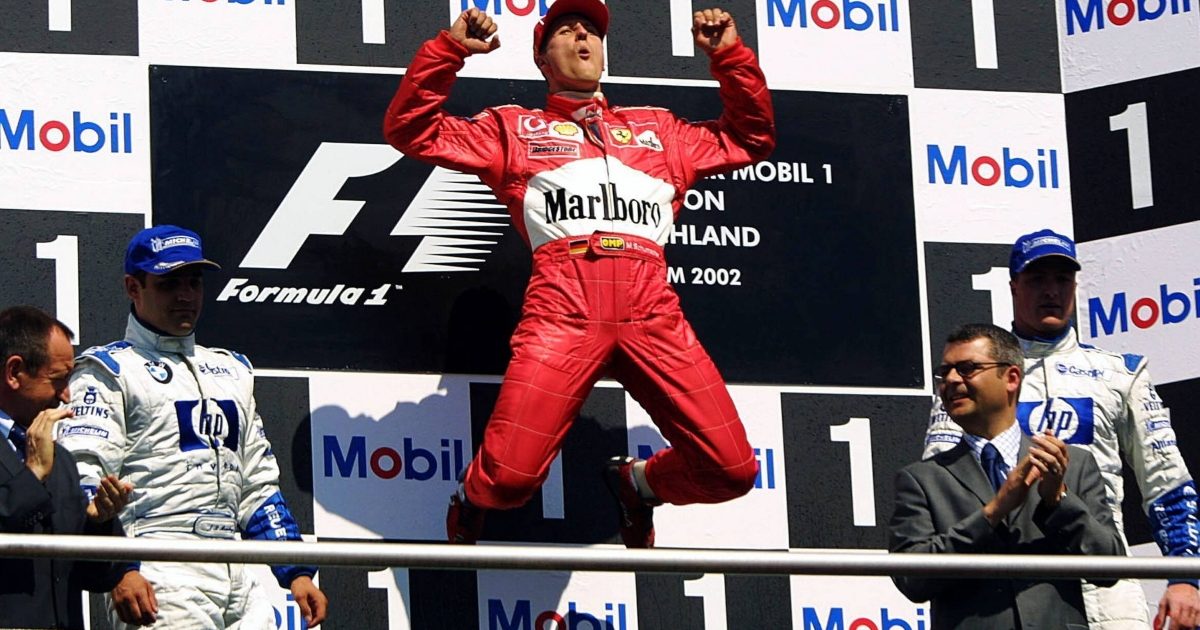 The 2002 season may not have been the most memorable of campaigns, but it featured plenty of memorable drivers.
Michael Schumacher cruised to his fifth title, winning 11 of the 17 races and not finishing outside of the podium once, but he was one of a number of top talents, many of whom went on to do big things in the sport.
With 2022 marking the 20-year anniversary of the season, we've taken a look at what happened to all of them and what they're up to now…
Michael Schumacher
Schumi was simply in a league of his own that year, producing one of his most dominant seasons ever to become a World Champion for the fifth time. He'd go on to do so twice more before leaving the grid initially at the end of 2006 and permanently in 2012 after a brief, less successful return with Mercedes.
A year later, he tragically suffered a severe brain injury in a skiing accident, and little has been known about his life and condition since. His legacy still looms large in the sport though, through both his records and his son Mick who of course drives for Haas. Keep fighting, Michael.
Rubens Barrichello
While he was no match for his team-mate, Barrichello enjoyed a decent season himself in 2002, winning four races. The Brazilian went on to drive for Honda, Brawn and Williams and win six more before finally retiring at the end of 2011 having competed in more races than anyone, a record he held until a certain 2020 when a certain Finn broke it.
His life since leaving the grid has mainly consisted of racing in the Stock Car Brazil series in which he has claimed 16 wins and one World Championship. He also occasionally still blesses F1 with his presence, attending races sometimes as a pundit and sometimes as a fan, and remains as lovely a guy as ever.
Juan Pablo Montoya
In his second season, Montoya showed just how good he was, claiming seven podiums and finishing the year as the best of those not in a Ferrari. With him only 25, many expected him to go on and win a title one day but he never did, claiming multiple wins and podiums but only coming close to becoming a World Champion in 2003 before leaving F1 halfway through 2006.
The Colombian has enjoyed a huge amount of success since then though, winning two NASCAR races, five IndyCar races including two Indy 500s, and one IMSA SportsCar championship. In 2022, he's to team up with his son Sebastian for the Sebring 12 Hours round of said championship which he will compete in full time.
Ralf Schumacher
Driving for Williams, Ralf enjoyed a strong 2002, winning one race and standing on the podium five further times. After adding a few more victories to his tally the following year, he spent the rest of his F1 career in the midfield before retiring in 2007.
Five fairly unspectacular seasons in DTM followed before he turned his attention to driver management and F1 punditry. He often makes the headlines for comments made in the latter of those two roles in particular…
David Coulthard
After fighting at the very front with the Ferrari drivers the previous year, DC didn't have the machinery to do so again in 2002 but did still win a race and claim multiple podiums. He spent the rest of his career after that, which included two more years with McLaren and four with Red Bull, fighting in the midfield at the best.
The Scot's post-F1 life has consisted of little racing, as he's instead embarked on a career in broadcasting, becoming one of the UK's most renowned TV reporters and pundits through his work for the BBC and Channel 4. As a result, he's at pretty much every race and often conducts the official interviews with the top three drivers. 
Kimi Raikkonen
There were great moments in all of them, but which was your favourite Kimi era? #f1 pic.twitter.com/Pu0E29YxIe

— PlanetF1 (@Planet_F1) December 28, 2021
2002 was Kimi's first at the front of the grid following his move to McLaren and it's fair to say the youngster made his mark, claiming four podiums. Things only got better after that as he narrowly missed out on the title twice before moving to Ferrari and wining it there in 2007.
He left the grid in 2009 but did of course return in 2012 and stuck around until the end of the 2021, claiming a few more wins and podiums, when he finally called it a day. What he'll do next is unclear, but something tells us it won't involve many media appearances…
Jenson Button
Kimi wasn't the only future World Champion beginning to impress back then with Button also doing so at Renault. Like the Finn, he'd have to wait a while before getting his hands on the title though with it finally coming in 2009 with Brawn following a difficult period at Honda.
He spent the rest of his F1 career with McLaren before trying his hand at various other catogories including Super GT, WEC and DTM. These days, he owns an Extreme E team, is a pundit for Sky Sports and serves as an advisor to Williams.
Jarno Trulli
Trulli's sixth year on the grid proved to be his best yet as he finished inside the top six on four occasions. He'd go on to stick around for a decade longer, winning one race and retiring in 2011. 
Since then, he's set up his own Formula E team and driven for it, but sadly it folded after a season. That's all we've seen from him really.
Eddie Irvine
This proved to the final season in Irvine's largely successful F1 career, but it wasn't exactly a happy ending with his Jaguar rarely making it to the finish line. Still, he did at least claim one final podium.
Since retiring, as well as almost buying F1 teams a few times, he's been arrested for speeding, found guilty of assault after getting into a brawl in a Milan nightclub and has made a number of controversial comments about F1 drivers, calling Sebastian Vettel "a spoiled brat" and Fernando Alonso "a clown" for instance. So yeah, a quiet few years.
Nick Heidfeld
Heidfeld was considered one of the most exciting talents around this season after claiming a podium in 2001. While he couldn't do so again the following year, he went on to finish inside the top three 12 more times before retiring in 2011, but never managed to win a race.
Remarkably, it was the exact same story in WEC and Formula E with the German claiming multiple podiums but no wins in both categories. He was at least first in his class at Le Mans in 2014, which is something.
Giancarlo Fisichella
2002 proved to be Fisi's worst full season yet with him encountering a huge number of reliability problems. Things got better after that though with him claiming three wins and six further podiums before retiring in 2009.
He went straight from F1 to endurance racing where he has proved to be rather successful, winning multiple races. The Italian competed in the 2021 WEC season and claimed a podium at Portimao.
Jacques Villeneuve
The 1997 World Champion had grown more accustomed to running towards the back of the field at this point with his BAR more often than not having poor pace and/or reliability. Things never got much better for him before he retired in 2006 after spells at Renault and Sauber.
He's competed in a wide variety of categories since then including NASCAR and Formula E, and he almost won Le Mans in 2008, but he's probably best known for the controversial F1 opinions he often gives to the media.
Most recently, the Canadian has been racing in the NASCAR Whelen Euro Series and won a race in it last year.
Felipe Massa
Massa's rookie season in F1 wasn't the best as he made various mistakes and lost his seat at the end of it. After a year as Ferrari's test driver though, he was given another chance by Sauber and did enough to convince the Scuderia to sign him up in 2006. He stayed there until 2013, narrowly missing out on the title in 2008, before moving to Williams but was never quite the same after suffering a serious head injury in 2009.
After retiring in 2017 the Brazilian spent a few years in Formula E and competed in the Stock Car Brasil series in 2021, scoring 88 points. He also showed up to a few F1 races and interviewed drivers.
Olivier Panis
Driving for a poor BAR team, Panis enjoyed little success this year and left for Toyota the following season, but things didn't get much better there and he opted to retire in 2004.
He hasn't done much in the way of professional racing since, competing in four Le Mans races but not much else. He has done a bit of commentating though and did show up in an episode of Top Gear, so that's something.
Takuma Sato
"I never thought my racing life would go on any longer than Formula 1."

And now Takuma Sato is a two-time #Indy500 winner!https://t.co/uVG4qIV63n #F1 pic.twitter.com/0uI9FbU3aK

— PlanetF1 (@Planet_F1) August 24, 2020
2002 was Sato's first season racing on the big stage, and while he didn't enjoy a huge amount of glory in F1, taking 44 points and one podium before leaving the grid in 2008, it proved to be the start of hugely successful career at the top.
He joined the IndyCar grid in 2010 and remains there to this day. During his time in the category he has claimed six wins, 14 podiums and 10 pole positions, with the highlights being his two Indy 500 victories in 2017 and 2020.
He's replacing Romain Grosjean at Dale Coyne Racing for the 2022 campaign.
Mark Webber
The Aussie entered the world of F1 this year and made a stunning a debut, finishing P5 in his home race. He'd only better that result three times before joining Red Bull in 2007, and that move really kickstarted his career. In his seven seasons there he won nine races and claimed 42 podiums, although he could only come close to winning the title once, in 2010.
After leaving at the end of 2013, he finally got his hands on a world championship in 2015 as he won the WEC with Porsche, also finishing second at Le Mans. Today, he often works as a pundit on Channel 4 and does a bloody good job at it, too. He also manages the hugely promising Oscar Piastri, who is looking to find his way onto the Formula 1 grid in 2023.
Mika Salo
What would prove to be Salo's final year in F1 wasn't a great one with him impressively scoring points in two of the first three races but then falling to do so again in an uncompetitive Toyota. At the end of it, he was dropped by the team and never returned to the grid.
He has done a huge amount of sports car racing in a wide variety of categories since then and also hosted his very own Finnish TV show, Test Drive by Mika Salo. Great title, does exactly what it says on the tin. Those good old Finns.
Heinz-Harald Frentzen
Frentzen was very much coming towards the end of his F1 career at this point it didn't look like ending in style with his team, Arrows, going bankrupt in August. Happily though, Sauber gave him a seat for 2003 and he was able to score a podium in the penultimate race before calling it a day.
Since then, he has raced in DTM, done the Le Mans 24 Hours twice and is these days enjoying himself on the modern F1 simulators. Maybe we'll see him in the next Virtual Grand Prix series…
Allan McNish
McNish's F1 career turned out to be short and sweet with this his only season on the grid. He wasn't able to score points like team-mate Salo but likely would have done so in Malyasia if not for a pit-lane error.
After being dropped for the following year, the Brit enjoyed a hugely successful endurance racing career until 2013, when he retired after winning Le Mans and the WEC title. He is today the team principal of Audi's Formula E team and has also done some work on the BBC's F1 coverage.
Alex Yoong
ALEX YOONG'S #F1 career

-Raced between 2001-02
-No points
-3 DNQs (did not qualify) due to 107% rule
-Never outqualified Alonso & Webber (18-0)
-Was forced to do "Qualifying training" by Minardi, missing 2002 Hungary & Belgium
-Malaysia's only GP driver to date 🇲🇾#TopFlops pic.twitter.com/38gU2jDeHg

— Motorsports in the 2000s & 1990s (@CrystalRacing) May 30, 2021
Widely considered to be F1's first modern pay driver, Malaysia's first and at the time of writing only F1 driver joined the grid full time in 2002 after making his debut at the end of 2001. The Minardi driver failed to qualify after not going within 107% of the fastest time on three occasions and crashed rather frequently. So yeah, not great.
Unsurprisingly, he was dropped at the end of the year, but things have gone a little better since then with him winning the Audi R8 LMS Cup three times from 2014 to 2016. Since leaving that series in 2017, he has done some F1 presenting and commentary in his home country and has his own company called Axle Sports which amongst other things has a motorsport academy and eSports team.
Pedro de la Rosa
De la Rosa's third season in F1 turned out to be the first in which he failed to score points but it wouldn't be the last, with doing so again 10 years later in his final year, spent with HRT. For most of the time between those two campaigns he was a test driver for McLaren but did take part in nine races for the British team and 15 for Sauber.
After the 2012 season he then spent a couple of years as a Ferrari test driver before becoming a technical and sporting advisor to Formula E team, Techeetah. He has also done a fair bit of F1 commentating and loves his cycling. 
Enrique Bernoldi
If you can remember anything about this guy, fair play. His two seasons with Arrows consisted of no points and a grand total of nine race finishes out of a possible 29.
Following a few years as an F1 test driver after that, the Brazilian drove in IndyCar in 2008 and raced sports cars in various categories after that until 2012. As for what's he's been up to since then, well, he was the driver steward at this year's Azerbaijan Grand Prix – knew we recognised that name somewhere…ahem.