Left behind by time: Abandoned Formula 1
Formula 1 has an illustrious history dating all the way back to 1950, creating many classic memories along the way.
The Monaco Grand Prix, Ferrari who have contested every World Championship, or legendary drivers like Juan Manuel Fangio, Jim Clark, Sir Jackie Stewart, Ayrton Senna, Michael Schumacher and Sir Lewis Hamilton who have shaped this great sport through the eras. That list of superstar drivers goes on.
But of course throughout the last 70 years, parts of Formula 1 have very much been lost in time. And for some of these relics, the world in general has left them behind…
Old Caterham factory
Lotus Racing's entry into the 2010 Formula 1 season brought this famous name back to the grid, and come the following season there were actually two Lotus teams. The original version remained, now known as Team Lotus, while Lotus Cars formed a partnership with Renault to create the Lotus Renault outfit.
A very complex naming dispute followed, but Tony Fernandes' takeover of Caterham Cars led to the next rebranding. Out went Team Lotus, in came Caterham F1.
Sadly, the name change did little for the team's on-track efforts and after failing to score a World Championship point, their assets were sold off in March 2015. It seems, though, that the Caterham factory was forgotten.
The Leafield Technical Centre has been abandoned and up for sale ever since. Safe to say if anyone was to buy it, then very deep pockets would be needed to put it right. Those signed Heikki Kovalainen postcards could raise a few quid, maybe.
We also don't really fancy taking a dip in that pond at the front.
Valencia Street Circuit
Just been getting some images of the old Valencia Street Circuit for a video next week. Really want to visit & explore around this place!! – J pic.twitter.com/yTD58d7lYW

— The GP Debate Show (@gp_ds16) August 29, 2020
Few were sad to see this venue drop off the Formula 1 calendar and there has been little attempt since to save its existence.
Former host of the European Grand Prix, the Valencia Street Circuit featured on the Formula 1 calendar five times from 2008 to 2012 before being ditched from the schedule.
A circuit of few thrills or overtakes, perhaps the most iconic moment came in 2012 when Michael Schumacher collected the final podium finish of his career in what was actually a pretty eventful race for Valencia's standards.
These days though, it is nothing more than a ghost town, tumbleweed provided.
Monza banking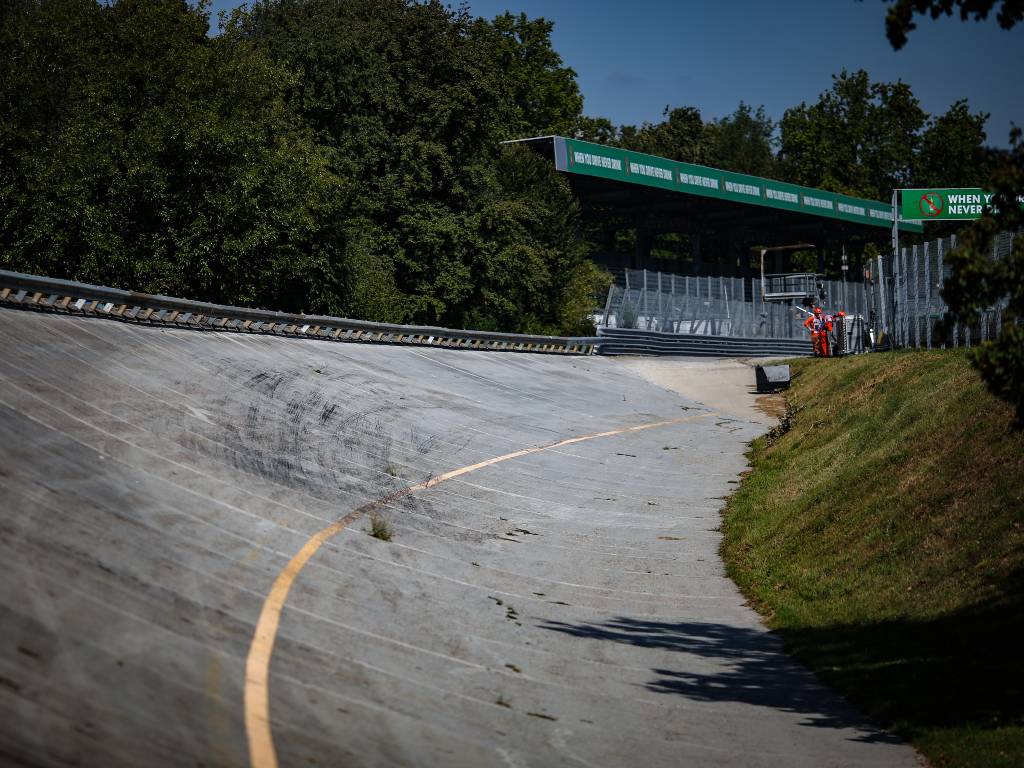 The banked layout at Monza was used for four Italian GPs between 1955 and 1961, but in the last of those years German driver Wolfgang von Trips and 15 spectators were killed in a crash following a collision with Jim Clark.
These days, the 30-degree Monza banking is a popular historical site within the grounds of the Royal Villa in which the circuit is set, and actually there is interest among Monza officials in restoring this famous section that can be seen running beside the current track.
But even if this goal was to be achieved, then it would be merely in order to host non-F1 events, so this version of Monza will likely forever remain in the history books of Formula 1.
Old Hockenheim
This is how the old Hockenheimring looks today. This is/was part of the straight after T1. #GermanGP pic.twitter.com/uWBkKOUsU7

— Paul McGinnes 🏁 (@PaulMcG92) July 27, 2016
The old Hockenheimring was a true high-speed spectacle back in the day, featuring huge straights and a serious lack of corners. In fact, until 1965 there were only four!
From there, the Hockenheimring had a serious makeover, but with that came major problems. Take the 2000 German Grand Prix for example – in changeable weather conditions, fans were treated to a classic as Rubens Barrichello went from P18 on the grid to victory.
Or at least they would have been if all the overtakes had not happened at the chicanes of the forest sector, which meant barely anyone at the race got to see them.
The old layout was deemed no longer suitable for modern Formula 1 and with threats to leave the Hockenheimring, a much shorter and more conventional circuit for modern times was born.
The stadium section, main straight and a small part of the first straight were maintained, but most of the previous layout was left to be reclaimed by mother nature. The forest section was torn up and replanted with trees, confirming that the old Hockenheimring was gone for good.
To this day, parts of the old track can be seen resting in the forest, in particular the remains of the Ostkurve.
Reims-Gueux
Impossible d'être en tournage @BFMTV à Reims sans passer par le circuit de @ReimsGueux ! 🏁🏎 pic.twitter.com/V28gx9FwuY

— Cédric Faiche (@cedricfaiche) January 25, 2021
Now very much an attraction for the city of Reims in France, the old circuit, defunct since 1972, was one of several hosts of the Formula 1 French Grand Prix between 1950 and 1966.
This track was one of the fastest of its era thanks to the two long straights (approximately 1¼ miles in length each). Perfect for a spot of slipstreaming.
These days, the old grandstand and pit boxes still line a public highway, featuring the old sponsor logos. Les Amis du Circuit de Gueux (a non-profit organisation) work to preserve these old structures, keeping this tourist attraction and site for historic meetings intact.
Fuji Speedway
Fuji Speedway has a long heritage dating back to the 1960s. Check out the old banking! #6hFuji #Toyota @FIAWEC pic.twitter.com/MofGGhKcB3

— TOYOTA GAZOO Racing WEC (@TGR_WEC) October 8, 2015
Initially, the track was going to be designed to hold NASCAR-style races in Japan, but in the end there was not enough money to complete the project, which meant only one of the bankings was ever completed.
Mitsubishi Estate took over the venue and turned it into a road course, officially opening it in December 1965, with Formula 1's first visit arriving in 1976 for the Japanese Grand Prix.
Formula 1 remained there for the 1977 staging, although it was not until 2007 that Formula 1 returned to Fuji, at this stage the venue using its fifth different configuration.
Fuji had been acquired by Toyota back in 2000 and as part of the 2003 renovations, most of the old banked section of track was demolished. However, the abandoned '30° Bank' remains.
Jamie Woodhouse
Follow us on Twitter @Planet_F1, like our Facebook page and join us on Instagram!