F1 should act on McLaren's retro idea
The McLaren drivers want to see retro race weekends introduced, and it's an idea that Formula 1 should pursue.
The British team are throwing it back for the upcoming Monaco Grand Prix, sporting the iconic Gulf design with the drivers in old-school overalls.
The initiative has received a hugely positive reaction from both fans of the sport and the drivers themselves, who have said they'd like to see each team take a similar approach for a retro weekend.
"It would be cool, I'm aware it's another expense for the team but that aside, for everything to be a throwback — not just our race suits, but casual wear, down to team hats, to properly do it — that would be cool for everyone to get involved," Daniel Ricciardo told RACER.
"The proper old school ones would be pretty awesome," Lando Norris added.
"I think it's nice we are the only ones who are doing it. More eyes on us, unless we both crash into Turn 1. For one race, make it a bit more exciting, it would be cool to see everyone do something like that.
"Especially when you have a Williams or Ferrari — I mean, Ferrari would just be red! – A lot of teams have had awesome and unique liveries over the years and it would be cool if everyone came up with their own."
For a number of reasons, it's something that the sport should seriously consider introducing going forward. Specifically, at the Monaco Grand Prix.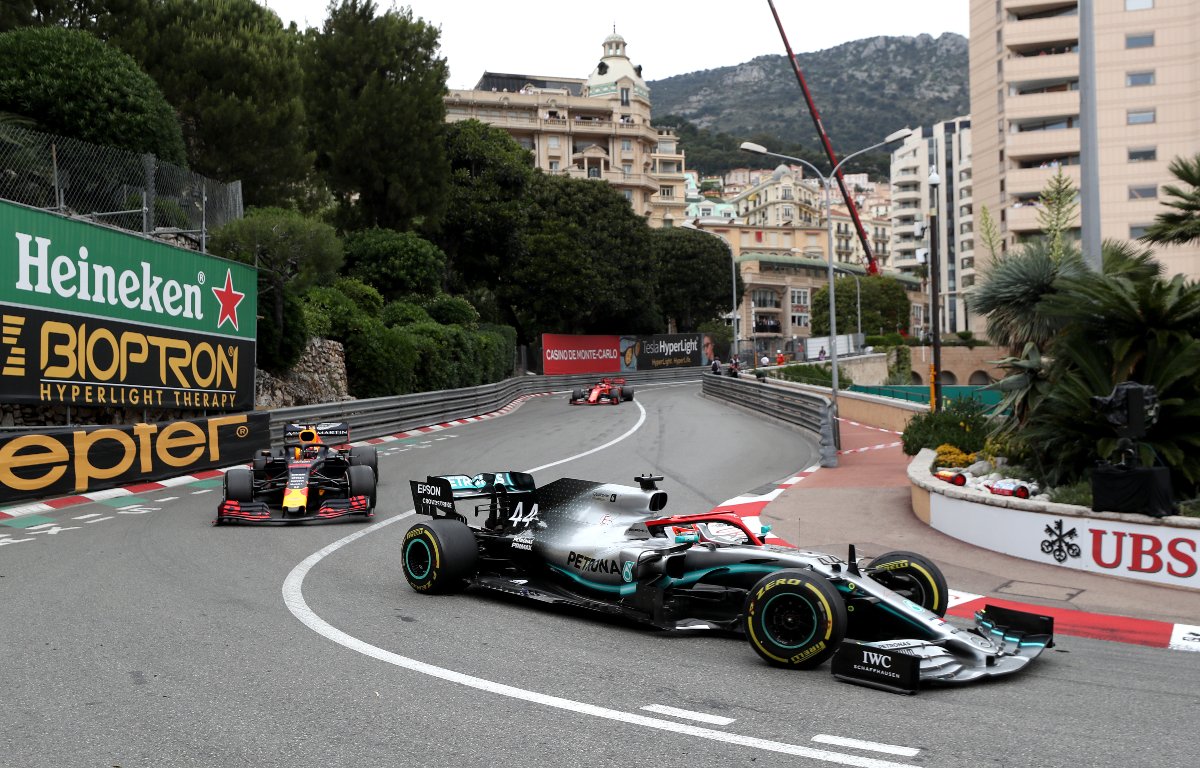 The race in Monte Carlo is perhaps the most iconic and famous event on the F1 calendar, and with good reason.
The location is quite frankly stunning, it's a showcase of all the glitz and glamour of the sport, it is a huge challenge for the drivers and it has a deep and rich history.
However, if we're being honest, it isn't particularly entertaining these days.
The bigger cars and the narrow streets make it almost impossible to overtake, meaning that we rarely get good wheel to wheel racing and, without a major incident, the cars generally finish in the order that they started in.
Even with the new regulations being introduced next year, the issue isn't going anywhere. After all, it's not like the streets of Monte Carlo can just be made wider.
This has led to many fans dreading the race, with plenty even calling for it to be removed from the calendar and resigned to the history books.
That isn't going to happen, but something does have to be done to make things more interesting for spectators, and a retro race weekend could be that something.
Yes, the race may just end up being one big traffic jam, but how much better would it be to watch that traffic jam if it consisted of modern cars sporting some of the sport's most iconic liveries?
McLaren could rock the red and white of the Marlboro days, Williams the iconic design of the early 90s, Alpine the yellow and light blue from 2002 to 2006, Ferrari the – well, their car would still be red, but still.
Even for fans not too big on nostalgia and/or liveries, it would be a truly stunning sight to see.
The trip down memory lane could consist of more than just liveries too. The teams could all be kitted out in overalls to match the cars, the TV feed could use retro graphics and the drivers could have classic helmet designs.
Our film cameras put a bow on another fantastic #NASCARThrowback weekend at @TooToughToTame.

Take a look at some of the best pictures straight from the photo lab. 📸

— NASCAR (@NASCAR) May 11, 2021
You may be wondering just how much better a race weekend could be made solely by mere aesthetic changes, which is certainly a valid point, but for an answer, you need only look at NASCAR.
Every season, there's a "Throwback" weekend at Darlington. It's just like any other round but aims to celebrate the sport's past, with every team encouraged to participate in whatever way they seem fit, mainly by rocking old school designs.
It's quite simply fantastic. Watching it, it feels like you're travelling back in time to all of your favourite eras of the series. Sounds pretty good, right?
Not only is it great for spectators, but it's hugely beneficial to the sport itself too, with it attracting a huge amount of buzz on social media not only during the weekend but in the build-up too as all of the designs are revealed.
One of F1's biggest goals going forward is to grow its audience, particularly in America, and judging by that, a throwback weekend of their own would be a sure-fire way of doing so.
Perhaps more importantly though, it would be a reward for existing fans, giving them the chance to see their favourite designs brought back to life.
It doesn't necessarily have to be in Monaco, but holding it there would make the most sense. It's maybe the most iconic race from a historical perspective and is also the one most in need of some added excitement.
To say that it would "fix" the weekend is an exaggeration, but it would certainly make it better to watch.
Finley Crebolder 
Follow us on Twitter @Planet_F1, like our Facebook page and join us on Instagram!