Formula 1's safety menu: Sausage, grass or gravel?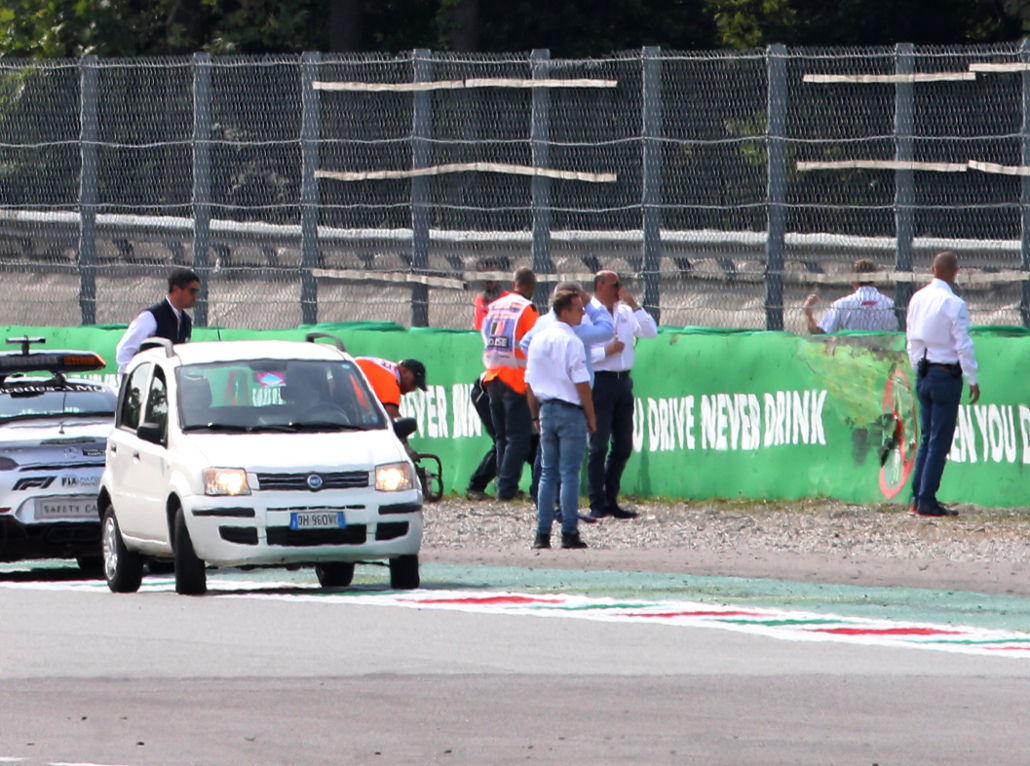 Less than a week after Anthoine Hubert was killed in a F2 race at Spa, F3 driver Alex Peroni fractured a vertebra in a horror crash in which his Campos Racing car was sent airborne. How does Formula 1 respond?
Defending his position in Saturday's F3 race at the Monza circuit, Peroni ran wide at Parabolica and hit a sausage kerb.
Absolutely terrifying. Driver Alex Peroni and marshals are all reported to be ok. #ItalianGP #F3

(via @Mattzel89)pic.twitter.com/TF7MlbE0B7

— Planet F1 (@Planet_F1) September 7, 2019
His car somersaulted through the air, hitting the catch-fencing before crashing down onto a barrier at an area where marshals are stationed.
Peroni, visibly shocked, walked to the medical car before being taken to the track's medical centre where he complained of back pain.
He was transferred to a local hospital, diagnosed with a concussion and a fractured vertebra.
"His D6 vertebra has multiple fractures," read a statement from his camp.
"Alex is also recovering from concussion with his helmet extensively damaged. Alex's life was saved by the Halo, his helmet and the robust modern survival cell."
It added: "Team Peroni wish to pay tribute to all of those people that have lobbied for constant progress in relation to safety."
Despedimos la semana con la sonrisa de #AlexPeroni desde el hospital. Si él sonríe, todos sonreímos 😊 Promete volver pronto! 💪💪💪

Best picture to finishing the week. He promise to come back soon! That smile make us so happy 😊#F3 pic.twitter.com/dWs5D1LKrQ

— Campos Racing (@CamposRacing) September 8, 2019
Halo was the most recent addition on that safety list. But while Formula 1, and its feeder series, is constantly looking at ways to improve safety, Peroni's crash raises questions about the sausage kerbs.
As Daniel Ricciardo put it: "It's another lesson for us. Even if it seems like nothing, I think at those speeds as well, if you get a little bit of turbulence under the car, it can take off."
So why take the risk of placing a sausage kerb, something that is meant only to police track limits, when there is even a slight possibility of someone being launched into the air.
And it is not the first time a sausage kerb has sent a driver airborne, Konstantin Tereshchenko went flying at Spa in 2014.
In the immediate aftermath of Saturday's crash, motor racing fans took to social media to call for the removal of that sausage kerb and all others.
Gravel was the choice of the masses but, as was pointed out, those same masses will most likely starting calling for kerbs to be placed at the track limits when a driver catches the gravel at an odd angle and is flipped over.
So what is the solution?
Lewis Hamilton, who knows better than us what works at high speed, gave his suggestion, saying grass followed by gravel would be a sufficient deterrent – and it would not send cars flying or flipping.
"It was much better when it was grass and gravel on the exit there because I remember you used to come into that corner, you kind of… you were a bit nervous going in too deep because you might end up in the wall," Hamilton told FoxSport.
"The grass would pull you out wide and you'd pay the price for pushing beyond the limit.
"So now you can go beyond the limit and that's the biggest — for me — the biggest problem with all these run-off areas that are tarmac now.
"We didn't need to be consulted about the kerb. It's a band-aid on the issue of putting tarmac there in the first place. I don't think they needed tarmac round there."
Laying down grass a metre-and-a-half away from the edge of the track would mean any driver running wide would lose pace on the slippery surface, and losing speed means losing lap time.
It would also force drivers to back off instead of keeping their foot flat, as it seems Peroni did when he ran wide and mounted the sausage kerb.
The FIA did remove the kerb ahead of FP3 for the Formula 1 drivers and then issued tough guidelines on drivers running wide at Parabolica, saying they would lose not one but two lap times if they put all four wheels off the track.
And then Sebastian Vettel did just that in qualifying but was given the benefit of the doubt by the stewards.
Grass and some proper stewarding seems to what motor racing needs.
Michelle Foster
Follow us on Twitter @Planet_F1 and like our Facebook page.