Driver ratings for the French Grand Prix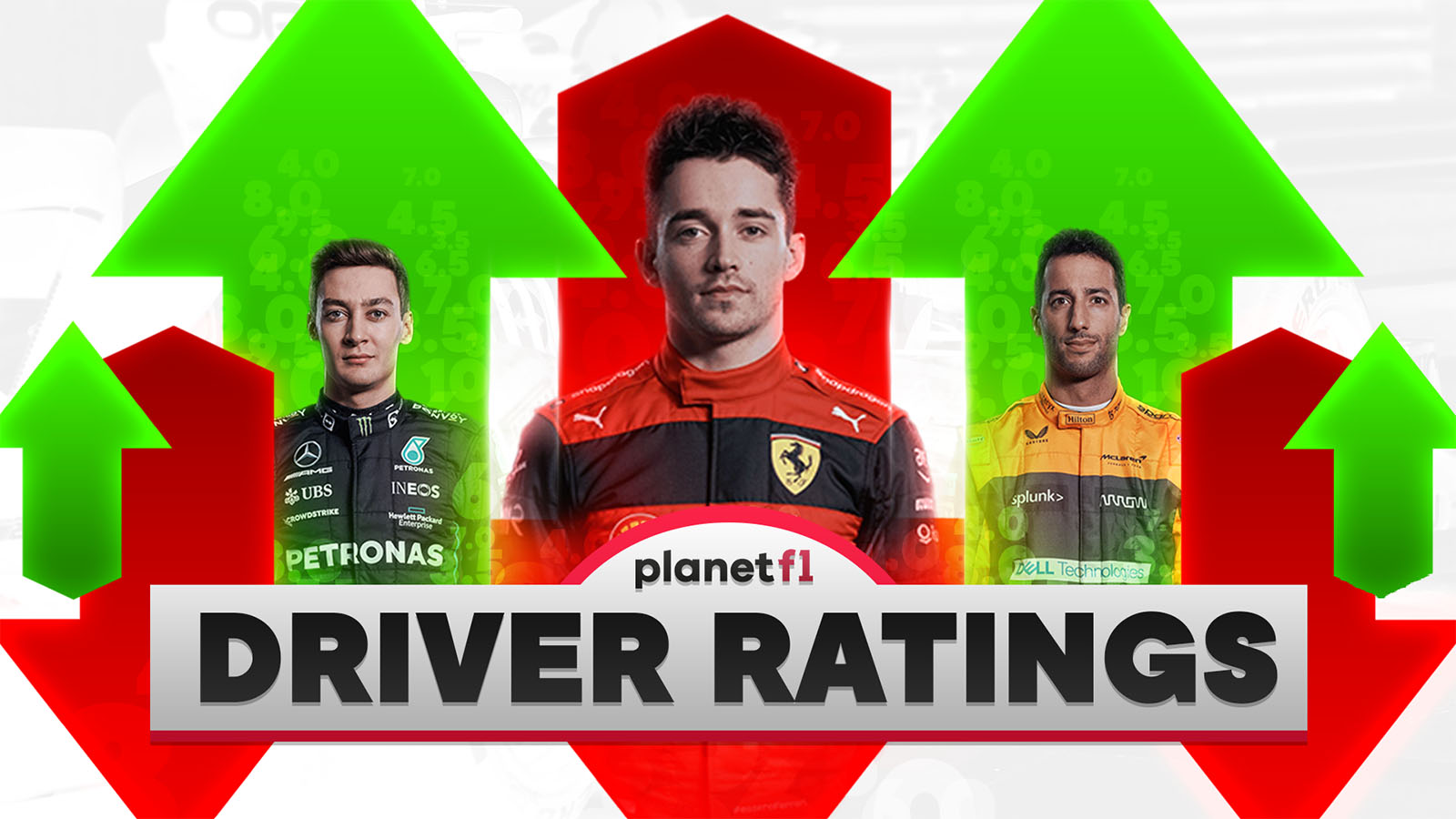 Another Ferrari implosion gifted Max Verstappen his seventh victory and Mercedes their first double podium finish of the season in the French Grand Prix.
A self-confessed error from Charles Leclerc and indecisive strategy applied to their remaining runner Carlos Sainz meant the Scuderia dominated the headlines at Paul Ricard.
Outside the top three, there were some strangely subdued performances from drivers who perhaps are ready for their summer break which comes after the Hungarian Grand Prix.
Here are our ratings for all 20 drivers in round 12 of the campaign.
Max Verstappen: An early challenge to Leclerc failed to bring him the lead, but from the moment his only realistic title challenger had exited it was plain sailing for the World Champion.
Even with DRS, the Dutchman could not get past the Ferrari and at the one moment of concern when he did find himself in front, at the Safety Car restart, he quickly built a gap to Lewis Hamilton.
A 63-point advantage is now starting to look unassailable and the rest may now just be scrapping for second place in the standings. 9.
Lewis Hamilton: Second place represents a new high for Hamilton this season, and he was thrilled with the result afterwards – especially as he had been unable to drink during a swelteringly hot race due to a malfunction.
Mention must be given to the seven-time former World Champion's start as he got past Sergio Perez off the line, setting himself up perfectly for the rest of the race.
Ferrari are giving Mercedes a big helping hand but as the season evolves, Hamilton is looking increasingly strong – especially in relation to his team-mate. 9.
George Russell: Mr Consistency has now been on the podium four times this year, and in the top five at 11 of the 12 races.
For the second consecutive grand prix he had a coming-together with Sergio Perez – one that brought Toto Wolff on to the team radio twice, urging the younger of his drivers to focus on the job in hand rather than complaining about the Mexican's tactics.
As in Austria, Russell was probably the more culpable in that scenario, but ultimately he collared Perez when he caught him napping as the track went green following the Virtual Safety Car period. 8.
Sergio Perez: Never able to live with Verstappen's pace all weekend, Perez was below par in the race until coming alive at the end after Russell had found him snoozing.
Christian Horner's comment that Perez had "turned up today" after a stronger display in qualifying than practice probably sounded harsher than it had meant to, but the team principal would not have been repeating it on Sunday. 6.
Carlos Sainz: This ought to go down as one of Sainz's strongest days in Ferrari colours, if not his entire career. The fact he finished only fifth, having started 19th, was down to the team's confusion over strategy rather than anything he did.
Admittedly helped by the Safety Car following Leclerc's crash, the Spaniard would undoubtedly have got on the podium if his race had been managed better – and that includes the pit-stop that brought him a five-second penalty for an unsafe release.
A mature drive in which Sainz did all he could to atone for his colleague's error. 9.
🇫🇷 Good recovery. I enjoyed going through the field and I gave everything out there. Unlucky in the pits, but we fought for the podium. Like always, we will review to try and improve and we'll keep pushing. On to Hungary.

–#CarlosSainz pic.twitter.com/IxCwpvibeL

— Carlos Sainz (@Carlossainz55) July 24, 2022
Fernando Alonso: A typically feisty start put Alonso ahead of Russell, but his real race was with the McLarens – whom he managed to comfortably keep behind him.
Finishing best of the rest outside the top three teams represents a job well done by the Spaniard, who will be celebrating his 41st birthday when he next takes to the track for free practice in Budapest. 9.
Lando Norris: McLaren did not really build on the encouraging pace they had shown in practice and qualifying at Paul Ricard, and ultimately lost out to Alpine to the tune of four points.
Both of their drivers had quiet races but again it was Norris who emerged on top in the internal battle. 7.5.
Esteban Ocon: A couple of incidents dominated Ocon's race, firstly an early collision with Yuki Tsunoda that wrecked his AlphaTauri rival's afternoon and earned him a five-second penalty.
Importantly, he later passed Daniel Ricciardo on track in that tight Alpine-McLaren tussle – but the fact he finished less than five seconds behind Norris may hurt. 7.
Daniel Ricciardo: The Australian has tried to do our work for us by allocating his own rating, but he was probably a tad harsh in assessing himself at -46 out of 10.
It was certainly an improvement on some of the Australian's races this season, but on a low-key afternoon he merely finished in the same position he had started. 6.5.
Lance Stroll: Yet another example of Aston Martin fielding a much better car for the grand prix than in qualifying, which really is their Achilles heel.
It's still hard to know which is the true Stroll, but this was a fine effort to grab a point from 15th on the grid – and it brought a smile to his face. 8.
Parlez-vous français? 🇫🇷#F1 #FrenchGP pic.twitter.com/k5aYCfS8NX

— Aston Martin Aramco Cognizant F1 Team (@AstonMartinF1) July 24, 2022
Sebastian Vettel: "I had a chance to pass Lance on the final lap," said Vettel. "I was a little bit faster but we are not fighting over one point."
Could have fooled us, Seb!
It looked very much like Vettel wanted that one point for himself as he was all over the back of his colleague at the end of what he described as a "frustrating afternoon" stuck largely in a DRS train. 7.
Pierre Gasly: We got to see some precision driving from Gasly in between the marker boards when he went off at Turn 1 trying to overtake a Williams.
Apart from a pass on Kevin Magnussen, that was the only real notable point of Gasly's home race as he and AlphaTauri struggle in vain to rediscover their form of the past two years. 6.
Alex Albon: Williams appear to have taken a step forward with the update package they introduced this month, but it has not been good enough to bring them any more points as yet.
Finishing 13th is a fairly typical result for Albon and this was a solid rather than spectacular outing. 6.5.
Valtteri Bottas: Wheelspin at the start proved costly for Bottas – and it is not the first time this year Alfa Romeo have had problems getting away from the line.
Not a race to remember for the Finn, whose unusual choice of headgear this weekend will stick longer in the memory than his performance. 6.
Mick Schumacher: No third consecutive points finish for the German, who made an early pit-stop and then clipped wheels with Zhou Guanyu on lap 23 which sent him into a spin.
Schumacher described that as "unnecessary" on his rival's part, but whoever was to blame this was more like the pre-Silverstone Mick than the one who has been holding his own against Verstappen and Hamilton of late. 5.
Did not finish
Zhou Guanyu: A five-second penalty came Zhou's way for that collision with Schumacher and the need for a new front wing dropped him to the back of the pack.
He eventually retired on lap 49, parking up by the side of the track and triggering a Virtual Safety Car spell. 5.
Nicholas Latifi: Williams' big updates were on Latifi's car for the first time but frankly, he was unable to take advantage of them.
There was a step forward of sorts, but he was always behind Albon and exited following a collision with Kevin Magnussen. 5.
Kevin Magnussen: A brilliant start in which he made up seven places must have had Magnussen dreaming of points again, but his progress stalled after he switched to the hard tyres on lap nine.
The Dane admitted his hopes of the top 10 had gone by the time he collided with Latifi and that was race over. 7.
Charles Leclerc: It's genuinely painful to hear Leclerc's screams of anguish when something goes badly wrong, and you have to wonder when a driver with such a competitive car last experienced the same amount of misfortune over a nine-race period.
This time, he admitted it had been his fault when he spun into the barriers as the title race took another seismic shift in Verstappen's direction. 5.
Yuki Tsunoda: Damage from his opening-lap collision with Ocon eventually proved too much for Tsunoda to continue, a tear in the AlphaTauri's bodywork visible as it was wheeled back into the garage.
A pity for the Japanese driver as the stewards deemed him blameless for that incident on a weekend when he reached Q3 and his team-mate was eliminated in Q1. 6.5.
Highlights from the French Grand Prix
Did Max Verstappen win the French Grand Prix, or did Ferrari and Charles Leclerc throw it away? Probably a bit of both.