French Grand Prix driver ratings
The French Grand Prix for its lack of excitement, any battle whatsoever at the front and general dullness was a three at best, and that's thanks largely to Norris, Kimi and Dany Ric. 
But hey, race winner Lewis Hamilton bagged a perfect 10 so at least someone came out with top marks.
And let's not forget how the McLaren team-mates shone…
Lewis Hamilton:  Regardless of what you think of the French Grand Prix as a whole, you cannot deny the masterclass that Lewis Hamilton put together on Sunday afternoon. After a strong qualifying performance to obtain pole, Hamilton dominated the race from start to finish and only missed out on a Grand Slam thanks to Vettel's last gasp fastest lap.
There have been a few strong performances from the Brit this season but this might be the best of the lot. Hamilton was fully engaged with the car and the writing on the wall was apparent from the early stages of the race. 10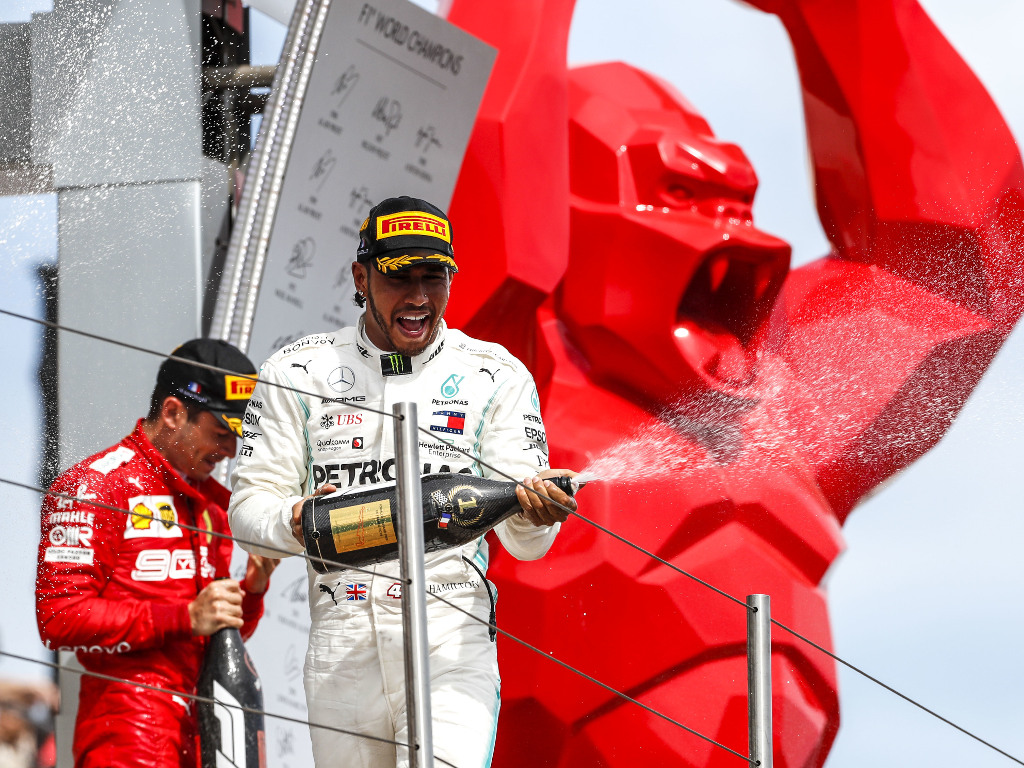 Valtteri Bottas: Considering the pace advantage that Mercedes enjoyed this weekend, it's disappointing that Bottas' second was so distant. One more lap and it might well have been the third step of the podium, rather than the second.
It has been said regularly enough this season but Bottas needs to perform on a more consistent basis. With Hamilton having so few 'off' weekends, Bottas has to respond in kind. 6
Charles Leclerc: On a weekend where anything other than third seemed impossible, Charles Leclerc did everything in his powers to clinch P2 and came ever so close to doing so. Leclerc's strategy of tyre management during the second stint served him well and kept his speed right until the final laps of the race.
There will no doubt be more memorable weekends ahead for the youngster, but this one deserves plenty of credit, not least for defeating his four-time champion team-mate in relatively comfortable fashion. 8
Max Verstappen: The Red Bull constantly appears just one step away from seriously competing and that agonising reality continued for Verstappen in France. It was yet another solid performance but on this occasion led to no podium at the end.
Despite some obvious concerns heading into the year, Verstappen has taken to the role of 'team leader' with great aplomb and you feel he will be rewarded the second he gets a car that is good enough to win. 7
Sebastian Vettel: Hoping to bounce back after the disappointment of Canada, the French Grand Prix failed to provide the retribution Vettel was looking for. His fate was mostly settled on Saturday when a poor Q3 saw him start behind the McLaren drivers.
Ultimately, the time spent overtaking on the McLarens was too much to overcome and Vettel became something of a non-factor in the race. He got something of a consolation prize as he mopped up the fastest lap on the final lap of the race. 6
Carlos Sainz: McLaren's redemption continued at the French Grand Prix. Starting off with qualifying, Sainz and Norris secured McLaren's best starting position since the 2014 Italian GP. Despite starting behind his team-mate, Sainz got ahead at the start and didn't look back as he secured an impressive P6. 9
Kimi Raikkonen: Starting on the hard tyres, Raikkonen's strategy of going long on the first stint was an effective one as he popped up in the battle for P7 at the end of the race. After a few tough few races for the Finn, this was a return to form and a return to points. 8
The on-board views from Norris v Ricciardo v Raikkonen v Hulkenberg. #F1 pic.twitter.com/dfFPClf9FW

— Planet F1 (@Planet_F1) June 24, 2019
Nico Hulkenberg: A mixed weekend for Hulkenberg. It was a good haul of points and an eventual win over his team-mate but the latter was only caused by a post-race penalty and it was a disappointing Q2 exit. Still, four extra points to the tally is nothing to be sniffed at. 7
Lando Norris: Voted Driver of the Day by the fans. Norris fought valiantly despite serious car issues factoring in during the second half of the race. Pressurising Sainz for P6 turned to desperately defending P7 from those behind and the car issues proved to be too much. This was an encouraging weekend overall though. 9
Pierre Gasly: In a season full of lows, this one might have been the lowest as Pierre Gasly only just secured a point at his home Grand Prix. It says something that there was an intense four-car midfield battle for P7 and Gasly was not featured. Not because he was comfortably ahead but because he was behind. 4
Daniel Ricciardo: It's clear that Ricciardo did not regret his decision to go for the jugular on the final lap of the race, even with receiving the penalties. The result of which dropped him to P11 and just outside of points. 8
Late drama in the battle for points, with P7 the prize on the final lap 👀 🍿

Norris v Ricciardo v Raikkonen v Hulkenberg #F1 #FrenchGP 🇫🇷 pic.twitter.com/u9PCJYJbk0

— Formula 1 (@F1) June 23, 2019
Sergio Perez: The most notable part of Perez's race came early on as he picked up a five second penalty for gaining an unfair advantage on the first lap. From there, Perez drove a decent, if unspectacular race and came home P12. One position ahead of his team-mate. 7
Lance Stroll: One wonders how good Stroll could be if he could work out how to do Saturdays. Poor starting positions often hamper him and being eliminated in Q1 was too much to overcome this time out. 6
Daniil Kvyat: Kvyat could not have expected much from this race after starting in P20 but the Russian gave it a good attempt and he finished five positions higher than he started. Biting the bullet of a power unit penalty, he'll be hoping it pays dividends in races to come. 7
Alex Albon: A lot of this race was decided by the first lap and that was the case for Albon. An unfortunate instance in his case. Free tyre choice just outside of the top 10 put him in a good spot (as Raikkonen demonstrated) but the first lap hurt any chances of points. 5
Antonio Giovinazzi: Occasionally we see drivers who make it into Q3 hurt because of it and Giovinazzi was a victim of this on Sunday. Starting on the less-durable soft tyre, Giovinazzi was forced to pit early but not before a few slow in-laps which significantly hurt him. The rest of the race was spent in mediocrity and a long way from points. 6
Kevin Magnussen: Guenther Steiner described this weekend as the worst in team history and there is definitely a case for that. Magnussen went backwards all afternoon and just a few races after Haas appeared to be the fastest of the midfield, they have dropped back to last but Williams. 5
Robert Kubica: It took eight races but finally Kubica has a win over Russell. At this point, I'm not sure how much each Williams driver cares about which one of them leads the way because the reality is they are as far away as ever from the rest of the field. At least this was a step in the right direction for the Pole. 6
George Russell: A grid penalty and a last position on track. Russell's weekend was one to forget and he has to hope that something changes soon so he is able to show Mercedes what he can do and cement his place as the heir apparent to a spot in the team. 5
Did not finish
Romain Grosjean: The only retirement of the race was Romain Grosjean who must have been hoping for much more from his home race. In reality, the race was a disaster even before he was called into retirement. Haas need to take a long look in the mirror and understand what's going wrong. 5
The French Grand Prix driver ratings are courtesy of the good folks at Late Braking. You can check them out in the following places:
Subscribe to Late Braking on YouTube
Follow Late Braking on Twitter