Gabriel Bortoleto: Can the Fernando Alonso protégé and F3 leader reach F1?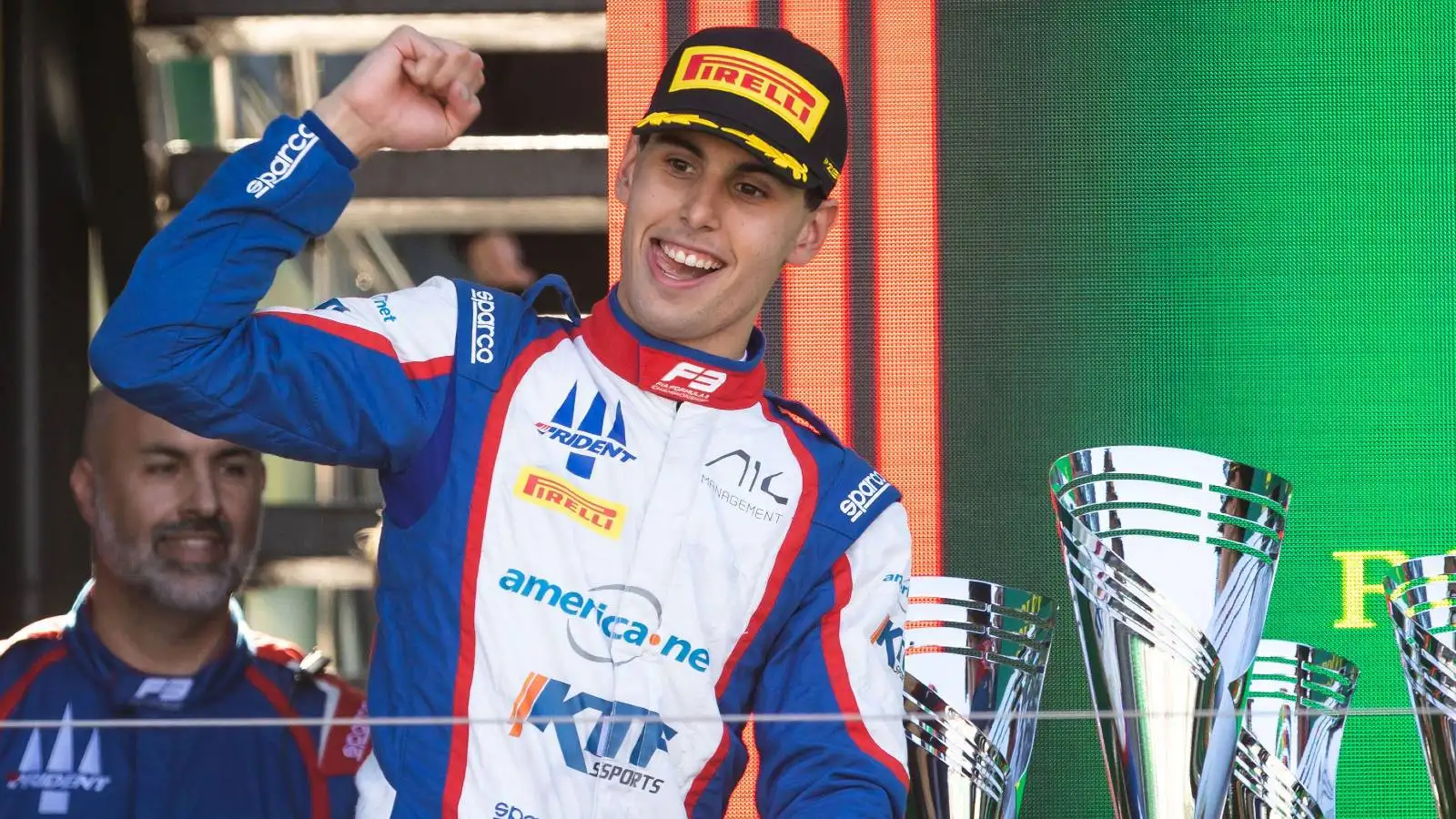 Gabriel Bortoleto has started the 2023 season in mighty fashion and is currently leading the F3 Championship, but what will it take for him to make it to Formula 1?
The Brazilian racer does not currently have any affiliation with a Formula 1 team (even though he has a multi-World Champion advising him), nor has he won a title in his junior single-seater career so far, but he is proving that these are not necessities to shine on the Formula 3 stage.
Racing for Trident in his rookie F3 campaign, Bortoleto has grabbed headlines already with a pair of victories in his first four outings, both of those being Feature Race wins in Bahrain and then Australia.
So, is the 18-year-old Brazilian on his way to being a future star of the Formula 1 grid?
PlanetF1.com takes a look at one of the most talked about new racing talents on the junior scene…
Gabriel Bortoleto's journey so far
Bortoleto began his career in karting in his native Brazil before moving on to the European scene, where finishing runner-up in the 2018 WSK Super Master Series in the OK-Junior category proved to be his best season result.
In 2020 he made his first appearance in single-seater racing in the Italian F4 Championship, making the podium at some of Italy's most famous circuits such as Monza and Mugello.
From there Bortoleto further proved himself in the Formula Regional Championship by Alpine, a two-time race winner in the series, and following an F3 post-season test with Trident Motorsport in Jerez, it was decided that he would debut in F3 with the team in 2023.
Bortoleto enjoys the support of one of Formula 1's star drivers in Fernando Alonso as part of his motorsport management company, A14 Management.
Making the leap
Reaching the Formula 1 grid is every karting driver's dream, but with only 20 seats available, the journey to the top can be brutal. The FIA and F1 work with F3 and F2, the highest steps on the junior ladder, to help prepare the talent for F1 and ensure career progression.
Although F2 is the recommended category to prepare a driver for F1, it is certainly not the only route and many famous racing drivers have taken different paths to the pinnacle of motor sport.
For example, Valtteri Bottas jumped from the GP3 Series to Williams F1 reserve driver in 2012, becoming an official driver for 2013, while Max Verstappen went from European F3 directly to F1 in 2015, and he hasn't done too bad for himself since!
Lance Stroll took that same leap from European F3 to F1 with Williams back in 2017.
These days the FIA Super Licence exists to ensure drivers are not so rapidly fast-tracked into F1 without the right pedigree.
Still, Bortoleto ticks the first box by being over 18, and so now he must amass 40 points if he wants to become a contender to join the F1 grid. Winning the F3 title would be worth 30 in its own right.
PlanetF1.com recommends
Road to Formula 1: 10 rising stars that you should keep an eye on in 2023
Where are they now? The 12 different champions of the defunct GP2 series
Max Verstappen hits out at 'absurd' rising FIA Super Licence costs
Gaining financial backing
Sadly though as a lot of young drivers find out, talent alone is rarely enough, as going racing is a very expensive activity. A full season in a competitive karting championship costs as much as £300,000 – a figure which only increases the higher up the racing ladder you go. You're looking at a multi-million dollar bill for an F2 campaign.
So, to make it to the top you must be able to rely on a combination of financial support from family, a number of sponsors and/or a link to a Formula 1 team academy.
Bortoleto's contract with Alonso's A14 Mangement company has played a vital role in his rapid ascent up the junior ladder. In fact, the 18-year-old pinpoints Alonso's help as fundamental to his first F3 round success at Bahrain.
In a recent podcast for Feeder Series, Bortoleto revealed he is in contact with Alonso every weekend and texted him before qualifying in Bahrain for information on the track evolution and more.
Bortoleto said: "He told me some stuff to do and I did. And honestly, it worked, and it was a very, very good thing to try on track. It was immediately in qualy, so yeah."
Bortoleto also says his recent signing to Trident would not have happened without the backing and support of A14 Management. Safe to say this talented young racer is on the right path then.
Can Gabriel Bortoleto get to F1?
If it was simply about talent and having one of the most complete F1 drivers in your ear, then you would go right ahead and say Bortoleto most likely will be in Formula 1 one day.
But alas, it's uncertain for now whether that really is his destination. He can only try to prove to his sponsors and the watching F1 teams that he has the necessary talent and the tenacity to win races that would give them a worthy return on their investment.
Nonetheless, Bortoleto is certainly making a lot of noise on the F3 scene at present, and with a Trident drive secured plus backing from Alonso and his A14 Management team, his future is looking bright for sure.
This is a name to certainly keep a close eye on in the years to come.