Russell had early introduction to scrutiny at the front in F1
George Russell is still very much Mercedes' project for the future, but Bahrain was an early reminder of the shift in focus on him.
With promotion to the front of the Formula 1 field comes a considerable increase in scrutiny and the knowledge that any mistakes are certain to be magnified.
It is a lesson George Russell took almost no time at all to learn on his full-time debut for Mercedes at the Bahrain Grand Prix, where an error into the first corner of his final lap saw F1's 'Mr Saturday' underachieve in qualifying.
After five years of Lewis Hamilton and Valtteri Bottas securing front-row lockouts and one-two finishes aplenty, as well as five successive Constructors' titles, the sight of a Silver Arrow so far down the order – even in the context of their current problems with porpoising – was strange to behold.
But as Russell himself later explained, there was more to his mistake than first met the eye.
Having reasoned the Mercedes cars were unlikely to start any higher than fifth and sixth, Russell made the conscious decision to shoot for the sky on his last attempt in the hope of making something – anything – happen.
Rather than doing what he had done throughout the session and somehow hoping for a different result, Russell took the opportunity to experiment, driving an outlap much harder on the tyres than previously.
It was, he acknowledged, an inescapable error – his Q3 lap was a full second slower than the time he had posted in Q2 – but one he was quite willing to wear in the circumstances.
The gamble backfired, but it did deliver a couple of devilish little quirks sport has a habit of throwing up from time to time.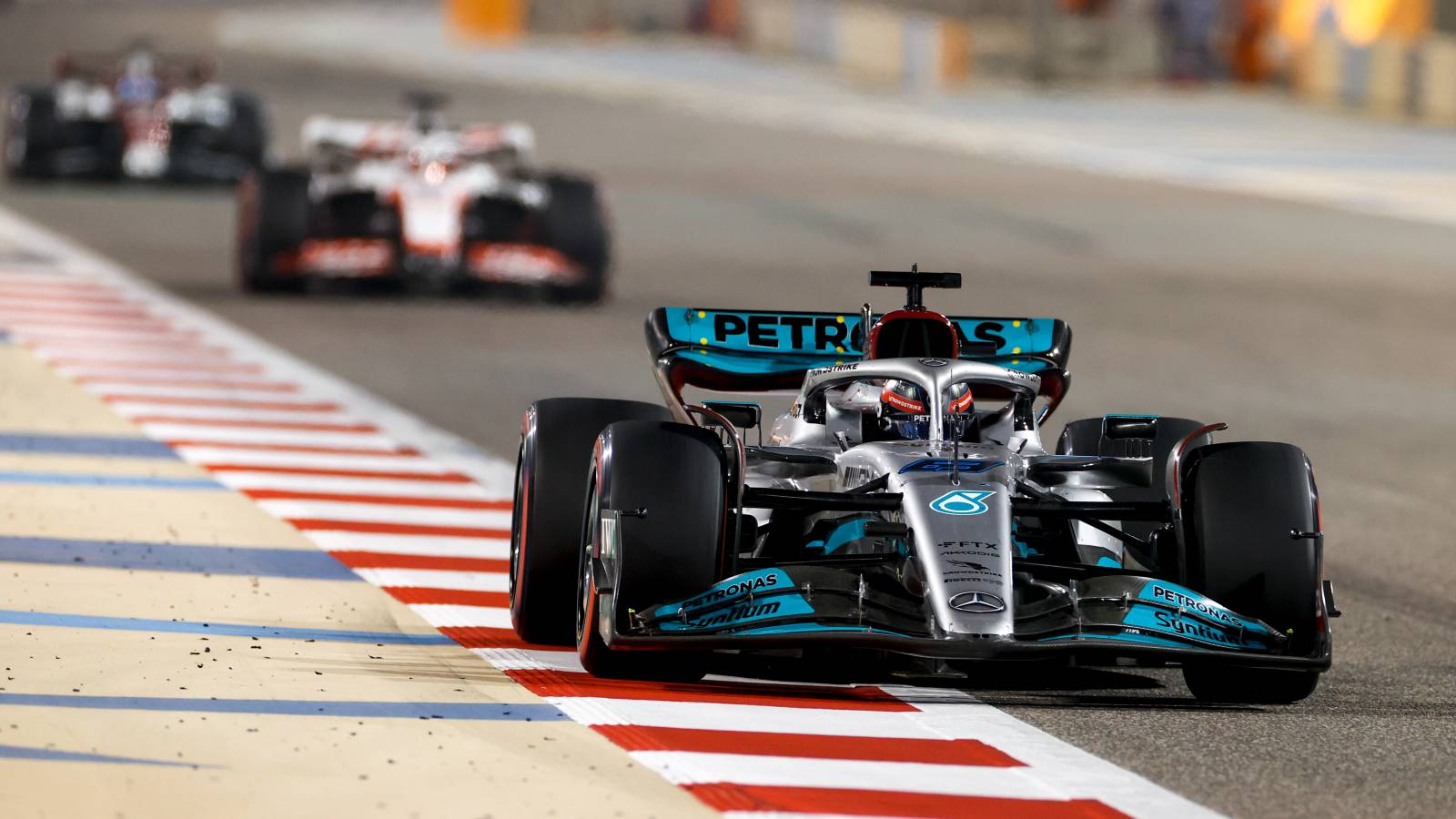 Down in ninth, Russell would – as though time had stood still – start his first grand prix as a permanent Mercedes driver from the exact position he finished his famous stand-in appearance for the team at the same venue in 2020.
And his place alongside Hamilton on the third row of the grid would be taken by none other than the driver he replaced – the symbol of Mercedes' future upstaged by the well-known face from their recent past.
That a rivalry with Russell even existed at all reflected poorly on Bottas, who despite driving a car at the opposite end of the grid in 2021 found himself under attack from the then-Williams driver at Imola before their dramatic crash at a time his grip on the second Mercedes seat was weakening.
Bottas knows more than most about how one's mistakes and shortcomings can be brutally exposed and exploited at the front, a driver of supreme skill often made to look distinctly average by the astonishing achievements of Hamilton in the same car.
When Hamilton's recent dominance of F1 was at its peak across 2019 and 2020, Bottas almost inevitably found himself becoming the centre of the frustrations of fans desperate for someone to put up some sort of resistance.
His importance to the success of the team was often underestimated, his performances occasionally ridiculed.
"It's consuming, five years of trying to beat Lewis," he tells Mercedes boss Toto Wolff – that hearty laugh of his unable to conceal the gravity of his words – in the latest series of Netflix's Drive to Survive, over a dinner with the air of a difficult breakup conversation.
"It's not easy."
Even Bottas himself knew deep down that it was time for a fresh start and as he made his debut for Alfa Romeo in Bahrain there was a sense he had grown in stature and perceptions of him had pirouetted.
No longer was he the uninspiring wingman but the confident and reliable team leader, providing the sense of direction Alfa had been desperate for, mentoring rookie team-mate Zhou Guanyu and relishing the role of the plucky underdog he, like Russell, had once enjoyed at Williams.
Outqualifying his replacement on debut for his new team was exactly the kind of moment his classic "to whom it may concern" radio retort was made for.
And while his poor start from sixth – caused by a clutch vibration and leaving him 14th at the end of the first lap – threatened to waste his qualifying result, Bottas's recovery to ultimately finish where he started demonstrated a resilience he was routinely accused of lacking at Mercedes.
Bottas's best days may well be behind him but in leading Alfa's first double-points finish for 18 months – with Zhou claiming the final point on his F1 debut, the team scoring almost as many points in one race as they did in the whole of 2021 – it is already obvious he still has much to offer.
Russell's greatest moments, meanwhile, are yet to come and his own recovery to P4 in the race was solid if unspectacular.
After making up two positions at the start, Russell gained another when Kevin Magnussen locked up at Turn 1 on Lap 5 and took two more when both Red Bulls retired shortly before the end of the race.
But an early indication of the scale of the mountain he must climb could perhaps be found in the fact he was nearly 15 seconds behind Hamilton prior to the late Safety Car, having lost time to his team-mate by taking too much from his hard tyres at the beginning of the second stint.
Russell was clearly signed by Mercedes as the heir to Hamilton, the driver to lead the team for the long term when the seven-time World Champion eventually retires.
So impressive was his three-year scholarship at Williams that some drew comparisons between Russell and Charles Leclerc, the winner in Bahrain, who soon stole the balance of power from four-time title winner Sebastian Vettel after joining Ferrari at the start of 2019.
Unlike Vettel then, however, Hamilton – winner of three of the last four races of 2021, including one of the all-time great F1 victories in Brazil – was not mortally wounded when partnered with a vibrant young driver, despite the bitter taste left by the nature of his dethronement in Abu Dhabi.
These, of course, are very early days.
But for as long as they remain weak it is perhaps only natural that Mercedes might gravitate towards and rely on Hamilton – as the vastly more decorated, experienced and proven of the pair – to keep them in contention at least until they begin to unlock the full potential of the W13.
As Bottas, free from living in Hamilton's shadow, makes an instant impact at Alfa, the Russell Revolution may have to wait a little while yet at Mercedes.
Russell reveals more worrying signs at Mercedes
George Russell has revealed more worrying signs for Mercedes.