Villeneuve v Pironi: F1's most underrated rivalry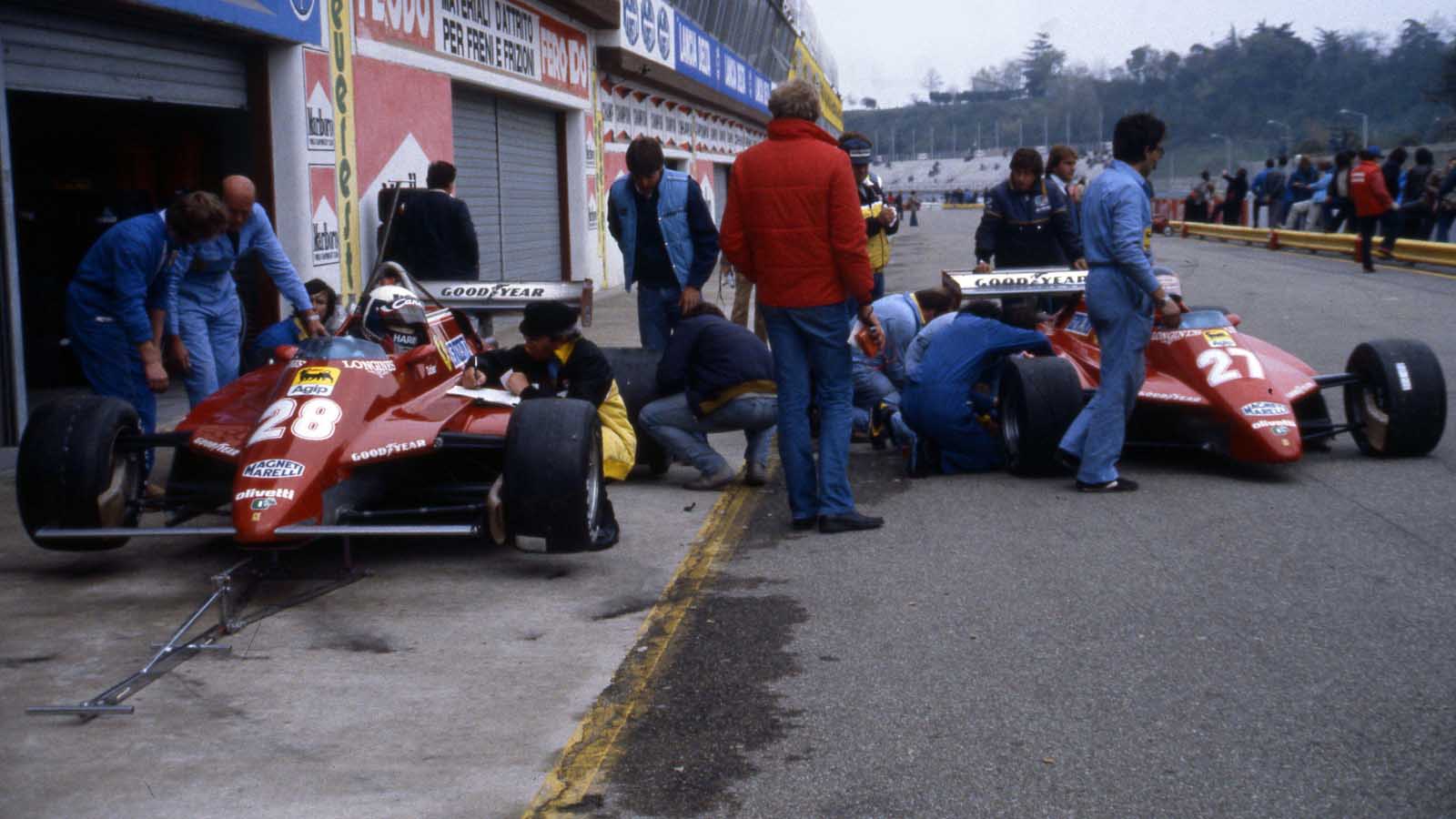 As the 40th anniversary of the death of Gilles Villeneuve approaches, it is easy to understand why the Ferrari icon's feud with team-mate Didier Pironi is something of an afterthought in the debate surrounding Formula 1's greatest rivalries.
For starters, Villeneuve and Pironi have yet to receive the Hollywood treatment afforded to Ayrton Senna and Alain Prost and, likewise, Niki Lauda and James Hunt, bringing their story to the attention of a broader audience (that, happily, is set to change later this year when a new documentary is scheduled for release).
The other reason, regrettably, is rather more blunt: it didn't last very long at all.
Unlike Senna-Prost, which raged from the day the pair crossed paths for the first time at the 1984 Race of Champions until the moment Prost vacated an F1 car for the last time nine years later and ceased to be a threat to Senna, only 13 days passed between the bitter ignition of Villeneuve-Pironi at the 1982 San Marino Grand Prix and Villeneuve's tragic end at Zolder.
Cut painfully short it may have been, but such was the sheer poison that permeated through Ferrari during that brief period that its compression into a single blazing act really shouldn't count against it.
Villeneuve versus Pironi, Pironi versus Villeneuve, was a rivalry to transcend sport – not lost in the minutiae of motor racing, of crashes and wars of words about open doors suddenly closing into corners, but a study of human nature.
It is a tale not just of betrayal, but also of the blind fury that grows within and quickly consumes and contorts the betrayed. As rivalries go, surely it is the yardstick by which all others should be judged.
You know the story. After the last of the fast but fragile Renaults retired at Imola, the Ferraris held a commanding lead at their home circuit, Villeneuve in first and Pironi in second.
At that point in history Ferrari's approach to team orders was relatively straightforward, the only rule of note being that whenever the cars found themselves in first and second, the order in which they finished would be the order they held when assuming the front two positions.
With Ferrari's 'slow' sign – code for 'hold position' – hanging from the pit wall Villeneuve, under the impression the race was won, eased his pace to protect the cars from unnecessary strain and save fuel.
Pironi, though, had other ideas. His initial attempts to seize the lead were interpreted by Villeneuve and many onlookers as a crowd-pleasing willingness to put on a show, though Villeneuve was soon perturbed by Pironi's tendency to increase the pace whenever he was ahead.
Routinely they swapped positions in the closing stages, each exchange harsher than the last, and the order appeared to have finally steadied itself when Villeneuve repassed into Tosa with less than two laps remaining.
But on the last lap, at the very last overtaking spot, Pironi slipped past at the part of the track that now bears Villeneuve's name to steal the victory. There would be no way back from there.
Having been persuaded by his wife Joann – who had long been suspicious of Pironi, not least after the Villeneuves had not been so much as invited to his wedding where Ferrari sporting director Marco Piccinini had been best man – to face the podium ceremony, Villeneuve marched straight to his helicopter and flew home to Monaco without uttering a word.
"I left because otherwise I would have said some bad things," Villeneuve later told his friend, the esteemed F1 reporter Nigel Roebuck.
"He was there, looking like the hero who won the race and I looked like the spoiled bastard who sulked… I haven't said a word to him and I'm not going to again – ever! I have declared war. I'll do my own thing in the future. It's war. Absolutely war."
Carrying that resentment into the Belgian Grand Prix two weeks later Villeneuve, in his determination to beat – no, obliterate – Pironi in qualifying, collided with the slow-moving March of Jochen Mass and was flung from his cockpit in the ensuing accident. Ferrari's favourite son had been taken at the age of 32.
The greatest stories all have fascinating footnotes and the details adding extra layers to this rivalry, on both sides of the divide, are particularly poignant.
Villeneuve's son Jacques would go on to become World Champion in 1997, but in his own F1 career he sought to distance himself from the romantic narrative of finishing what his father had started.
"No, I'm not carrying on my father's legacy," Jacques, ever the contrarian, once said in that abrupt manner of his. "A lot of people would like to hear that, but I'm not going to say it just to make everyone happy."
In the aftermath of Zolder, meanwhile, Pironi briefly became the centre of Ferrari's universe and led the Drivers' standings with five rounds of the 1982 season remaining.
Yet his own F1 career would come to a thunderous end at Hockenheim in August, Pironi suffering devastating leg injuries after crashing into Prost's slower Renault in wet conditions in an incident with spooky parallels to that which claimed the life of Villeneuve.
Unable to return to racing, Pironi turned to powerboats to satisfy his competitive urges and was killed, aged 35, when his boat capsized during a competition off the Isle of Wight in 1987.
Pironi's partner would later give birth to twin sons, Didier and Gilles, the latter working in F1 today as an engineer for eight-time Constructors' Champions Mercedes.
Often with Villeneuve you are left with the impression, in the nicest possible sense, of a boy who never grew up – evident not only in his unquenchable thirst for speed but in the manner he conducted himself, totally trusting and blissfully innocent almost to the point of naivety.
In the aftermath of Imola, Villeneuve recounted to Roebuck all the occasions he had dutifully followed Ferrari's 'slow' instruction, most memorably when he shadowed Jody Scheckter from start to finish at Monza in 1979 to help his team-mate win the World Championship.
If Scheckter's title-clinching victory on Italian soil was the equivalent of the winning goal in a cup final, Villeneuve's contribution was as close to an assist as you are likely to find in motor racing.
"I hoped like hell he would break!" he admitted. "But I never thought of breaking my word. I know all about team orders at Ferrari."
Villeneuve's preparedness to play the team game, even when it harmed his own aspirations in what fate dictated to be his only shot at the title, cut to the heart of why Pironi's act of war was so utterly incomprehensible to him three years later.
If Pironi's crime at Imola was to listen to the devil sitting on his shoulder, Villeneuve had only ever had angels singing in his ears.
In a sport in which competitors are conditioned to identify and exploit each other's weaknesses Villeneuve – whose respect for Pironi could be found in his plea to the media to "go easy" on him following a major testing accident at Paul Ricard in early '82 – carried himself with a certain selflessness and integrity when it made for a simpler life to have none at all.
For an indication of how he struggled with the emotions he felt after Imola, how hatred came so unnaturally to him, look no further than an anecdote relayed by Gerald Donaldson in his biography Gilles Villeneuve: The Life of the Legendary Racing Driver.
After Villeneuve landed his helicopter at Fiorano in the aftermath of Imola for a meeting attended by both drivers in Enzo Ferrari's office, Pironi walked by and greeted Villeneuve.
Momentarily forgetting his team-mate was now his sworn enemy, Villeneuve nodded and responded – "salut!" – before, upon remembering his vow to never speak to him again, cursing himself for acknowledging Pironi.
More than anything it paints the picture of one of life's pure souls, pushed into a position his personality was never equipped to handle.
"Imola was about more than stealing a win," Roebuck, writing for F1 Racing magazine in 2019, quoted an unnamed F1 figure as saying. "Pironi knew what effect it would have on someone of Gilles' mentality, and wanted to undermine him."
The flame that burns twice as bright burns half as long. In the case of Villeneuve, that sentiment applies to the man, the driver and the rivalry that defines him.