Honda: From GP2 engine to powering a World Champion
Honda's official involvement in Formula 1 ended, at least for now, with Red Bull's Max Verstappen clinching the 2021 World Championship in Abu Dhabi.
Once again there is a great sense, shared by Honda F1 boss Masashi Yamamoto, that the Japanese manufacturer – having last quit F1 at the end of 2008 only to see their team, rebranded as Brawn GP, storm to the 2009 title – have left too soon.
Here, we tell the tales of Honda's misery with McLaren and their subsequent rise with Red Bull through the major highs and lows of their latest F1 stint.
Low: Alonso's 2015 testing crash
The first major mistake of the mutant McLaren-Honda era was the engine manufacturer's decision to return to F1 in 2015, a year into the V6 hybrid era, putting them at a standing start behind Mercedes, Ferrari and Renault.
With a blindingly ambitious size-zero concept, a woeful winter of recurring reliability problems and poor pace set the tone for three years of frustration, with the nadir coming on the final day of the second of three pre-season tests in Barcelona.
Mystery still surrounds the circumstances of Fernando Alonso's crash at Turn 3, but whatever the cause the two-time World Champion's concussion ensured Honda would commence their comeback without their star signing from Ferrari.
Not that Alonso would have minded too much as reserve driver Kevin Magnussen failed to start in Australia as Jenson Button finished two laps down…
High: Gasly's Bahrain breakthrough
2 years on from @PierreGASLY bringing it home in Bahrain 🙌🏻👊🏻 Check out #NotTheBahGP & #VirtualGP LIVE from 18:00 GMT tonight 🏁@F1#PoweredByHondapic.twitter.com/SGuEM2He0R

— Honda Racing F1 (@HondaRacingF1) March 22, 2020
Honda's crowning glory would ultimately come with Verstappen but perhaps it was Pierre Gasly who was their true poster boy.
After all, it was he who after winning the GP2 title was sent to Super Formula in Japan to establish a relationship between Red Bull and Honda in 2017, with Gasly's first full F1 season in 2018 coinciding with Honda's trial period at Toro Rosso.
As McLaren quickly came to realise Honda weren't responsible for all their ills, Gasly finished fourth from sixth on the grid in Honda's second race with Toro Rosso in Bahrain.
Red Bull's minds were made up and their own switch to Honda power for 2019 would be confirmed within months.
Low: GP2 engine
Honda's comeback clearly hadn't gone to plan but there was still a sense of pride as they returned to race at their own circuit for the first time in nine years in September 2015.
Restricted to two points finishes in 13 races, however, Alonso was in no mood for backslapping at Suzuka – and, in his eyes, what better time to jolt the Japanese into action than at Honda's home race?
"I'm being passed down the straights like a GP2. Embarrassing, very embarrassing," he sighed as soon as the sixth lap before, on Lap 27, he detonated the bomb.
"GP2 engine! GP2!"
Alonso had effectively dropped his trousers at a family gathering and it was the moment, on this of all days, the great hope of McLaren-Honda marked himself as an enemy within.
High: Verstappen's Austria 2019 victory
A podium in their first race together provided instant proof that if Red Bull had taken a gamble on Honda, they certainly wouldn't be any worse off than with Renault power and would only improve.
The first F1 win for a Honda-powered car since 2006 came, fittingly, at the Red Bull Ring, where Verstappen's dreadful start from second on the grid dropped him to eighth on the opening lap while creating the conditions for a fine fightback.
With a significant tyre advantage and permission to run the engine at its highest setting in the sweltering heat, Verstappen hunted down leader Charles Leclerc, making the move three laps from the finish.
Despite winning their home race for the second successive year, Red Bull recognised this was Honda's day with technical director Toyoharu Tanabe sent to the podium to join Verstappen, who pointed to the "H" on his chest with pride.
Low: The Deckchair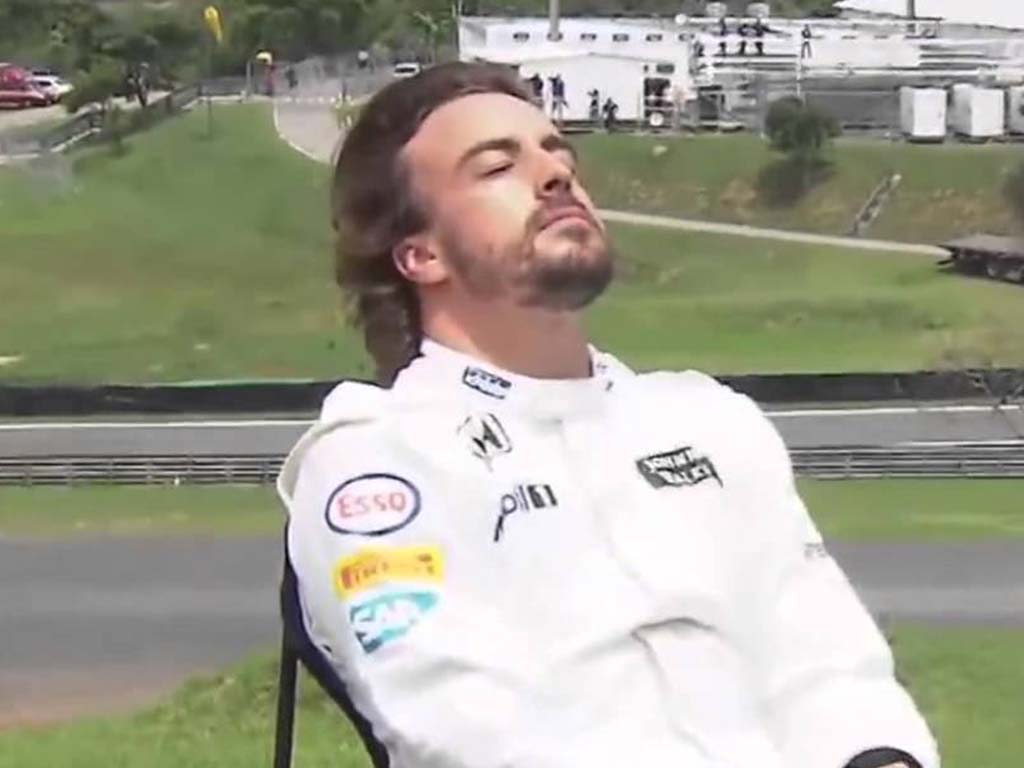 Seven weeks after Suzuka came another emblem of the McLaren-Honda era in Brazil qualifying, where after another mid-session stoppage Alonso decided against a hike back to the pits in favour of a deckchair.
It was the stuff memes were made of as Alonso sat, eyes close and head upturned, to catch some rays, using his crash helmet as a makeshift footstool and at one point turning to wink at the television cameras.
When he did return to the paddock Alonso didn't miss another photo opportunity, sneaking onto the podium along with team-mate Button for a mock celebration. The irony, a decade after he was crowned World Champion for the first time at Interlagos, was not lost on anyone.
Places Alonso would rather be? Anywhere but here.
High: Verstappen wins Brazil 2019 as Gasly outdrags Mercedes
The first glimpses of what Verstappen's rivalry with Lewis Hamilton would grow into were seen in 2019, the latter triumphing in tight battles in Monaco and Hungary.
But high-altitude conditions were a performance equaliser in Brazil, where a race two years ahead of its time took place.
Twice Verstappen overtook Hamilton into Turn 1 – the second a beautifully judged swing around the outside – to claim his most complete win yet, but a visible indication of the progress Honda had made came on the last lap as Hamilton exited the final corner side by side with Gasly.
Surely the might of Mercedes would blow away the tiny Toro Rosso in a straight fight?
They were separated by inches as they charged up the hill towards the finish line, but Honda's adopted son held on – almost unbelievably – to secure a one-two.
Low: Testing times in 2017
McLaren had been sustained through a stablising 2016 by the promise of a fresh start under new aerodynamic regulations – and a redesigned Honda engine – in 2017.
But if both parties blundered through a bleak winter in 2015, 2017 represented a whole new low.
Severe vibrations shook the powertrain to repeat shutdowns and meant McLaren started the season yet to complete more than 11 laps in succession and now actively looking to end the relationship.
It was, as ever, Alonso who delivered the immortal line midway through the second of two tests in Barcelona: "There is no reliability and there is no power."
And the positives, Fernando?
High: Victory at Monza
In the darkest days of the McLaren partnership Honda would head to the Temple of Speed with much trepidation.
The engine was unable to harvest enough energy to then deploy down the longest straights, meaning the McLarens would be significantly down on power compared to the opposition beyond a particular point.
That was the prism through which Gasly's glorious win at Monza 2020 had to be viewed from a Honda perspective.
It owed a great deal to fortune, no doubt, but Honda had won at Monza – Monza! – and in doing so became the first engine manufacturer to power two different teams to grand prix victories in the hybrid era.
Low: Pouhon confusion
Honda's split from McLaren would be announced in Singapore in September 2017, but three weeks before the confirmation came one last comedy moment.
Alonso was on course to make the top 10 in Spa qualifying when he suffered a strange loss of power on his final Q2 effort, forcing him to abort the lap.
It soon transpired that the Honda engine, which calculated where it was on track by the driver's throttle inputs, was confused by Alonso's commitment in taking Pouhon flat for the first time and didn't deploy when it should have done.
For years people had been adamant Alonso was too quick for his machinery; at Spa that was literally the case.
High: World Champions
There was slight concern when it emerged Honda – having announced their withdrawal from F1 in October 2020 – would be going all in on 2021 by fast-tracking an engine design originally intended for 2022.
Honda had been here before, shooting for the moon and landing somewhere between embarrassment and disaster. But going head to head with Mercedes and winning was a measure of their growth in self-confidence and stature.
As the season progressed it seemed implausible that Honda wouldn't eventually be worn down, but instead it was Mercedes who displayed vulnerability, Hamilton and Valtteri Bottas taking several engine-related grid penalties in the second half of the season as Verstappen was limited to one.
Red Bull perfectly harnessed Honda's potential, offering a degree of dignity and respect – reflected in that perfect tribute livery in Turkey on the weekend F1 had been scheduled to race at Suzuka – denied by an McLaren team impatient and under pressure to remain relevant after years of underperformance.
If Honda gave Red Bull the power to finally challenge for the title, Red Bull's gift to Honda was simply empowerment.
In Verstappen, Honda found a fine ambassador and if the circumstances of his title triumph in Abu Dhabi left a bitter taste, it marked the summit of the mountain for the manufacturer lapped twice on debut by Hamilton's dominant Mercedes in Australia 2015.
Some journey, eh?