The Second American Revolution: How Formula 1 finally cracked America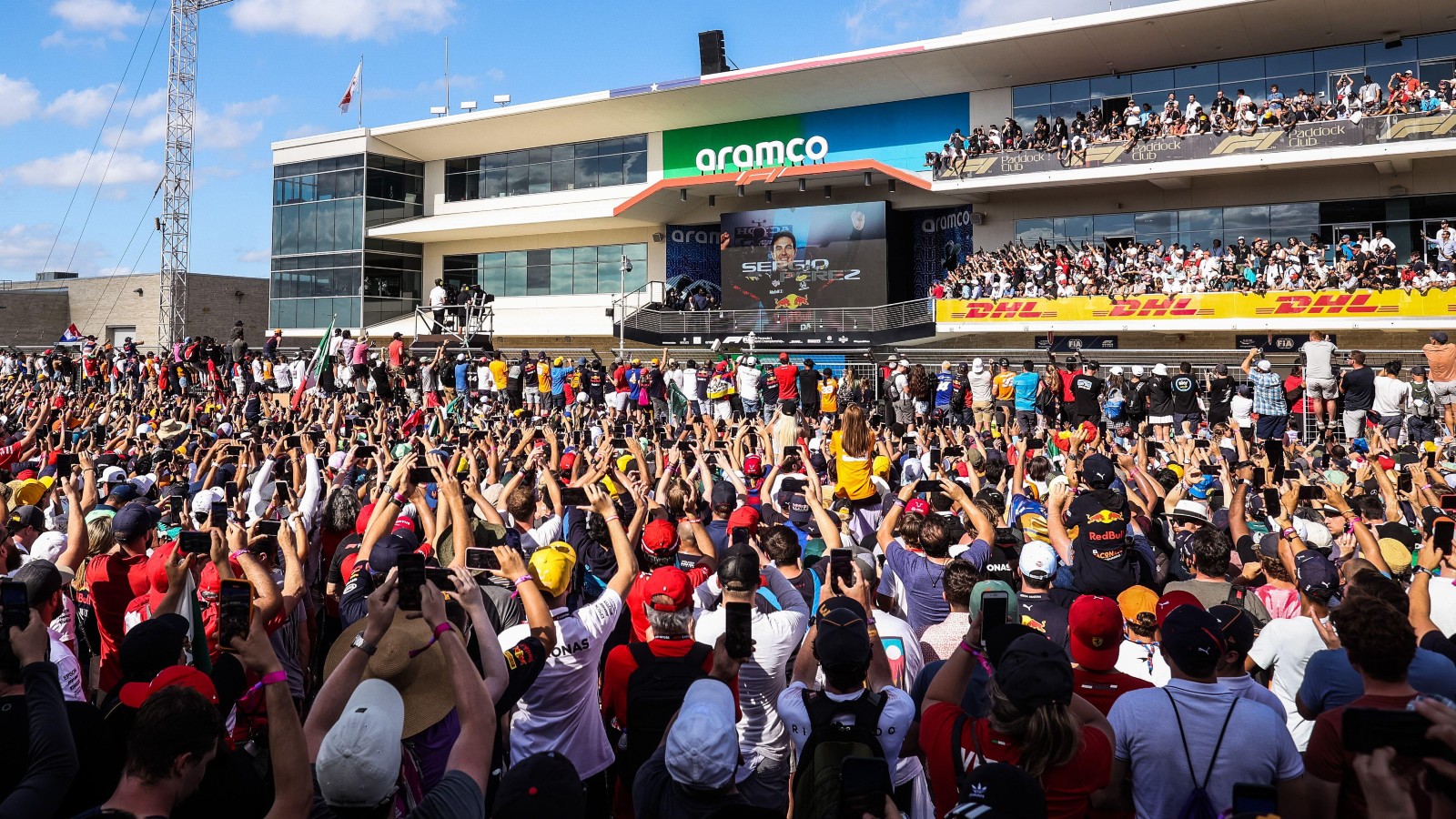 American interest in Formula 1 is at an all-time high and with three US races in 2023, there is no sign of it slowing down any time soon.
In 2016, the average number of American viewers to a grand prix was 429,000. Six years later, that figure has more than doubled to 953,000.
The growth in the United States has been unlike anything seen in the sport before. 2.6 million viewers tuned in to watch the inaugural Miami Grand Prix in May and more than 400,000 people are expected to turn up for this weekend's race in Austin with all three days sold out.
This would have seemed unthinkable even a decade ago. The race in Texas has been on the calendar since 2012 but F1 remained firmly behind the likes of the NFL, NBA and MLB when it came to capturing American interest.
Breaking America is no easy feat, see any British band from the past two decades, but from the onset of Liberty Media's $4.4 billion (£3.3 billion) acquisition of the sport in 2017, it was one of two markets they identified as largely untapped.
"From the minute that I started, it was direct that the two core strategic growth markets were the US and China," Emily Prazer, Chief Commercial Officer of the Formula 1 Las Vegas Grand Prix told PlanetF1.
"China we had unbelievable momentum up until COVID and the US was always a massive and obvious discussion point.
"It's a huge market. It's one of the fastest growing markets in sport, generally speaking. You have American owners that consistently tell you that they want to rival the Super Bowl and I think this [the Las Vegas Grand Prix] is the event that will rival the Super Bowl."
The comparative lack of interest Stateside in previous regimes was not for the want of trying. Six different venues have hosted the United States Grand Prix since 1958 but the nation had not been gripped in the manner it is now.
For Prazer, it was clear what the best method of grabbing attention was.
"I think first and foremost, where you're racing with the destination cities is an obvious starting point," she said as she works to get Las Vegas ready for its first race of a 10-year contract in 2023.
"I think the fact that they're all very unique in their own way and the fact you've got three mega powerhouses marketing it, is how you get Americans interested as a fundamental point.
"Then speaking from a Vegas point of view, the partners that we have, whether it be the Las Vegas Convention authority, whose job is to drive visitation to Las Vegas, marketing and talking about Formula 1 all over the world, is incredibly powerful.
"[Co-promoters of the racer alongside Liberty Media] Live Nation in itself, and how they market events globally and tapping into their marketing strength has been quite big. And then you've got the casinos that have got north of 40 million people on each of their databases talking about the sport. It has been nuts.
"I think it's all of this massive combination of the power of the Miami Dolphins and what they're doing in Miami, the power of what they're doing in Texas and then you've got Vegas, and the combination of them all is going to grow the sport, all tides rise."
As well as the efforts Formula 1 have made, one of their smartest moves was to make the drivers and teams more accessible, breaking down the barriers of previous years that stopped fans from engaging with the 20 drivers driving round the track.
To that effect, there has been an almost big bang event that can be used to measure F1 interest before and after: Netflix's Drive to Survive.
The series, which first broadcast in 2019, has been revolutionary in attracting new viewers to the sport by allowing them to follow the narratives and storylines (some of them with a healthy dose of creative licence) across a season in 10 one-hour episodes.
Netflix had previously been tight-lipped about how many viewers were tuning in but following season four's release, which documented the 2021 season, they revealed that it debuted as the number five show on the streaming platform with more than 28 million hours viewed in just five days.
The following week, the first full week of availability, it was up to fourth with just over 29 million hours.
This impact has had a knock-on effect in the country as a whole. In June, Sports Business Journal reported that ESPN had struck a deal worth $75-90 million per year to retain their broadcasting rights through to 2025, a staggering increase from the $5 million per year they currently pay.
F1's Twitter account has more than doubled its followers since 2018 to 8.6 million and the 2021 Abu Dhabi Grand Prix drew a audience of 108.7 million compared to the 2021 Super Bowl which saw 101 million viewers tune in.
Liberty Media also reported a $200m+ revenue spike in August of this year.
Prazer acknowledged the hit series' impact but also took time to praise the Circuit of The Americas (COTA) for laying the groundwork.
"COTA is incredibly important," she said. "They've set the foundation and no one can forget how important they've been to the sport. Without them, we wouldn't all be here.
Next up: The Formula 1 Aramco United States Grand Prix! Get ready for the biggest party of the year at Circuit of The Americas. #USGP #COTA10 🇺🇸 pic.twitter.com/MgPUSVTZdH

— Circuit of The Americas (@COTA) October 10, 2022
"They've spent 12 years educating the market as to what F1 is and really investing in it and showing the growth of the sport in real time.
"Obviously you have the Netflix effect, which everyone knows. Then you've got Miami and partnering with the [Miami] Dolphins was such a significant fork in the ground to show on the East Coast what we can do.
"If you've got Texas, East Coast then we have to do something on the West Coast and Vegas is just the city to do it. I don't think that you could ask for three better locations in America to have three races."
The Las Vegas Grand Prix will be the culmination of years of work to not only engage an American audience but to get them hooked.
To have three races in one country in a single year, let alone in the US, would have seemed by many as a challenge too far when Liberty Media took over but, five years on, the mission has been accomplished.
"It's a complete transformation," Prazer says of the company now having first joined a year after Liberty Media's acquisition.
"But I think I've never really worked in an organisation that trusts their employees the way Formula 1 does.
"We come up with these wild ideas, and whether it was [former CEO] Chase Carey and [former managing director] Sean Bratches and now [current CEO] Stefano Domenicali, they tend to support it quite significantly.
"When we first said maybe 'the Vegas thing is a good idea', [they said] 'okay, go and figure it out.'
"The fact that we're here with a significant investment, it's insane. So generally speaking, it's [F1] changed a lot.
"Chase and Sean set an unbelievable foundation, now we're in execution mode."