Conclusions from the Hungarian Grand Prix
Esteban Ocon was the biggest beneficiary of a rain shower that turned F1's last race before the summer break upside down.
Here are our conclusions from a gripping Hungarian Grand Prix on another day when everything went wrong for the Red Bull team.
Ocon and Alpine reach the summit
I don't know what to write I'm lost for words, we just won the Hungarian @f1 Grand Prix i will forever remember this moment !!🔥
Thank you to @AlpineF1Team without them I would not have make it, and what a drive by the legend himself @alo_oficial he's part of this too 🔥 #P1 pic.twitter.com/PpbyTOD4oL

— Esteban Ocon (@OconEsteban) August 1, 2021
Races like this only come along once or twice a year, if that, and when they do, they simply have to be enjoyed, whatever your allegiance.
Let's start with the winner. On a grid full of established superstars, likely future champions and other famous names, Esteban Ocon is not a driver that usually captures the headlines.
He has plenty of doubters too, those who wonder why he has maintained an affiliation with Mercedes and Toto Wolff, even if George Russell has got ahead of him in the pecking order for a race seat with the World Champions.
But there is a fair amount of evidence available that the Frenchman is more than just a nice, friendly guy, which is how he comes across in his media interviews.
Second in last year's Sakhir Grand Prix and initially a match for Fernando Alonso when the Spaniard joined Alpine at the start of this season, Ocon's fortunes dipped after he had been given a new three-year contract by the team in June.
However, the last two races indicate that was more car than driver-related, for the 24-year-old has bounced back to form in style since being given a new chassis.
Luck was on his side here, no question. We will discuss what happened in the first few laps further down, but once he had put himself into position to take advantage there was no question Ocon was a thoroughly deserving winner who did everything that could be asked of him.
His celebrations were unusual, running down the pit lane to join his team having parked up in the wrong place (which earned an FIA reprimand), but if anything it made them even more endearing to watch.
As ever when you have a shock victor in Formula 1, you have to wonder whether they will get to savour such moments again.
The sport has plenty of one-win wonders – 34 in total now – but having been harried by a four-time World Champion in Sebastian Vettel for the vast majority of the 70 laps, Ocon can look back at Hungary 2021 with huge pride even if he never reaches the summit of the podium again.
Get the new look Alpine merchandise via the official Formula 1 store
Alonso's now a true team player
Of course, Ocon's triumph was helped in no small part by Fernando Alonso, a man who has always been known for putting the team's greater good before his own individual interests.
That's said with tongue in cheek, of course. But three days after he turned 40, the age when life is meant to 'begin', Alonso showed he is very much a team player these days by fulfilling a vitally important role out on track.
Alonso made life as difficult as he could for Lewis Hamilton to pass him for fourth place while the World Champion was launching what he hoped would be a race-winning charge on fresh medium tyres.
Daniel Ricciardo recently praised the Spaniard's racecraft and we have seen several examples of it recently, Alonso making his Alpine appear wider than one of those vehicles carrying a portakabin that hogs a lane and a half of the motorway – only several times faster.
For several laps, the Mercedes could not get past and the eventual margin at the chequered flag between Ocon and Hamilton – 2.7 seconds – illustrated just how critical Alonso's stubborn defence had been.
He also waited for his colleague to triumphantly arrive back before giving him a warm embrace, which could hardly have been anything but entirely sincere.
And, of course, there was some happy symmetry. In 2003, it was Alonso, driving a Renault, who won his first grand prix in Hungary. Ocon will hope his career can follow a similar trajectory from here on.
Bottas becomes a wrecking ball
Valtteri Bottas on lap 1 #HungarianGP 🇭🇺 #F1 pic.twitter.com/EALEu6KLEP

— Planet F1 (@Planet_F1) August 1, 2021
Charles Leclerc likened it to a game of skittles rather than the Miley Cyrus analogy you see above. But either way, it just had to be Valtteri Bottas, didn't it?
The summer break has always been the most likely time when the second Mercedes seat for 2022 would be filled, so causing carnage at the start of the last race before the holidays is hardly the way to advertise your claims to be given another contract.
Unless you take out both Red Bulls, that is.
Of course, it was nothing but an accident on a greasy track as the Finn slammed into the back of Lando Norris' McLaren, with a domino effect into Max Verstappen and Sergio Perez. There was similar from Lance Stroll as he added himself and Charles Leclerc to the casualty list.
But if there is a crumb of comfort for Bottas, it's that he inadvertently, through his own mistake, helped Mercedes' World Championship chances considerably.
Still, it has to go down as another blow to Bottas' career prospects – perhaps not just with Mercedes but any team – especially with George Russell having finally, and deservedly, broken his points duck for Williams.
Mercedes make the most of a messy afternoon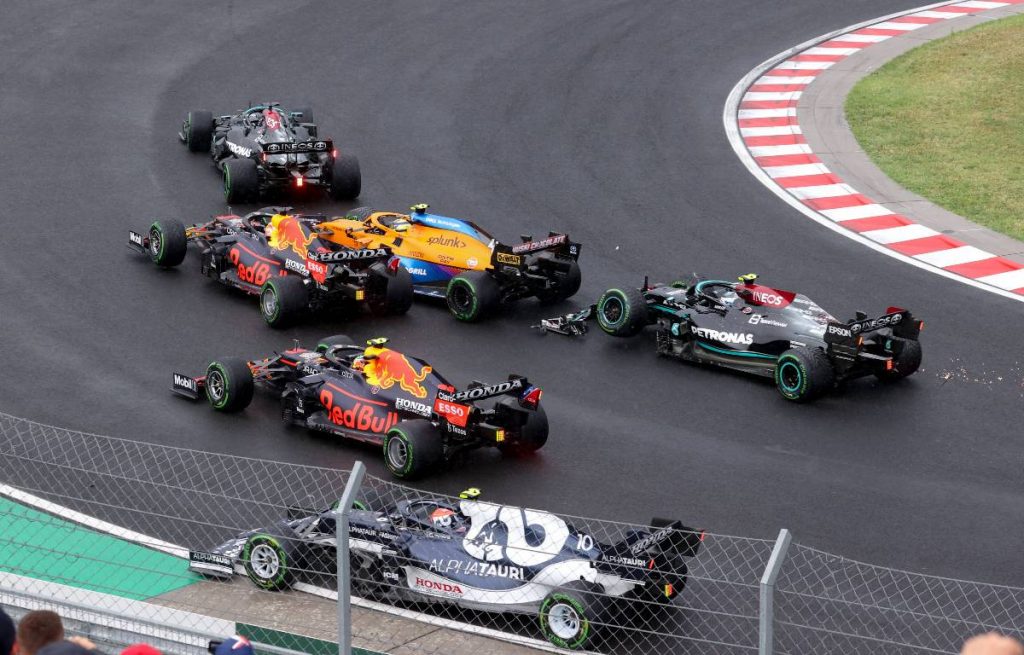 We don't usually leave the World Championship battle this late in the piece, but on a day when some different drivers got a turn in the spotlight we can get away with that.
Victories for AlphaTauri, Racing Point and now Alpine within the last 12 months have invariably been a result of Mercedes messing up. Like last year's Italian Grand Prix, this one came down to Hamilton entering the pit lane at the wrong time – on this occasion too late rather than too early.
It was a bizarre spectacle to see the World Champion line up alone on the grid as everyone else dived in for slicks at the restart following the red-flag stoppage for the opening-lap mayhem.
That decision not to pit at the end of the formation lap undoubtedly decided the race outcome, although it could also have been overcome but for Alonso's determination in those thrilling final few laps.
It will go down as another positive day championship-wise for Hamilton and Mercedes though, and one that could still get even better if Aston Martin fail in their appeal to get Sebastian Vettel's disqualification for a fuel offence overturned.
From being in a commanding position after sprint qualifying at Silverstone, Red Bull are now well and truly facing an uphill battle and they have lots to ponder over the next three weeks before battle recommences at Spa.
Well done, Williams
*Ten points. https://t.co/8SjF3a40qI

— Williams Racing (@WilliamsRacing) August 1, 2021
We cannot go without saying a huge congratulations to Williams and especially Nicholas Latifi, who could end up classified seventh if Aston Martin fail in their appeal against Vettel's disqualification.
The Canadian was running third when the whole remaining field bar Hamilton stopped for slicks and he enabled the leading duo to build a gap that safeguarded their positions over the rest of the race.
"Super-happy…coming into this race it's probably not what was realistic," said Latifi about Williams' double points finish.
Ocon would surely echo those words of his own result. It was simply one of those special days.
Jon Wilde