Hungarian Grand Prix driver ratings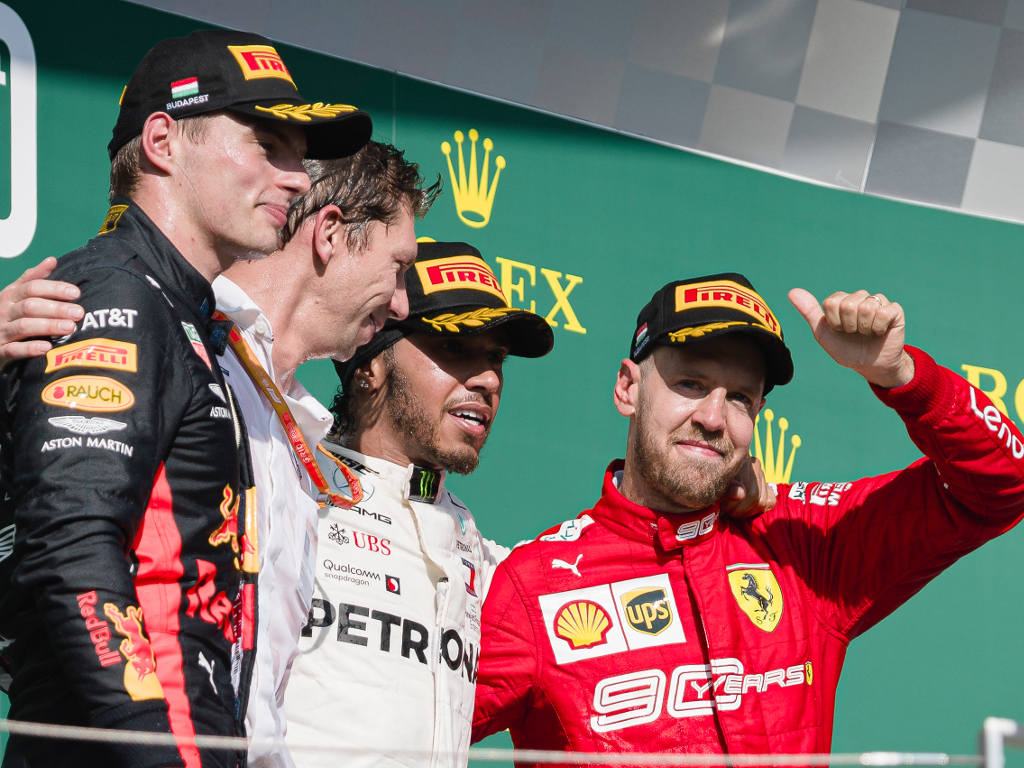 All hail Lewis Hamilton, who together with Mercedes put on an incredible performance at the Hungarian GP to put Max Verstappen in his place.
Sunday's race at the Hungaroring provided F1 fans with a snap shot of today's fiercest rivalry as Hamilton and Verstappen fought from Turn 1 to Lap 70.
The Brit came out tops but P2 in by no means a blight on Verstappen's copybook.
The same cannot be said of Ferrari, a minute down on the race winner.
The scores on the doors, according to Late Braking…
Lewis Hamilton: After a disastrous race at the German Grand Prix, Hamilton needed to come back swinging and boy, is that what he did. With qualifying not going his way, being out performed by his team-mate and Verstappen in the Red Bull, Lewis needed to be the fastest off the line. Immediately challenging the top two with a ruthless attack around the outside, he bamboozled Bottas into submission and set his eyes on the leader.
Attack after attack saw Hamilton threaten the lead, Verstappen defending like a seasoned professional. Eventually, it was the brilliant combination of the Mercedes strategy to stop again and Hamilton's almost impossible pace, setting qualifying lap after qualifying lap to close down a 20 second gap in as many laps to reach Verstappen. On arrival, a deadly swoop around the outside of turn one was all that was required to snatch the victory in the dying laps. A stunning drive. – 10.
Max Verstappen: Starting on pole for the first time and leading from the front in a calm and measured manner, immediately pulling out a strong gap over the chasing pack and looking to take victory by the scruff of its neck. Lewis Hamilton had other plans. Verstappen was pressured time and time again by Hamilton, cruising right up to his rear wing, diving left and right, Verstappen using the perfect amount of aggression to hold off one of the deadliest men on four wheels.
Managing his tyres for as long as he could into the latter stages, it was strategy and Hamilton's fresh pace that lost this one for Max but, entering the summer break, Verstappen has left a lasting impression on fans that he is next man to rule the sport. – 10.
Sebastian Vettel: Feeling revitalised after an incredible come back through the field of his home grand prix last time out, Vettel was looking to capitalise on his new found momentum.
Staying out of trouble in the first lap saw Vettel move past Bottas as he picked up damage and stuck to the tail of his team-mate. With the Ferrari lacking significant pace over its rivals, 3rd was all the Scuderia could fight for. Vettel went for a differing strategy to his rookie team-mate and dived down the inside of Turn 1 in the dying staged to take the final podium spot. It was consistent and it was clean, but the Ferrari team have work to do. – 8
Sebastian Vettel's overtake on Charles Leclerc – Hungary#F1 #Seb5 #HungarianGP pic.twitter.com/ud3Gee2wtr

— Eau rouge (@Insidef1) August 4, 2019
Charles Leclerc: Riding right alongside his veteran team-mate and looking to win back some points after a poor German Grand Prix, Leclerc settled into the race well although the lack of Ferrari pace was evident after less than 10 laps.
Leading Vettel for the majority of the race and keeping things quiet, clean and concise, Leclerc's biggest and only real challenge of the race came when Vettel attacked on a different strategy and fresher tyres. Unable to defend fully, he yielded the position and came home with P4. Ferrari managing to limit the damage after one of their poorest races this season. – 7
Carlos Sainz: In a season where Pierre Gasly has failed to impress the Formula 1 fans, Carlos Sainz has raised his game time and time again. The Hungarian Grand Prix was no exception to this incredible turn of form for the Spaniard. After qualifying behind his team-mate, Sainz had a faster pitstop and capitalised early on in the race.
The biggest challenge arrived towards the end of the race when a flailing Gasly was desperate to get past the McLaren driver and prove himself to those watching. Sainz on incredibly old tyres was able to fend off the Red Bull driver and managed to take home his second 5th place in a row. – 10
Second consecutive P5. That deserves a(nother) song @Carlossainz55 #HungarianGP 🇭🇺 #F1 pic.twitter.com/yjNMZaJRn6

— Formula 1 (@F1) August 4, 2019
Pierre Gasly: It's hard to find a glimmer of light in the performance that Gasly displayed this weekend. Far off the pace of his pole sitting team-mate and the slow pace during the Sunday saw Pierre get lapped by the man in the same machinery.
Slipping down to the back end of the top ten, Gasly couldn't pass midfield runners with any form of ease and was then stuck behind a McLaren which across the season has been significantly slower than the Red Bull. When your team-mate laps the field you at least need to be there to support. Another disaster and I fear time is running short for the Frenchman. – 3
Kimi Raikkonen: The Iceman has quite simply not lost his brilliance and is out classing both his teammate and a lot of the much younger midfield runners. Raikkonen manages to collect solid points for Alfa Romeo and spent a lot of the latter stages of the race holding off an increasingly quick Valtteri Bottas. Kimi was as cool as ice this weekend and is proving to be worth every penny spent. – 8
Valtteri Bottas:One of the drivers who needed a stunning performance before going into the summer break. Toto Wolff said to the media that he will be watching Bottas over the next few races before making a decision on whether he will renew his contract for another year. Beating his team-mate would have been the perfect answer to Toto's concerns, but it was not to be.
Locking up 3 times in the first 2 corners, losing out to Hamilton and then damaging his front wing fighting with Leclerc all but ended any chance of a result for the Finn.
Leclerc y Bottas. #HUNmovistarF1 pic.twitter.com/dMIF6ulnpr

— F1 en Movistar+ (@movistar_F1) August 4, 2019
Mercedes chimed in over the radio "You can easily get 6th keep pushing". Valtteri managed no higher than 8th and was stuck behind Kimi who was in a much slower car. He simply needs to do more to keep his seat next season. – 3
Lando Norris: Losing out to his team-mate in the melee of the first lap, Lando fought hard only to have any progress ruined by a dodgy wheel nut in a pitstop. We saw some vintage Lando entertainment as he challenged the Toro Rosso boys and kept up the good string of performances, sweeping through them and getting himself into the points once again. – 7
Alex Albon: After a fantastic top ten finish last time out and what really should have been a podium which his team-mate claimed as his own, Albon once again managed to move forward in a grand prix claiming the final point scoring position as his own. Crucially, Albon displayed he was able to fight and beat drivers in better cars around him such as
Hulkenberg, Perez, Magnussen and Ricciardo. The rookie is making a name for himself going into the summer break. – 8
Sergio Perez: The SportPesa Racing Point car continues to be a pain in qualifying, but once again it has proven itself to be decent in terms of race pace. Ultimately Perez walks away from the weekend with no points but it was a good recovery from his starting position. – 8
Nico Hulkenberg: The summer break could not have come soon enough for Renault who have had a hard time as of late. Hulkenberg gave himself a good chance of points starting 11th and did the alternate strategy but failed to make the pivotal overtakes to get back into the top 10. – 6
Kevin Magnussen: The problems at Haas continue as their two very different cars continue to give them very different issues. Magnussen struggled in qualifying and was never really in contention for points although he did enjoy a tasty duel with Ricciardo, one that he eventually won. – 6
Daniel Ricciardo sends his regards to Kevin Magnussen after the 2019 Hungarian Grand Prix#F1 #HungarianGP pic.twitter.com/Ah7CPWFooy

— Eau rouge (@Insidef1) August 4, 2019
Daniel Ricciardo: Naturally, no one wants to start last in a grand prix but this is particularly true at a circuit such as the Hungaroring where overtaking is that much more difficult. Starting on the hard tyres was understandable but his second stint was spent behind the exasperating Magnussen. – 6
Daniil Kvyat: Back down to Earth with a bump. Kvyat was riding on cloud nine (or should that be cloud three) after his result at Hockenheim but he failed to add to his points tally here. He was in contention for P10 for much of the second half of the race but fell away in the final laps. – 5
George Russell: A sublime effort in qualifying gave Russell a P15 start in the race. After the probable nose bleed was taken care of, Russell demonstrated his skills by keeping both Lance Stroll and Antonio Giovinazzi behind him. An encouraging weekend for Russell and Williams as a whole. – 8
George Russell is happy that Williams have taken a step forward in Hungary, but he branded the race as "back to reality".

We thought P16 was good considering how 2019 has gone so far.https://t.co/OSJACkzqXZ #f1 #HungarianGP pic.twitter.com/KTAECMU9Vc

— Planet F1 (@Planet_F1) August 4, 2019
Lance Stroll: Whereas Perez managed to make progress after a Q1 elimination, Stroll could not match the feat and had to stare at the back of a Williams for much of the race. – 5
Antonio Giovinazzi: Given a three-place grid penalty thanks to impeding Lance Stroll, Giovinazzi failed to get a good start to the race and was stuck in traffic, namely George Russell and ironically, Lance Stroll. It's been a mixed bag so far for Giovinazzi but this was one to forget. – 5
Robert Kubica: I don't think anyone had Kubica down to match his top 10 display from Hockenheim last weekend and unsurprisingly he found himself adrift at the back. Whilst this has been excusable at many races this year, Russell was actually able to fight with a few other drivers which doesn't reflect well on the Pole. – 6
Did not finish
Romain Grosjean: After such an encouraging qualifying session on Saturday, Grosjean's weekend only went downhill from there as he continually lost positions throughout the race. The dismal afternoon came to an end when he became the one and only retirement from the GP. – 5
LAP 53/70

Unfortunately it's a retirement for Grosjean

He returns to the Haas pits 😔

19 cars still running #F1 🇭🇺 #HungarianGP pic.twitter.com/b7sOfDY98z

— Formula 1 (@F1) August 4, 2019
The Hungarian Grand Prix driver ratings are courtesy of the good folks at Late Braking. You can check them out in the following places:
Subscribe to Late Braking on YouTube
Follow Late Braking on Twitter