Seven, the number of World titles. Nine Constructors' Championships won. 114 times the top step of the podium belonged to them and in 128 qualifying sessions one of their drivers took pole position.
Those numbers belong to Williams, one of the longest serving privateer teams in Formula 1 and the sport's third most successful team ever.
Sadly, it doesn't look as if they'll be adding to those any time soon, definitely not this year and 99% not the next either.
Having taken a wrong turn last season with the philosophy of their FW41, Williams hoped that this year's car would be a step in the right direction, after all the only way is up.
But while Williams may be claiming that the FW42 is a better car, the numbers suggest otherwise.
Last year Lance Stroll made it into Q2 in Australia and finished on the same lap as the race winner. This year, George Russell was P19 with Robert Kubica P20 in qualifying, and on race day they were two and three laps down.
In 2018's Bahrain GP neither Williams progressed out of Q1 but the slowest, Stroll, was 2.4s slower than the pole position man while both finished the race a lap down. Two weeks ago the slowest, Kubica, was 3.3s off P1 and he crossed the line two laps behind the race winner.
Not exactly encouraging is it?
Faced with a growing disaster, not that many believed it could get any worse, Williams have brought back team founder and former technical boss Patrick Head.
The 72-year-old, who played an integral role in the championship heydays of the 1980s and 1990s, may have retired back in 2011 but he remains a shareholder of the team and is now "offering some support to our engineering team on a short-term consultancy basis."
Finally a little bit of good news for Williams…

The legendary Sir Patrick Head is back working for the team as a consultant.https://t.co/wtjPs1MqLK #F1 pic.twitter.com/3oUDJ96EnK

— Planet F1 (@Planet_F1) March 29, 2019
He's filling the gap left by former tech boss Paddy Lowe who took a "leave of absence" after Williams failed to put a car on the track in the opening two days of pre-season testing. And failed to find any sort of form, aside from shockingly poor form, when they eventually did.
The Williams drivers have applauded Head's return with Russell saying: "I think it will be great. He's only coming in as a support role, it's nothing full time, but with his presence he's a very strong character with a lot of personality and maybe [that's] what we need at the moment.
"With all his experience and [the] history he has at Williams, just having him around will lift everybody.
"Patrick is a fantastic engineer and all of his success speaks for itself. He's been there and done that. He's part of Williams and will help where needed. Like I said, will be great to have him around."
And while some are wondering why Head wasn't already on the phone to deputy team boss Claire Williams throwing his weight, and shares, around or whether this is a case of smoke and mirrors to distract from their wretched on-track form, the big question is can he help?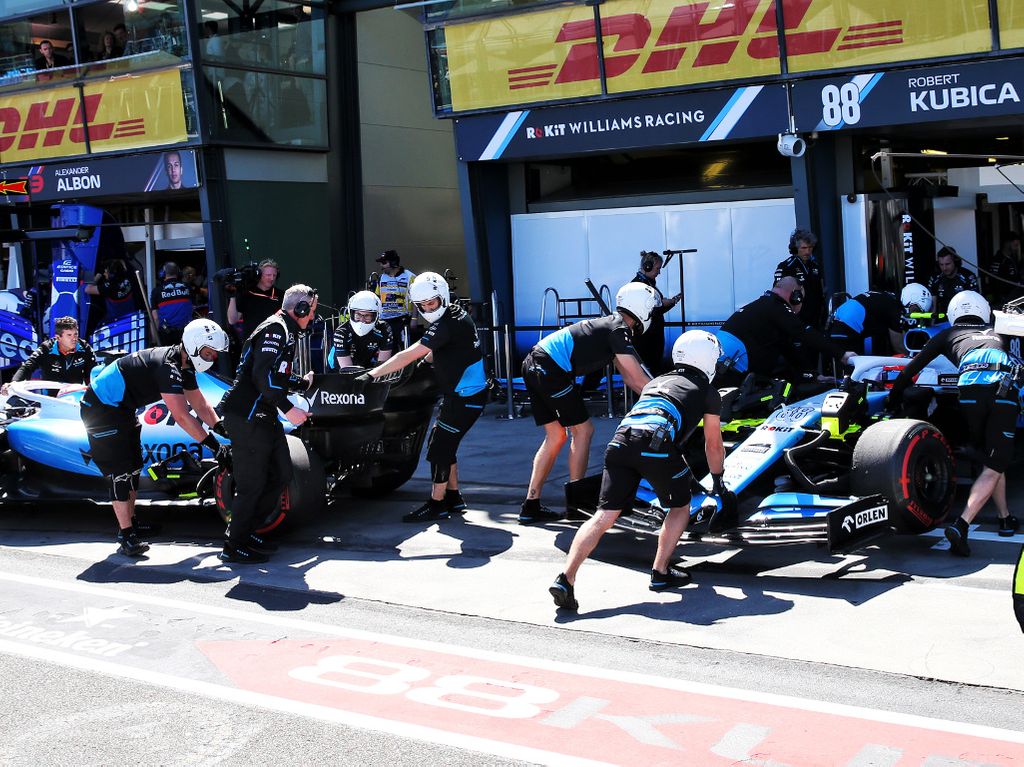 Although Head has been away from Formula 1 since 2011, by his very nature he will have kept on top of things, know the ins and outs of today's regulations and with his vast experience may even figure out that one trick that will give the drivers control over the car and an understanding of the set-up.
Speaking about the Bahrain GP, Kubica complained: "We need to find out what's going on because I have no margin and I have no window in the car where actually I can drive it. I am a passenger."
Williams have not gone into details about what is wrong with their car but corner entry and stability feature high on that list.
Changes to the wings, floor and bargeboards can help with that, at least a bit, but it seems as if fundamentally Williams have once again got it very wrong.
"There is one fundamental which I don't want to discuss publicly," Russell told Motorsport.com after the Australian race.
"We understand what that is, but it doesn't mean we can wake up on Monday morning and rectify it.
"To change something so fundamental will take months of development, work in the simulator and designers working out how to do it, and that is what needs to be done at the moment.
With Head advising the technical team, an old head looking at new problems will see the introduction of updates throughout the season that maybe allow Williams to narrow the deficit, however, in order to even come close to closing the gap, a B-spec car is the only solution.
Williams certainly put the laps in during the second week of testing, after limited action in week one.

But, they remain well off the pace, which they have admitted themselves.https://t.co/FiDEdihEqw #F1Testing pic.twitter.com/t7j8vwe8sc

— Planet F1 (@Planet_F1) March 2, 2019
That, though, requires time and money, two things Williams do not have in abundance.
Falling from fifth to wooden spoon last, swapping Martini for ROKiT and saying goodbye to the Stroll millions, Williams' 2018 earnings may have been solid but they will take a massive hit this year.
Time is also not on their side as teams have often used the Spanish GP in May to introduce B-spec cars having realised in testing already that things aren't right. But with Head only arriving a week ago, he has just over a month to work his magic before hitting the track in Barcelona.
Unfortunately for Williams, Head's return may prove to be not much more than an experienced cheerleader with no pompoms flapping their hands in the breeze.
Michelle Foster
Follow us on Twitter @Planet_F1 and like our Facebook page.