Readers reflect on Sebastian Vettel's shunt into the back of Max Verstappen at Silverstone, is the Ferrari man finished?
Plus, who is the best wingman – Valtteri Bottas or Charles Leclerc?
Join the discussion over on the PlanetF1 forum here or head to the comments section down below…
Is Vettel finished?
After yet another mistake costs Vettel at Silverstone the question has to be asked: does he any longer have what it takes to compete for championships with Hamilton and Verstappen?
It seems to me that the fear of losing is now stronger in his mind than the desire to win, hence a string of mistakes under pressure. At the very top level I think that's a sign of someone on the way down. Vettel has recently married and has 2 children, maybe his mind and more importantly his goals lie increasingly away from F1? If Ferrari take the step of focusing on Leclerc for the championship and make Vettel no. 2 could that be too much for him?
David Coulthard made the point that at the end of his career Michael Schumacher also started rear-ending competitors.
Eddie Jordan thinks Vettel's on his way out – or maybe to Mercedes, swapping with Hamilton in 2021. He's known for dodgy predictions, but he's a pretty shrewd judge of character.
tim3003
Vettel's onboard. How can you look at this and say it's Max's fault lmao pic.twitter.com/6tOj22kUhS

— VSR_Marqueses (@VSR_Marqueses) July 14, 2019
If Vettel left Ferrari, who would take him?
I think the summer break cant come fast enough for Vettel, he has the look of a man who the sky is falling down on right now. If he's still phoning it in after the summer break, then I think he is done at Ferrari. Problem is, where does he go from there? Right now I dont think either Mercedes or Red Bull would want him, even if Hamilton does leave Mercedes, they have their own hot young things in the wings and Vettel is currently in the process of being overhauled by Ferrari's own version… and if he can't keep Leclerc quiet in the same car, what chance does he have against Max?
The errors when battling under pressure are now past the point of coincidence too, Hamilton has had Vettel mentally parked for a year or 2 now, and now Max is getting to the same point. You can't consistently beat your peers when they know all they have to do is keep it tight and wait for the error to come.
Flash2k11
Seb's looked lost since 2014…
Yeah, he is down and out. He is not the same driver in the hybrid era – his success was heavily reliant on the blown diffuser at red bull and when the new regs came in in 2014 he looked immediately lost. 2015 and 2016 he looked better but that was because the pressure was totally off. But 2017 and 2018 Hamilton destroyed him as a driver, his confidence, his ego, I think even his passion for racing. You can hear how constantly depressed he sounds over team radio after his mistakes, even today he just sounded totally emotionless after the crash, casually just trying to shift blame somehow despite literally rear-ending someone.
He is finished, 2018 killed him off and he can not recover.
He keeps hinting at leaving F1 and I think genuinely it's on his mind because he has nowhere to go now other than to a midfield team if he wants to escape the pressure and i don't think he can be bothered with that. He keeps moaning about the cars, the tyres the racing etc. but I think basically his problem isn't with F1, its that he CAN'T win.
FormulaFun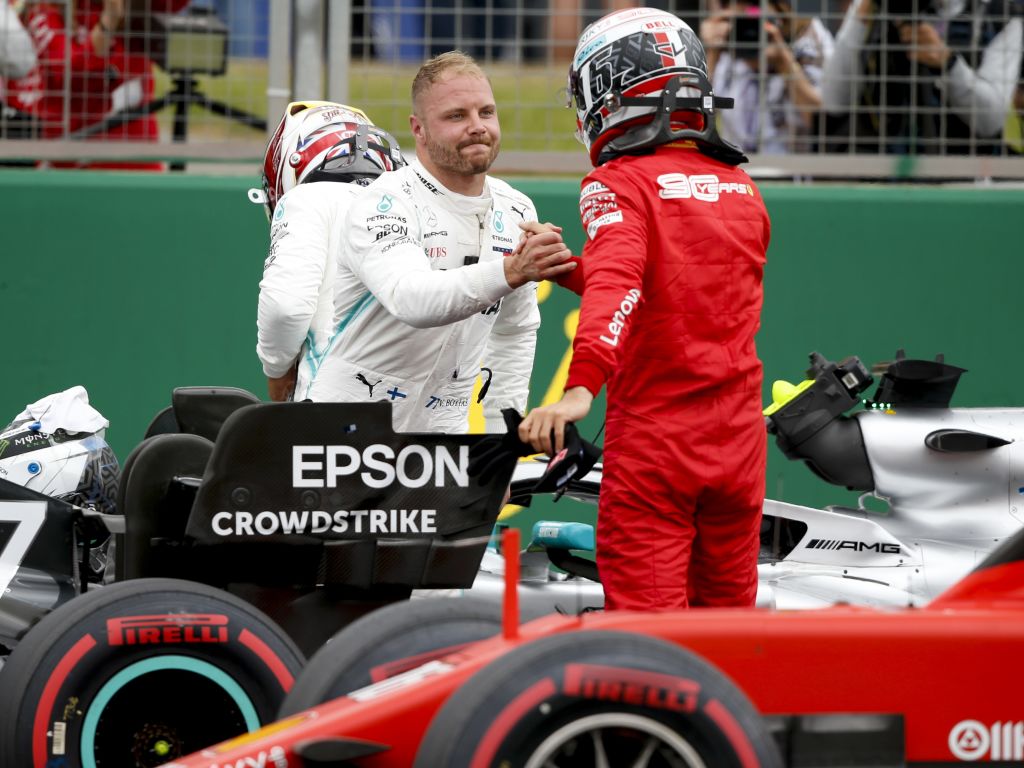 Bottas or Leclerc – who's the best second driver?
Right now Bottas is even or maybe has a slight edge solely due to experience but we already know what his ceiling is. i.e. his current performance. Good on his day but not consistent enough.
Leclerc has a lot of room for improvement and his consistency will even out as he gains experience.
RaggedMan
Bottas has shown he is a guy who can have top tier pace maybe 25% of the time, be nowhere near 25% of the time and be a solid tier 2 the remaining 50% of the time. Hamilton probably has twice as many top weekends, and half as many off weekends as Bottas does.
Badgeronimous
Seb straightly went to apologize to Max Verstappen after the race 🤝

🎥 @FiftyBucksss #BritishGP 🇬🇧 #Vettel #Seb5 #F1 pic.twitter.com/xgvXihog59

— Sebastian Vettel #5 (@sebvettelnews) July 14, 2019
How did Max survive that impact?
I'm not sure what's more amazing, Vettel's lack of driving skill or both cars not retiring on the spot!
Asphalt_World
I thought Max was done! That gearbox is made out of a 70's brick toilet.
Dollarman
Liberty – take notes…
Austria was good, but that basically involved one car (Verstappen) going like stink and eventually taking the lead for the win. Silverstone had constant and intense battling between different cars.
No doubt Liberty will perform a detailed autopsy to learn what allowed those cars to battle for multiple laps, and incorporate the lessons learned into future car regulations. One slight difference is that the front wheel hubs could no longer blow air out sideways, as well as the front wing endplates also minimized airflow around the sides of the tires. Slight changes, but a marked improvement from previous Silverstone races.
This is good stuff, we the fans actually get to experience close and intense battling for multiple laps. The only downside is that it is almost inevitable that we will see collisions, as witnessed between Vettel and Verstappen. Yes, Vettel messed up, he guessed wrong. He thought Verstappen would swing to the right to take an arcing turn, it didn't happen (Verstappen covered the inside), and Vettel's lunge down the inside morphed into a collision. It was the simplest of mistakes, anyone could have made it.
Blinky McSquinty
Follow us on Twitter @Planet_F1 and like our Facebook page.