Is the writing on the wall for Gasly?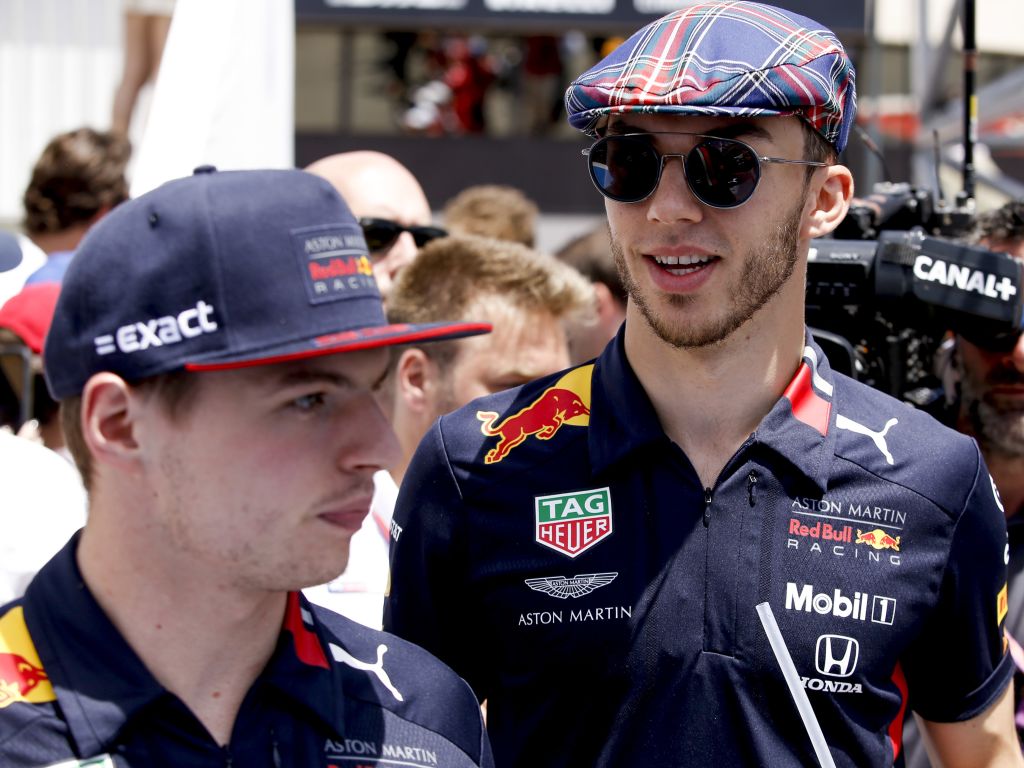 It's felt like Pierre Gasly has been on borrowed time at Red Bull since the season began, but surely the French GP has sealed his fate despite Helmut Marko's reassurances.
The team said his call-up this season came earlier than planned, so sure they wouldn't have expected him to challenge Max Verstappen from the start like Charles Leclerc has done to Sebastian Vettel at Ferrari, but at the Circuit Paul Ricard, he couldn't even beat the midfield runners.
Qualifying was a disaster for Gasly. Mercedes, Ferrari, Verstappen and even McLaren had the pace to clear Q2 on the slower medium tyres – the red-walled softs were just burning up too quick in the sweltering heat, meaning starting on them would be a huge strategic blow.
However, Gasly needed the softs to make it into Q3, and even then he only did so by 0.04s over Alex Albon in the Toro Rosso – Red Bull's junior team.
Q3 finished with Gasly eight-tenths slower than the leading McLaren and  – for good measure – also behind the man who he replaced at Red Bull, Daniel Ricciardo.
The Frenchman needed Ricciardo's demotion to P11 to rescue a single point for P10 at his home race – that felt hollow to say the least.
Ricciardo passing Gasly's Red Bull! pic.twitter.com/Uekg1MmqAt

— The F1 Word (@f1word) June 23, 2019
Verstappen has said that the RB15 is quite a handful, so it's not like Gasly is in the perfect car but the gap is just too big between the pair – Verstappen's average finishing position of 3.8 to Gasly's 7.7 is a telling statistic.
Team principal Christian Horner has defended his young driver throughout the campaign, this continued after his latest struggles, but his departing comments suggested reason for concern.
"It's frustrating not to have that car in the points," Horner said prior to learning of Ricciardo's penalty. "I'm sure we'll have a good look at that with him."
The team's advisor Helmut Marko has in the past been less patient and sympathetic, and we know he isn't scared to pull the trigger, remember Danil Kvyat?
Well Marko does – and these scenes suggest the Russian could go full circle. Hired, promoted, dropped, fired, re-hired and re-promoted.
Kvyat's manager Nicolas Todt talking to Helmut Marko at Red Bull motorhome. pic.twitter.com/RcRljwtJU2

— Blaine🏎 🏁 (@IrishBlaineF1) June 23, 2019
Marko, though, has denied that his chat with Todt has any weight, saying "I talk to a lot of people, I also talked to his father Jean."
He even went as far as to insist that Red Bull "plan to end the season with Gasly."
But, should they opt not to – as we all know managers insisting that a sportsman is safe is often the death knell – Red Bull do have a few other options.
One such option is Kvyat's rookie team-mate Alex Albon who has taken almost the opposite path to Gasly in his debut season, but the one Red Bull would have hoped for.
Albon arrived in Formula 1 having never turned a wheel in modern machinery, but he kept both George Russell and Lando Norris honest last season after finishing P3 in the F2 Championship.
However, Albon has really come alive this season – his drive from the pit lane to P10 in China was a particular highlight, and a further two points-finishes in 2019 make him arguably the surprise package of the season so far.
Or, Red Bull could just say screw logic and throw Dan Ticktum straight into the Red Bull, once he bags his superlicence. It would be a crazy move for sure, but so Red Bull.
It's only fair that we give some facts on the side of Gasly. It's not like they just found this guy wandering the streets of Austria and said 'hey, you want to drive for Red Bull? Danny Ric has gone and we can't find anyone'.
The Frenchman made his debut for Toro Rosso at Malaysia in 2017, and then in 2018, in his first full campaign with the team, he recorded a P6 finish in Hungary and P4 in Bahrain – you don't do that by accident.
Gasly is not a charity case, but for whatever reason it isn't clicking for him at Red Bull, and perhaps he needs to be demoted for his own good.
He has too much talent to be fired, so maybe he needs the chance to return to Toro Rosso, reset away from the spotlight, and rediscover exactly who Pierre Gasly is.
Jamie Woodhouse
Follow us on Twitter @Planet_F1 and like our Facebook page.